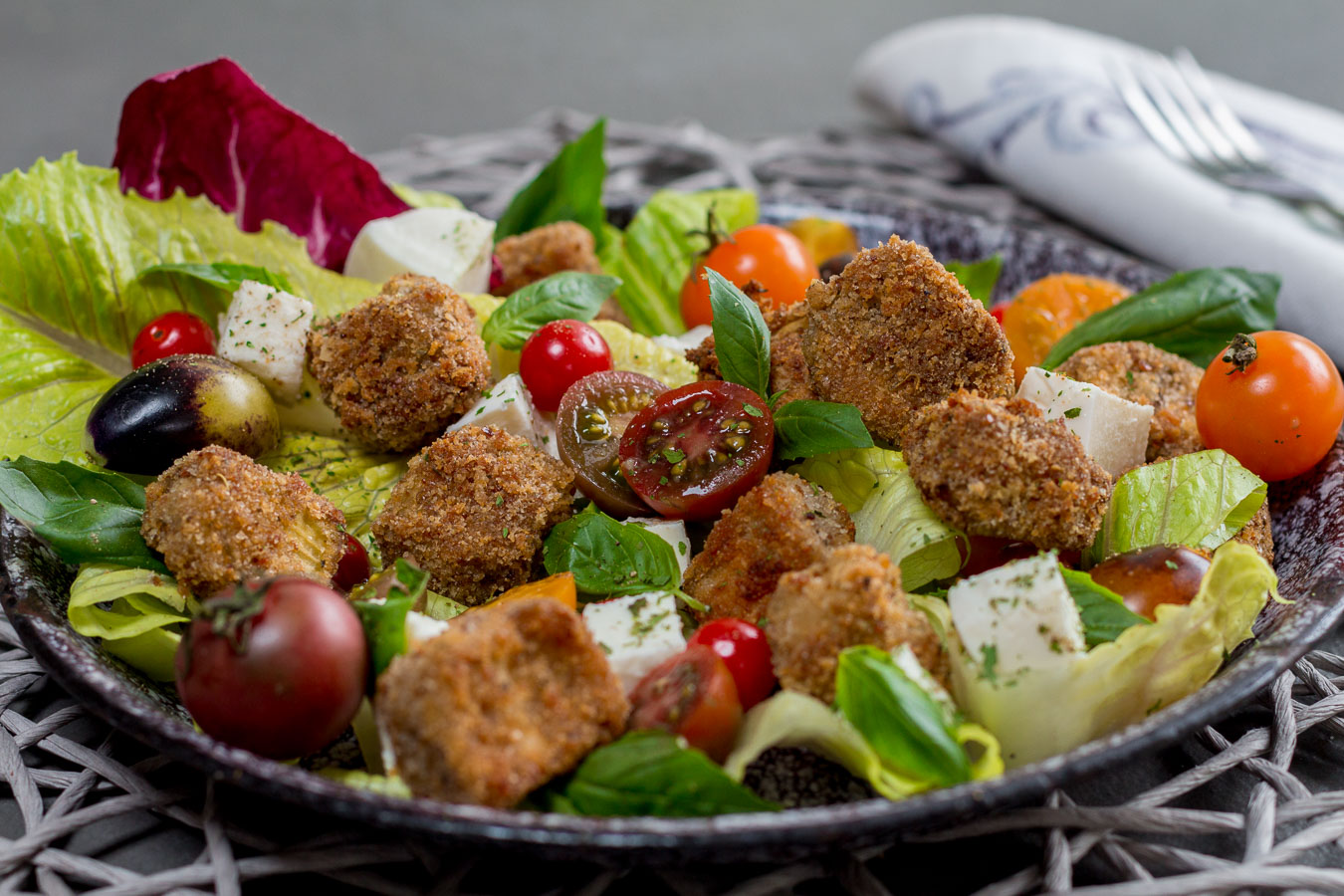 Eggplant Parm Salad: Deconstructed
Crispy Eggplant roasted in the oven teams with Romaine, Mozzarella, Heirloom Tomatoes, a Zesty Dressing and plenty of Basil ~ a satisfying and interesting twist!
Eggplant turns out crispy with a creamy, soft center. Not fried but oven-roasted with lots of flavor from the sourdough breadcrumbs, parmesan reggiano cheese and oregano.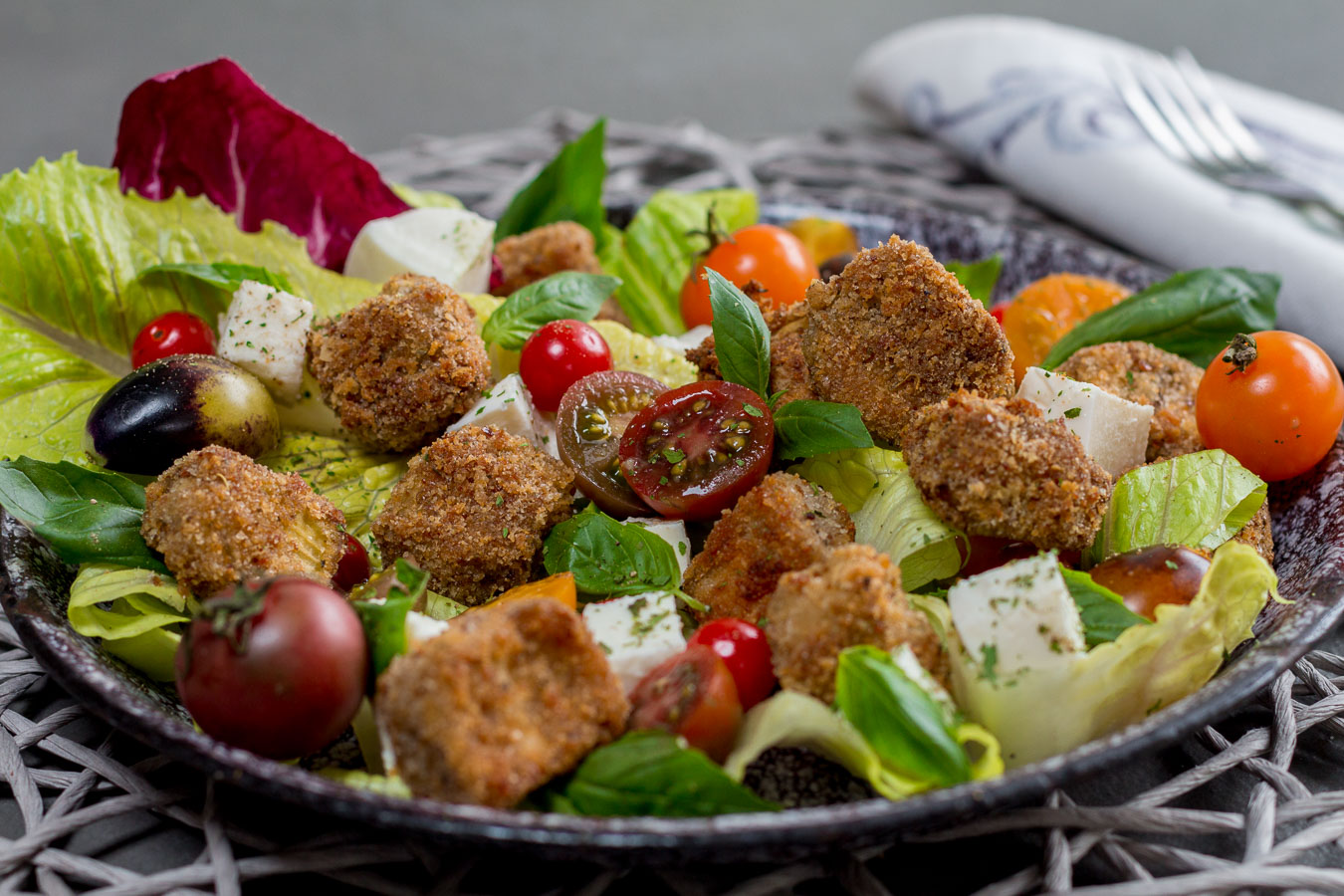 Ingredients
1 medium-large eggplant, 1 ½ pounds, peeled and cubed = 4 cups
1 teaspoon kosher salt, (for draining the eggplant of excess water)
2 large eggs
1 tablespoonfiltered water
3 tablespoons flour
¾ cup dried breadcrumbs, (I used "sourdough*)
¼ cup parmesan reggiano cheese, grated
½ teaspoon dried oregano
1 ½ teaspoons fresh garlic, grated fine or minced
¼ teaspoon sea salt
4 tablespoons extra virgin olive oil , divided
4 cups romaine lettuce leaves, washed and dried, sliced thinly
8 ounces fresh mozzarella cheese, diced
1 cup heirloom tomatoes, diced, or halved cherry ones
½ cup fresh basil leaves, washed and dried, torn into bite sized pieces
1 recipe "Shaken" Italian Dressing, see recipe
Instructions
1
Make the "Shaken" Italian Dressing.
Make the Eggplant:
Peel and cube eggplant into about 1 " pieces. Toss with 1 teaspoon kosher salt, mix in, add to colander in the sink. Weight down with a filled tea kettle for 20 minutes.
Dry the eggplant with paper towels or a kitchen towel, place the cubes in a bowl to hold. Toss in 3 T. flour to coat.
2
In a medium sized bowl, add 2 large eggs and 1 T. water. Whisk well.
Place breadcrumbs, parmesan cheese, oregano, garlic and salt in another medium sized bowl, mix to combine.
Preheat oven to 400 degrees.
3
To roast:
Add 3 T. of olive oil to the bottom of a large rimmed metal baking tray.
Add the 1/4 of the eggplant cubes into the egg wash, then lift and add to the breadcrumb bowl, tossing the adhere.
Place them on the baking tray and repeat until all eggplant is coated.
4
Roast until the eggplant is golden in color.
Remove from the oven – add the remaining 1T. olive oil and toss with 2 spoons to coat well.
5
Return to the oven and roast until golden all over – about 25 minutes total.
Cool slightly. (Eggplant can be added to the salad warm, or room temperature.)
6
Finish the salad:
On a large decorative platter, or individual plates add:
Romaine Lettuce, Mozzarella cubes, cut Tomatoes and the Eggplant Cubes.
Toss with a few tablespoons of the dressing and scatter the basil all around.
Let sit a few minutes for the flavors to meld.
7
*Sourdough Breadcrumbs from Scratch:
Use half of an averaged sized sourdough bread (Whole Foods lets you buy a half) – cut into 1″ cubes. Place the cubes on a rimmed baking pan and bake in a preheated 325 degree oven, turning once until crisp and dry, and just starting to turn golden around the edges. Cool.
Place in a food processor, and plus until you have fine crumbs.
8
HINTS:
I like to serve the mozzarella, tomatoes and eggplant at room temperature. The lettuce and the basil are best chilled.
9
Eggplant Serving Suggestions:
The coated, roasted eggplant are wonderful served in a casserole over marinara sauce.
Bake with a scattering of mozzarella and parmesan cheeses, and cook through until bubbly.
Garnish with fresh basil & oregano sprigs and enjoy.
This recipe may not be reproduced without the consent of its author, Karen Sheer.
Karen Sheer