Grilled Romaine Lettuce with Corn, Green Bean & Tomato Salad
Crispy Romaine with a smoky essence – topped with Farm Fresh Veggies, Lemony Tahini Dressing and Garlic Sourdough Toasted Breadcrumbs 
A brilliant technique! Romaine Lettuce halves are grilled until slightly charred offering a gently smoky essence. Lettuce remains crispy ~ add a bevy of veggies, dressing, and crispy breadcrumbs for extra crunch & flavor.
Elements of the Salad:
1 heavy head of fresh Romaine Lettuce – preferably Farm Fresh! Does make a difference in flavor
1 medium Heirloom Tomato – I've used Cherokee Purple
8 Sun Gold Cherry Tomatoes – the sweetest of the cherries!
Steamed Yellow Wax Beans & Green Beans – check out your local Farmers' Market – you will not believe the flavor and crispness! 
1 ear of fresh corn – I use bi-color 
Recipe: Karen's Lemony Tahini Dressing – a simple whisked dressing with a citrus edge
Garlic Sourdough Toasted Breadcrumbs – adds flavor & crunch! Easy to make in minutes…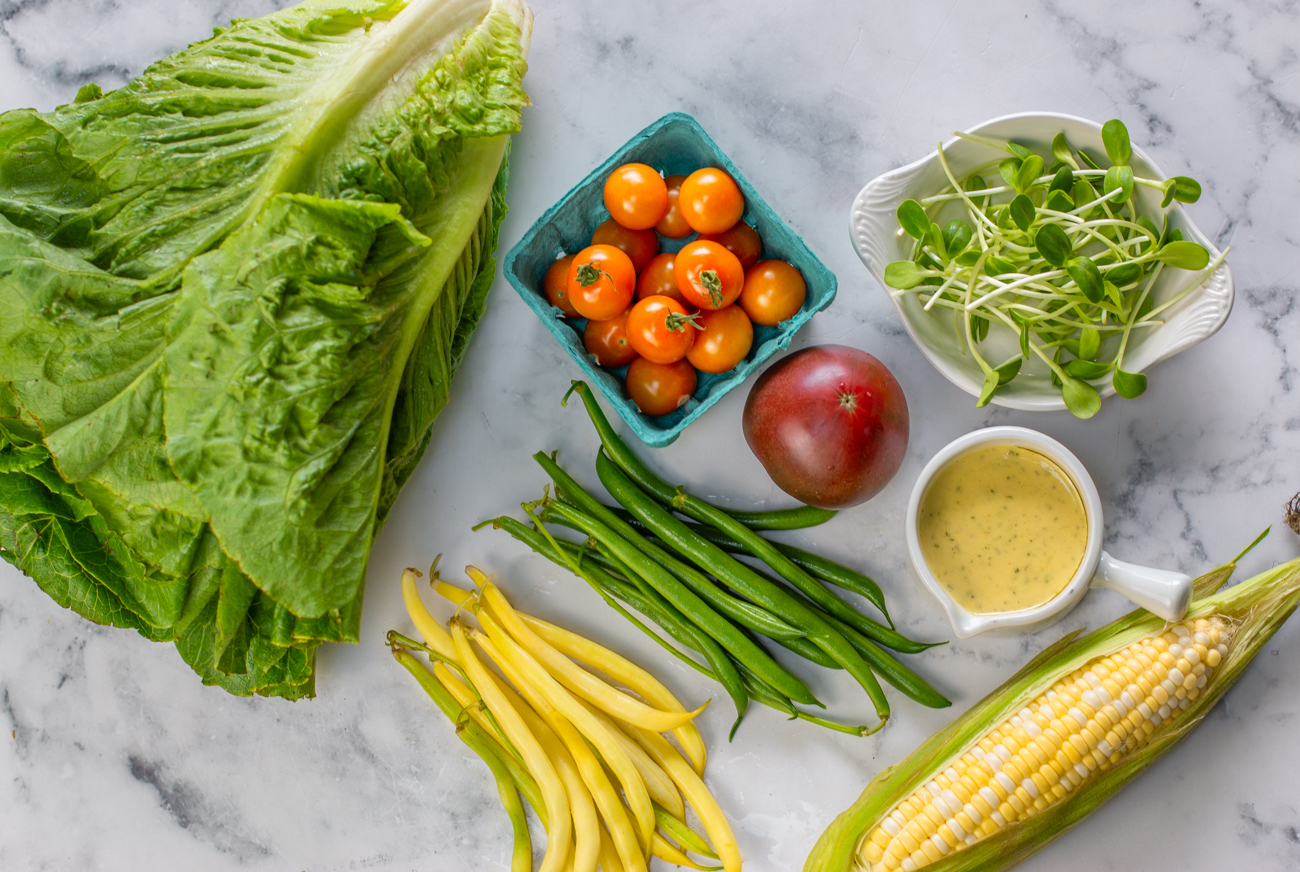 All these wonderful ingredients were found at my local Farmers' Market in Larchmont, NY.
What a difference Local & Fresh veggies make! You can not beat the farm-fresh flavor, crispness and color when you but from the farmer who picked at peak of ripeness! Produce begins to lose its nutritional value soon after harvest.
It's summer – a wonderful time to buy from a Farmers' Market!
Unlike supermarket shelves stocked with produce that traveled for days and sometimes weeks, you can find farm-fresh produce at farmers markets that are much fresher.
How to Grill Romaine:
Set grill to medium- high heat. Make sure your grates are clean! Brush with oil.
Brush cut side of Romaine with extra virgin olive oil and sprinkle with sea salt.
Grill – cut side down, press down with a spatula. Cook about 4 minutes until strong grill marks are formed.
Turn over, grill 4 minutes more until nicely charred (will still be crispy)
Remove from the grill – serve cut side up – top with veggies then layer with dressing & toasted breadcrumbs
I like to grill the Romaine close to serving it.
You could make up to 2 hours ahead of time and refrigerate too!
The dressing and breadcrumbs can be made in advance for a quick salad.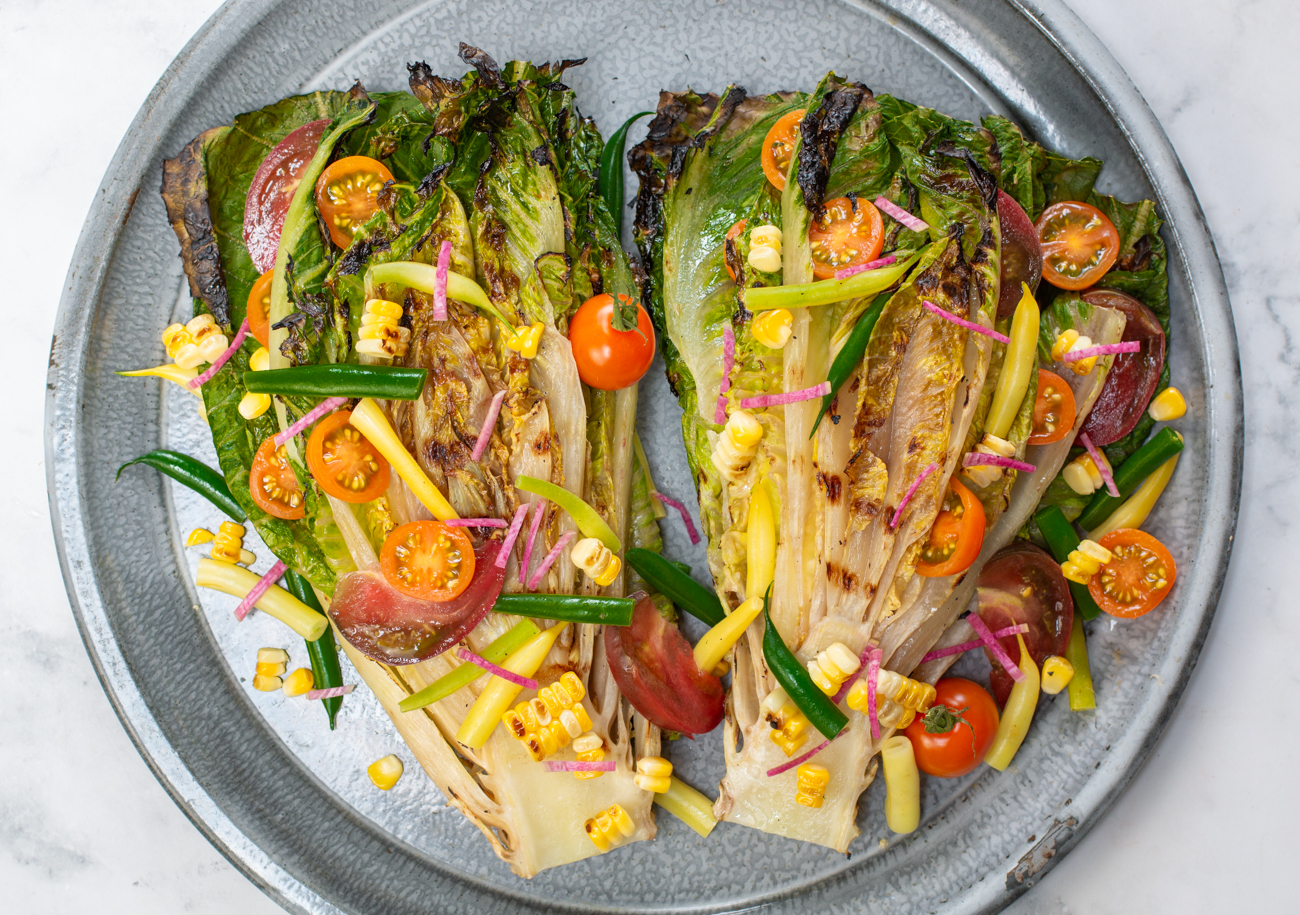 Cut and serve!
What makes this a GREAT Salad?
Grilling Romaine delivers a serious smoky essence – while the lettuce remains crisp!
Local just picked veggies, raw & steamed adds texture & flavor, plus necessary antioxidants 
A good pour of Lemony Tahini Dressing is just the right texture to cling to the ingredients with an earthy, citrus and nutty flavor (Can be made ahead of time)
Added crunch! I'm loving these Garlic Sourdough Toasted Breadcrumbs on top! (Can be made ahead of time)
Garlic Sourdough Toasted Breadcrumbs – adds flavor & crunch! Easy to make in minutes…

Wonderful to serve to company…restaurant quality!  
Enjoy this special salad!
Let me know what you think!
Karen
Recipe: Karen's Lemony Tahini Dressing 
Grilled Romaine Lettuce with Corn, Green Bean & Tomato Salad
Crispy Romaine with a smoky essence - topped with farm fresh veggies, a Lemony Tahini Dressing and Crispy Garlicky Sourdough Breadcrumbs
Servings:
6
servings, or 4 large
Print Recipe
Pin Recipe
Rate this Recipe
Ingredients
Grilled Romaine Salad:
1

very large

head of romaine lettuce

preferably farm fresh and heavy for its size

1

ear

fresh corn

husked

1

tablespoon

extra virgin olive oil

3

pinches

sea salt

10

large

green beans

trimmed and steamed a la dente

10

waxed

beans

trimmed

8

medium

Sun Gold yellow cherry tomatoes

very sweet!

1

medium

heirloom tomato

Cherokee Purple

1/2

cup

sunflower sprouts

(optional)
Breadcrumbs & Dressing:
1/3

cup

garlic sourdough toasted breadcrumbs

(see recipe below)

6

tablespoons

Lemony Tahini Dressing

(see recipe)
Instructions
Make the Garlic Sourdough Toasted Breadcrumbs and Lemony Tahini Dressing
Romaine Lettuce & Corn:
Cut fresh head of romaine in half lengthwise. Trim the end, cut in half lengthwise. Remove and discolored outer leaves. Plunge the lettuce in cold water and swoosh around to get rid of any dirt. Tap off water and add to paper towels, cut side down to dry. (If using inside hearts of romaine, just wipe clean.)

Preheat grill to medium-high. Strip corn, remove silk. Add to tray with romaine halves, cut side up. Using 1 tablespoon evoo, brush the tops of the cut romaine and the ear of corn, sprinkle all with 3 pinches of sea salt.

Add the romaine across the grates cut side down, press with a metal spatula. Add the corn to the grill.

Cook romaine 4 minutes on the first side, or until golden with nice grill marks, turn over. Turn the corn a few times - done when golden all over. Cook romaine on second side 4 minutes until nicely shared. Remove romaine and corn to the tray.
Assemble the salad:
Add romaine halves to a large platter. Cut corn kernels of the cob with a sharp small knife. Cut cherry tomatoes in half, cut steamed beans in 1 1/2 inch lengths. Add vegetables over the romaine. Add julienned watermelon radish if you like for color.

Add dressing in large broad streaks over the salad (about 6 tablespoons) and top with the Garlic Sourdough Toasted Breadcrumbs.
To serve:
Cut the romaine across the width in large wedges and serve.
Notes
Garlic Sourdough Toasted Breadcrumbs:
 Trim away the crust of sourdough bread; pulse to coarse bread crumbs. Add 2 teaspoons extra virgin olive oil in a 8 inch skillet, set heat to low. When warm, add fresh breadcrumbs and toast, stirring until lightly golden, about 3 minutes. Add 1/4 teaspoon minced garlic and a big pinch of sea salt and stir together - cook until very golden brown, and crispy, one minute more. Remove from heat; cool. 
This recipe may not be reproduced without the consent of its author, Karen Sheer. 
Nutrition Facts
Grilled Romaine Lettuce with Corn, Green Bean & Tomato Salad
Amount per Serving
% Daily Value*
* Percent Daily Values are based on a 2000 calorie diet.
Karen Sheer