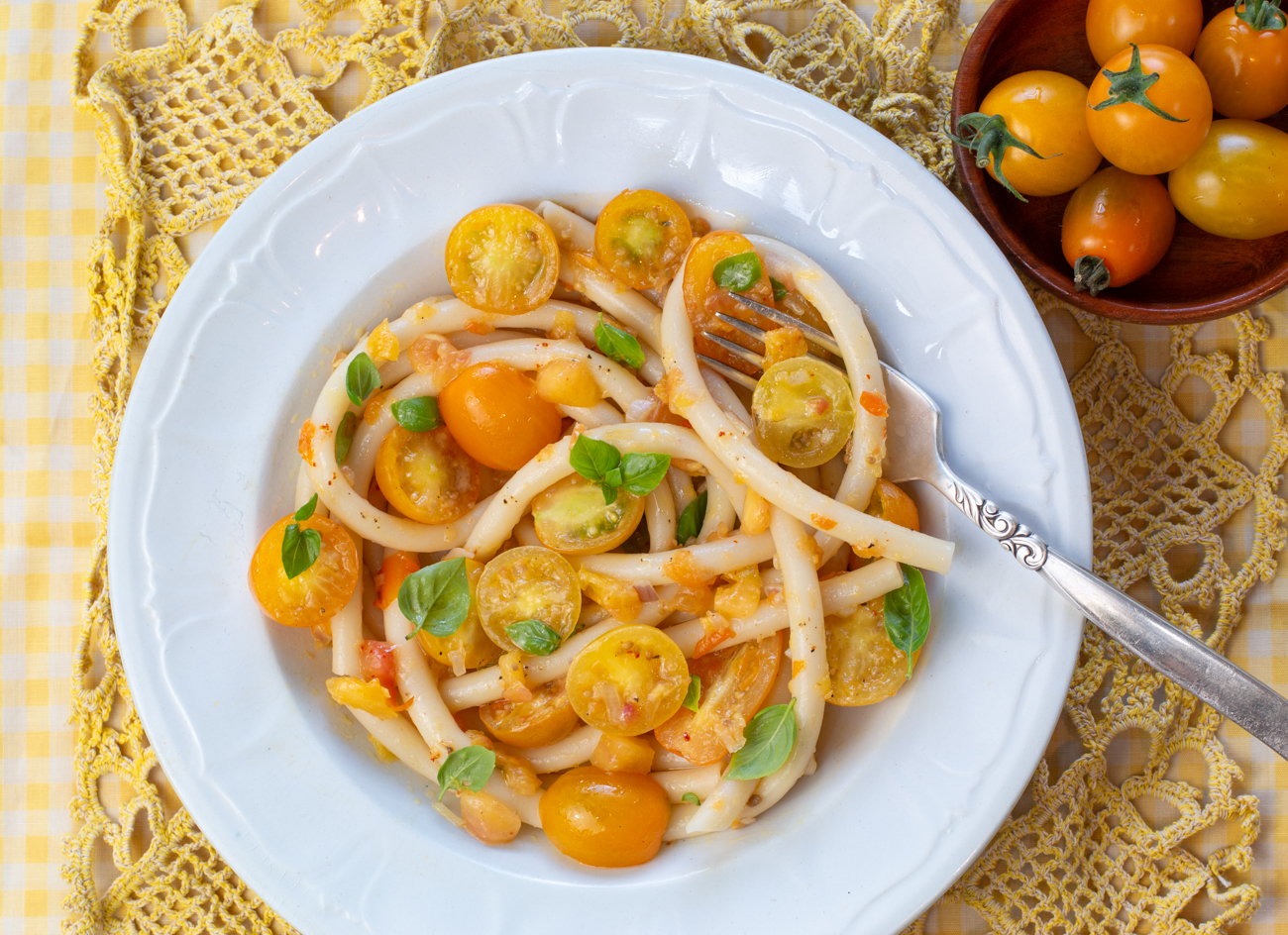 No-Cook Heirloom Yellow Tomato Sauce with Pasta
For Tomato Lovers! A simple and delicious sauce – serve over pasta with plenty of basil leaves.
Puréed Tomatoes team with sliced cherry & oblong Heirloom Tomatoes with Cooked Garlic Cloves in Olive Oil – a light and flavorful "No-Cook" Sauce!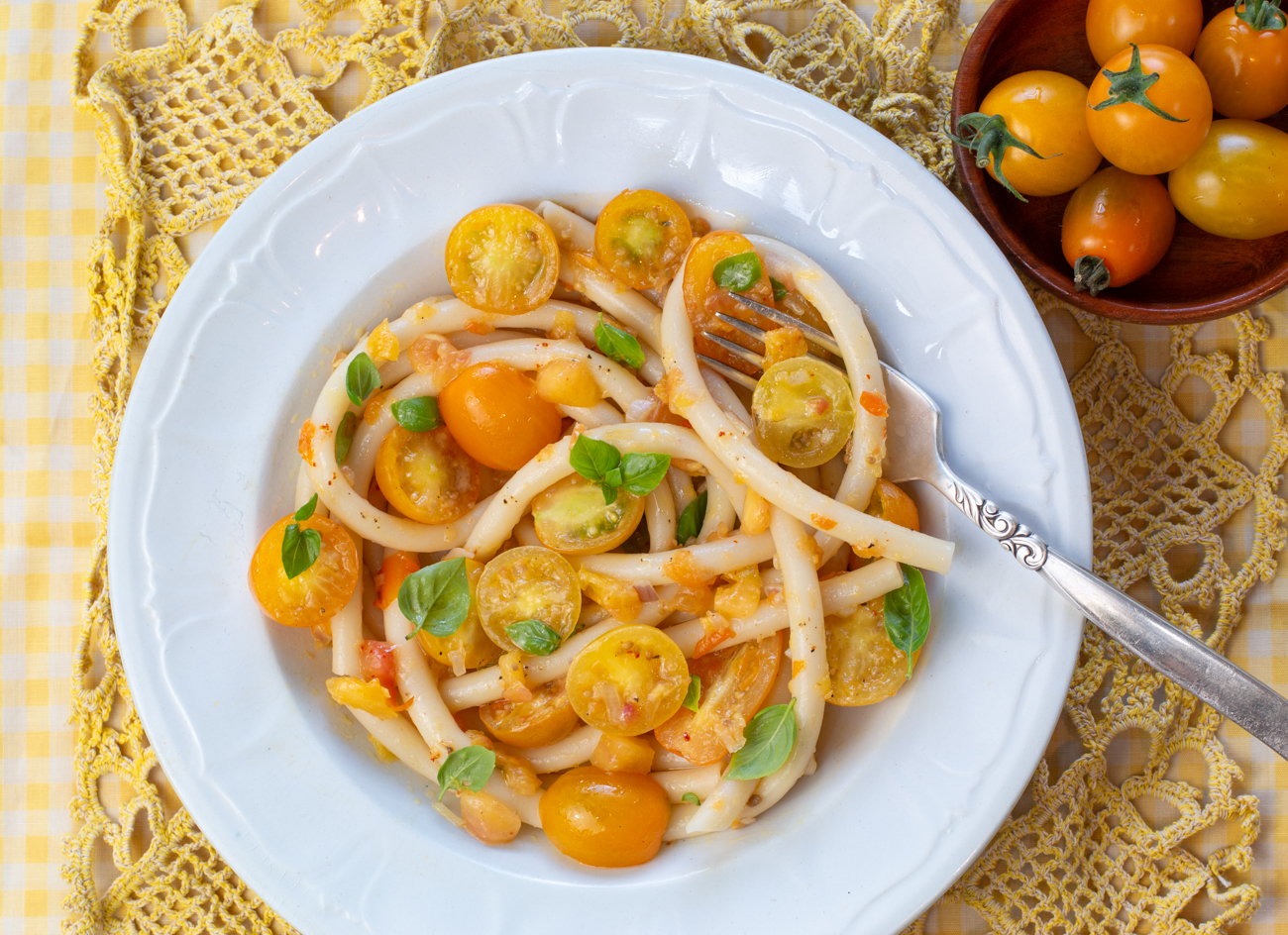 What is a No-Cook Tomato Sauce?
The skins are not removed and the sauce is not cooked with heat.
Only the garlic cloves are cooked for 10 minutes in olive oil until softened.
So – this dish is more of a marinated Pasta Salad served ay room temperature, but can enjoy cold too! 
The Method:
Garlic cloves are simmered in EVOO – the olive oil is used in the sauce too!
The larger tomatoes are puréed with the softened garlic in a food processor (I use my smaller one)
The smaller cherry & oblong ones are cut in half  – tossed in a bowl with the reserved garlic oil and shallots
Add the tomato-garlic purée to the tomato bowl with drained warm pasta – stir and serve with plenty of basil leaves.
Tastes great at room temperature.
You will need:
Two Medium sized Yellow-Orange Heirloom Tomatoes
One Pint Heirloom Yellow Cherry Tomatoes (I used oval shaped too!)
Quality Extra Virgin Olive Oil
8 medium Garlic Cloves (or 4 large, cut in half)
3/4 pound Italian Pasta – Bronze Die Cut Preferable or your favorite 
Diced Shallots; 1 tablespoon
Red Pepper Flakes – or ground Chili Flakes; 1/8 teaspoon +
Raw Apple Cider Vinegar; 1 teaspoon
Sea Salt & Pepper |
Fresh Basil Leaves; 2 tablespoons
Some Heirloom Tomato Facts:
Heirloom plants are treasures that have been grown for generations from seeds gathered year to year, to preserve their exceptional flavor – as opposed to commercial crops that are prized for their durability, often at the expense of taste and nutrition.
The Tomatoes!!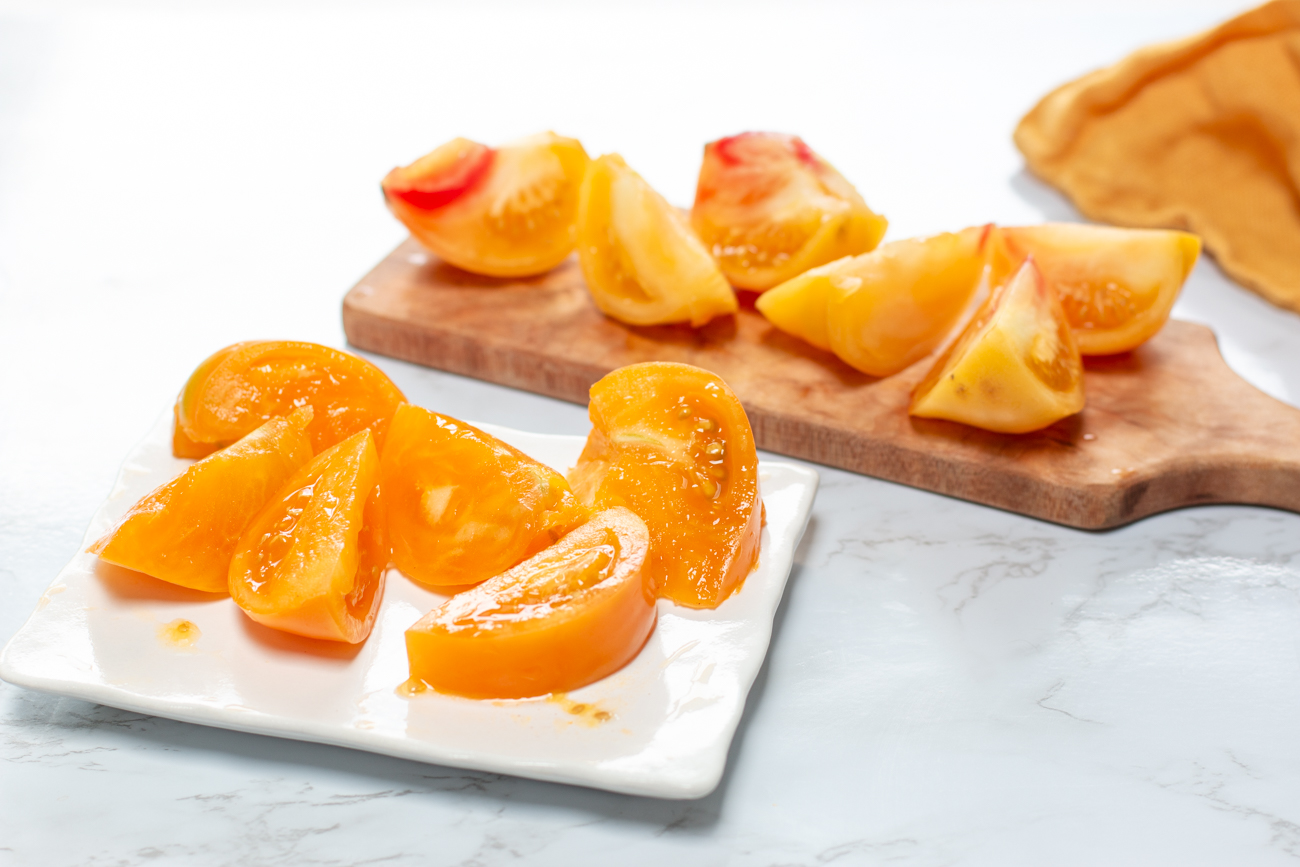 Gin Fiz are a non GMO Organic Heirloom-type Hybrid with ribbed fruit that blush red and orange over yellow… like a beautiful sunset. Has a nice balance of sweetness and acidity.
Goldie Tomato are deep golden colored tomatoes – a balanced full-bodied beauty with poised grace, and pure sweetness. Complex flavor profile, and a robust inner depth.
Both are from Four Root Farm, East Haddam, CT  – An organic vegetable and cut flower farm; bought at the New Haven Farmers' Market.
Bought at the New Haven Farmers' Market from Star Light Gardens – a certified organic farm in Durham CT.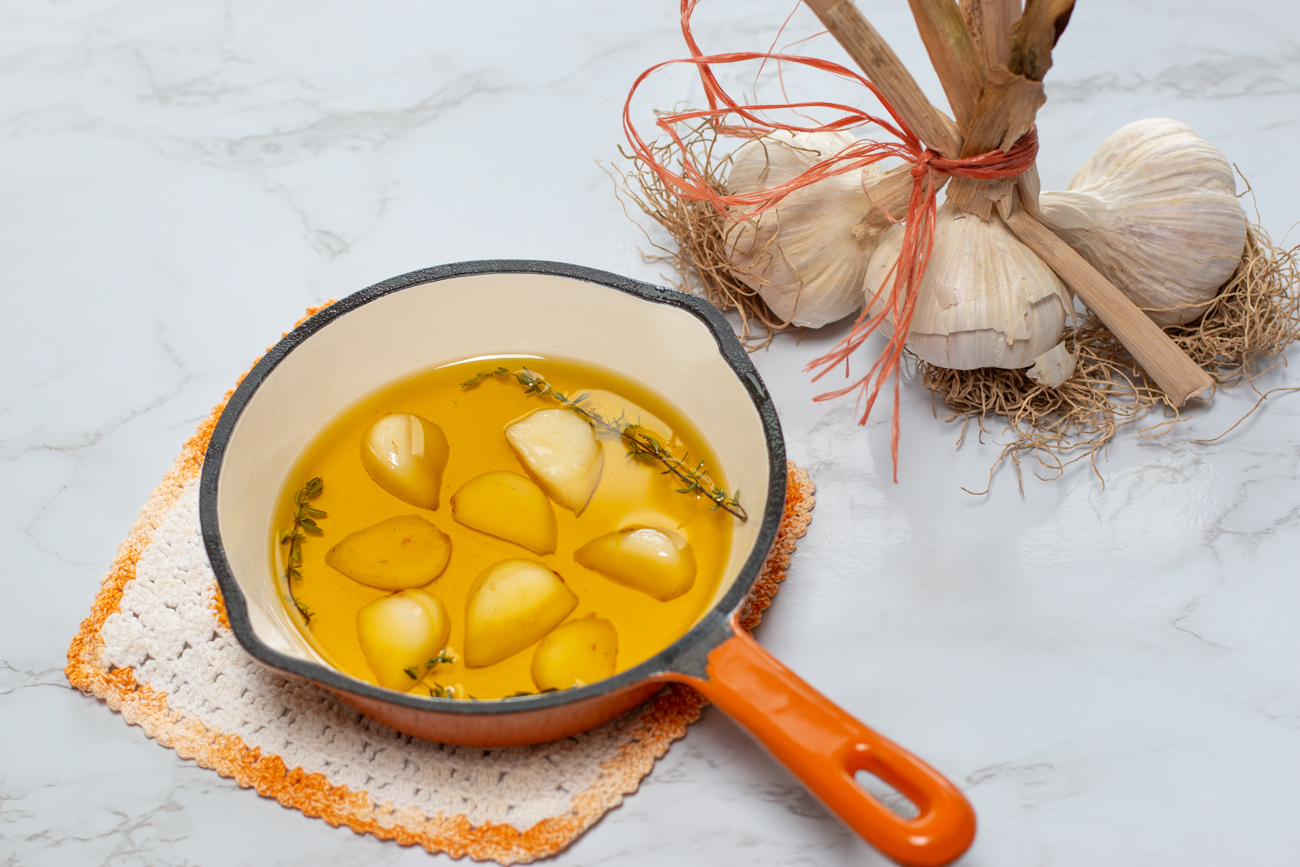 Cooked Softened Garlic is an important addition to the sauce – adds a creamy base; the garlic will be mild in flavor.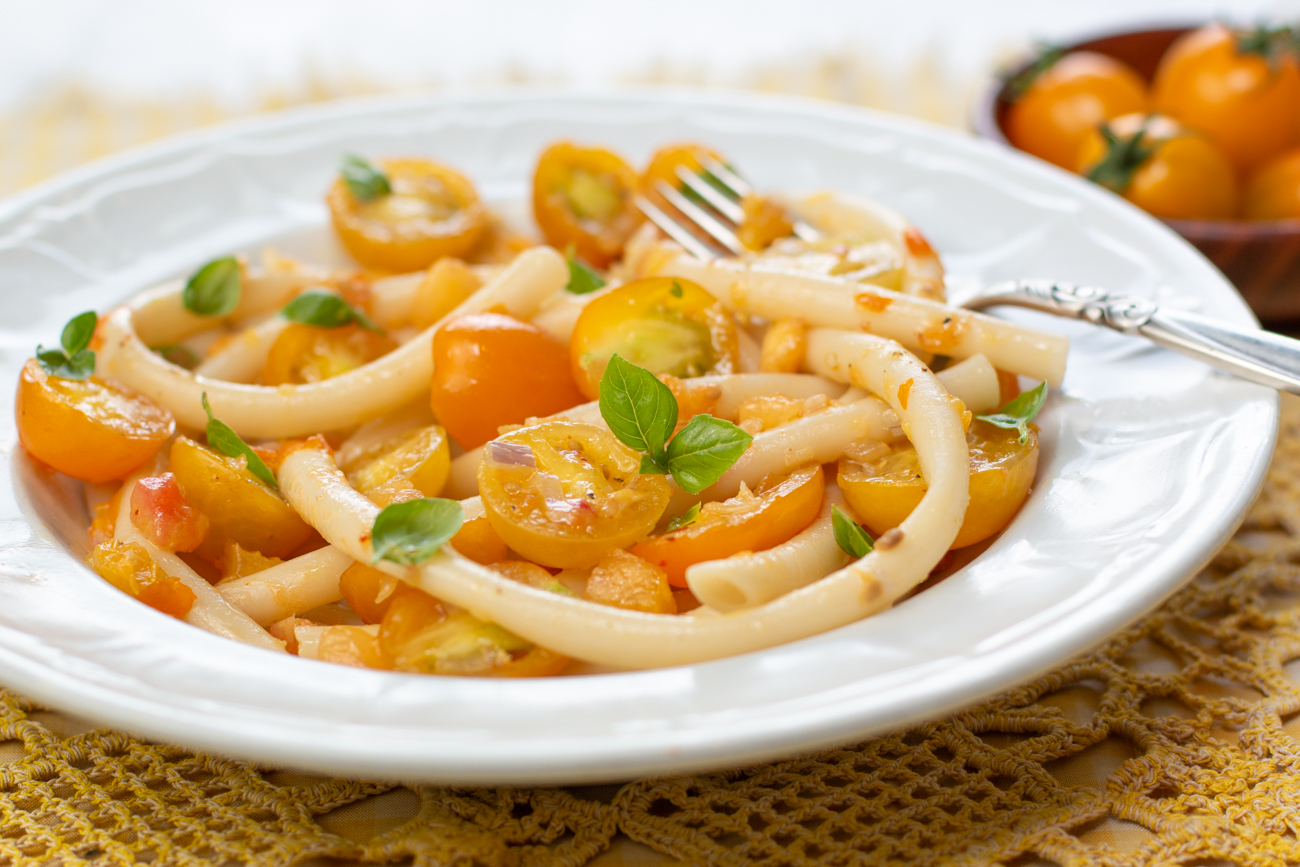 Do yellow tomatoes have less acid?
Some orange tomatoes are sweeter and fruitier flavored than red tomatoes. Most yellow tomatoes are less tangy than red tomatoes. Many but not all orange and yellow tomatoes are lower in acid content than red tomatoes. Yet, some orange and yellow tomatoes are almost acid free.
The seeds and skins carry much of the acid content of the tomato plant, so removing them altogether is a great way to reduce the acidity.
Low-acid varieties can be an answer for people who do have an issue with acid. Many yellow tomatoes seem to be lower in acid, but tomato flavor is determined by the balance of sugar and acid. Varieties with high sugars and low acid have a sweet taste. Unfortunately, some can also sometimes can be bland, especially if they are low-sugar.
Red San Marzano tomatoes are more common low-acid selection! Paste tomatoes are, however, consistently lower in acid (higher in pH) than standard tomatoes.
These paste/plum-style tomatoes, imported from Italy I love to use for sauce making! They have a nice thick wall and minimal seeds too.
Health Benefits:
While red tomatoes have more fibre and vitamin C, yellow tomatoes have double the amount of iron and zinc of their rosy counterparts.  Yellow tomatoes also pack more vitamin B and folate, which helps your red blood cells.
Darker varieties of tomatoes, may have higher levels of antioxidants than red or yellow tomatoes.
While the red tomato does have more lycopene, new research is showing that the lycopene in yellow and orange tomatoes is actually more easily absorbed by the body.
More Heirloom Tomato Facts!
Some varieties of heirloom tomatoes — those introduced before 1940, have been in production for more than 50 years or were handed down through families — are more disease-resistant than some commercial varieties and are possibly lower in acid.
Enjoy this wonderful recipe – Visit a Farmers' Market for the best selection of Heirloom Tomatoes!
Karen
Did you Know?
I have a Category dedicated to Everything Tomatoes!
Everything Tomatoes
No-Cook Heirloom Yellow Tomato Sauce with Pasta
For Tomato Lovers! A simple and delicious sauce - Served over pasta with plenty of basil leaves. I'm using large Yellow Heirloom tomatoes for the sauce, and cutting smaller yellow heirlooms in half for a chunky sauce.
Print Recipe
Pin Recipe
Rate this Recipe
Ingredients
1

pound

heirloom yellow tomatoes

about 2 large

1

pint

small yellow heirloom tomatoes

cut in half

8

medium

garlic cloves

or 4 large, cut in half

1/3

cup

extra virgin olive oil

best quality!

3

sprigs

fresh thyme

1/2

teaspoon

sea salt

1/4

teaspoon

freshly cracked black pepper

1/8

teaspoon

red pepper flakes*

1

teaspoon

apple cider vinegar

raw, such as Braggs

2

tablespoons

fresh basil leaves

3/4

pound

pasta**

a shape to cradle the sauce (see below)
Instructions
Make the Softened Garlic (confit)
Peel the garlic, if large, cut in half vertically. Add them with the 1/3 cup olive oil to a small 5 - 6" skillet, add thyme sprigs. Bring to a bare simmer, cover tightly with foil and cook at the lowest simmer for 10 minutes (do not let garlic color) until softened. Remove from heat, remove foil, set aside.
Yellow Tomato Sauce (Purée):
Clean and dry the tomatoes. Cut large heirlooms into 2" pieces - add to a food processor (can do in batches in a smaller food processor) with the softened garlic - reserving the oil. Pulse until creamy, with a little consistency/texture. Pour sauce into a bowl to fit.

Add the thyme leaves - take off (and discard the branch), salt, pepper, hot pepper flakes and cider vinegar. Stir well.
Marinade the Small Yellow Tomatoes
Add the cut smaller tomatoes to a large bowl, Stir in the reserved "garlic oil" and chopped shallots, give a big stir - set aside 20 minutes to marinate.
Finishing:
Cook pasta until al dente - to not rinse - shake out the excess water in a colander.

Add the warm pasta to the large bowl of cut tomatoes. Add the yellow tomato sauce (purée), and stir all together. Add basil leaves and stir in. Taste for seasonings and serve.

Serving: Add your favorite cheese if you like - crumbled goat cheese works well, as does shaved parmesan reggiano.
Notes
Best served at room temperature, if refrigerated, take out 20 minutes before eating.
*Red Pepper Flake alternatives: 
I used: Sichuan Chili flakes; can also use Gochugaru, Aleppo pepper, Hatch Chile Flakes or Thai Chili Flakes - each with a different flavor profile.
** I have used Italian Bronze Die Cut Girelle Pasta - a large semi hollow corkscrew-spiral shape, excellent for holding sauce! Use the pasta you enjoy. 
This recipe can not be reproduced without the consent of its author, Karen Sheer.
Nutrition Facts
No-Cook Heirloom Yellow Tomato Sauce with Pasta
Amount per Serving
% Daily Value*
* Percent Daily Values are based on a 2000 calorie diet.
San Marzano. Tomato Seeds.
Sun Gold. Tomato Seeds.
Yellow Pear. Tomato Seeds.
Ace 55. Tomato Seeds.
Big Rainbow. Tomato Seeds.
Golden Jubilee. Tomato Seeds.
Great White. Tomato Seeds.
Pink Girl. Tomato Seeds.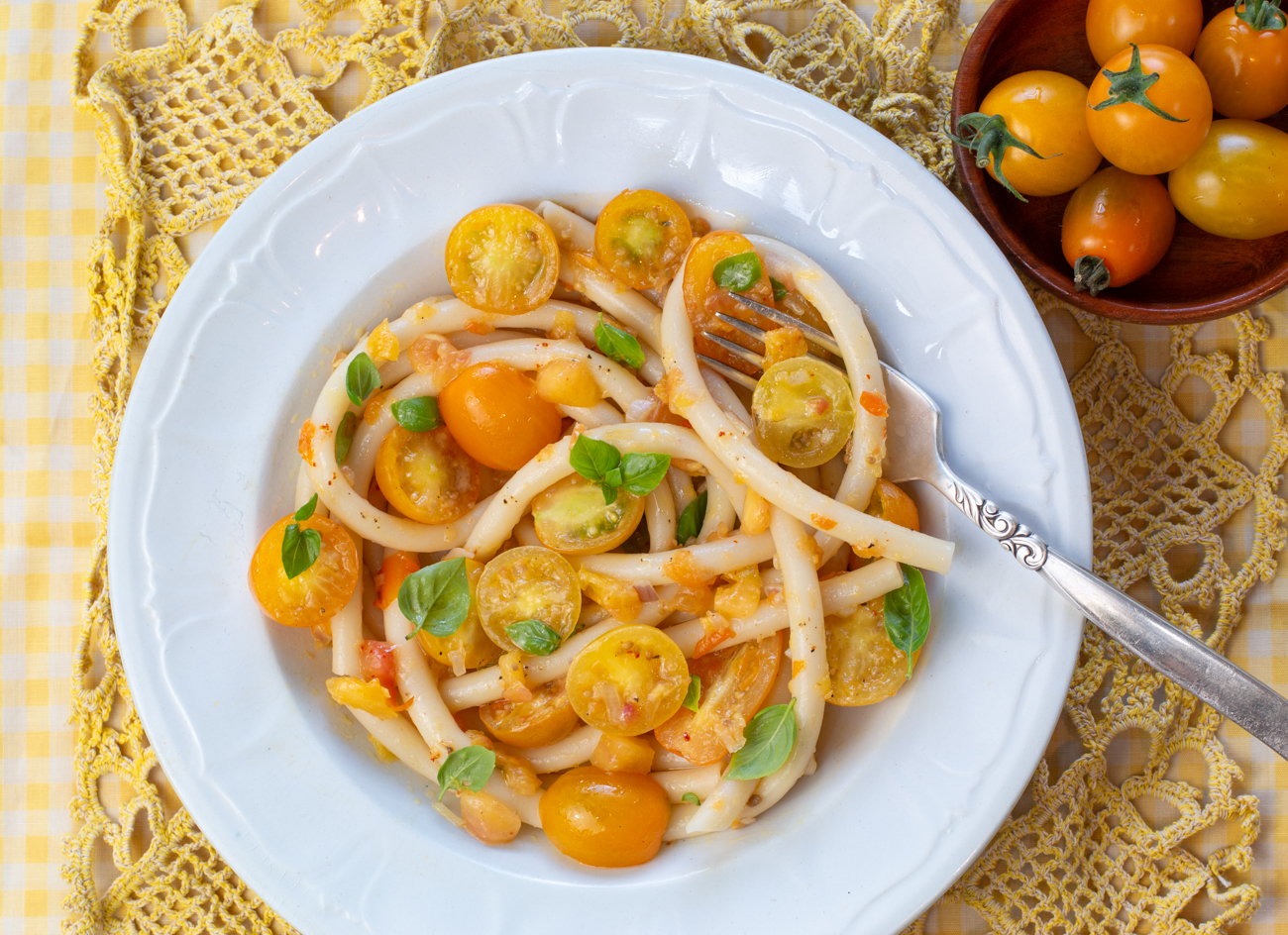 Karen Sheer