Burrata and Summer Tomato Parfaits
Description
Rich, buttery, creamy Burrata Cheese is sliced and layered with summer Cherry Tomatoes, Pesto Vinaigrette and Basil Leaves. Simply layer in a stylish glass – and lavish the bright flavors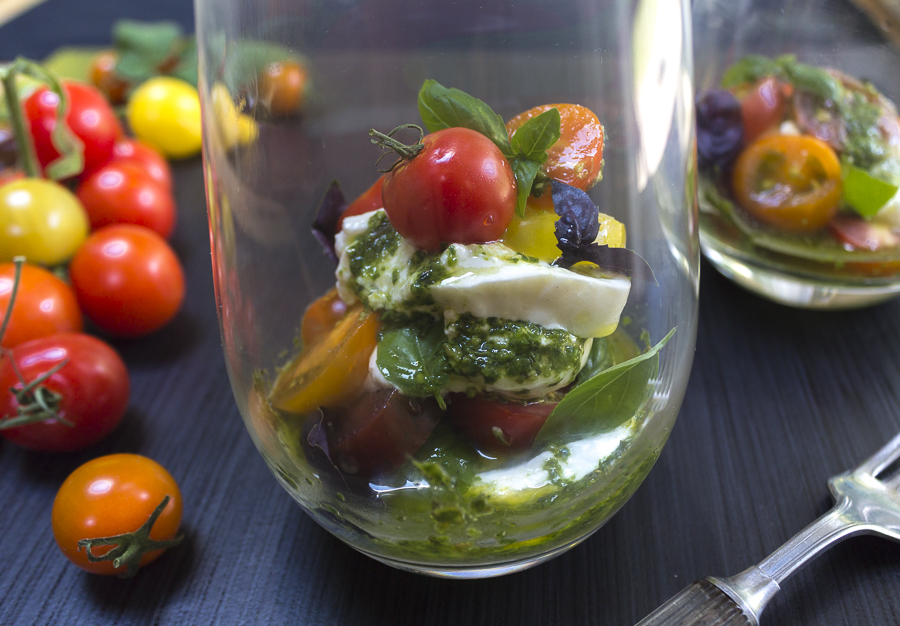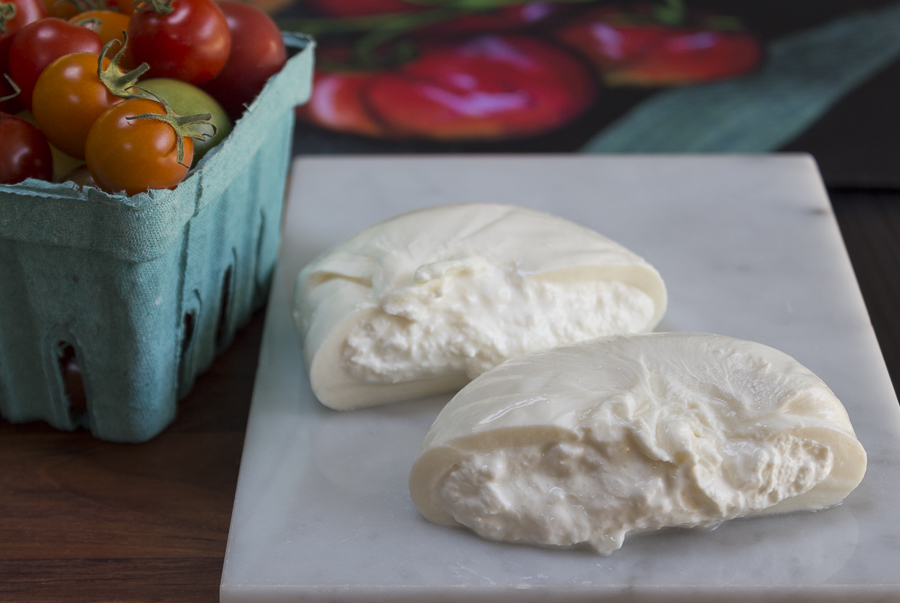 Ingredients
8

 

ounces 

Burrata Cheese, fresh, room temperature 

1

 

cup

 

cherry tomatoes, ripe, colorful

2

 

tablespoons 

basil leaves, small size, green and purple

¼

 

cup

 

Pesto Vinaigrette*, or more to taste
Method
To make 4 Parfaits:
Place 4 clean, clear glasses on your work surface (or a tray.)
I like to use deep glasses, with good design, and no embellishment.
Make the Pesto Vinaigrette.
Drizzle some pesto vinaigrette to the bottom of each glass.
Cut the Burrata into 4 equal wedges, one wedge for each serving.
Slice each wedge into 3 portions.
Lay a slice of burrata over the pesto, drizzle a little more pesto over burrata. Add some basil leaves.
Clean and dry tomatoes. Cut the into thick slices, or if small – cut in half.
Add a layer of tomatoes… then repeat. Three layers total.
Eat immediately.
If you desire to make ahead – cover the glasses with plastic wrap for a short time (refrigerate if necessary.)
Bring to room temperature before serving! Burrata is wonderful warm and oozy.
(Too long in the refrigerator, some juices will accumulate on the bottom as the tomatoes release their juices.)
* Pesto Vinaigrette:
2 T. Pesto
2 t. fresh lemon juice
4 T. extra virgin olive oil
Place pesto and lemon juice in a small bowl, whisk together. Measure olive oil and whisk in.
Taste for seasonings. Add salt, grated garlic, or fresh ground pepper if needed.
Store in a clean glass container in the refrigerator.
Double recipe if desired.
This recipe can not be reproduced without the permission of its author, Karen Sheer
Notes