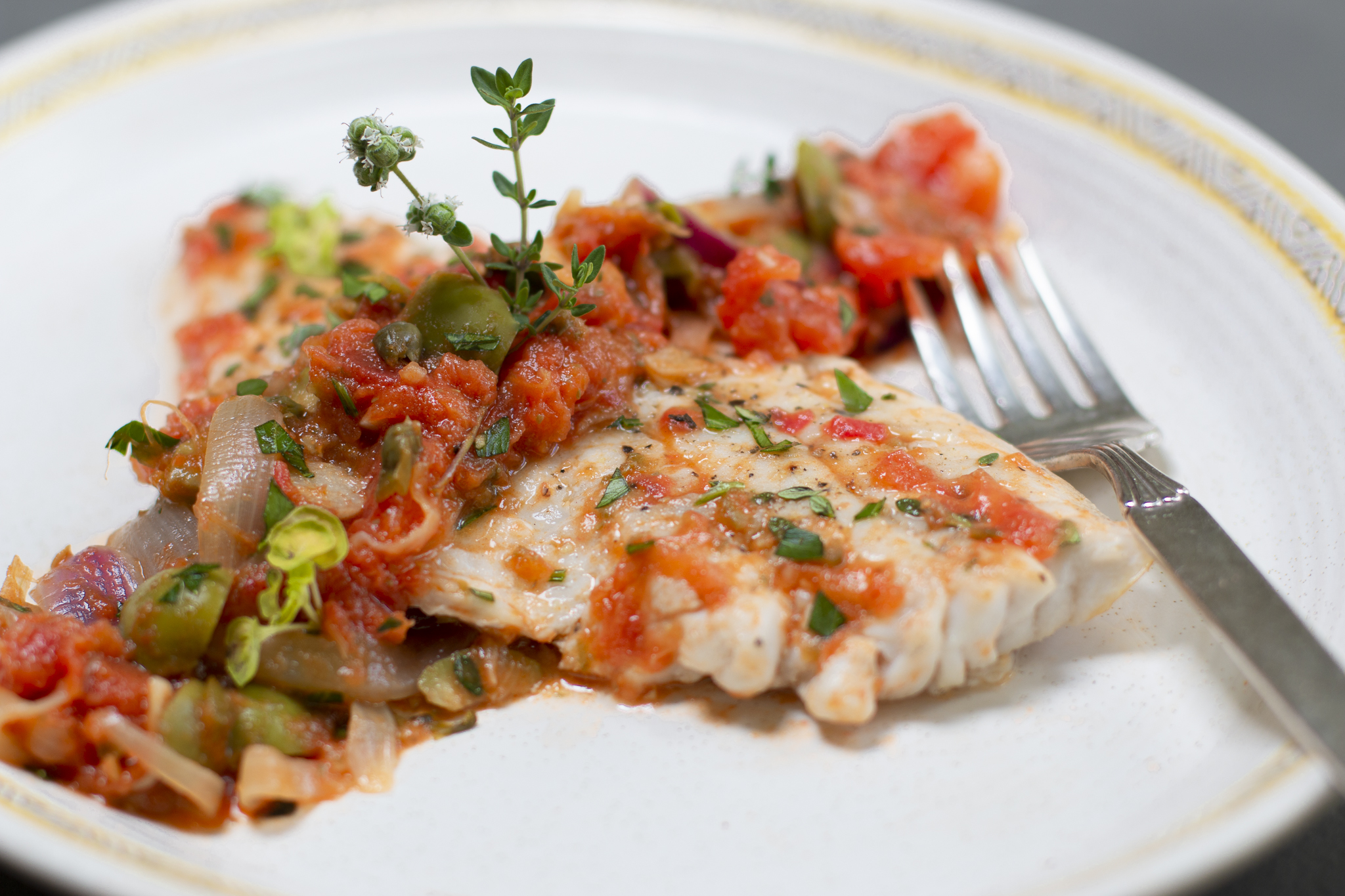 Veracruz-Style Snapper with Fresh Garden Tomatoes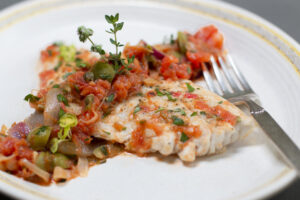 I've taken a classic dish and reworked it with Just Picked Local Tomatoes and have added Fresh Garden Herbs. The result – a lighter and aromatic dish bursting with flavor.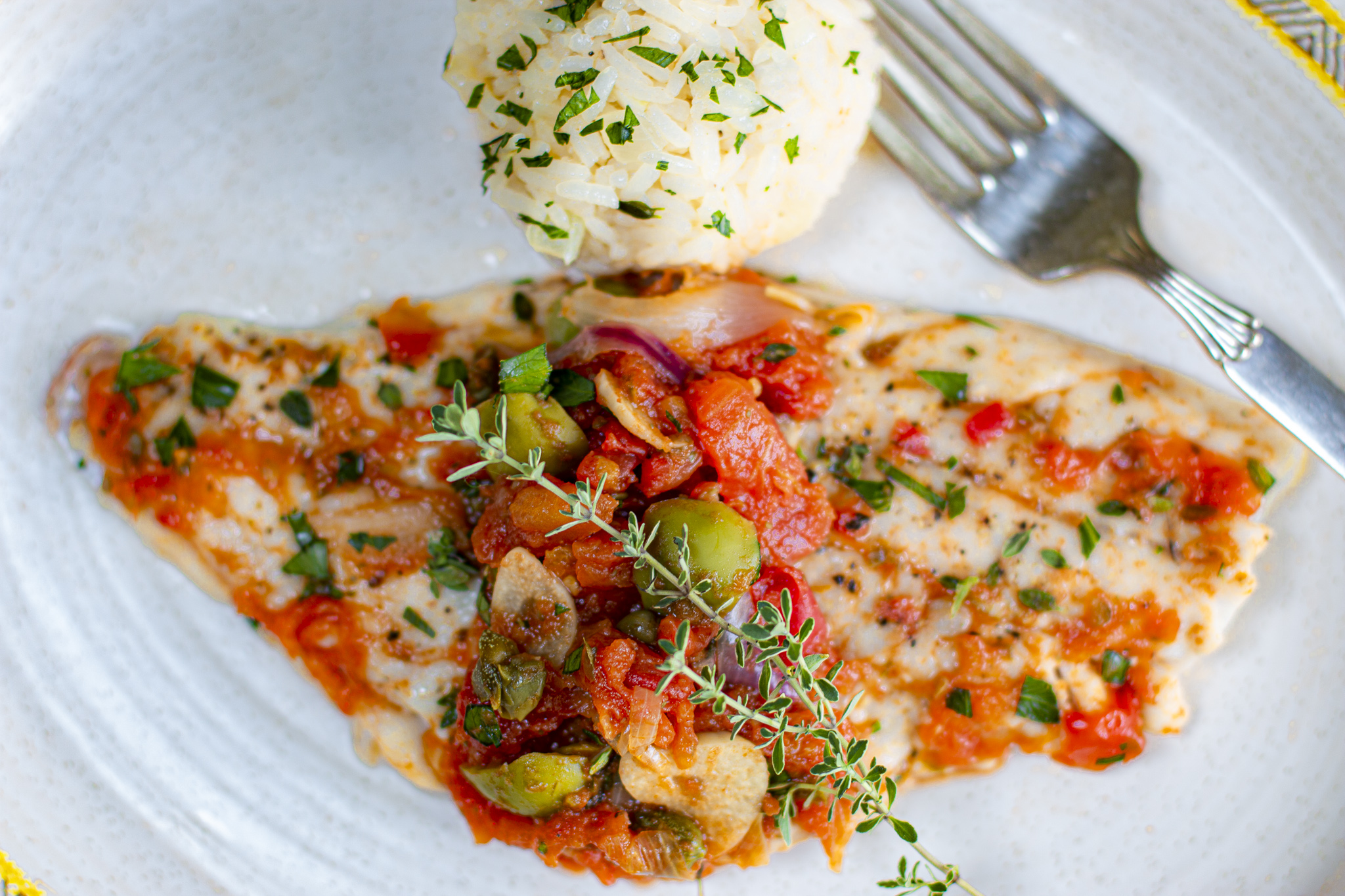 Serve with my delicious and simple Arroz Blanco
Recipe Overview: Skin, seed and chop the Garden Tomatoes. Make the Veracruz sauce in a 12″ skillet or a Dutch oven with a lid. Cook the Snapper in a skillet until lightly browned, but not cooked through. Add the Snapper to the sauce and cook, covered until cooked through and flavored by the sauce. Garnish with plenty of chopped Parsley.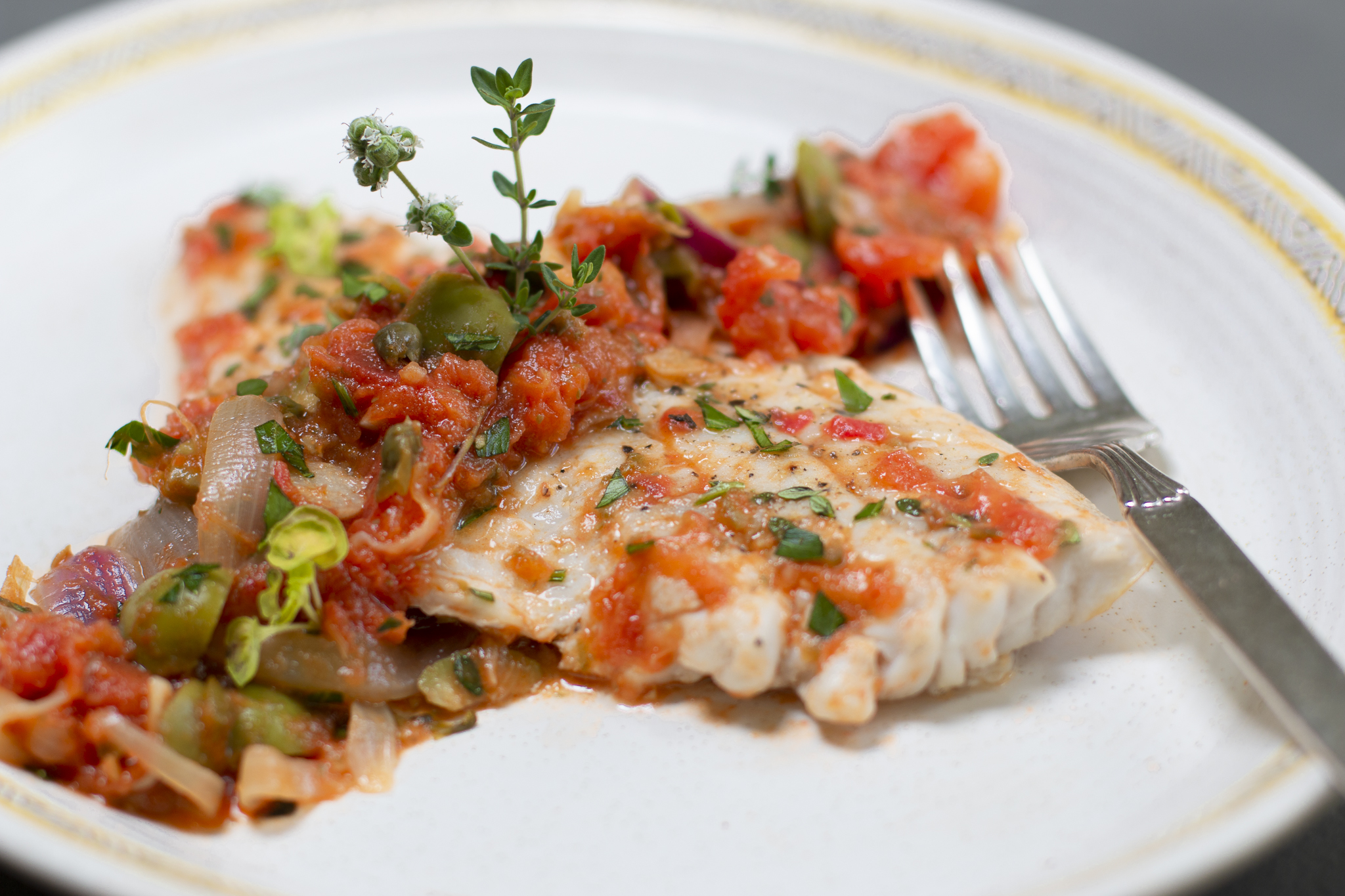 Ingredients
4 red snapper fillets (about 5 ounces each, bones removed)
For The Veracruz Sauce:
4 large fresh local field tomatoes
1 tablespoon extra virgin olive oil
½ cups onions, peeled and sliced thinly (I've used Summer Red Onions)
3 large fresh garlic cloves, thinly sliced (2 tablespoons)
2 teaspoons jalapeño, minced (more if you like very spicy)
6 large Castelvetrano green olives, pitted; large pieces (about ⅓ cup)
2 tablespoons capers plus 1 tablespoon of it's brine.
1 teaspoon fresh thyme leaves
1 teaspoon fresh oregano leaves
¼ teaspoon freshly cracked black pepper
sea salt to taste – at the end
3 tablespoons of chopped parsley
To Sauté the Snapper:
2 tablespoon extra virgin olive oil, divided
¼ teaspoon sea salt
⅛ teaspoon freshly cracked pepper
½ teaspoon fresh thyme leaves
Instructions
1
Skin and Seed the Tomatoes: (This is quite easy ~ I'll walk you through it.)
Add water half way full to a 2 quart pot. Bring to a boil.
Cut out the stem end of the tomato – turn over and cut and "X" on the bottom. (This helps the skin release.)
Add the tomatoes to the pot and cover. Check after 2 minutes – the skins should be pealing back.
Add the tomatoes to the sink in a colander, discard the water.
Peel the tomatoes with your hands when cool enough to handle.
Cut the tomatoes crosswise with a knife. Squeeze each half over the sink – discarding the seeds. Repeat with all.
Place the tomatoes on a cutting board and rough chop in 1 inch pieces for the sauce. Save any juice to add to the sauce!
2
Finish the Veracruz Sauce:
Heat the olive oil in a 12″' skillet or dutch oven with a lid.
Raise heat to medium low – add the onion and garlic and cook, stirring for 10 minutes until softened but not colored.
Add the remaining ingredients: jalapeño, pitted olives, capers (and it's brine), thyme leaves, oregano leaves and pepper.
Give a big stir – cook for 2 minutes to release their flavors.
Add the chopped tomatoes – raise the heat to high and stir for one minute to flavor them.
Add 1/4 cup any saved tomato juices – or 1/4 cup of water.
3
Reduce the sauce to low and cook uncovered until the sauce has broken down, 20 minutes. Taste for salt.
4
While the sauce cooks – Sear the Snapper:
Add cleaned and dried snapper fillets to a plate to fit.
Top with 1 tablespoon olive oil and the fresh thyme leaves.
Season with salt & pepper.
Heat a skillet with the remaining tablespoon of olive oil. Raise heat to medium- high.
When hot, add the snapper skin side up and cook quickly until the flesh is golden brown – two minutes.
Turn over with a metal spatula and cook the second side for just 30 seconds. Use the spatula to press down on the fish so it does not curl.
Remove fish to a plate and set aside. (Will be partially cooked.)
5
To Finish & Enjoy:
Tuck the snapper fillets into the sauce and cook, covered just until the fish flakes and is flavored by the sauce, about 5 minutes.
Garnish with parsley, and fresh thyme and oregano leaves if desired.
Serve with my delicious Arroz Blanco!
See BLOG for many more photos and steps to make my Snapper Veracruz.
This recipe can not be reproduced without the consent of its author, Karen Sheer
Karen Sheer