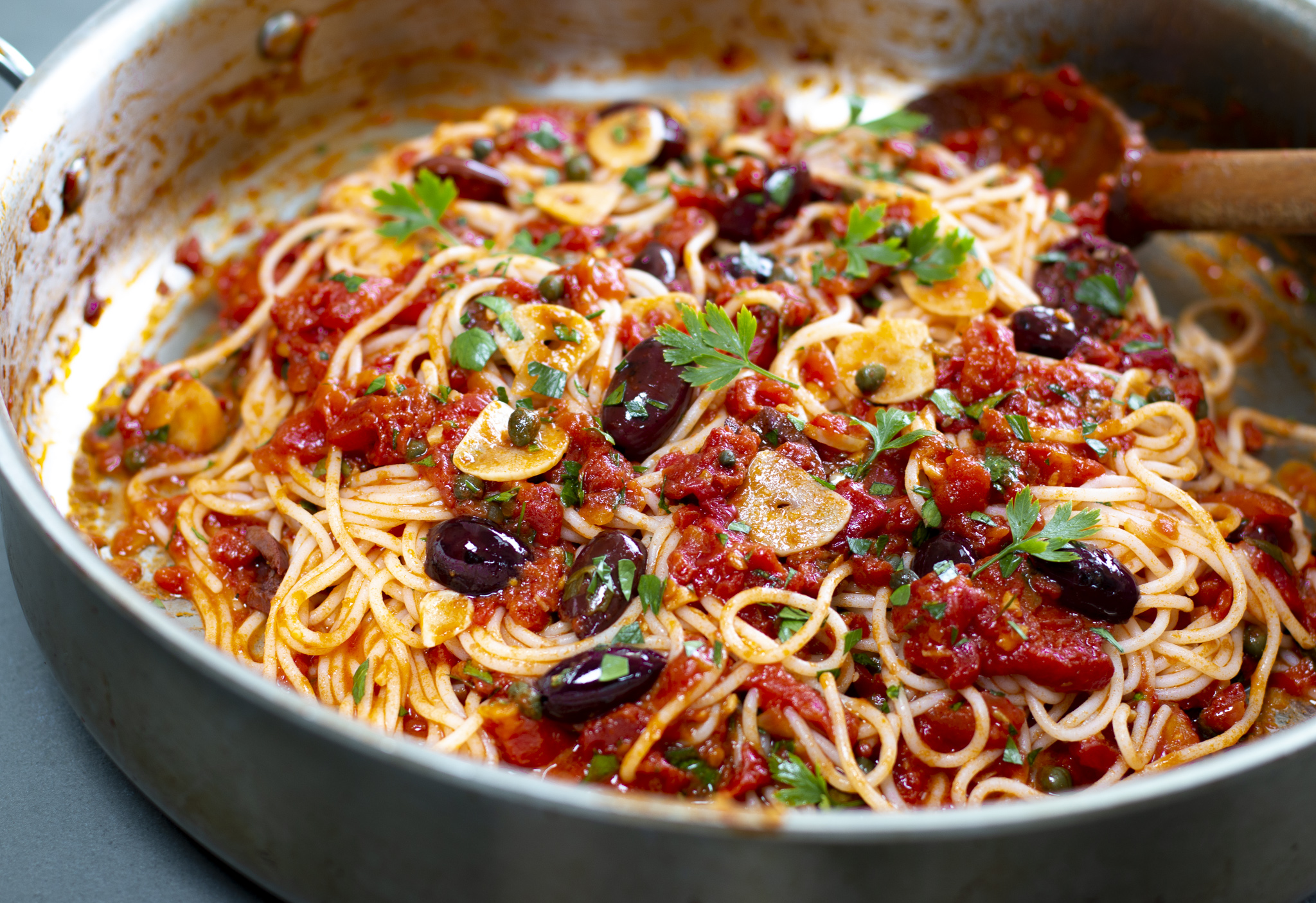 Karen's Pasta Puttanesca with Fresh Tomatoes
A vibrant sauce takes makes only minutes to prepare – this is one of my favorite dishes ~ Buon appetito!
The sauce is cooked in a big skillet – pasta is folded in, then served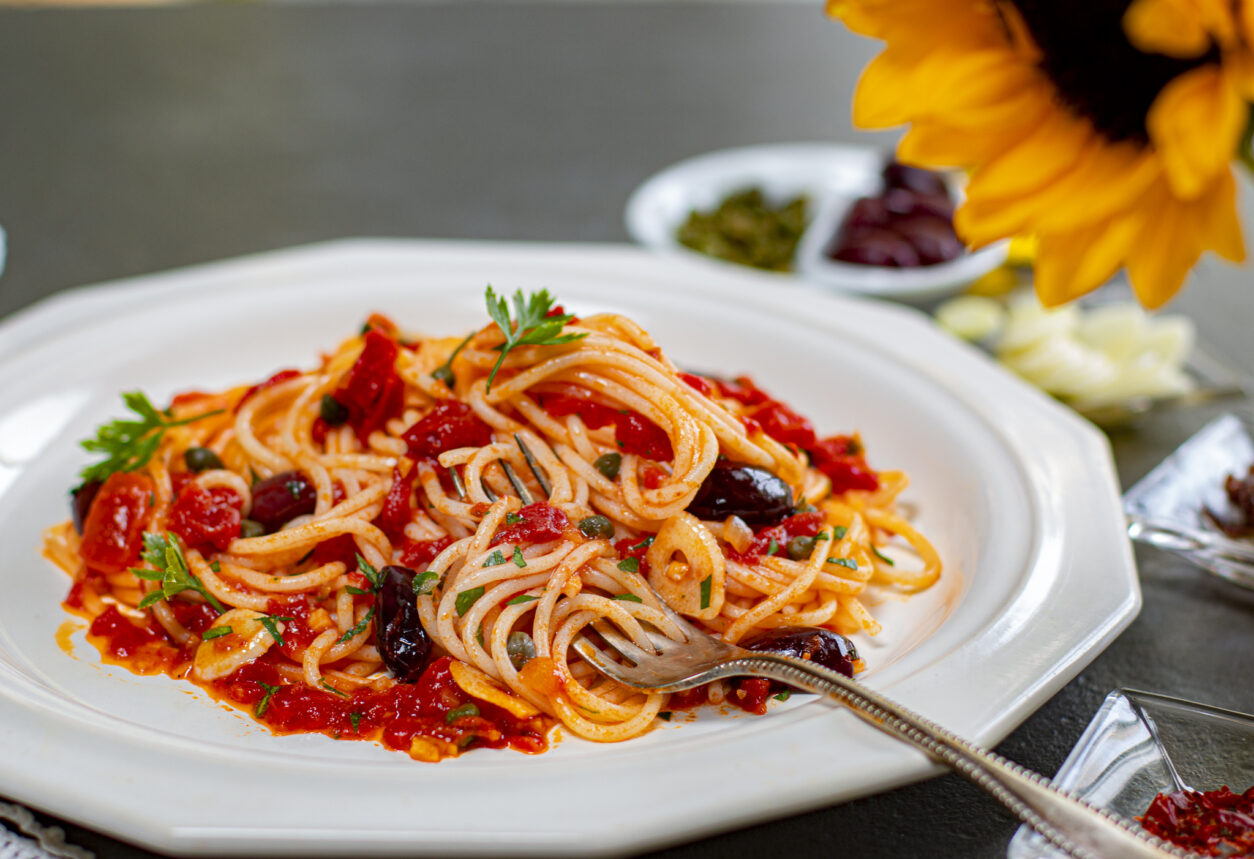 Puttanesca Sauce is big on flavor! Use fresh tomatoes if you can; the rest are pantry ingredients.
Chock full of fresh tomatoes, olives, capers, garlic, parsley, anchovies and extra virgin olive oil. An Italian robust sauce with sweet and salty flavors.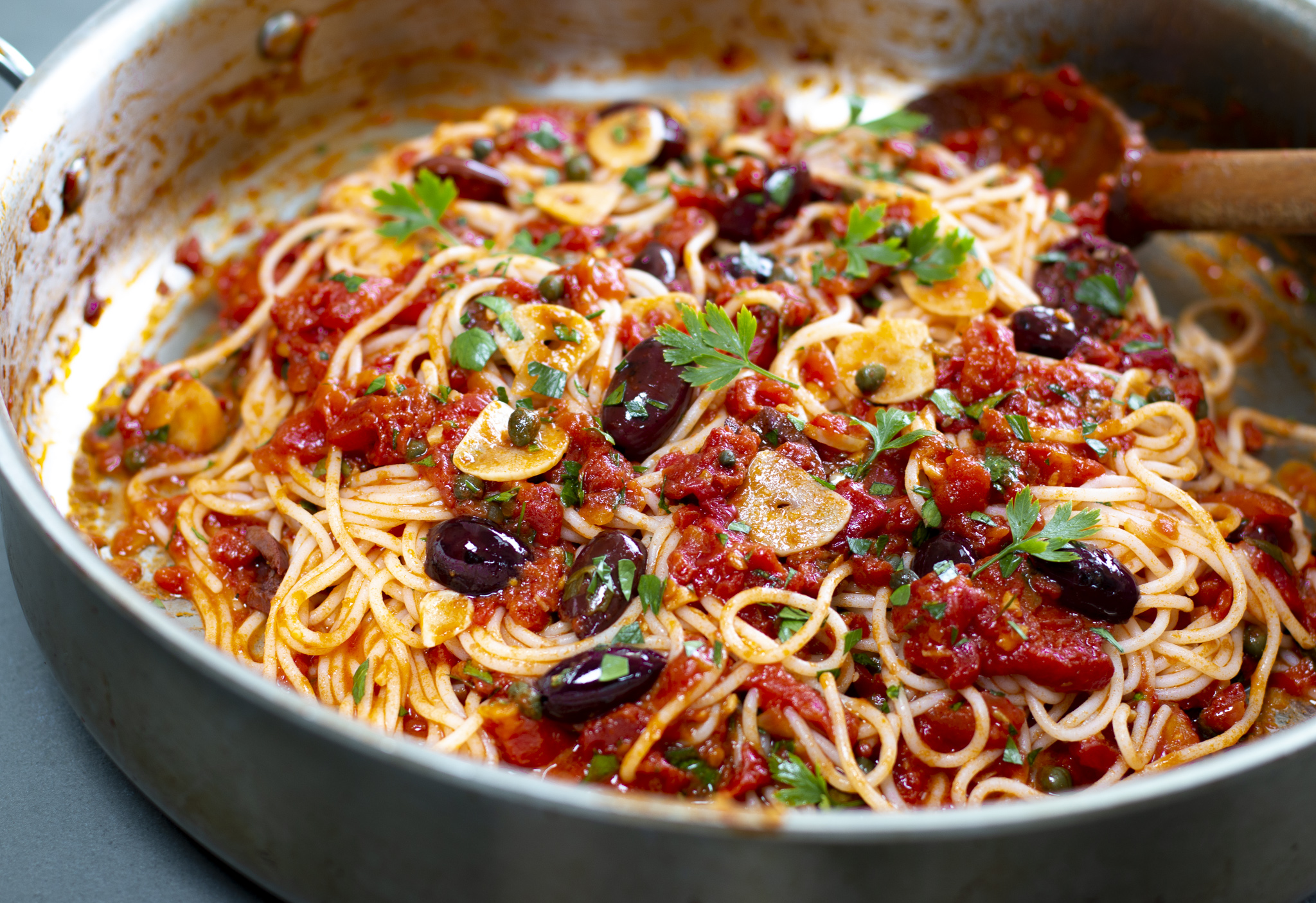 Ingredients
2 cups peeled tomatoes* or my "Fresh Tomato Sauce" (see recipe)
12 ounces dry pasta (try Italian bronze cut)
3 tablespoons extra virgin olive oil
2 tablespoons sliced garlic (use 3T. if your a garlic lover!)
3 anchovy filets, coarsely chopped (more if you like)
¼ teaspoon dried red chiles, seed removed, crumbled (more if you like spicy)
½ cup black olives, pitted – half whole, half cut in half (Kalamata or Bella di Cerignola)
2 tablespoons capers, drained
3 tablespoons fresh parsley, cleaned and dried, coarsely chopped
Instructions
1
*Tomatoes:
Make my Fresh Tomato Sauce. Or you can peel fresh plum tomatoes, seed them, and save the tomato juice, see recipe. Cut tomatoes in 3/4 inch pieces.
2
Boil water and cook pasta al dente at the same time you start the sauce.
(Drain pasta and add to the sauce with a tablespoon of the cooking water.)
3
In a large skillet add olive oil, sliced garlic and anchovies.
Turn heat to low and cook, stirring for 5 minutes until the garlic has softened – do not let the garlic brown.
4
Add the fresh tomato sauce or peeled fresh plum tomatoes (seeded) with their juice.
Give them a big stir and cook, stirring – raising heat to medium for 5 minutes.
5
Add olives, capers and parsley.
Cook over medium heat until the flavors blend, 3 minutes.
6
Taste for salt add a few pinches if desired. Hint: anchovies and olives have a good amount of salt, so best to taste the sauce.
7
Add the just cooked a la dente pasta to the sauce in the skillet with a tablespoon of its cooking water, and give a big stir.
8
Serve the Pasta Puttanesca with a garnish of small parley sprigs.
I do not add parmesan cheese – Italians rarely mix fish (anchovies) with cheese…
your call!
*You can used canned tomatoes, yet this is my third choice. Choose Italian San Marzano Peeled Plum Tomatoes.
See BLOG for many more photos and information.
This recipe may not be reproduced without the consent of its author, Karen Sheer.
Karen Sheer