Thanksgiving 2022 – Mastering Turkey & Gravy PLUS All the SIDES
Make the most flavorful turkey with a memorable gravy you will make every year. See my tricks and hints! Plus – let's also get serious with a Creative & Healthy Mix of Crave Worthy SIDE DISHES.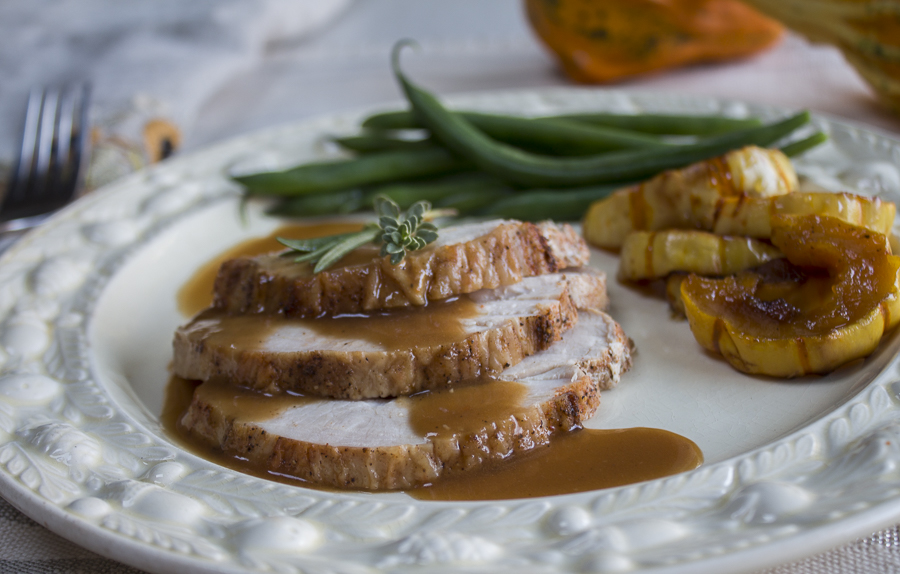 It's all about the gravy! Learn how to make a dark, caramelized and flavorful gravy – and it's not difficult…
just need to follow a few steps. It will make your Thanksgiving celebration a hit! I'm picky here – I don't care for light colored gravy. I seriously dislike gravy that is thin – with no body.. or one that is so thick, sticky and sloppy.
Healthy Sides ~ More Flavor, More Color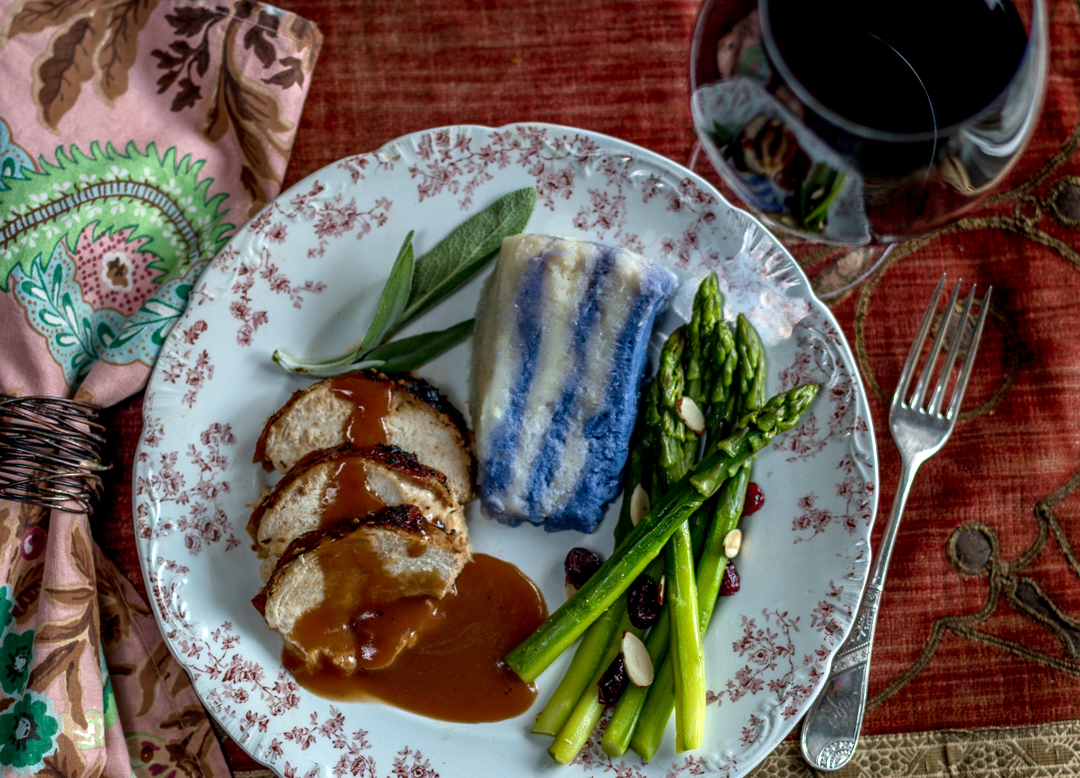 Roast Turkey with Marsala Gravy, Sautéed Asparagus with Cranberries and Almonds and Layered Purple & Ivory Mashed Potatoes
Here are Four Potato Recipes… I always serve two!
How amazing are these potatoes? They can be made days ahead and reheated. What I love about this recipe – besides it's gorgeous presentation is they are not heavy, but light and creamy. But no cream in the recipe. Just the right amount of milk & butter… but not too much. Garlic adds depth and flavor – an awesome recipe for special occasions. Purple Peruvian Potatoes layer with Yukon Golds creating a striped pattern.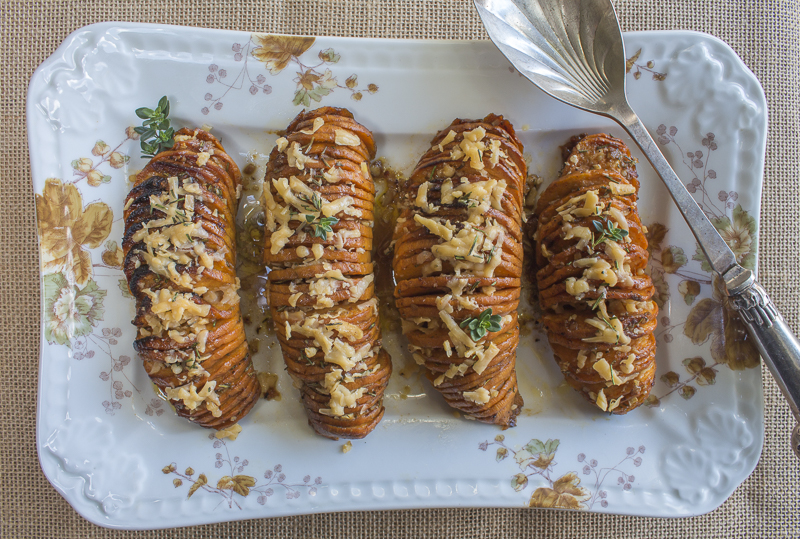 These "fanned" sweet potatoes simply bake in the oven with a syrupy, maple glaze. Tuck garlic in the crevices and sprinkle with fresh rosemary. I love adding a touch of grated, aged gouda cheese on top – your Thanksgiving company will scream"YUM!" These delicious potatoes just look fancy – but are actually easy to pull together.
A must for Thanksgiving! A wonderful thick glaze surrounds rounds of yams with a cinnamon essence. A healthier lightened- up recipe! A beautifully sticky glaze that's not too sweet. The trick: reduce Fresh Apple Cider!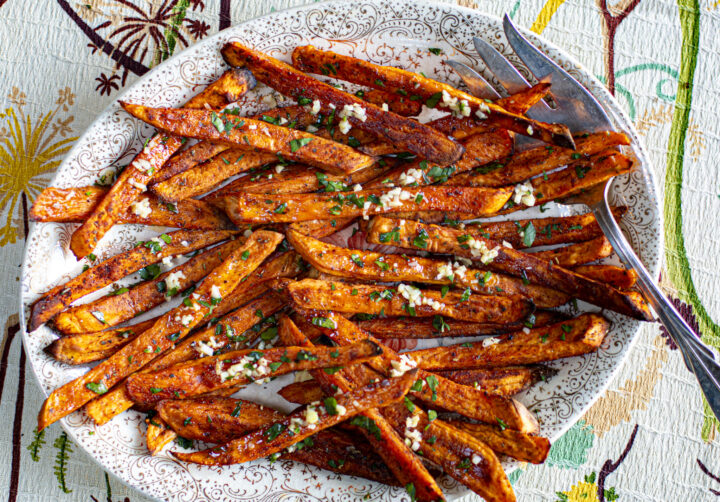 These are a weekly staple in my house. Serve them too for Thanksgiving – everyone loves these! Seasoned, Roasted and Tossed in Garlic, Butter and Parsley.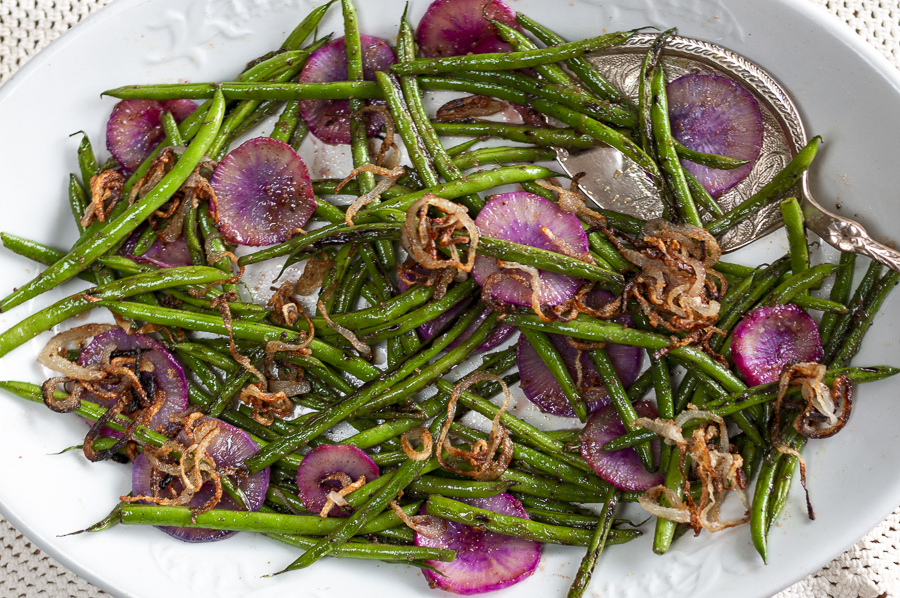 Beautiful flavors and colors ~ you'll love the pan fried shallots (better than those canned fried onions!) Sauté Haricot Verts in a hot skillet to blacken the edges. Add Sliced Radishes and a quick stir in of Miso, Lemon Juice and Pure Maple Syrup. All tastes delicious with Pan-Fried Shallot Rings on top!
Full of color & flavor – can be made early in the day. Vegan. Make perfectly cooked Haricot Vert with a mixture of textures and colors. Sauté Haricot Verts in a hot skillet to blacken the edges. Add Garlic Chips, Shiitake "Bacon", Toasted Almonds, Pomegranate Seeds and Za'atar Seasoning.
Carrots caramelize with the figs with a delectable just-sweet-enough glaze…  all roasted in one pan. A Vegan recipe. Here is a colorful, balanced side-dish that excites the palate rather than weigh it down. The perfect combination of roasted veggies & fruits with nuts, herbs and a zippy (well….zesty!) glaze.
The perfect Cranberry Sauce – chunky, tart-sweet and loaded with fresh pineapple and a touch of ginger.
I LOVE serving a salad with the Thanksgiving Feast!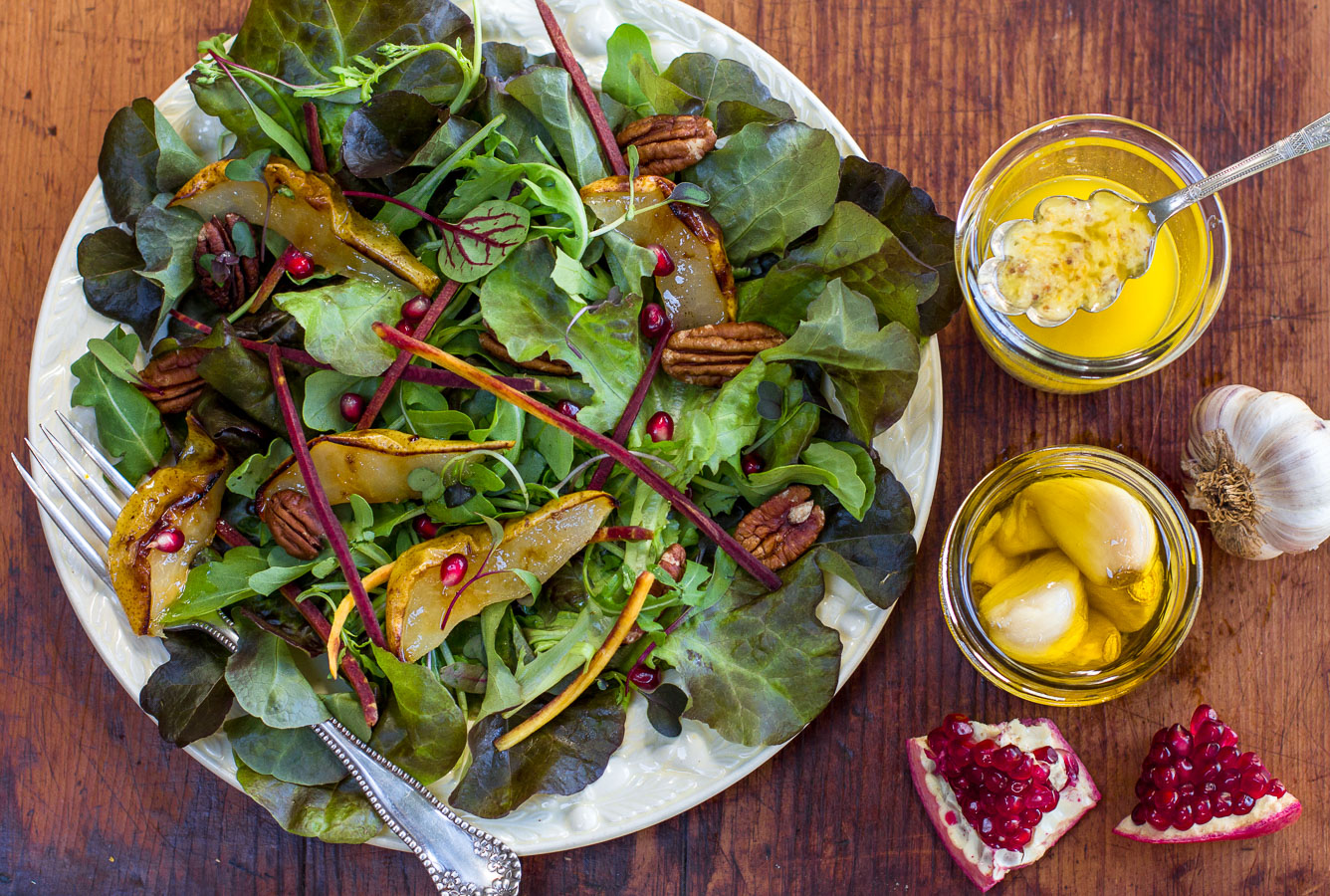 A delicious and healthy Fall Salad with Caramelized Pears, three Greens, julienned Purple Carrots, Pecan Halves, Pomegranate Seeds and an awesome Zesty Garlic Confit Vinaigrette.
A beautiful, crispy and crunchy salad with Winter-White Vegetables. Chioggia Beets add a touch of crimson color, as does the rind of the Pears and Black Radish.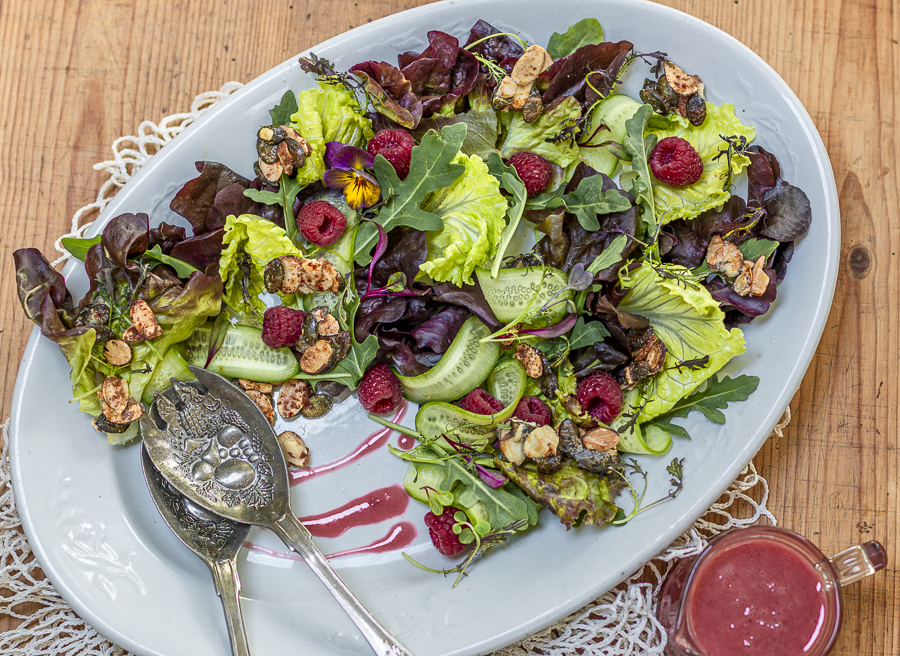 Crispy, Crunchy & Sweet ~ a brilliant, colorful, healthy salad… make place at your Thanksgiving table for this treat! Make the dressing ahead and adorn with my Nut and Seed Crunch A beautiful, crispy and crunchy salad with Winter-White Vegetables. Chioggia Beets add a touch of crimson color, as does the rind of the Pears and Black Radish. A restaurant quality salad which is easy and fun to prepare.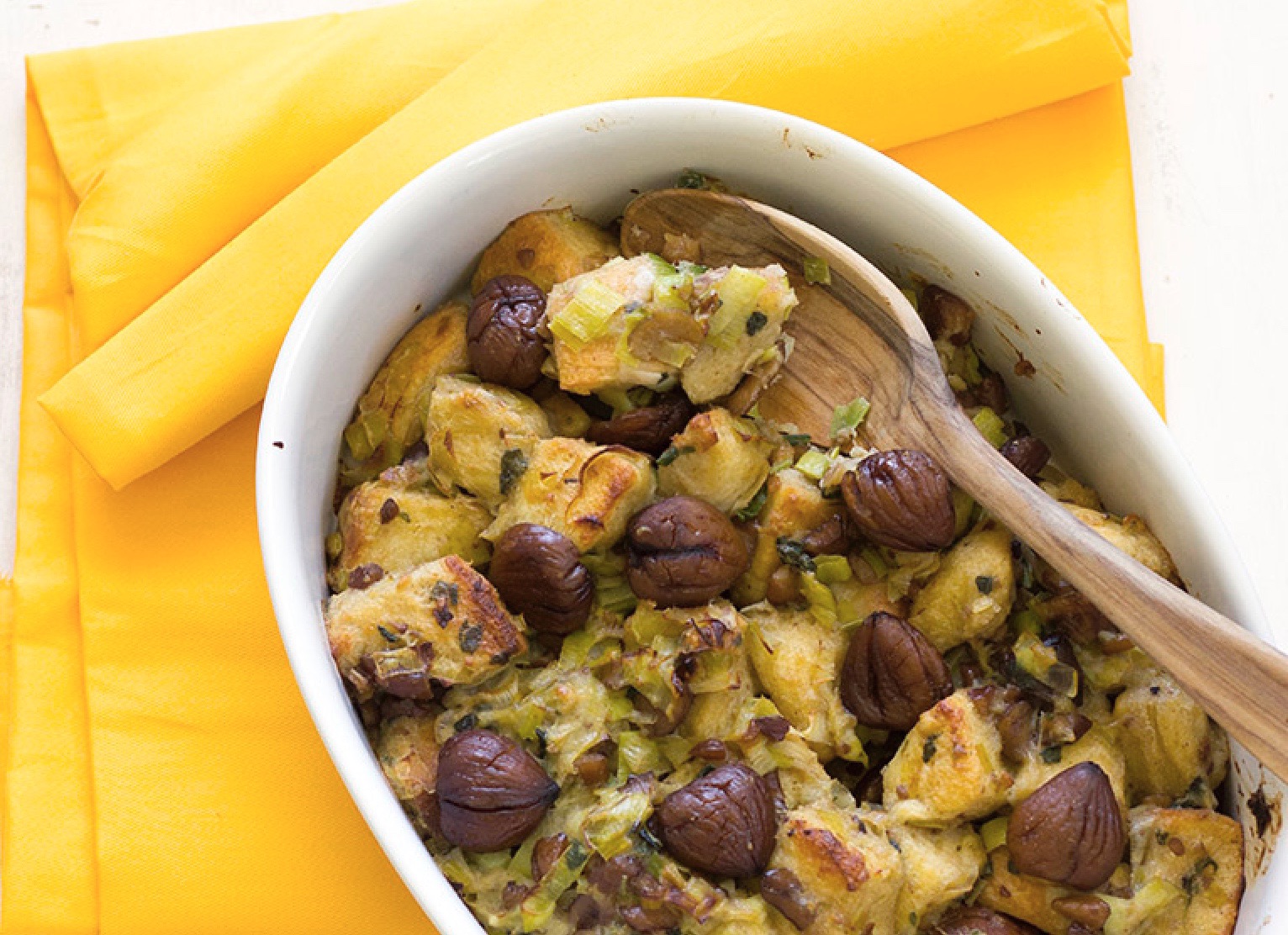 A simple and bold chestnut stuffing with a great well rounded flavor. Just the right amount of dried fruit, veggies and tarragon. Try different varieties of breads to produce unique textures.
A simple cornbread, which is gluten-free adaptable. Freshly baked, fluffy, moist and buttery ~ that's not too sweet. My favorite cornbread recipe… delicious with fresh corn kernels! With delicious stuffing being served – all seem to adore this cornbread.
ORGANIZE This Year – Write a Food Shopping List & Timeline
Food Shopping List: 
The first list is what to buy now – non-perishables. Think butter, oils, nuts and Marsala wine for the gravy!
Write down all the recipes with ingredients you will be cooking – separate categories like "fruits", "veggies" and "dairy." These written ingredients will make locating items a breeze!
When to buy the ingredients? Indicate, Now, Monday, Wednesday (for instance)…
Which stores do I buy what? I have a list for Farmers' Market, Whole Foods, Trader Joes and Shoprite…
Timeline:
I use a large pad and draw vertical columns!
The first column says: A week in advance – anything that can be made early; chicken stock, rolled pastry for pie; items that can be frozen…
The next columns are for every day of the week: Monday, Tuesday, Wednesday and Thanksgiving Thursday. So you do not get overwhelmed – fill in what you can get done each day.
– Most vegetable dishes I make Thursday after the turkey goes the oven.
– Potatoes can be made Tuesday or Wednesday.
– I make all my desserts Wednesday night (with the exception of Ice Cream, I do a week in advance.)
NEXT WEEK: Thanksgiving Appetizers & Desserts!
Here's to a Happy & Healthy Thanksgiving to you and your family,
Karen

Karen's Roast Thanksgiving Turkey Basted with Fruit Juices and Marsala Gravy
How to cook the perfect turkey, stuffing and gravy. I have developed this recipe after years in the kitchen. You will use this recipe over and over again! See notes above the recipe ~ why this recipe works, and is the most flavorful turkey.
Print Recipe
Pin Recipe
Rate this Recipe
Ingredients
14

pounds

(12 – 16 pounds) fresh turkey, cleaned & dried

(see below)

one

half

lemon

2

teaspoons

neutral oil

such as safflower, expeller pressed

1/2

teaspoon

sea salt

1/2

teaspoon

freshly cracked pepper

2

large

carrots

cleaned, sliced

1

large

ribs celery

cleaned, sliced

1

large

onion

peeled and sliced

6

large

garlic cloves

peeled

3

cups

chicken broth/stock

preferably homemade

1/4

cup

pomegranate juice

1/4

cup

pineapple juice

1/2

bunch

fresh sage

1/2

bunch

fresh tarragon

1/2

bunch

fresh thyme
Instructions
Make Chestnut Stuffing with Shiitake Mushrooms, Apricots and Fresh Herbs. (Can be made the day before.)

Preheat the oven to 350 degrees. Rub the turkey inside and out with the lemon, then discard. Fill the body and neck cavity with the stuffing* (see recipe.) Do not fill too tightly, put the extra stuffing in a separate oiled baking pan to heat later. Truss the turkey and tie the legs together firmly. Rub the turkey all over with 2 t. oil, and then the salt and pepper.

*If stuffing the turkey - the cooking time is raised by about 30 minutes. You may cook the stuffing in a baking pan to hold - basting with a little broth, and uncovering at the end for a cripsy top.

Scatter the carrots, celery, onions and garlic on the bottom of a heavy roasting pan. Place the turkey, breast side DOWN on a V – rack.

Roast until the vegetables are very golden, DO NOT ADD BROTH TO THE PAN UNTIL THE VEGETABLES HAVE DEVELOPED A RICH COLOR - about 1 hour.

Do not burn the vegetables, but you will want a deep colored and flavored gravy – the vegetables must be dark in color.

Add 3 cups of chicken broth to the bottom of the pan with the fresh herbs (sage, tarragon & thyme.) Carefully turn the turkey over, breast side up and baste with the pomegranate and pineapple juice (a pastry brush is useful.) Roast until the juices run clear. Baste occasionally, alternating with the pan juices and the fruit juices. The fruit juices will give the turkey a beautiful mahogany color.

Tent with foil in the last hour if the turkey gets too dark. Insert a meat thermometer in the breast, it should read 165 – 170 degrees (the thermometer should not be placed near a bone.) When pierced, the juices will run clear.  A 14 lb. turkey should take about 3 hours to cook, 20 minutes per lb. A 16 pound turkey should take about 3 1/2 hours. Allow a little extra time for a turkey that is well stuffed, about 30 minutes longer.

Make Karen's Marsala Turkey Gravy – see recipe. It's amazing, and makes the meal!

Cooking a larger turkey? For an 20 - 22 pound turkey – add 1/2 more of all ingredients.
Why to Brine a Turkey:
Soaking a turkey overnight in a solution of salt and water ensures moist results. When you add aromatics to the brine, the resulting roast is also infused with a subtle character all its own. Some say: The greatest advantage of wet brining is that it results in the juiciest possible, while others express – it's juicy, but the juice is watery. A wet turkey can be slow to brown, so for the best results, remove the turkey from the brine at least 6 hours before you plan to roast and rinse it, if desired, then pat it dry and let it sit in the refrigerator, uncovered in order to dry the surface.
Wet Brining Easy Recipe:
Brine: Bring 1/2 cup water to boil. Add it to your largest pot which will hold your turkey. Add your flavoring: 1/2 cup salt, 1/4 cup pure cane sugar, a few broken bay leaves, a dozen whole cloves, 1/2 teaspoon red chili flakes, 1/2 bunch fresh thyme. Stir all well until the sugar dissolves. Add your cleaned turkey, then cover with cool filtered water. Cover and refrigerate overnight. Pat dry when ready to roast – best if you can remove it from the brine 6 hours ahead to dry. (Many recipes call for LOTS of sugar and salt. My method works well!)

Let the turkey cool before carving. At least 20 minutes for a medium bird; 40 minutes for a large one.
Notes
See the website for many After Thanksgiving Recipes ! 
This recipe may not be reproduced without the consent of its author, Karen Sheer.
Nutrition Facts
Karen's Roast Thanksgiving Turkey Basted with Fruit Juices and Marsala Gravy
Amount per Serving
% Daily Value*
* Percent Daily Values are based on a 2000 calorie diet.
Karen Sheer