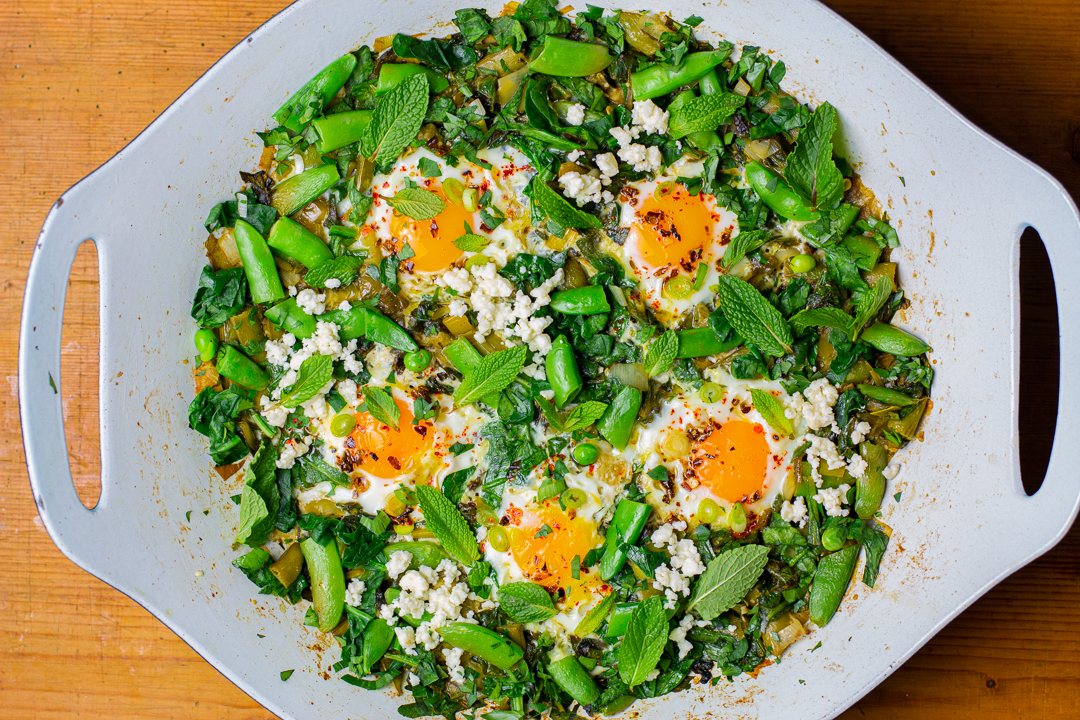 Great Recipes for New Year's Day Brunch
Ring in the New Year with some Home Cooked Delicious and Healthy Food you make yourself! Stay in and enjoy a leisurely brunch – many recipes can be made ahead of time.
My Newest Obsession!
In between toasted Challah Bread lies Creamy Eggs, Shiitake "Bacon", Sesame Kale Crisps, Cheddar Cheese and a Gochugaru Sauce. Your next favorite Brunch Dish ~ All the elements melt in your mouth surrounded by buttery crispy bread. See My Mild Gochujang Mild Hot Sauce recipe too!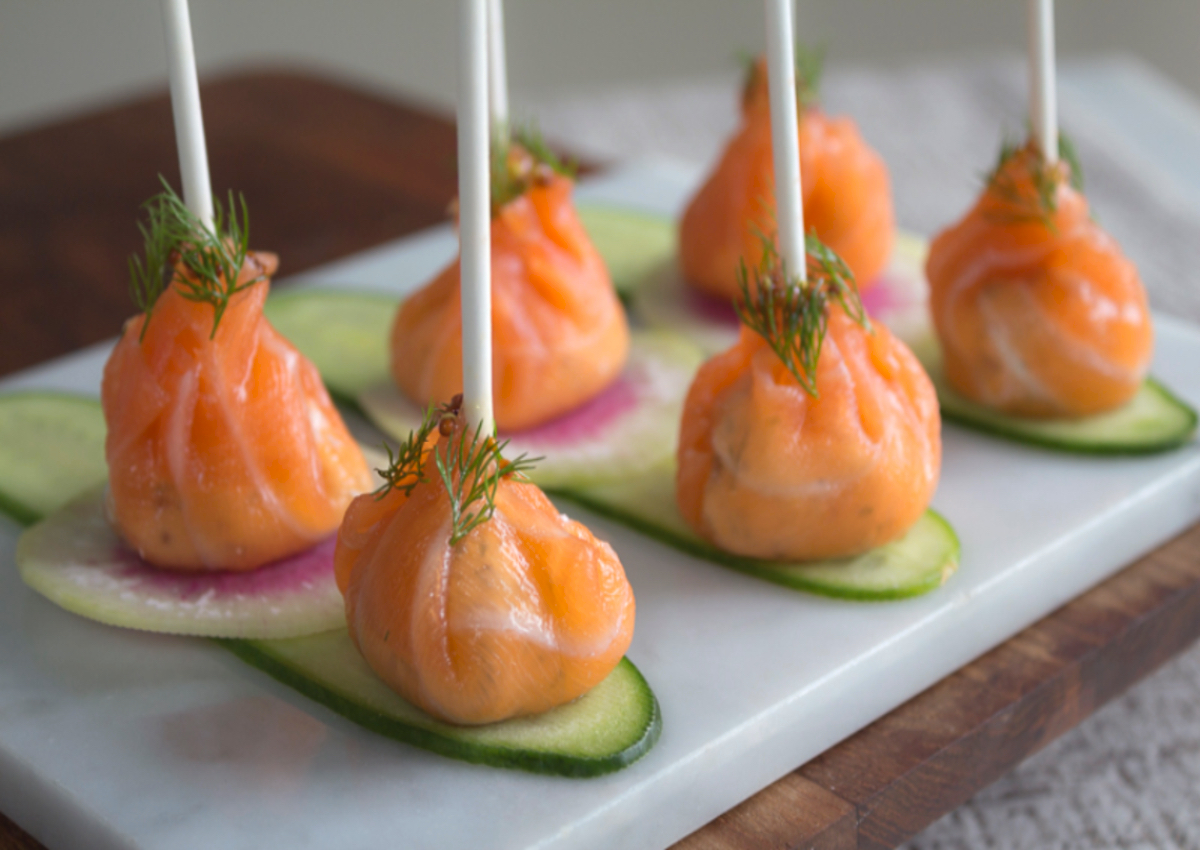 No one will be able to resist these savory lollipops. Thin sliced, luminous smoked salmon around zesty cream cheese – the perfect pick-up appetizer for New Year's Eve or New Year's Day. Also see: Karen's Vegan Cream Cheese.
With the surge for global cuisine ~ Middle Eastern food is a it's height of popularity, and the Mediterranean Diet proves to be an established healthy way to eat (not so much as a diet, but a lifestyle.)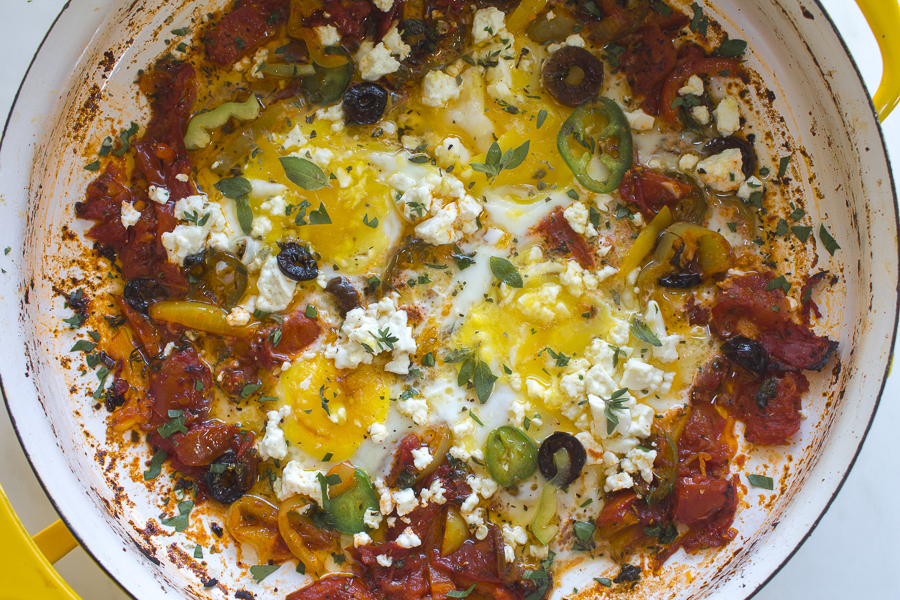 A Mediterranean Classic: THE new breakfast/brunch classic – a hearty vegetarian spin on Huevos Rancheros filled with Greek flavors to enjoy anytime of the day! Think Shashuka with a twist.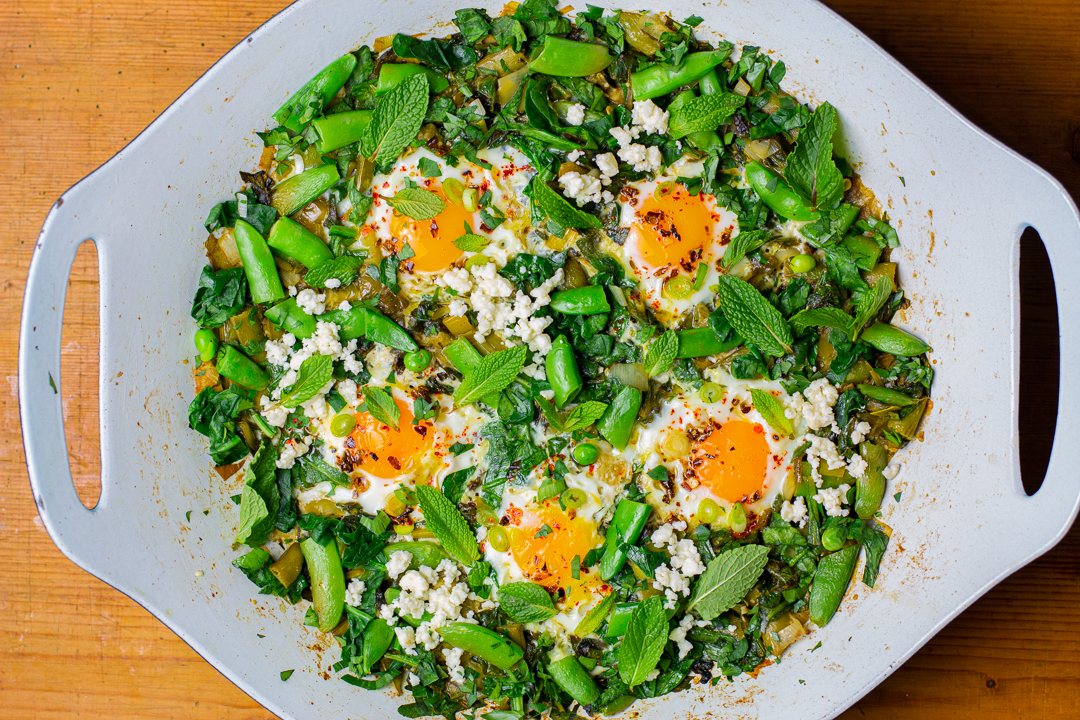 What to eat on New Years Day!
Gather the ingredients you will need and pump up the green antioxidants in this one-pan dish.
Healthy and satisfying with mild heat. My favorite Brunch recipe!
Hatch Chili Oil (recipe) is delicious drizzled on top of the Shakshuka! A quick infused oil with lingering mild heat. Dried Red & Green Hatch Chiles are infused with a fruity olive oil. Lends a mild kick and an extra boost of Southwestern flavor.

A light and flavorful casserole that is layered with vegetables, cheese, eggs & herbs.
Baked until puffy with a creamy-like texture – a meal in itself! Think: no-crust quiche.
A light and flavorful frittata that has plenty of vegetables, apples, cheeses & eggs. Creates beautiful Mosaic Layers! A creamy texture from the goat cheese… melts in you mouth yummy.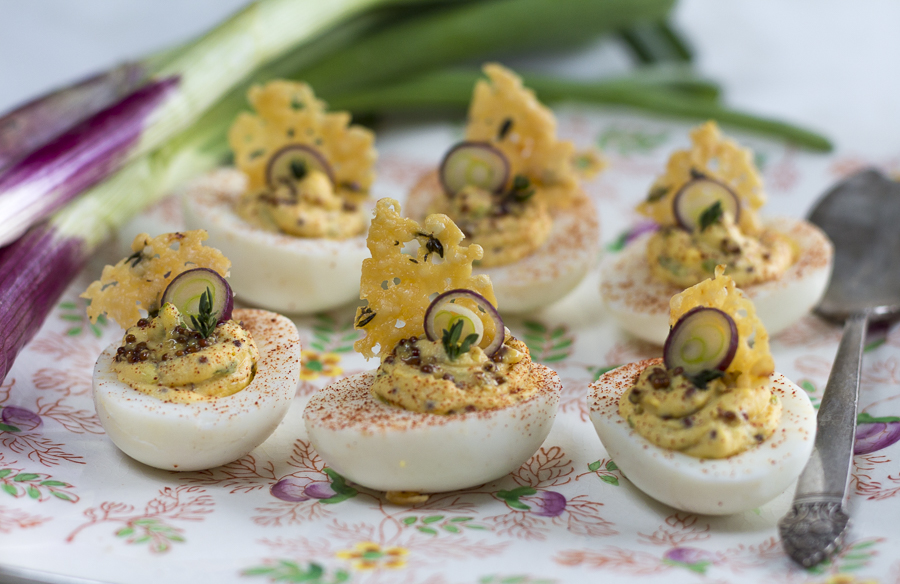 My Favorite Deviled Eggshell will love! Grainy Mustard, Purple Scallions, Thyme and a Crisp and Lacy Baked Cheese Frico Makes Them Pungent and Zesty.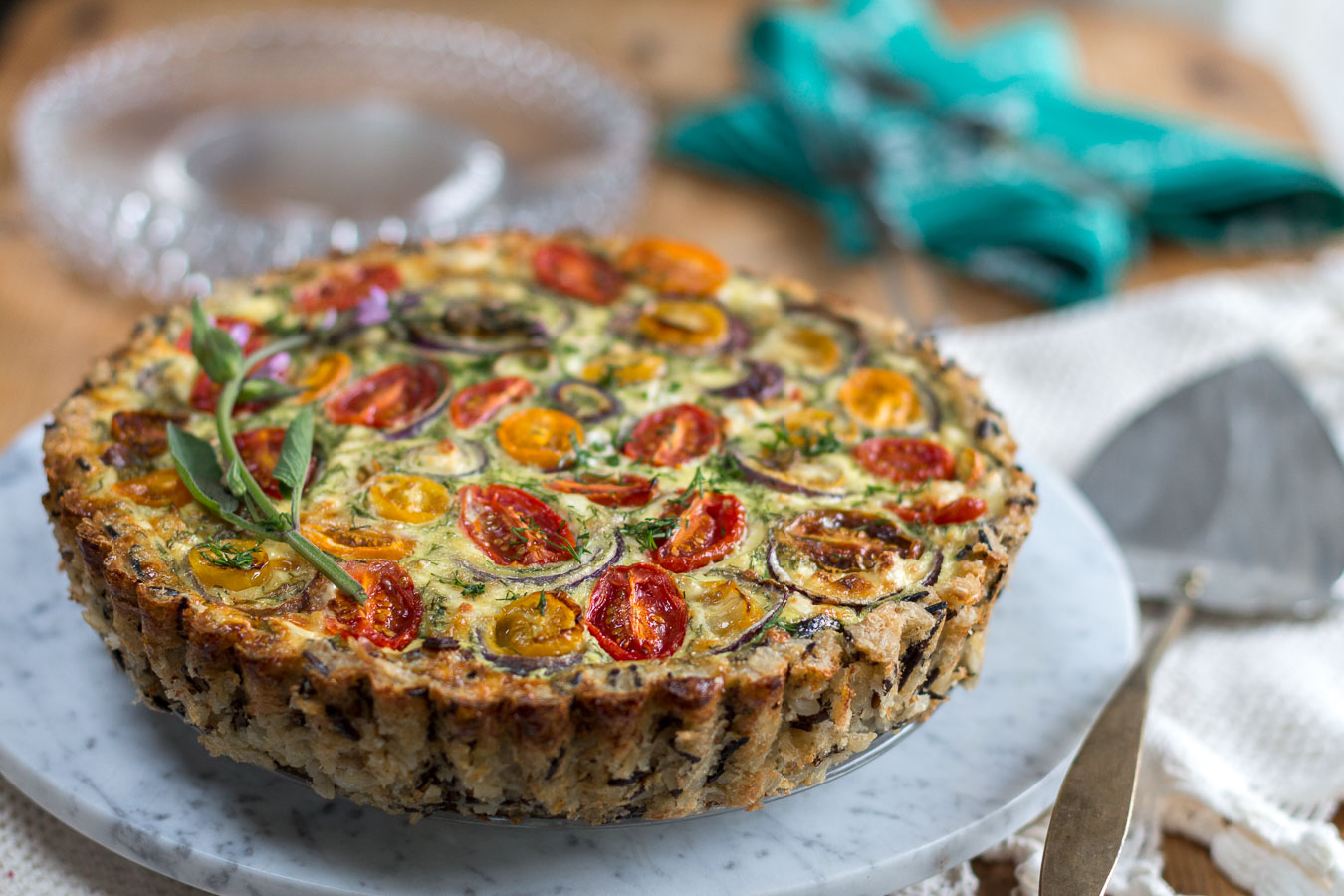 Bursting with Flavor and Color – this Naturally Gluten-Free Quiche makes the perfect hassle-free brunch, lunch or healthy dinner.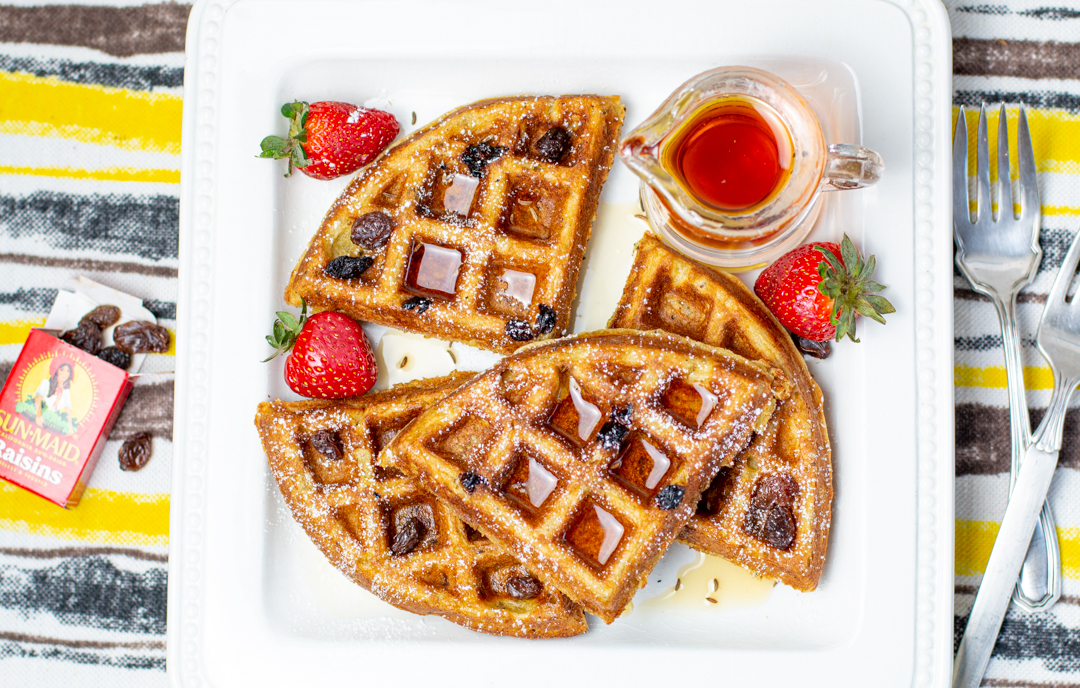 All the flavor and crunch of Irish Soda Bread – but delicious waffles!

Buttermilk based waffles with a boost of caraway seeds and raisins – great for breakfast, brunch, or the ultimate snack… I can't stop eating them!
Works perfectly with regular flour or gluten free!
Delicious and loaded with healthy ingredients with tips on how to cook a pumpkin and make homemade Pumpkin Puree.
Got an extra can of pumpkin puree hanging around? You'll love these tasty pancakes!
Add a salad!
Why not? Crispy, Crunchy goodness with that "I'm going to eat more greens this year" pledge!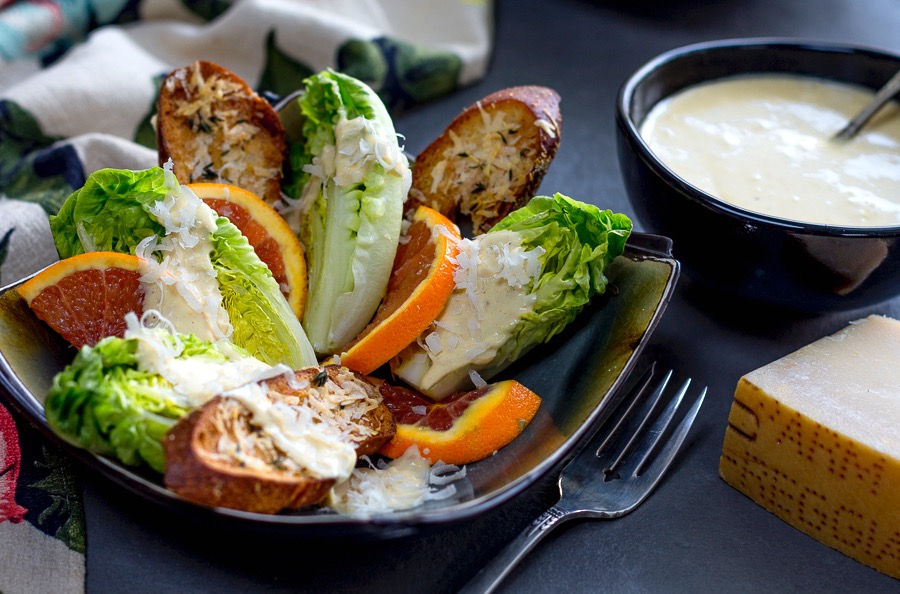 It's Winter Citrus Season – these low acid, sweet Cara Cara navel oranges entice a Caesar-style dressing with zest! A Wonderful – Simple Salad with crunch and a daily dose of garlic.
Little gem lettuce can be hard to source – can use inner leaves of romaine lettuce.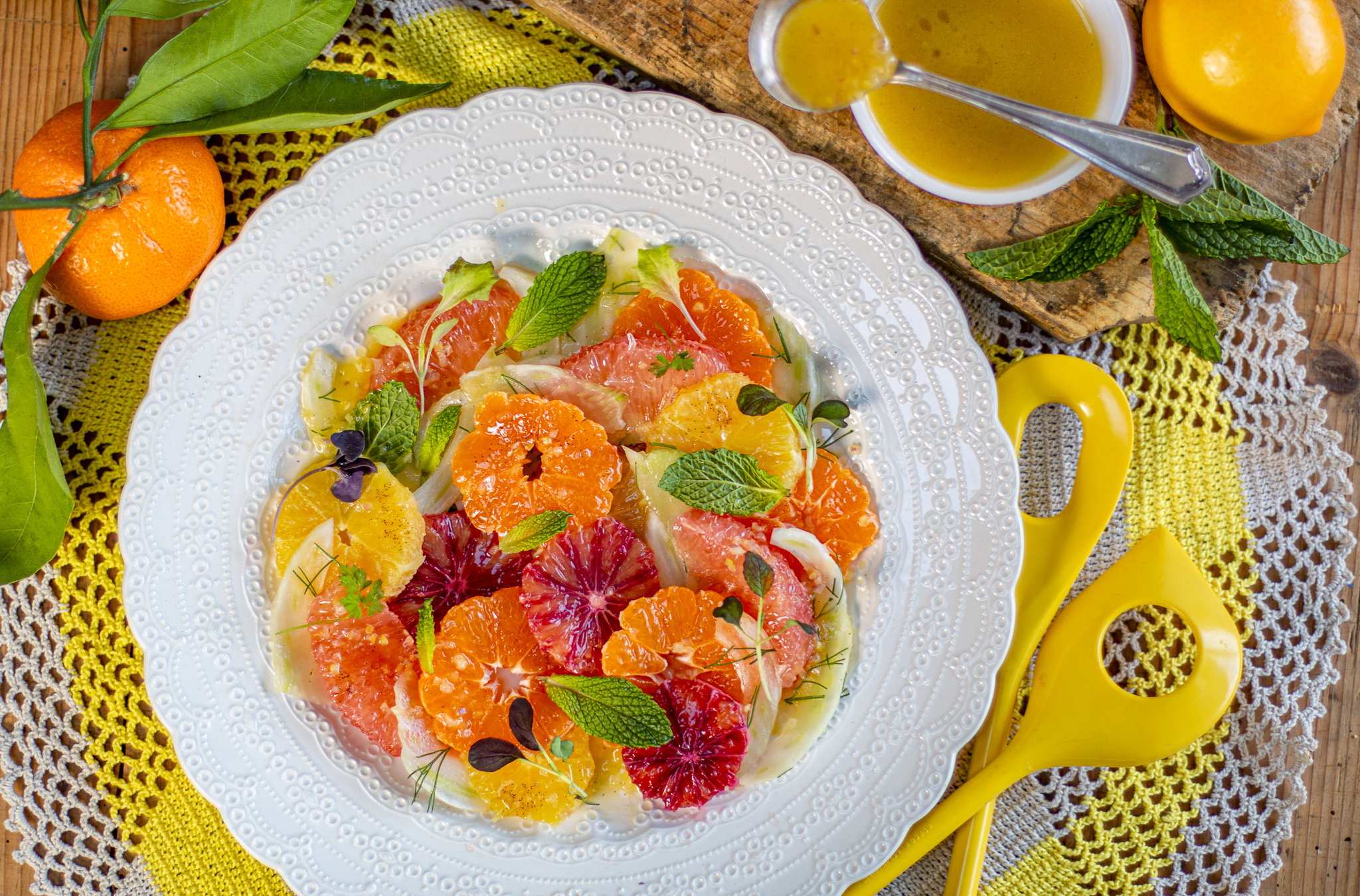 Refreshing! I'm combining many types of Citrus and teaming them with Shaved Fennel and Mint.
Drizzling on top with a delicious Citrus Vinaigrette with Vanilla Beans.
Refreshing and light – a ray of sunshine in Winter!
This Radicchio Salad has a nice sweet & bitter elements. Add Frisée lettuce, Watermelon Radish, Shaved Heirloom Carrots, Crispy Croutons with Grainy Mustard and Garlic and Karen's Grainy Mustard Vinaigrette with Shallots and Garlic. A flavor sensation!
Something Sweet:
A delicious cake with a bit of honey, these cakes are layered with sliced apples and an irresistible crumb topping. I'M OBSESSED WITH THE FRAGRANCE OF CARDAMOM IN THESE CAKES ~ CRYSTALIZED GINGER IN THE CRUMB TOPPING ADDS A PUNCH OF FLAVOR!
Here's to a Healthy, Happy and Fabulous new year!
Karen

Karen's Revamped Vegetarian Korean Egg Sandwich
In between toasted Challah Bread lies Creamy Eggs, Shiitake "Bacon", Sesame Kale Crisps, Cheddar Cheese and a Gochujang Sauce. Your next favorite Brunch Dish ~ All the elements melt in your mouth surrounded by buttered, crispy bread. The sauce is a mix of my amazing Mild Gochujang Chili Hot Sauce whisked with Mayo.
Servings:
2
large sandwiches
Print Recipe
Pin Recipe
Rate this Recipe
Ingredients
2

large slices

slices Challah or Brioche Bread

3" wide from a square pan loaf (will cut in half (see note*)

2

teaspoons

unsalted butter

I use Organic

1/8

teaspoon

garlic powder

1

recipe

Karen's Shiitake Mushroom "Bacon" VEGAN

see recipe

1/2

cup

baby kale leaves

1/2

teaspoon

neutral oil

or extra virgin

1/4

teaspoon

sesame seeds

6

slices

sharp cheddar cheese

about 1/4 cup

3

large

eggs

I use pasture raised

1

teaspoon

milk

1

pinch

each: sea salt & sugar

1

teaspoon

Karen's Mild Gochujang Chili Hot Sauce

see recipe

2

teaspoon

mayonnaise
Instructions
Recipes to make ahead: Karen's Shiitake Mushroom "Bacon" VEGAN and Karen's Mild Gochujang Chili Hot Sauce, or use you favorite hot or sriracha sauce.
Baby Kale Crisps:
Easy: preheat oven to 325 degrees. Add kale leaves to a small bowl. Add oil and massage into the leaves, sprinkle in sesame seeds, stir with hands and lay them onto a baking sheet separated into one layer. Cook for 8 - 10 minutes until very crisp but not browned. Reserve.
Make the Gochujang Mayo:
Whisk together the Gochujang hot sauce and mayo, set aside. For a thicker sauce add more mayo.
Toast Bread:
Cut bread in half lengthwise - Cut each piece ALMOST all the way through, creating a "V" like pocket.

Melt butter, add garlic powder. Heat a stick proof skillet to moderate heat. Brush the outsides of both pieces of bread with the butter (can us more butter if you like.) Add both pieces of bread to the pan. Cook until toasty and golden brown, flip over, repeat - remove to a plate. Reserve.
Cook the Eggs:
Heat a 6" stick proof skillet - add a few drops of oil. Whisk the eggs with the milk, salt & sugar. Add to pan and scramble over moderate heat. When half way cooked, stop scrambling and let the eggs set another minute. (Makes a nice set egg.)

Add the warm eggs in-between both breads in the center - add cheese to one side of the bread and let melt a little.
Finish the Sandwich:
Add crispy kale leaves and shiitake mushrooms to each sandwich.

Top with a good drizzle of Gochujang Mayo and enjoy! For some extra heat - drizzle on some Gochujang Hot Sauce and some Gochugaru chiles flakes.
Notes
This recipe may not be reproduced without the consent of its author, Karen Sheer.
Nutrition Facts
Karen's Revamped Vegetarian Korean Egg Sandwich
Amount per Serving
% Daily Value*
* Percent Daily Values are based on a 2000 calorie diet.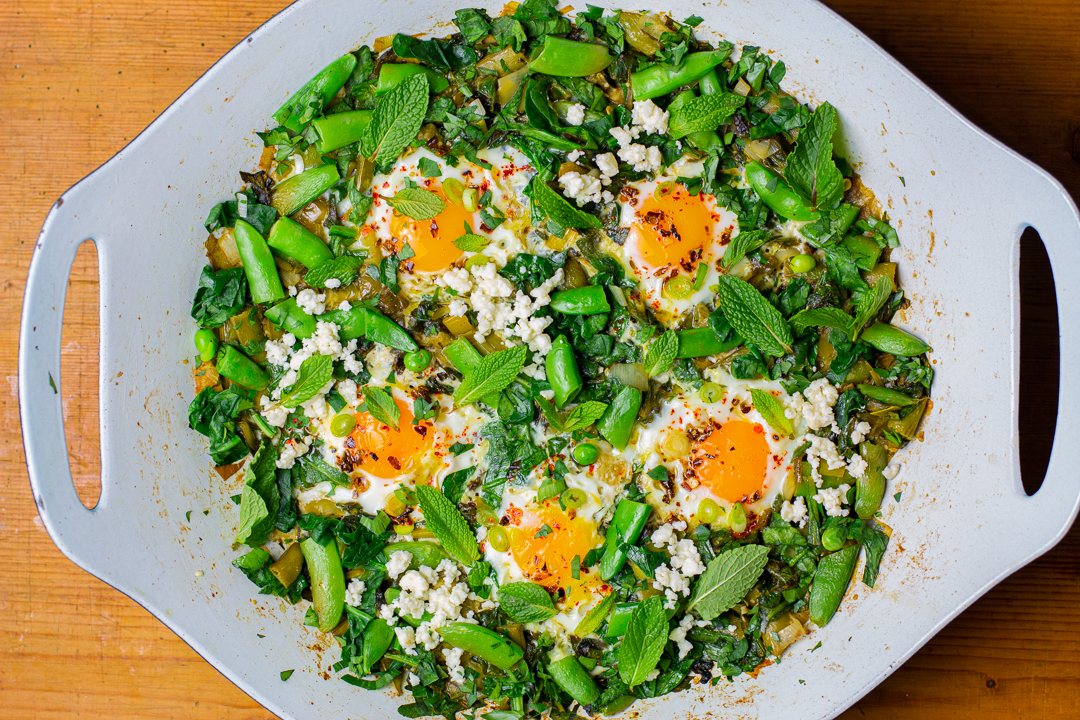 Karen Sheer