Amazing Apple Crumb Cakes with Cardamom and Ginger
Apple season is here – and these cakes are divine! Enjoy for dessert, a snack or for the Jewish New Year – Rosh Hashanah
A delicious cake with a bit of honey, these cakes are layered with sliced apples and a crumb topping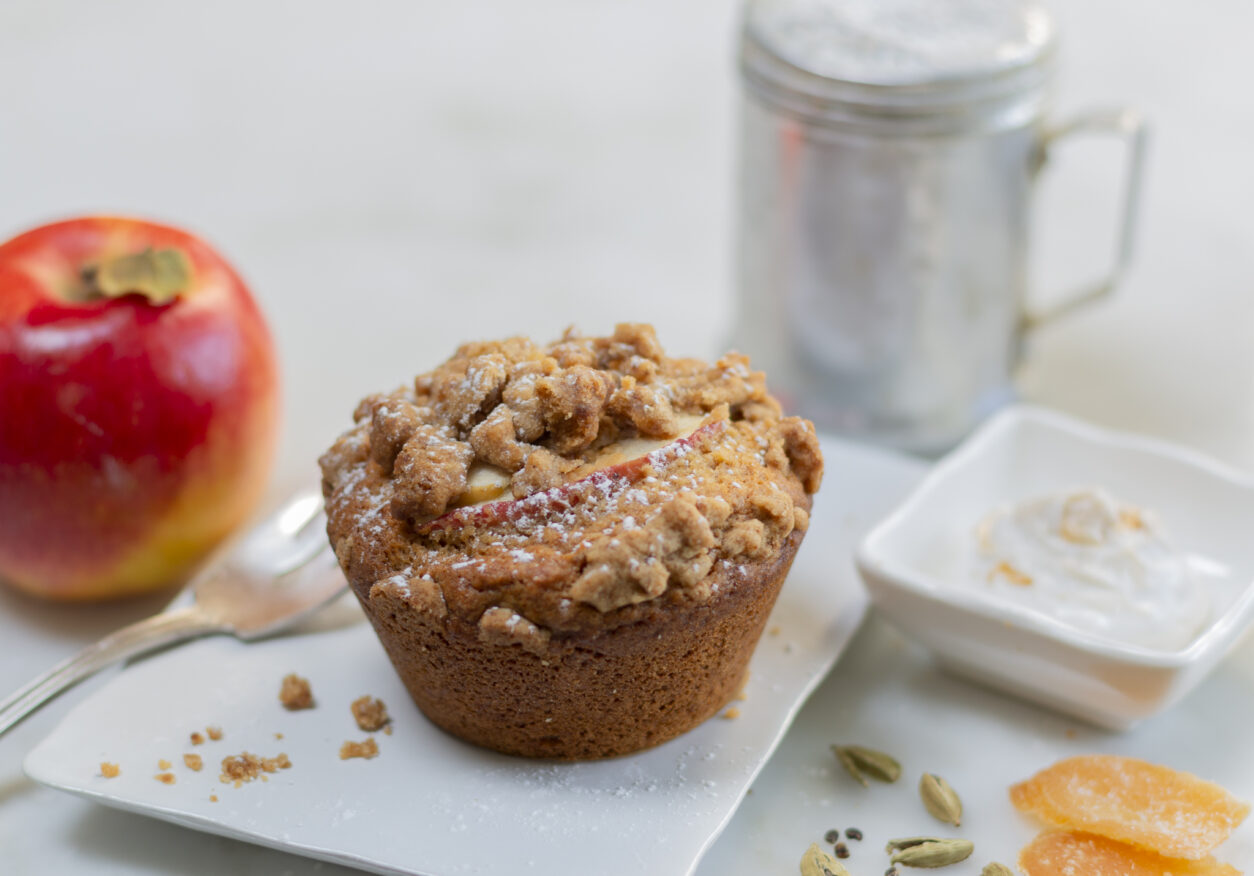 The perfect fall dessert – I'm serving with Coconut Whipped Cream
I'M OBSESSED WITH THE FRAGRANCE OF CARDAMOM IN THESE CAKES ~ CRYSTALIZED GINGER IN THE CRUMB TOPPING ADDS A PUNCH OF FLAVOR!
Simple to make in one cup capacity jumbo muffin tins. Can also make in a 8″ round pan.
Ingredients
Crumble Topping:
3 tablespoons unsalted butter, softened (I used organic)
3 tablespoons coconut palm sugar (can use light brown sugar)
1  ½ teaspoons crystalized ginger*, minced
1 small pinch of sea salt
½ teaspoon cinnamon
5 tablespoons all-purpose flour
10 thin slices of apples with skin on – to be added under the Crumb Topping
Apple Cake:
4 tablespoons unsalted butter, room temperature (I used organic)
½ cup pure cane sugar (I used organic)
¼ cup raw honey
1 large egg (I used pasture raised)
¾ cup applesauce (see my recipe) Use unsweetened or lightly sweetened
¼ teaspoon sea salt
½ teaspoon pure vanilla
½ teaspoon cinnamon
¼ teaspoon cardamom ~ do not leave this out!
1  ¼ all-purpose flour (I used King Arthurs)
¾ teaspoon baking soda
¼ teaspoons baking powder
Coconut Whipped Cream:
4 tablespoons coconut cream – from the thick, top of the can. (Refrigerate the can overnight, scoop out the cream.)
2 tablespoons confectioner's sugar
½ teaspoon pure vanilla
Instructions
1
Make the Crumb Topping:
Place softened butter, sugar, ginger, sea salt and cinnamon in a medium sized bowl.
Use a rubber spatula to combine all. Add the flour and mix in. Set aside.
* I love crystalized ginger here, although you can use 1/4 teaspoon freshly grated fresh ginger too.)
2
Preheat oven to 350 degrees.
Have ready a jumbo muffin tin – 1 cup capacity. Recipe makes 5.
Butter and dust with flour if you tin is not stick-proof.
3
Make the Cake Batter:
Do by hand, as I do, or use a stand mixer.
To a large bowl add the butter, sugar and honey. Mix well until light and fluffy with a wire whisk.
Add the egg, applesauce, sea salt, vanilla, cinnamon and cardamom – Whisk in until well combined. Add the flour, baking soda and baking powder – mix gently with a rubber spatula into just combined.
4
Divide the batter onto 5 jumbo muffin cup openings.
Top each with 2 slices of the apples.
Add crumb topping in medium-large pieces evenly to each cake and press down just a bit.
5
Bake until fully risen and cooked through – 25 minutes. Do not overcook.
Cool cakes, and remove from their tins.
Add a sprinkling of confectioner's sugar if desired.
6
Store the cakes in a container with a tight seal. Because of the apples on top, refrigerate the cakes after 2 days.
These freeze very well too ~ I freeze part of the batch to enjoy another day. Reheat covered in foil in a moderate oven or microwave on low power until just defrosted.
7
Serve with Coconut Whipped Cream.
8
Coconut Whipped Cream:
Add all ingredients to a small bowl. Mix until thickened with a wire whisk.
Refrigerate until ready to serve; will thicken slightly when refrigerated.
See BLOG for many more photos and information.
This recipe may not be reproduced without the consent of its author, Karen Sheer.
Karen Sheer