Condiments for Flavor – The Little Things Makes the Dish!
Condiments! Yes, these powerhouse RECIPES will add flavor to a bland dish, or were created to enhance the flavor of food. And we all eat for flavor!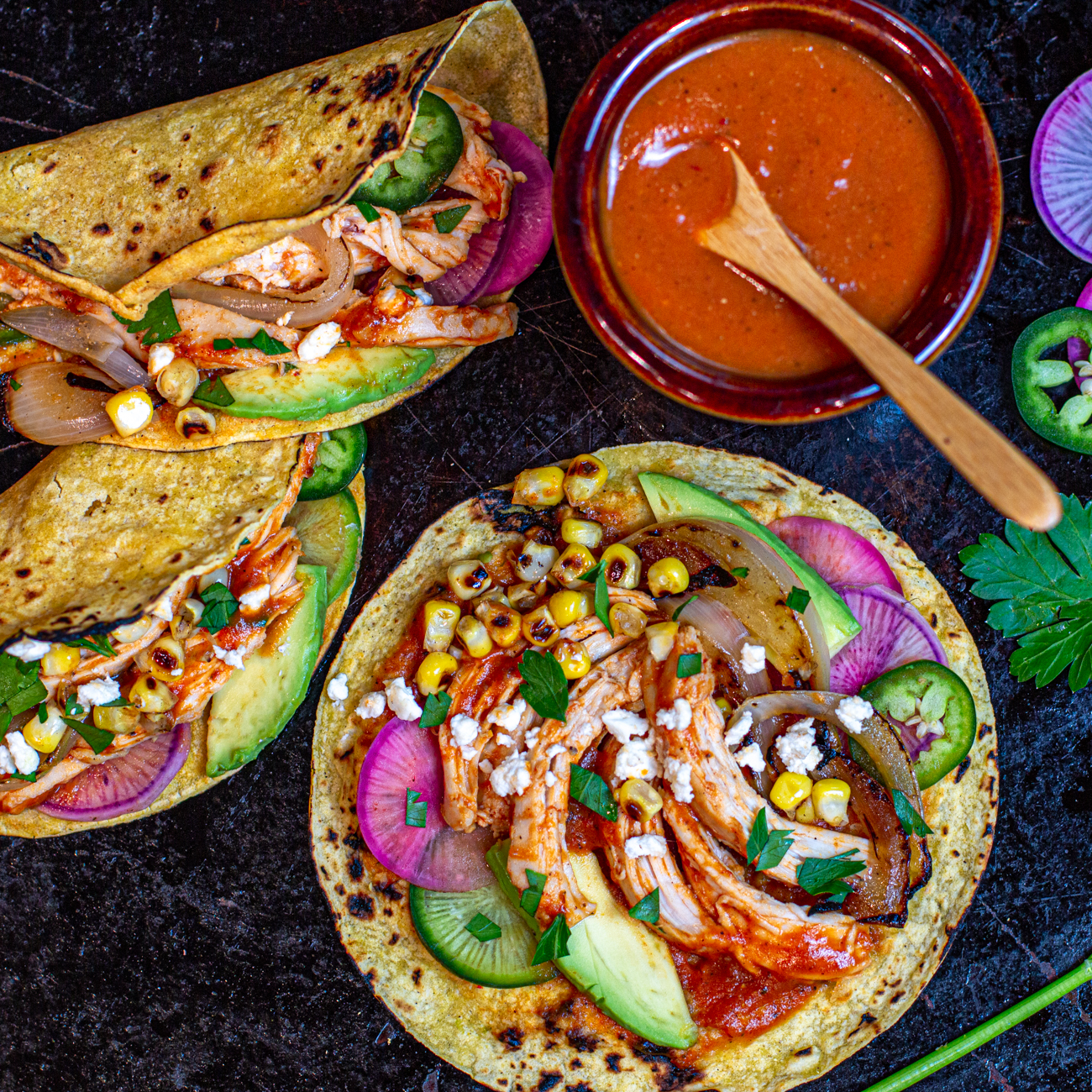 Originating in Puebla, Mexico, Chicken Tinga is an adaptable and authentic dish made with shredded chicken in a hearty, spicy red sauce.  The dish likely originated from indigenous cuisines of the area using staple ingredients of tomato, onion and chipotles. Cook ingredients; purée the sauce. Use the sauce on its own, or cook chicken breasts right in it for glorious pulled chicken. Featured Recipe.
Condiments are often added to a food to introduce new flavors or enhance existing ones, a condiment is seldom served or eaten by itself.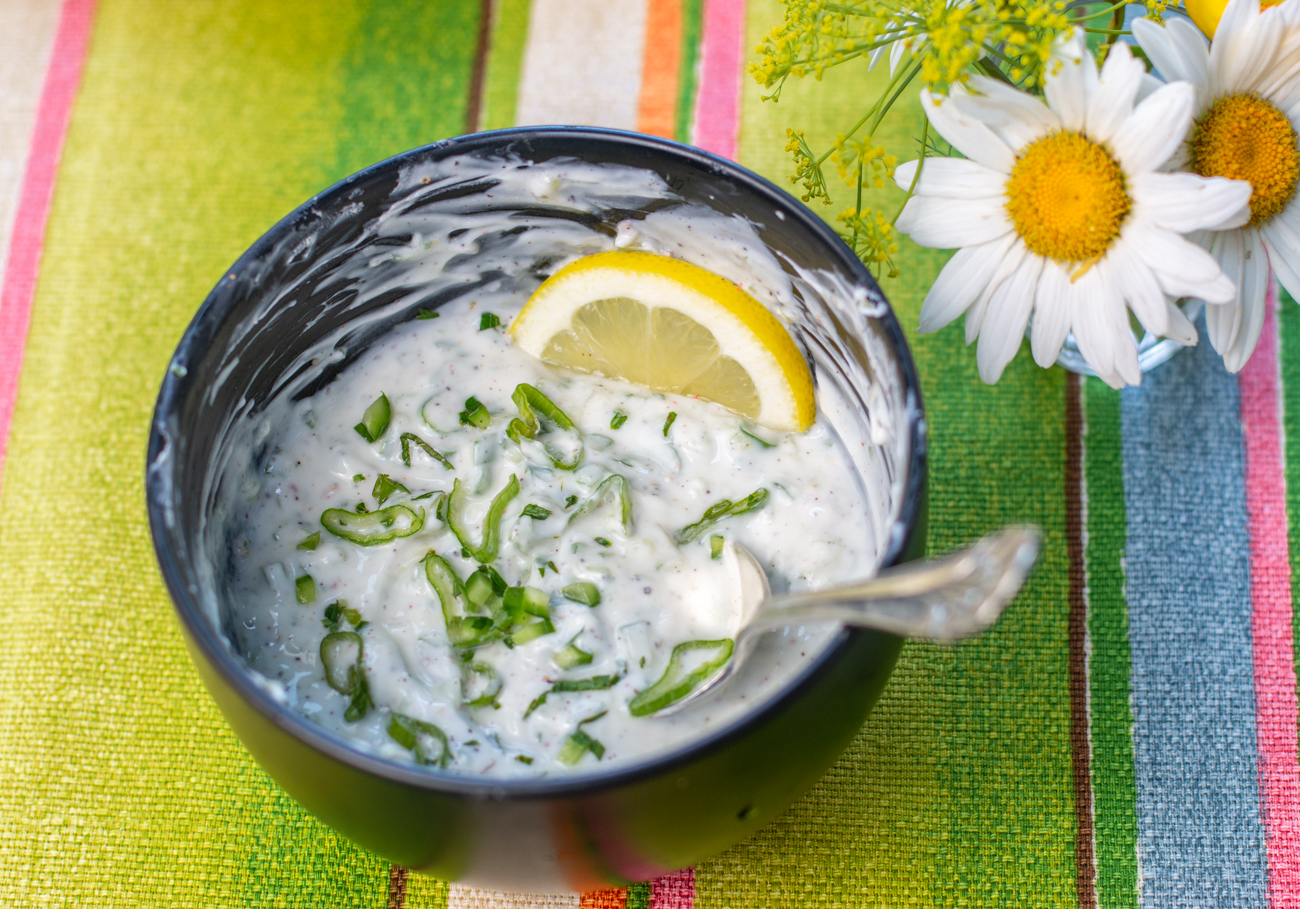 This Creamy Yogurt Sauce is light, tangy and zesty with herbal notes. Cucumbers are quickly salted, then patted dry and added to the mix.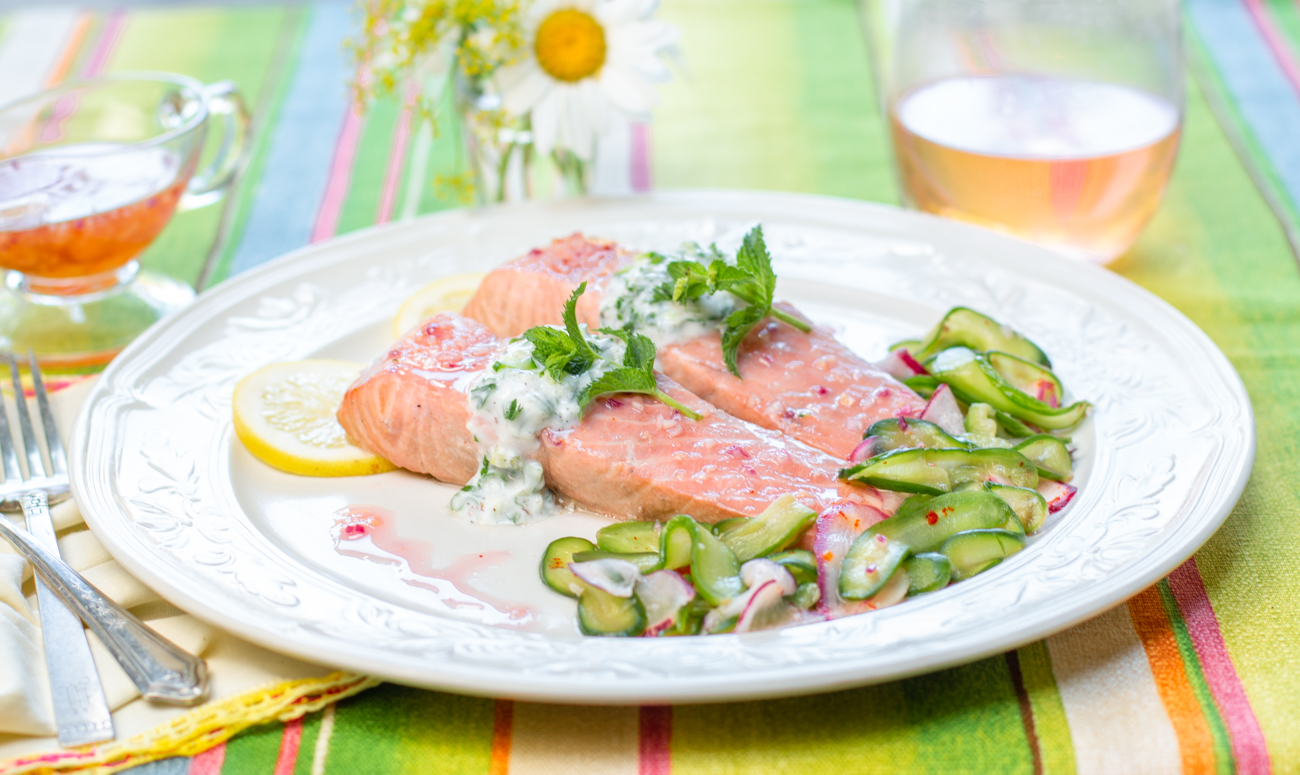 One of my favorite recipes! Hibiscus Tea Ofers a deep pink color with sweet and tart flavors – the perfect base for poaching Salmon. Glaze the finished fish with Thai Chili Sauce then spoon over a Creamy Tzatziki.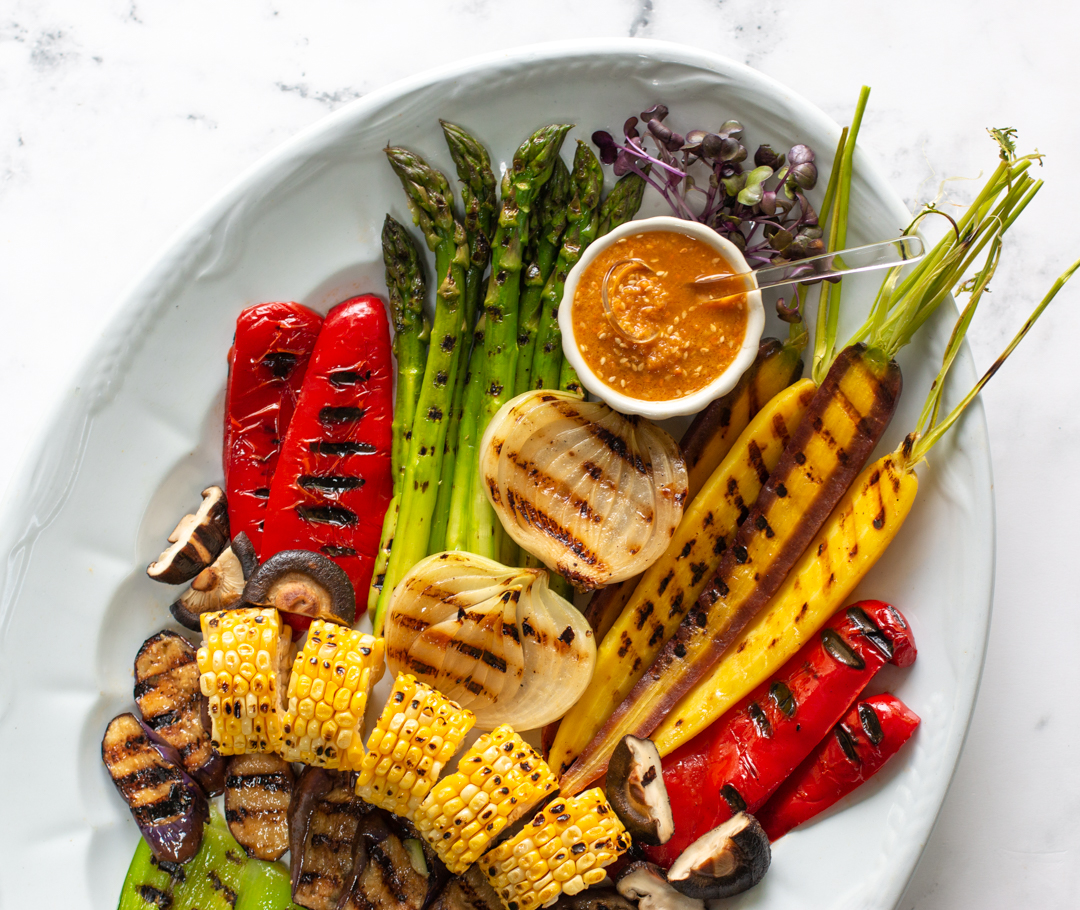 For Dipping, Slathering and Basting – THE Sauce that makes all taste better.
Packed with flavor, very low in calories & fat – ginger lends a naturally spicy kick…and a multitude of healthy benefits! 
This Asian-inspired sauce is a redux of that famous ginger sauce recipe at Benihana's restaurant – yet lightened up with less sodium and adding carrots and roasted sesame seeds.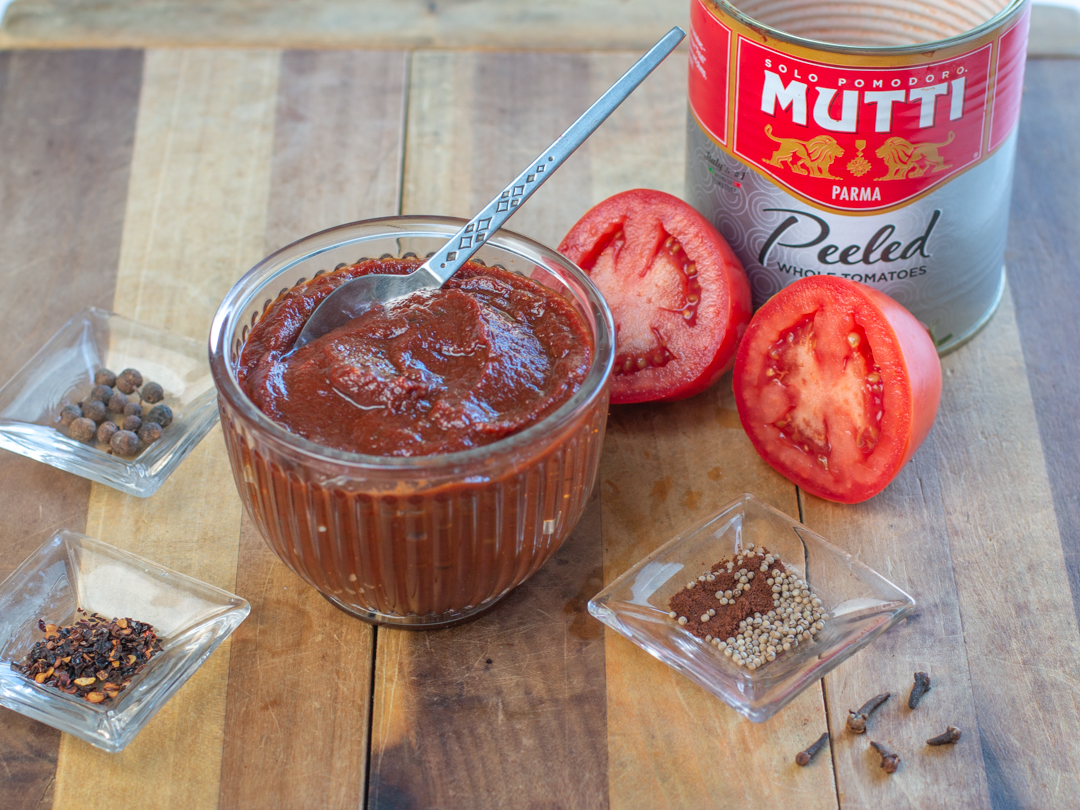 How to Make Homemade Ketchup Year-Round: Use Italian Canned Plum Tomatoes!
Maybe you are like me… commercial ketchup either has too much sodium for sugar – and "natural flavorings (which are unwanted chemicals!)
Makes a rich- roasted  ketchup, that's fun to make – especially as Grilling Season is upon us.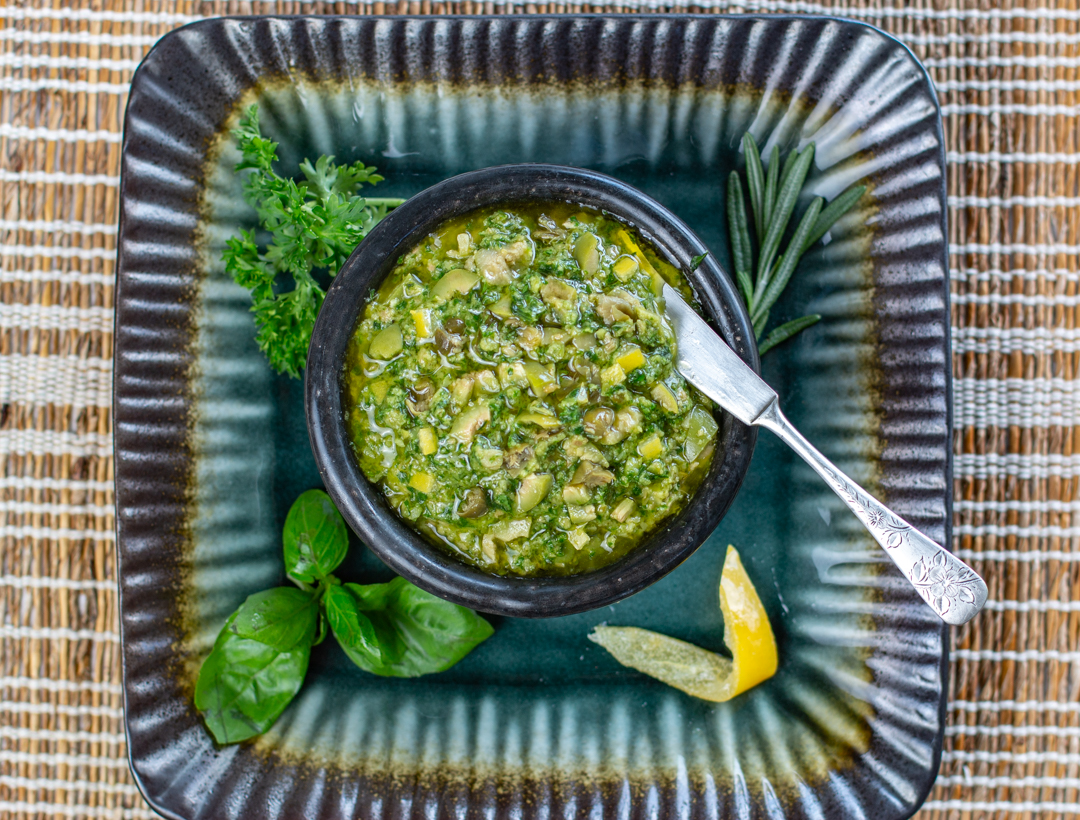 Tapenade is an olive based condiment drizzled with olive oil and dotted with capers – I add many herbs, from the Provençal region of France. My Herbal Olive Tapenade with Preserved Lemons features pitted Castelvetrano Olives; they're delicious! And~ have a gorgeous bright green hue. Endless Possibilities – SEE What to do with Tapenade (in recipe.) 
The sauce is made by blending fresh herbs and Indian seasonings, then heating it so the flavors pop – and adding coconut milk for a creamy consistency. NO DAIRY.
So many ways to use… for pasta, rice, quinoa, stir-fries, grilled or steamed veggies, roast chicken – anywhere you would use a pesto.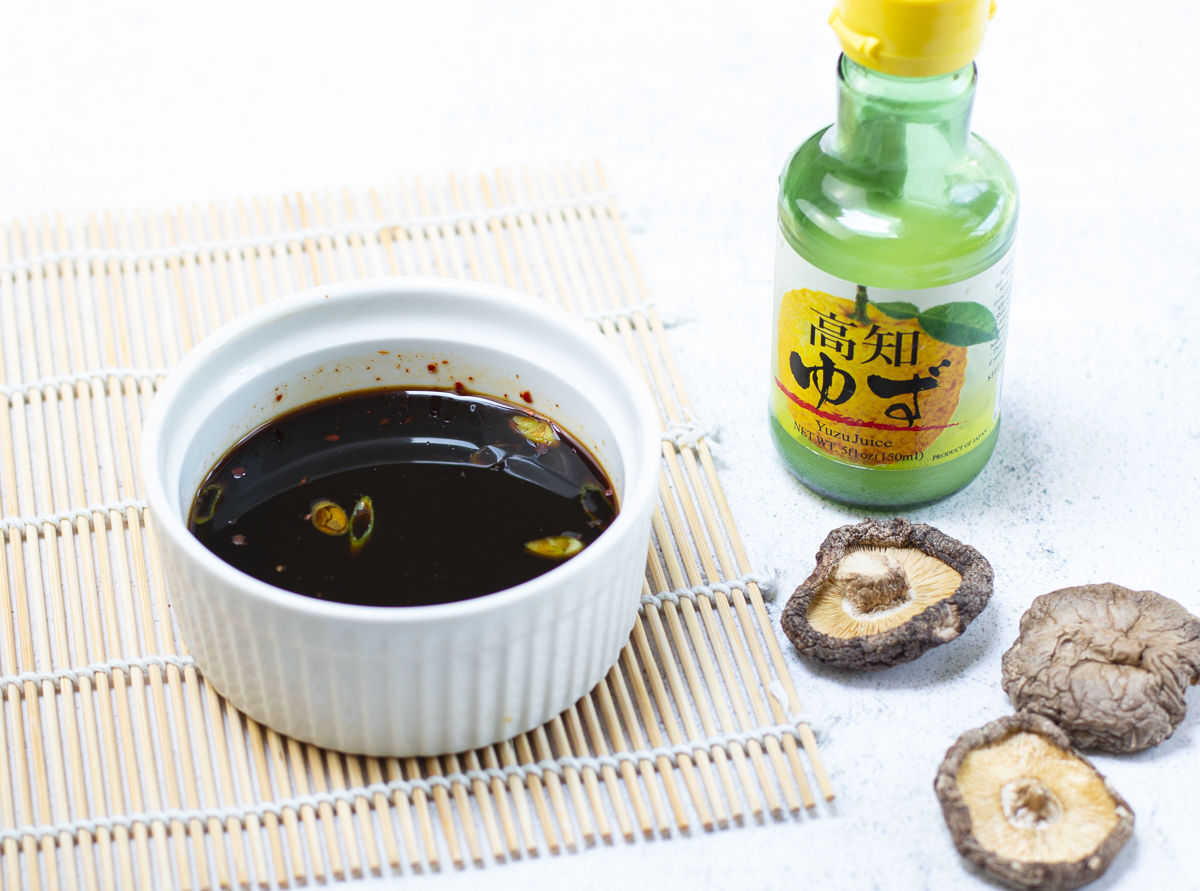 Ponzu is a citrus based sauce used in Japanese cooking.
Ponzu meaning "punch" – does just that… punches up flavor with Umami tastes and benefits. It's incredibly fragrant ~ nothing tastes quite like it!
The resulting flavor is full of depth that exhibits both tangy and floral-sweetness. Dried Shiitake mushrooms are key.
Use on dumplings, stir-fried noodles, or how I did in the recipe: over Seared Scallops.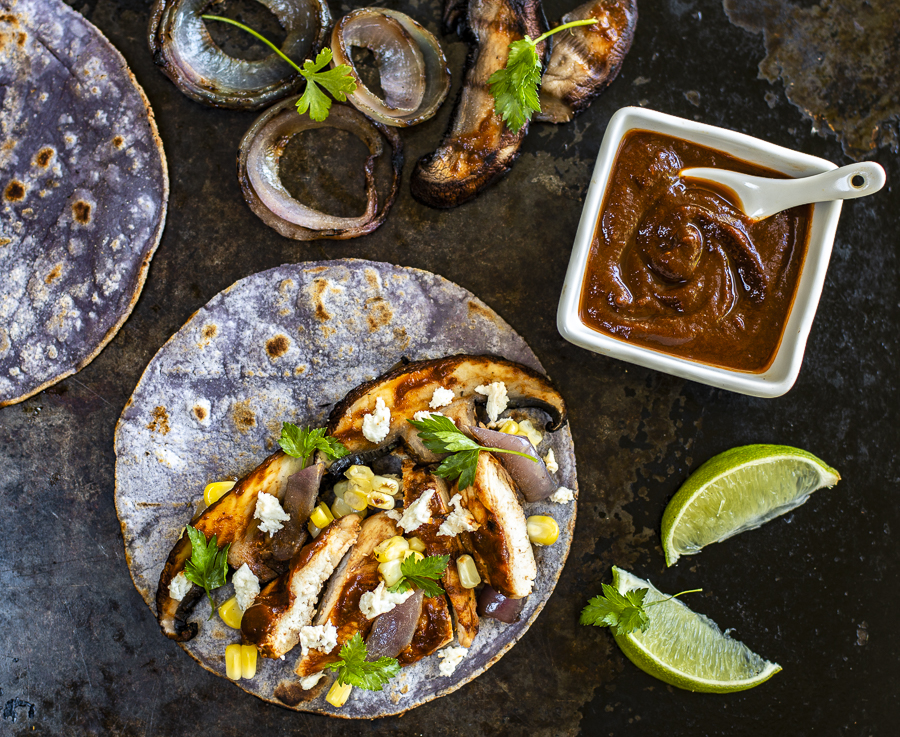 The flavor profile of Mulato chiles is a bit sweet with hints of smoky chocolate, licorice, cherries and coffee. A sauce that can be added to any Mexican-style meals… as well as a a vibrant sauce for other favorites – think drizzling it on fried eggs for roast potatoes.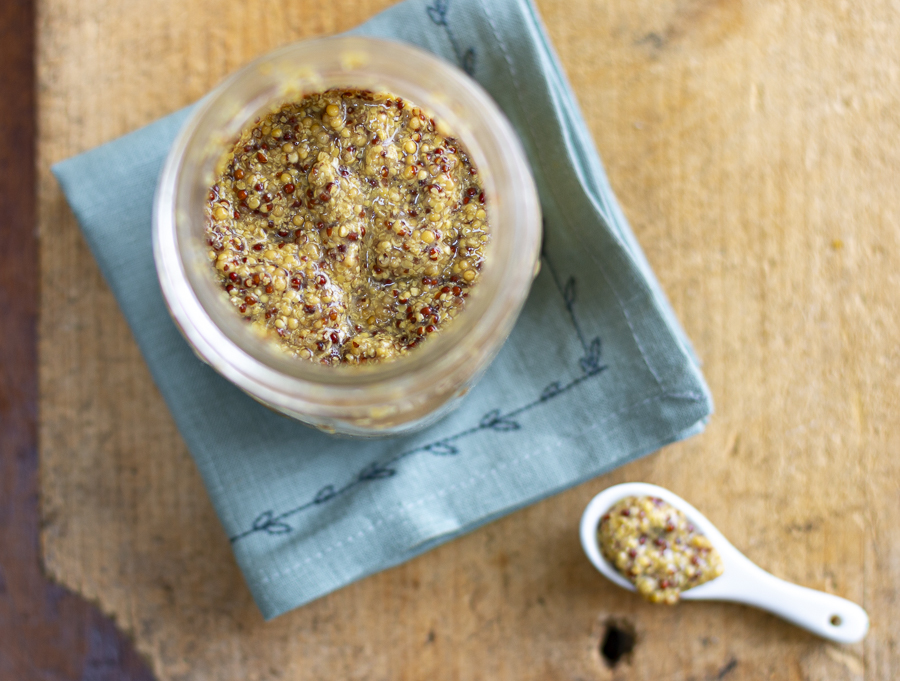 Yet a big reason to make it homemade is this:
Most major manufacturers add "natural flavoring" and "citric acid" to their mustards.
These are unwanted chemicals, even though they do sound harmless, right?
Luscious softened garlic surrounded by a blend of healthy oils. Use the cloves and garlic- infused oil for a subtle yet rich flavor.
The term confit is used to describe anything that has been cooked slowly into a rich, succulent texture. For confit garlic, the cloves are very gently poached in oil, transforming them into the most delicate, sweet and tender morsels.
TO USE: 

mash the softened cloves ~ add to vinaigrettes, sauces, flavor soups, roasted proteins, crostini, pastas, sandwiches or marinades… 
So Simple and Irresistibly Delicious! The Key is two different Apples and a dose of really good maple syrup.
Slather over your morning bread, for use as a topping for crostini as I did.
Spice things up! Korean Gochugaru Marinade combines this bright red chile powder: Gochugaru – a medium-spicy coating to drench chicken prior to grilling with additional garlic & ginger.

Gochugaru Chile powder (a key ingredient in kimchi) has a different flavor profile from the chile powder you typically find on Western supermarket shelves. It's not too fiery-spicy, but it has more of a continuous, long-lasting heat with more fruity, smokey and sweet tones.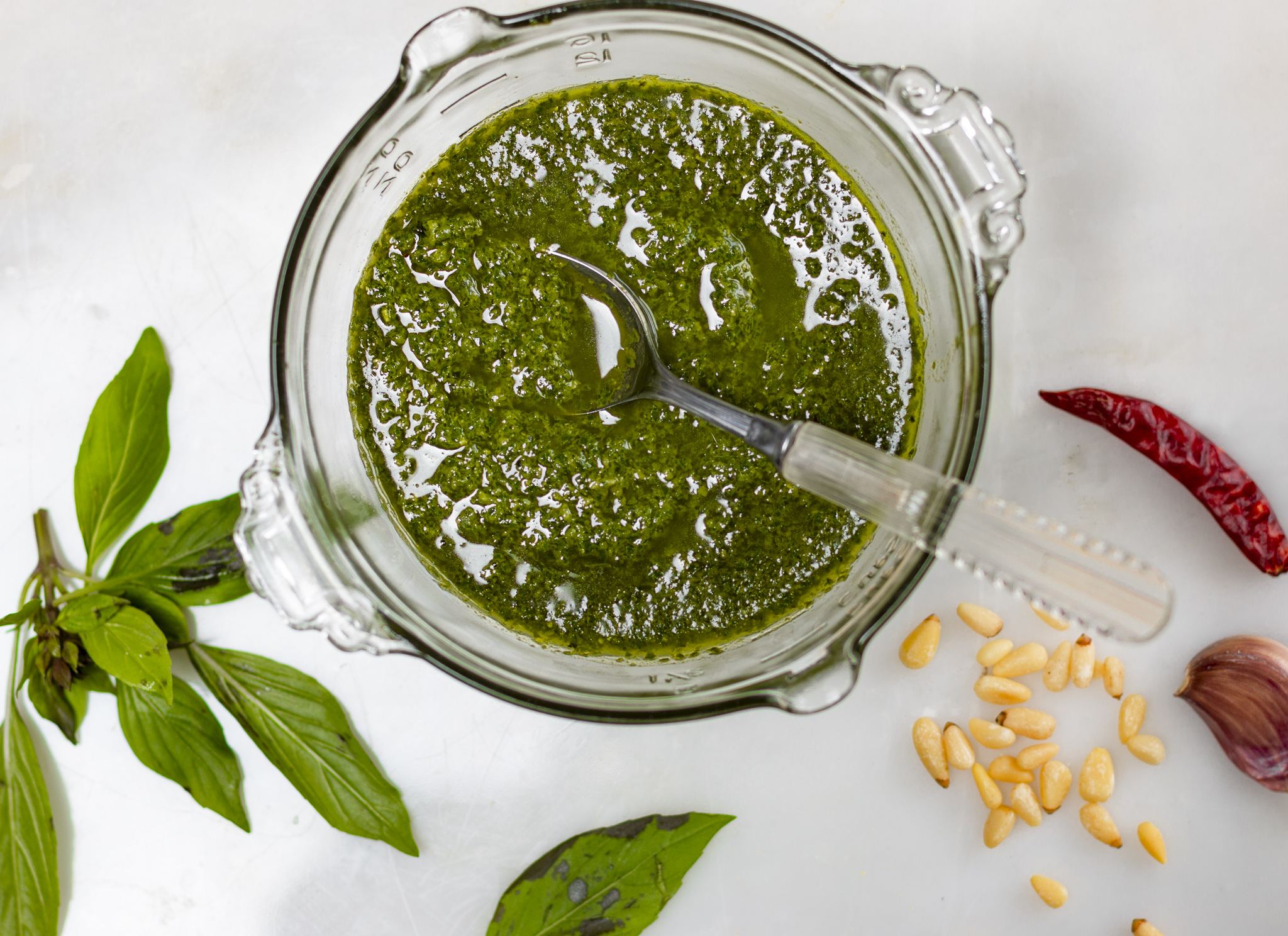 The flavor has a pronounced licorice essence and a little spicy kick. So many uses – see my list. Find this wonderful variety at farmers' markets. Makes a delicious and unique pesto!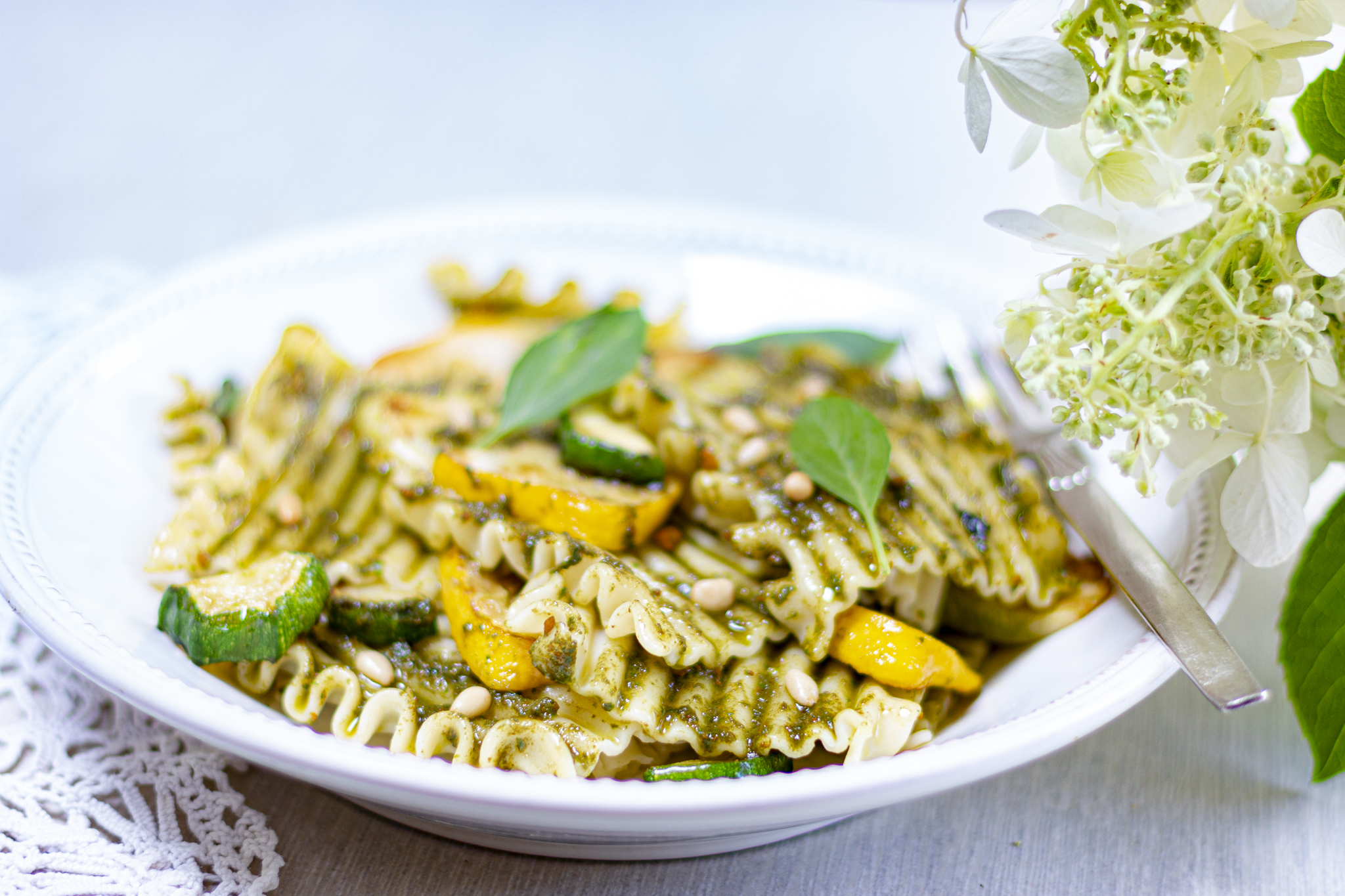 Thai Basil Pesto adorns Pasta Squares, Roasted Zucchini and Toasted Pignoli Nuts ~ a quick delicious meal.
Homemade Hot Sauce adds zip to healthy, often ordinary table fare. You'll have control of the ingredients (no unwanted preservatives!) and level of heat. I love a flavorful "mild version" although you can add a higher level of heat if you like.
Meyer Lemons are perfect for preserving! With their thin skins, bright lemony-color and fragrant flesh they have a sweeter, more floral taste. These beauties will pickle in their own juices. Once you have made a jar of Preserved Lemons – believe me you will use them in so many recipes!
So quick to make… just need a little patience waiting for them to preserve. (Can also use the most common lemon: Eureka or Lisbon lemons.)
Condiments are sometimes added prior to serving, for example, in a sandwich. 
Some condiments are used during cooking as a flavor boost – and some are dolloped over food, sometimes are served alongside a dish,  which adds a complementary color too. 
They are used to improve appearance, aroma, flavor or texture.
There are just about as many different types of condiments as there are different types of food, with various cultures having versions that are unique or particularly important to the people of that culture.
The reason to make your own CONDIMENTS:

They are rewarding to make! Save extra in the refrigerator and jazz-up your next meal!
You control the ingredients and will not contain unwanted additives and chemicals which are typical in so many off-the-shelf condiments!
Really adds a wonderful flavor boost -many with healthy ingredients you will savor
See my CATEGORY: Condiments for Flavor 
Let me know what you think!
Enjoy them all,
Karen
Karen's Mexican Pulled Chicken Tinga - and how to make fabulous tacos!
TINGA is a Mexican Specialty with pulled chicken in a full- flavored Chipotle-Tomato Sauce. Moderately spicy and definitely smokey. See how to make the best tacos.
Servings:
10
servings (Tinga Sauce & Chicken)
Print Recipe
Pin Recipe
Rate this Recipe
Ingredients
Seasoning the Chicken:
1 3/4

pounds

chicken breasts on the bone

2 large ones

1

teaspoon

extra virgin olive oil

1/8

teaspoon

chipotle powder

2

pinches each

salt & pepper
Tinga Sauce:
2

teaspoons

extra virgin olive oil

1

cup

onion

medium, peeled, coarsely chopped

6

medium

garlic cloves

peeled, left whole

1

teaspoon

Mexican oregano

1

cup

tomatoes in puree

2

medium

chipotle peppers* (in adobe)

from can

1

tablespoon

adobe sauce

(from chipotle can)

1

tablespoon

pure maple syrup

1

tablespoon

apple cider vinegar

I use organic Bragg variety

1

cup

chicken broth

preferably home made

1/4

teaspoon

sea salt

or to taste
Instructions
Chicken:
Clean and dry chicken, add to a plate. Drizzle with one teaspoon evoo and rub all over with chipotle powder, salt & pepper.

Heat a dutch oven to medium-high heat, add 2 teaspoons extra virgin olive oil. Add chicken, skin side down and cook until golden, about 2 minutes, turn over with tongs and cook 2 minutes more - Remove to a plate.
Tinga Sauce:
Add onions and garlic to the fat left in the pan, cook stirring over moderate heat until they are golden, 4 minutes. Add oregano (crumble with your fingers), and stir a few seconds. Add chopped tomatoes in puree, chipotle peppers, adobe sauce, maple syrup & vinegar - stir well and simmer 3 minutes.

Add chicken broth and sea salt, bring to a simmer. Add the chicken breasts into the sauce, skin side up. Spoon some sauce over the chicken (will be partially submerged in the sauce.)

When the sauce is simmering - cover and cook until the chicken has cooked through, and is firm to the touch (165 degrees is just right) about 35 minutes. (Check that the sauce is just simmering, not higher heat.)

Remove chicken to a clean plate to cool slightly. Puree the sauce using an emersion blender**
Shred Chicken
Remove skin, simply shred the chicken with a fork - place in a bowl with some Tinga Sauce it has cooked in. Discard all bones. You will use most of the remaining Tinga Sauce for the tacos. Yields: approximately 3 1/2 cups shredded chicken.
Let's Make Tacos! Ingredients:
10 corn tortillas, heated in a skillet with a little oil.

Sauté 1 medium onion, sliced in evoo until cooked and slightly blackened. Sauté corn kernels from one ear in evoo until cooked and slightly blackened. Slice colorful radishes very thin - pickle them if you like. Slice half of a avocado thinly. Chop 3 tablespoons of cilantro or parsley. Crumble 1/2 cup Cotija cheese.
Taco Time:
Add a portion of pulled chicken on each tortilla - top with 2 teaspoons Tinga Sauce. Portion and add all vegetables, herbs and cheese. Fold and eat! Serve with some Tinga Sauce on the side.
Notes
*Chipotle Peppers (dried chipotles) are sold in cans in adobo sauce. I most supermarkets and Mexican markets. Please read ingredients, ad some contain high fructose corn syrup and wheat flour, which you do not want.)
**Use an Immersion Blender (easiest, one pan cooking) - can also puree in a food processor to blender.
This recipe may not be reproduced without the consent of its author, Karen Sheer.
Nutrition Facts
Karen's Mexican Pulled Chicken Tinga - and how to make fabulous tacos!
Amount per Serving
% Daily Value*
* Percent Daily Values are based on a 2000 calorie diet.
Karen Sheer