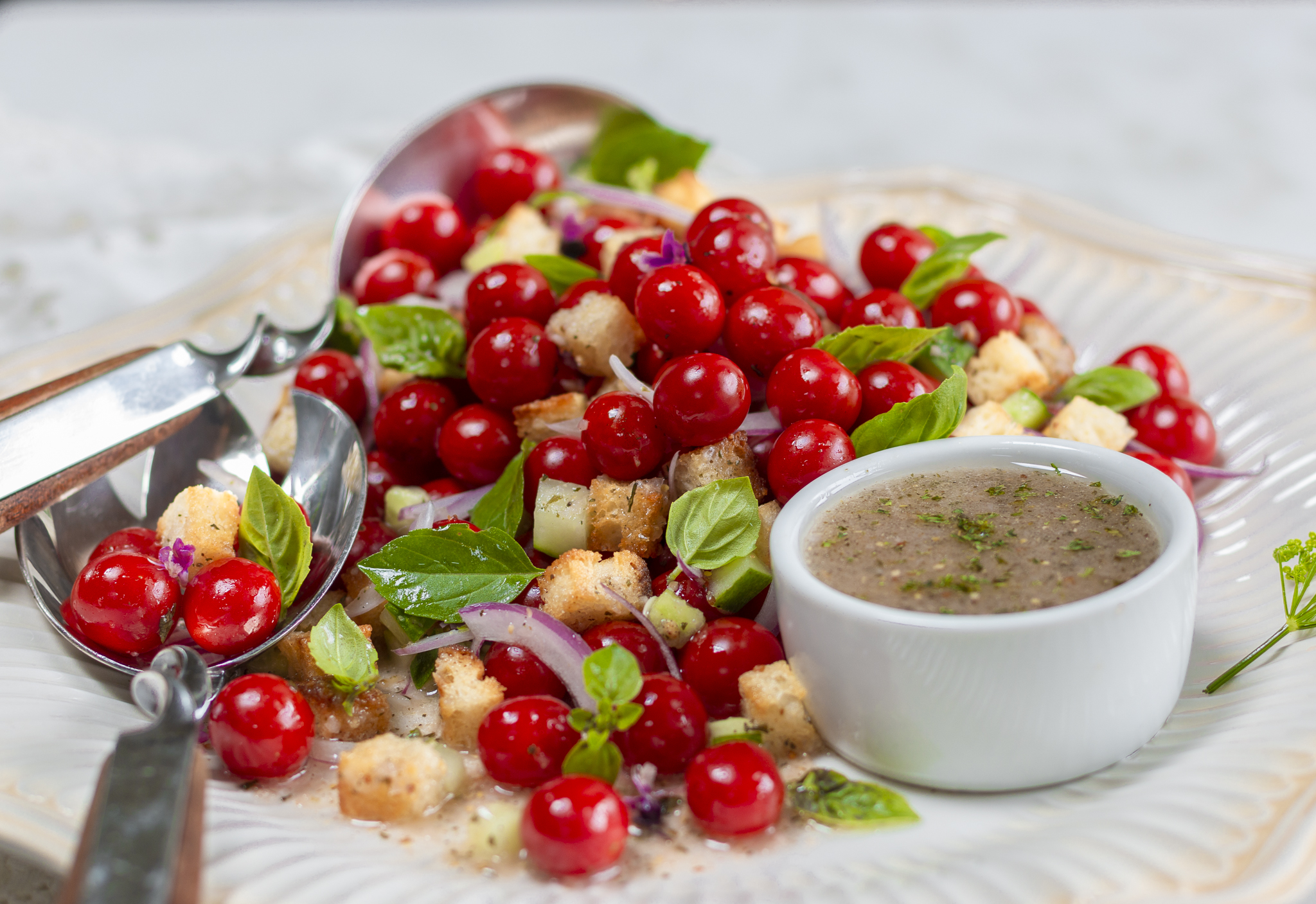 20 Best Summer Salads! And NEW: Karen's Summer Greek Salad with Peaches & Fennel
My collection of FABULOUS, Creative & Healthy Salads for Everyday and Special Occasions.
The freshest ingredients produce the most flavorful salads!
Summer salads are about mixing up nature's bounty ~ "the true taste of summer!"
I've added Fresh Summer Peaches and Fennel (found at a farmers' market) to classic ingredients of the Greek Salad.
Adds interesting flavors and natural sweetness.
I use crispy Romaine Lettuce, Local Red Leaf Lettuce, Heirloom Tomatoes, Purple Peppers, Red Onions, Colorful Radishes, Cucumbers, Kalamata Olives, Sheep Milk Feta, Dill and Parsley. The Salad is Topped with my tangy "Shaken" Vinaigrette.
Summer salads are about mixing up nature's bounty ~ "the true taste of summer!"
Tomato Salads: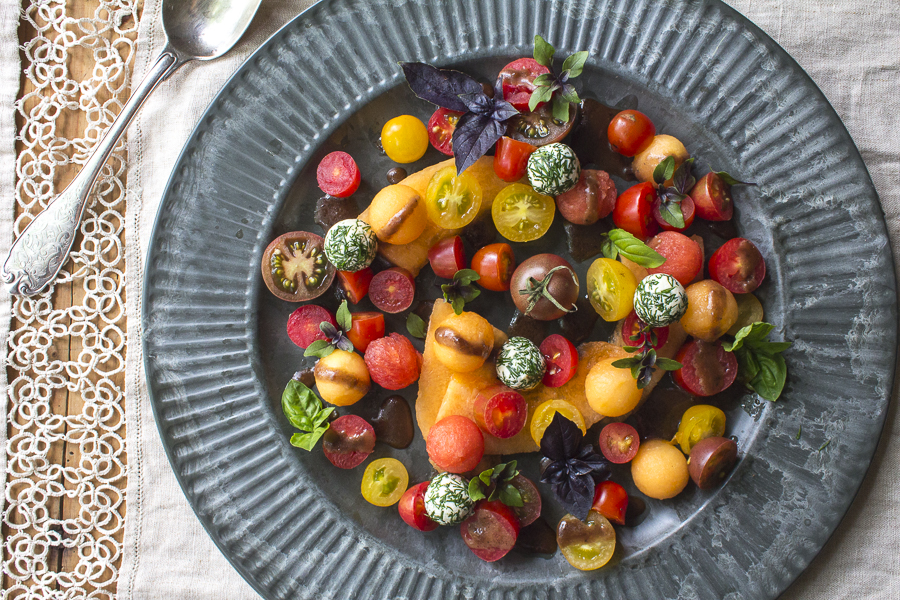 This summery salad has contrasting flavors and textures, a quite beautiful composition to behold. Choosing a mélange of colors results in a burst of visual interest – a true treat for the senses. Each bite yields a different, but complimentary taste. See the dressing here.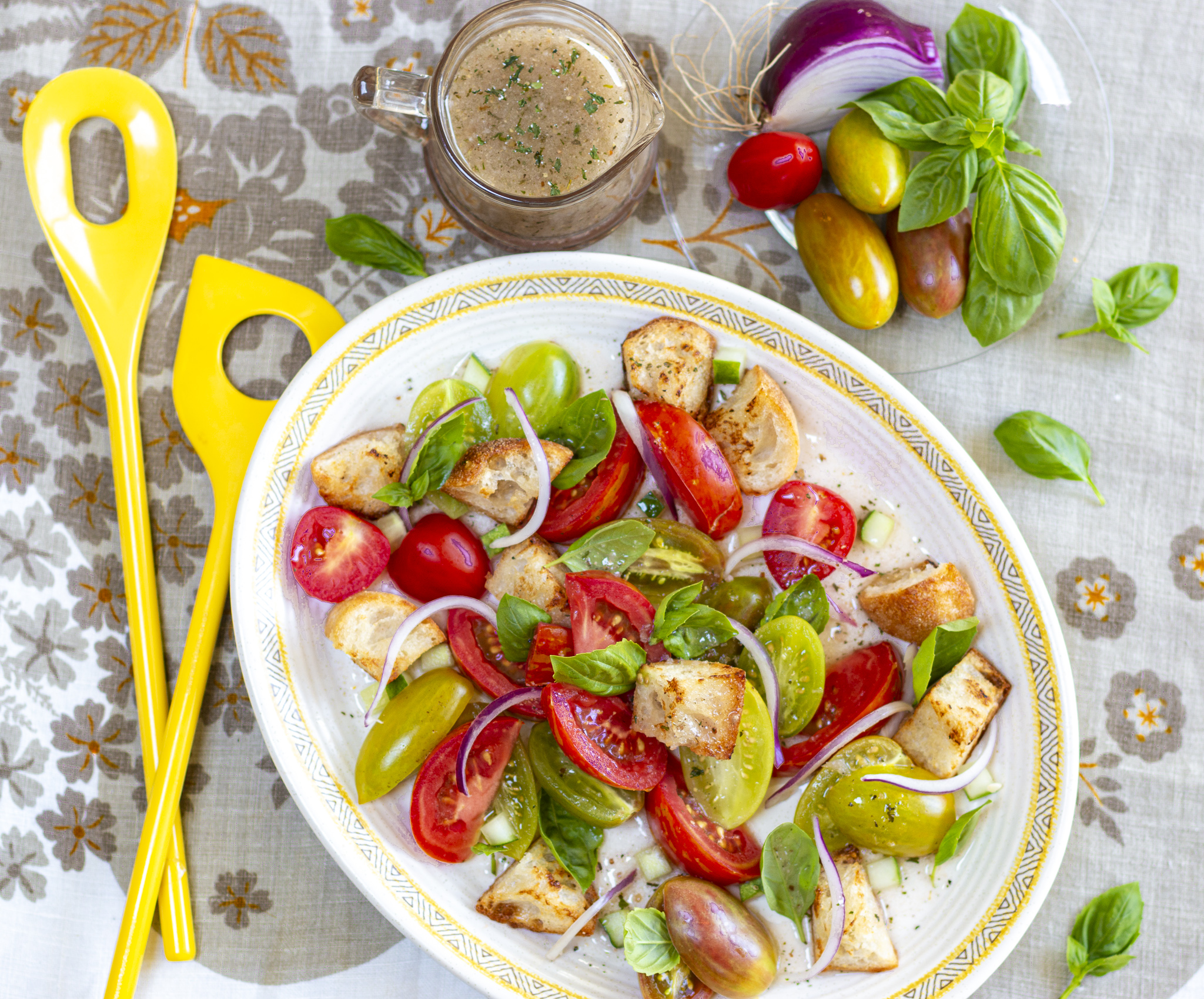 Ripe Heirloom Tomatoes team with Garlicky Toasted Bread and Plenty of Basil Leaves. Top with my Zesty "Shaken" Italian Dressing and scatter some thinly sliced Red Onions and cubes of Cucumber. The Heirloom Tomatoes I have used: Red Zebra, Green Tiger and Strawberry Tomatoes.

Using toasted garlicky Gluten Free Bread this on his hard to resist! ~ All can enjoy this delicious salad! These fabulous Candyland Tomatoes are just 1/2 inch wide; look for at your local farmers' market.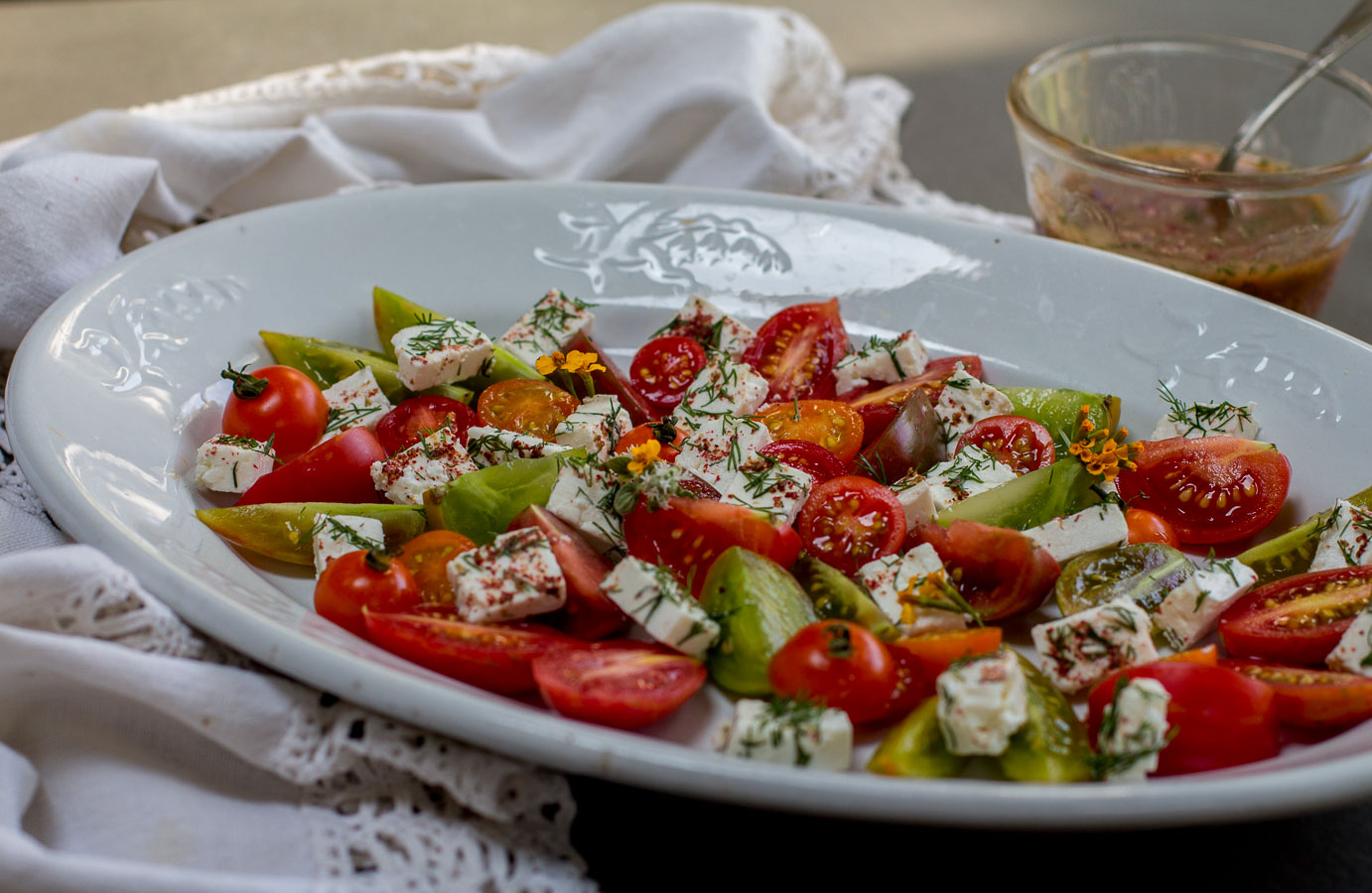 Just picked flavors of the smaller sized tomatoes, simply cut in half team with sliced cubes of French Feta, drenched in Fresh-Cut Dill – a goat's milk variety made in France which is slightly drier and tangier…. and creamier!
Serve with: Zesty Dill and Radish Vinaigrette 
In the height of the Tomato Season – make this vinaigrette for many salads and for drizzling over roasted or grilled proteins and vegetables. The method: remove seeds from tomatoes with your fingers, cut tomatoes in half and grate, discard the skins. Add all ingredients to the blender saving some the tomatoes to stir in for texture.
Beet Salads:

A Simple Recipe using Ingredients from a local Farmers' Market. It's easy to steam beets! Add to an assertive and zesty vinaigrette with Green Garlic Scapes; the curly shoot of the garlic bulb… they're like scallions with a garlic kick!
I love to add herbs growing in my garden. Here basil and oregano.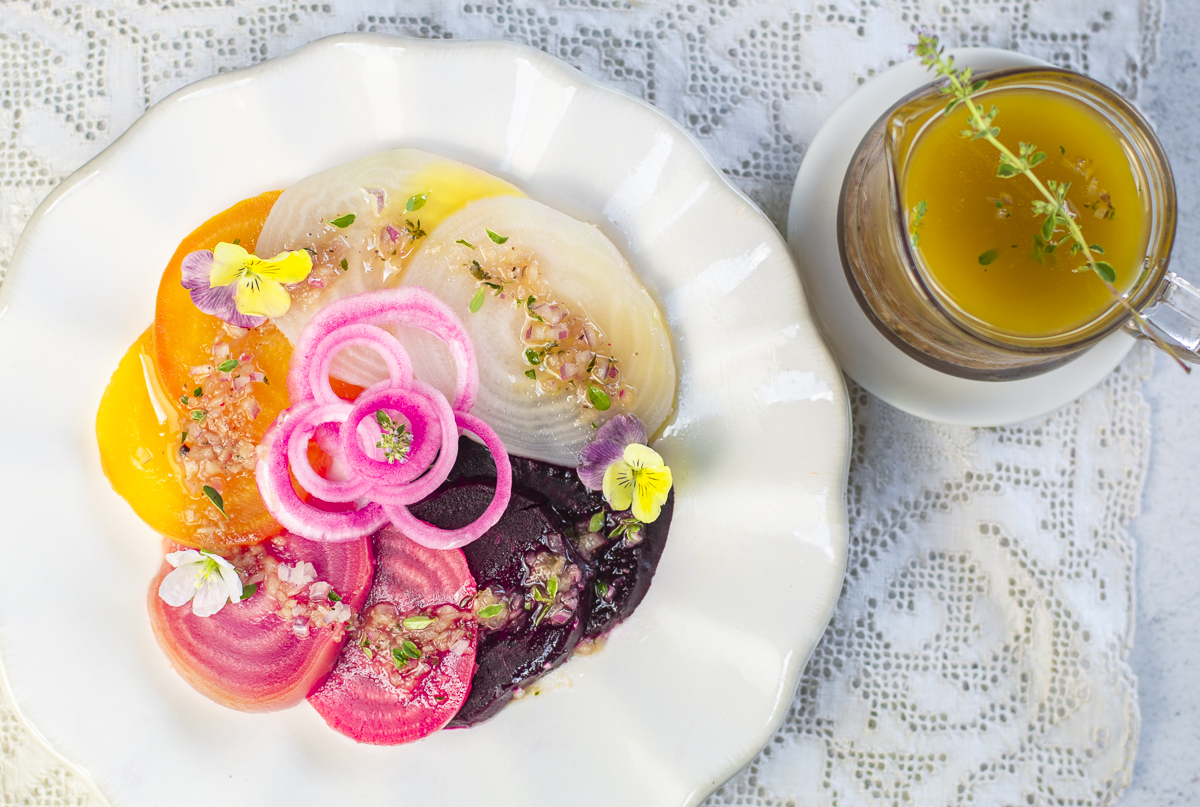 A Simple Beet Salad Showing Off Their Natural Glorious Colors! Each variety lends a different flavor.
Four different colored beets are sliced with a pungent vinaigrette and pickled onions.
Beets are healthy, easy to prepare –  adds a little color to your life.
Simply Delicious ~ Wood Fired Infused Smoked Beets easily prepared on your grill. Finish the Salad with Petite Greens and a
Zesty Avocado-Citrus Vinaigrette.
Steamed Beets are peeled and sliced, placed on a foil sheet with punctured holes for the grill.
This vibrant salad is crave-worthy and perfect for entertaining!
Correctly roasting brings a wonderful flavor and texture to beets. I have prepared them every way: shaved raw, grated, boiled, steamed and roasted. My oven roasting method I think is my favorite ~ beets get a golden color and depth of flavor, and cook quicker than beets which are roasted whole!

Other Creative Salads:
Crispy, Crunchy & Sweet ~ a brilliant, colorful, healthy salad… adding locally picked raspberries would be a treat! Make the dressing ahead and adorn with my Nut and Seed Crunch (see recipe.)
There is nothing better than a Fattoush Salad in Summer with seasonal, glistening vegetables! Pita bread is toasted in the oven with olive oil and Za'atar seasoning and tossed into the salad. Finish with a Zesty Lemony Sumac Dressing.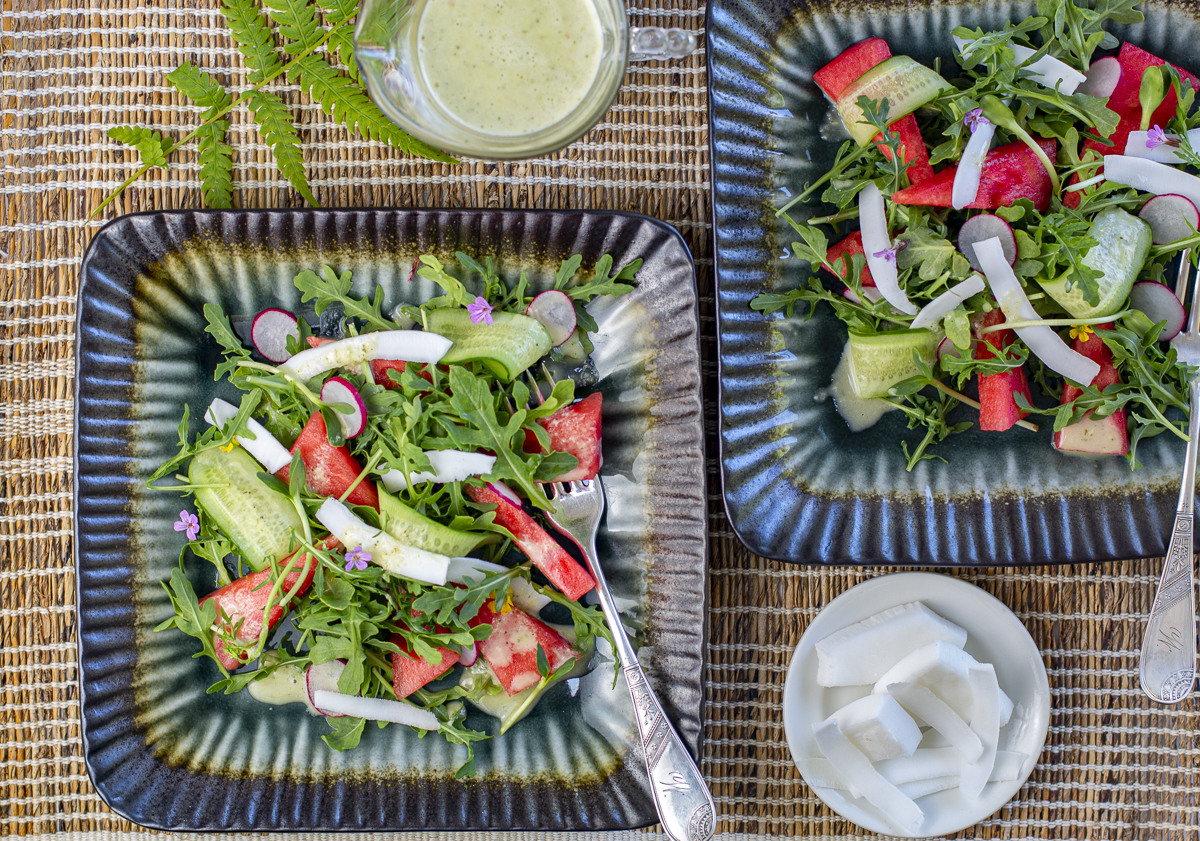 Keeping it simple – Crunch, Color and Flavor! A wonderful and refreshing summer salad.
Such an easy salad to put together – a cool salad for warm Summer days and nights. Shaved Fresh Coconut is a must! (Easily found at many grocery store & health food shops – coconut meat chunked out of it's shell – all you do is shave it over the salad.)
A Must Try Summer Salad ~  So simple, fresh & delicious! Summer peaches are sweet and juicy and their flavor intensifies on the grill.
Simple Ingredients ~ Yellow and White Grilled Peaches, Toasted Hazelnuts & Almonds, Red Oak Lettuce, Little Gem Lettuce, Colorful Cherry Tomatoes and an Awesome Sweet and Sour Vinaigrette with Honey, Mustard and Thyme.
Buddha bowls are trending for good reason – they're one bowl meals packed with grains, veggies, protein, a homemade dressing and finished with seeds or nuts. Use ingredients you have on hand, love ~ or follow my delicious recipe.

A summer bonanza of colors and flavors! Use the beet greens to make an earthy and delicious vinaigrette.
A kaleidoscope of colors makes this salad a visual stunner!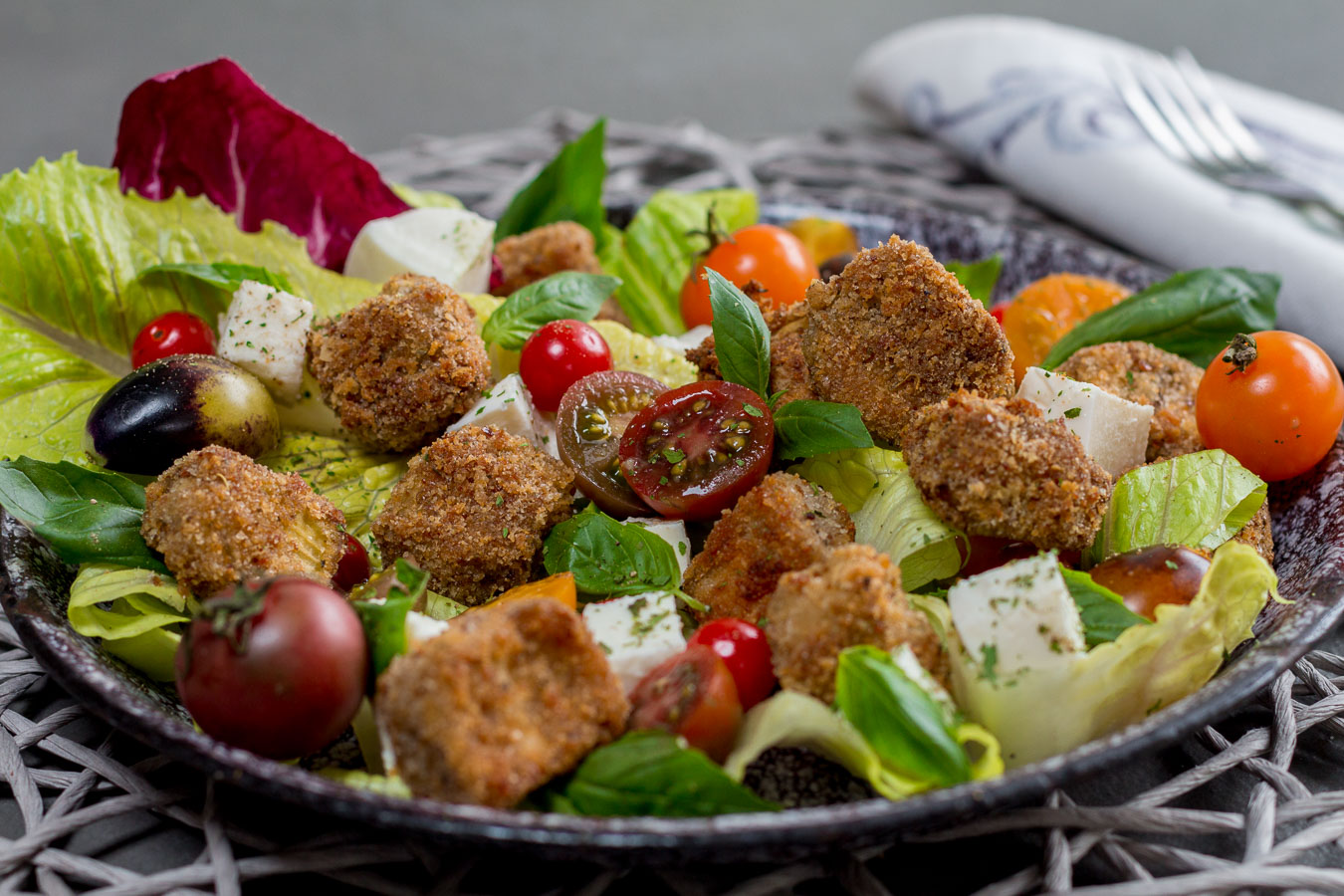 Crispy Eggplant roasted in the oven (not fried) teams with Romaine, Mozzarella, Heirloom Tomatoes, a Zesty Dressing and plenty of Basil ~ a satisfying and interesting twist!

Fresh Corn off the Cob teams with Heirloom Green Tomatoes and tossed with a Nutty & Toasted Brown Butter Vinaigrette. Fresh Zesty Flavors with Crunch! A treasured Summer Recipe.
Shaving vegetables brings a nice look and texture to a salad. Shave with a sharp, wide vegetable peeler… so easy and fun.
I like to have watermelon and purple daikon radishes in my fridge, they are great keepers and add a blast of gorgeous color and zippy flavor. 
Preserved Meyer Lemon Vinaigrette is one of my favorite dressings! Flavoring ingredients for the Vinaigrette: minced preserved lemons, grainy mustard, minced garlic and fresh lemon juice.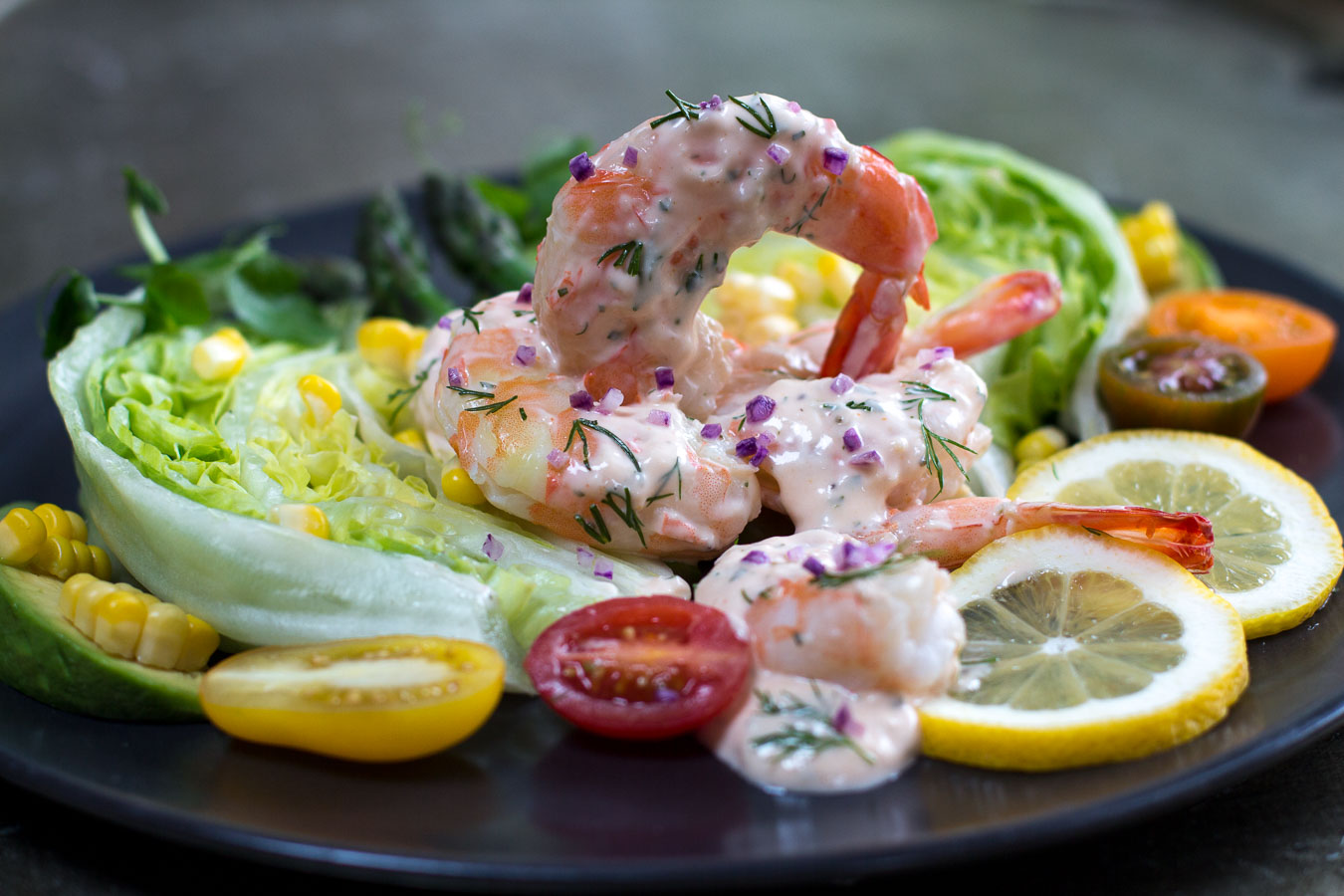 A Comeback for a Classic Dish! This fresh, seafood-rich trendsetter recipe of the early 20th century takes on a modern flair with Fresh (not frozen) Pink Shrimp and a zippy Louis Sauce.
A special recipe that moves way beyond soggy shrimp with cocktail sauce!
Now, in Summer ~ it's peak produce season, fruits and vegetables are brimming with so much flavor. Time to visit your local farmers' market weekly to see what has just been picked for a little inspiration. Every detail will make a difference – from the quality of your ingredients to their cut – this will lend a certain mouthfeel, which is the fundamental sensory attribute which, along with taste and smell, determines the overall flavor of a food item. Mouthfeel is also sometimes referred to as texture.
Enjoy these salads and the lingering days of summer,
Karen

Karen's Summer Greek Salad with Peaches & Fennel
All the Greek Salad Fixings with some surprises! I'm loving the addition of Summer Peaches & Sliced Fennel. Updated using Summer-Fresh Produce and Sheep's Milk Feta Cheese. Top with my "Shaken" Italian Dressing.
Print Recipe
Pin Recipe
Rate this Recipe
Ingredients
2

cups

fresh lettuce

Romaine & Red Boston Lettuce*

1/2

cup

fresh cucumbers

thinly sliced

1/2

cup

heirloom tomatoes

chopped

1/2

cup

colorful peppers

thinly sliced

1/3

cup

red onion

thinly sliced

1/3

cup

colorful radishes

thinly sliced

1/4

cup

Kalamata olives

1

large

ripe peach

pitted and sliced

1/3

cup

fennel

thinly sliced

1/2

cup

feta cheese

cubed

1

tablespoon

fresh parsley

chopped, or small sprigs

1

tablespoon

fresh dill

small sprigs

1/3

cup

vinaigrette dressing

See: "Shaken" Italian Vinaigrette recipe
Instructions
These ingredients are up to your interpretation. Use more or less of the ingredients you desire.

In Summer - I shop at local farmers' markets for the best quality fruits & veggies.

With lettuce on the bottom, layer ingredients on a large serving platter, or to individual plates of bowls. Scatter the parsley and dill on top - drizzle with the "Shaken" Vinaigrette and serve.
Notes
*Use any farm-fresh crispy lettuce you like!
See: "Shaken" Italian Dressing recipe.
This recipe can not be reproduced without the consent of its author, Karen Sheer. 
Nutrition Facts
Karen's Summer Greek Salad with Peaches & Fennel
Amount per Serving
% Daily Value*
* Percent Daily Values are based on a 2000 calorie diet.
4 AUG 2022
FRANCINE
Karen,
Your creativeness and love of food comes out in each and every recipe! Your photography is magical! Thank you for all of your hard work and kindness to share such treasures! Francine
4 AUG 2022
KAREN SHEER
Thank you Francine… how sweet!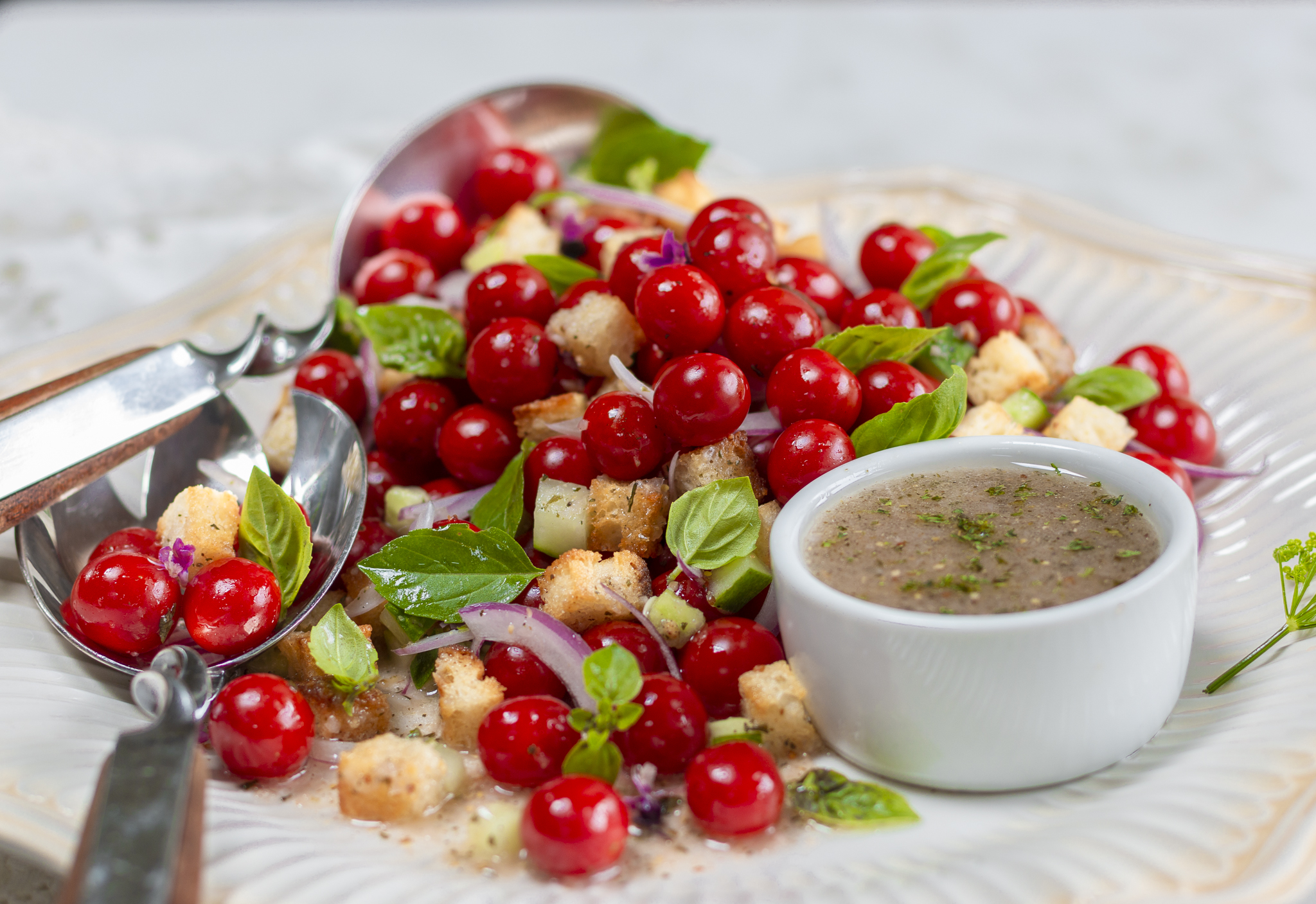 Karen Sheer