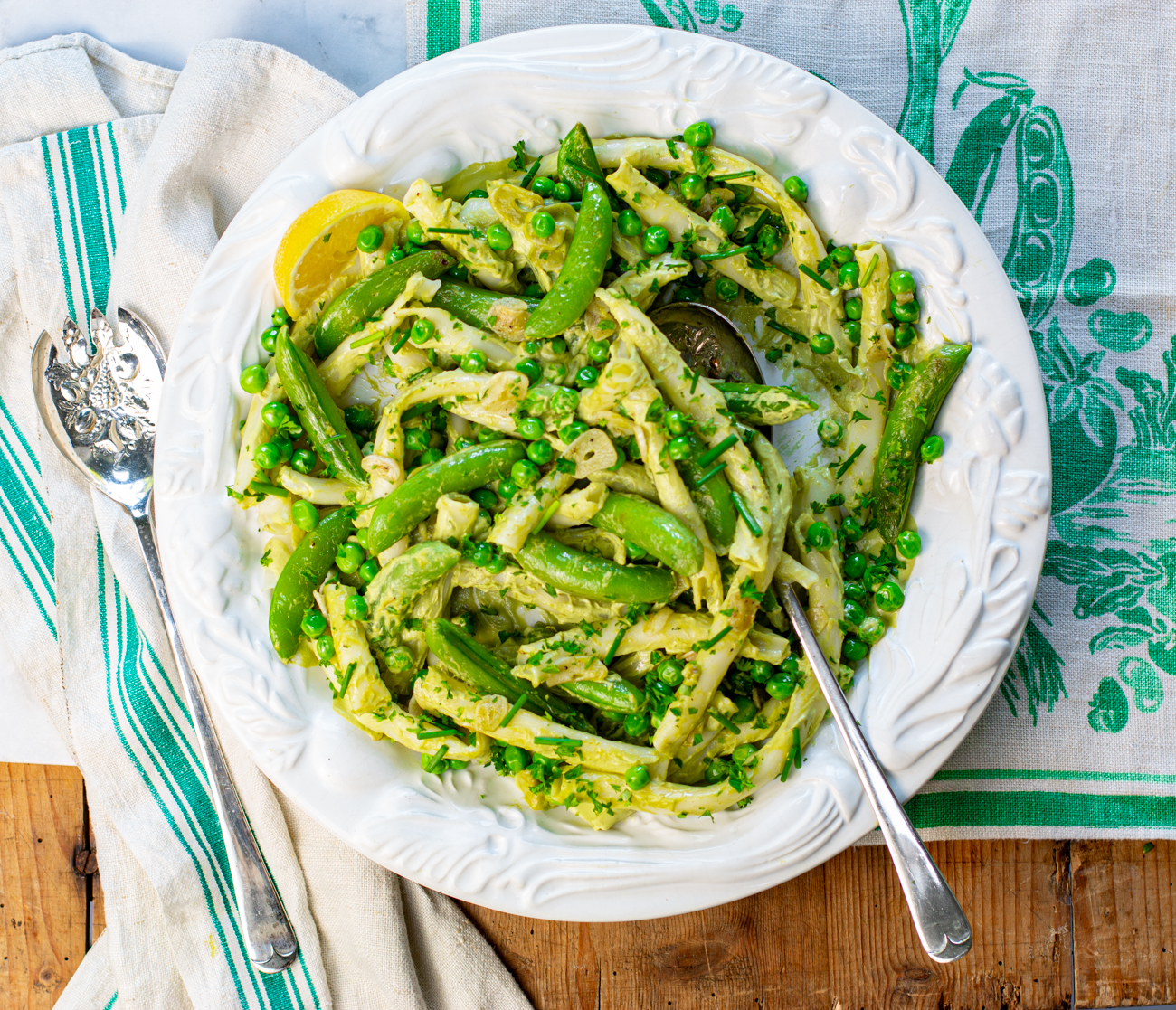 Summer Pasta with Sugar Snap Peas, Fresh English Peas & a Creamy Herbal Vegan Sauce
A simple pasta dish LOADED with two kinds of Fresh Peas – simple sautéed with Garlic then folded with Pasta and a Creamy Herbal Vegan Sauce (which is cashew based.)                 
How to Make a Pasta Dish Healthier?
Add MORE VEGGIES!  There are almost as many peas in this recipe as Pasta! 
Cashew Cream has fewer calories, total fat, saturated fat and sodium than heavy cream – and its delicious!
Most of the fat in cashew cream is the heart-healthier unsaturated type; yet is a high-calorie and high-fat food

The Steps:
Make the Herbal Cashew Cream Sauce
Sauté Sugar Snaps, Garlic & Shelled Peas – add Sauce
Fold together with Pasta – Garnish with Herbs & Enjoy!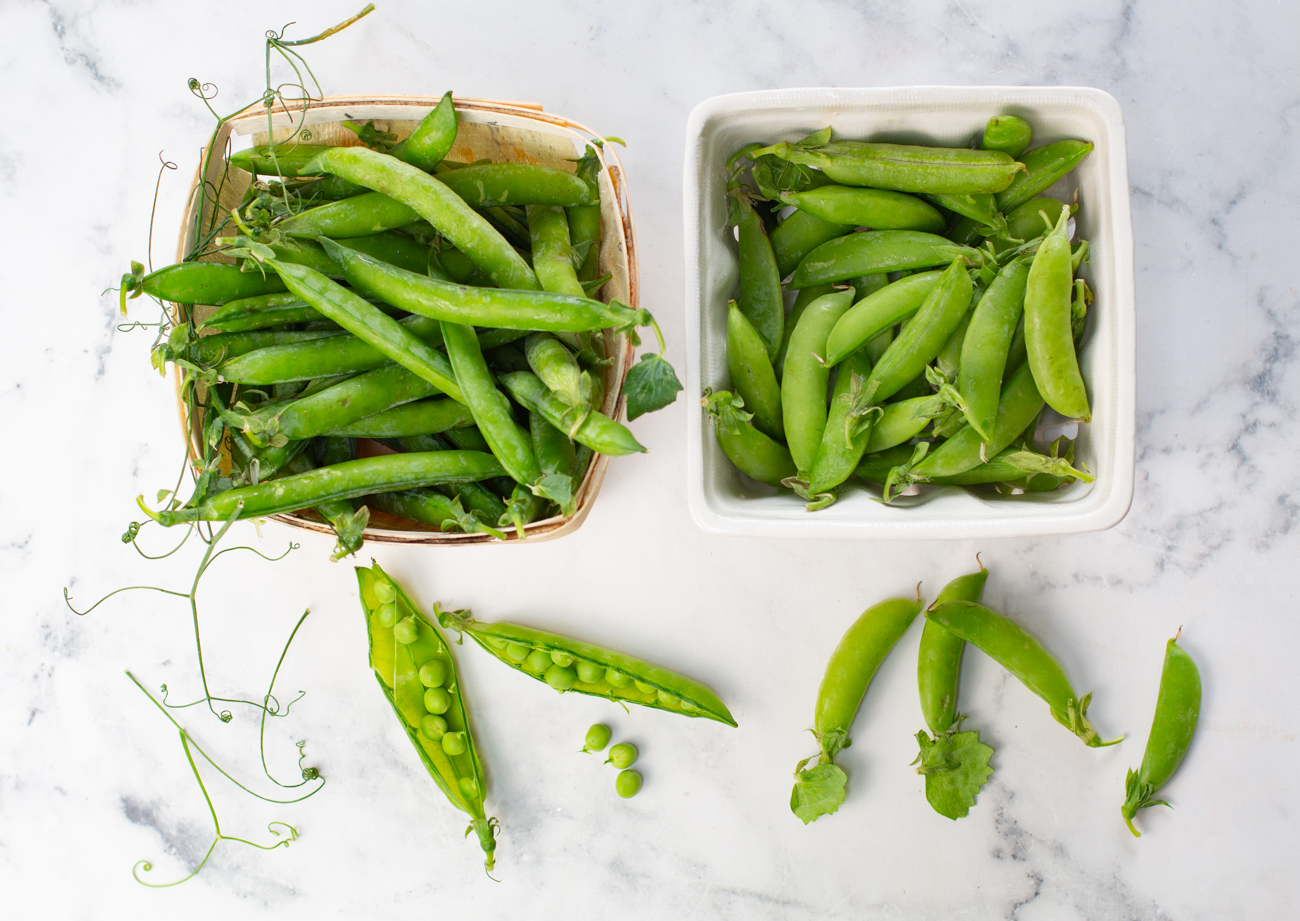 Fresh Peas are sweet & juicy, have a sweetness and deep, green vegetable flavor are like none other. Like sweet corn, the natural sugars in the peas change as they age.
Sugar Snap Peas are a cross between snow peas and garden peas. The whole pod is eaten and has a crunchy texture and very sweet flavor.
The time to enjoy them is now! Check out your local farmers' market for locally grown peas, and meet the farmer who are them!
The flavor will be incomparable, produce tastes better, and is allowed the time it needs to ripen fully before being picked and sold.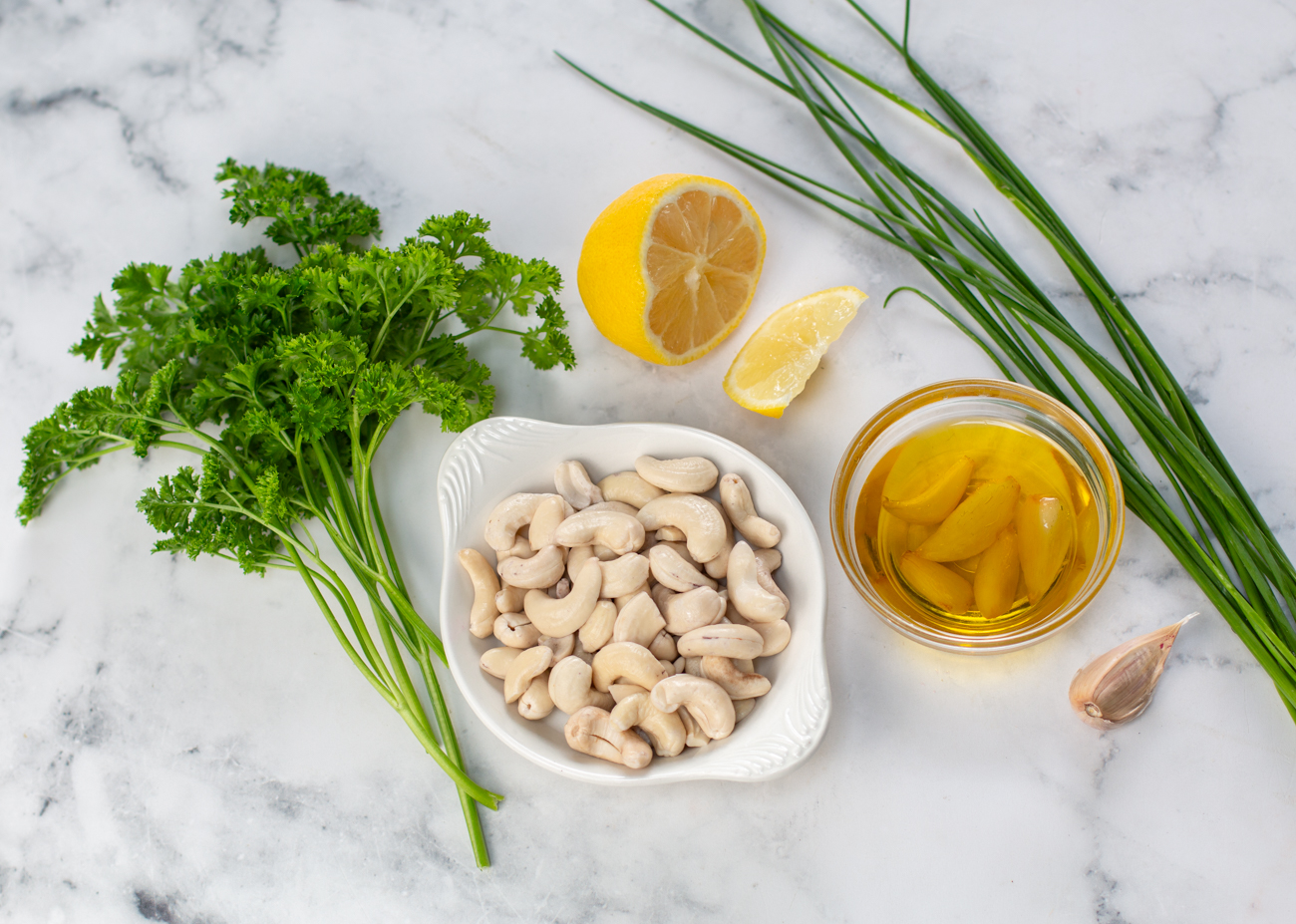 Raw Cashews (soaked in water overnight), Parsley, Chives, Lemon Juice, Softened Garlic and Extra Virgin Olive Oil
What is Cashew Cream?
A plant based sauce made by soaking Raw Cashew and adding water to a blender and whirl until creamy
Why should you make & enjoy Cashew Cream? Some Nutritional Notes:
It's rich, creamy, and neutral enough to go with just about everything. Plus, it takes mere minutes to make from scratch!
Most of the fat in cashew cream is the heart-healthier unsaturated type; yet is a high-calorie and high-fat food
Like dairy cream, it adds a source of fat and richness to the recipes in which it's used
It's a raw food, processed in a blender
Does retains the vast majority of the nutrients originally present in the cashews
Lasts up to 5 days refrigerated
What do do with Cashew Cream, How to Use It:
Make an easy blender sauce!
Add to soups instead of cream
Makes a base for Mac-n-Cheese (add spices + nutritional yeast for a cheesy flavor)
A great replacement for Baking… think cheesecake, ice cream, frosting
Add as a topping to Mexican dishes (with lime juice) – an alternative to sour cream
Makes a great base for a Dip!
I'm neither a full-time vegan nor a vegetarian, yet really enjoy and make cashew-based sauces often!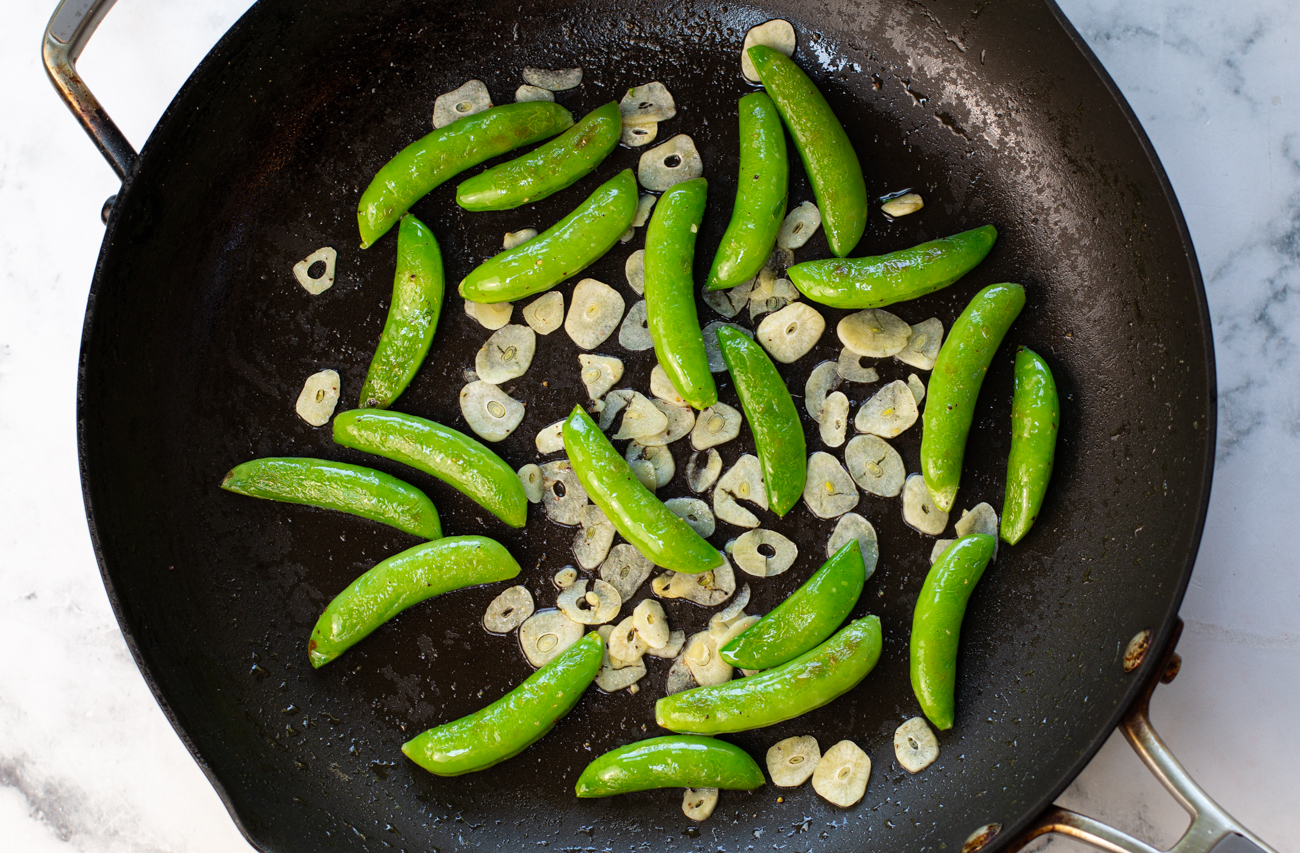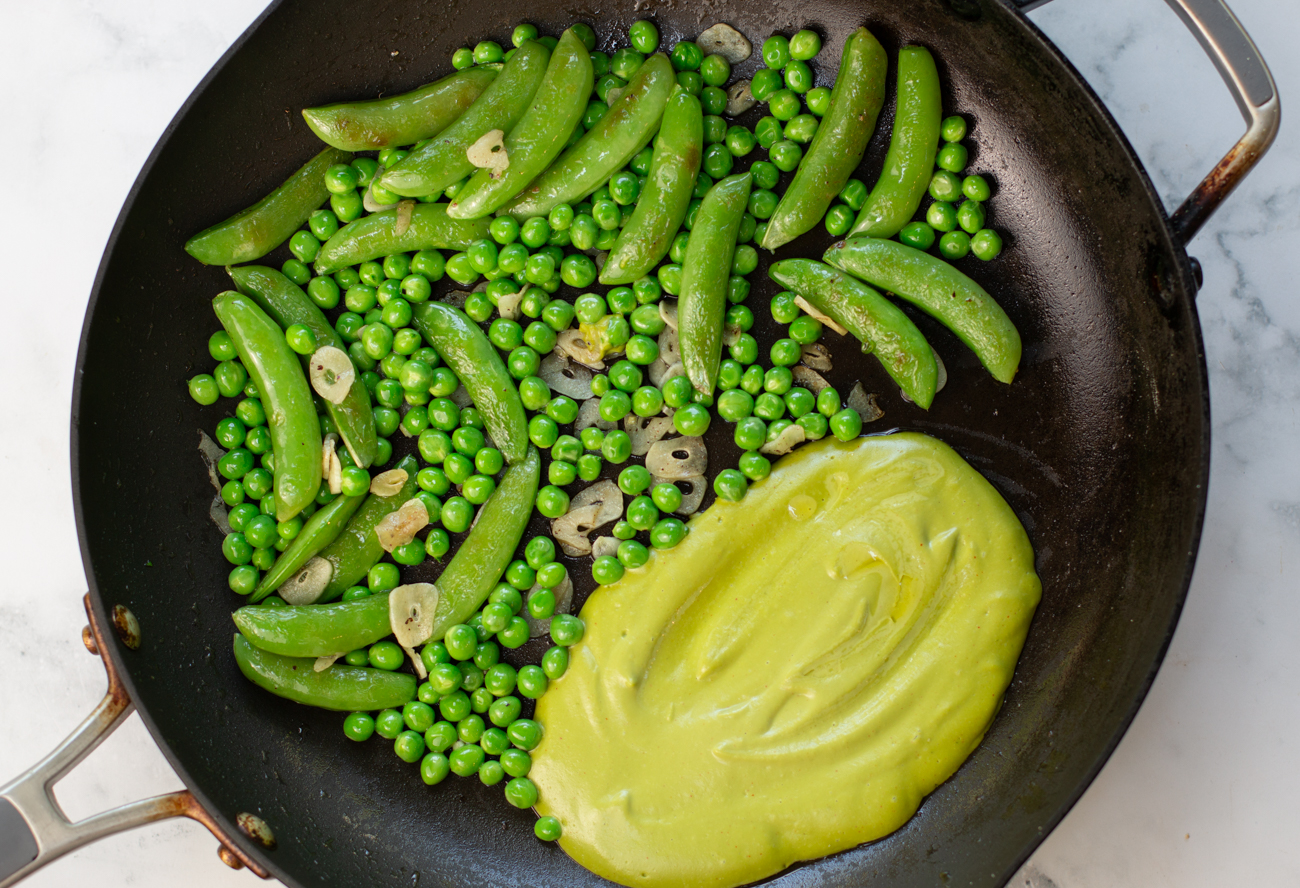 Whirl this skillet mixture with the soaked cashews, seasonings & filtered water – then your sauce is done! 
Taking advantage of summer's produce bounty – In season right now: Sugar Snap Peas and English Peas (the ones with the sweet peas shucked from their pods) are bursting with sweet flavor and crunch.
Enjoy this wonderful Summer Pasta dish loaded with peas!
Let me know what you think!
Karen
Some Other Pea Recipes I Think You will Love: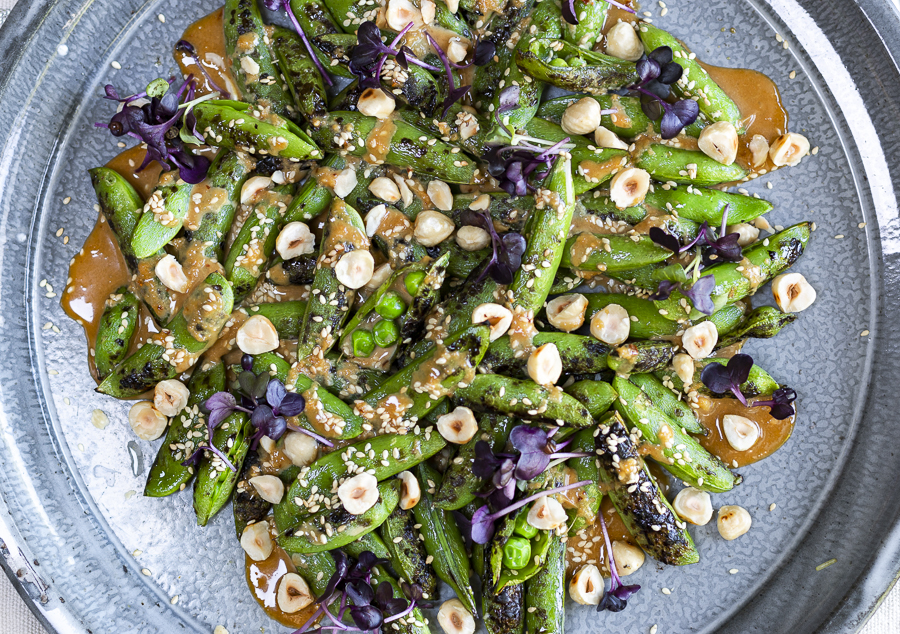 Summer Pasta with Sugar Snap Peas, Fresh English Peas & a Creamy Herbal Vegan Sauce
A simple pasta dish LOADED with two kinds of Fresh Peas - simple sautéed with Garlic then folded with Pasta and a Creamy Herbal Vegan Sauce (which is cashew based.)
Print Recipe
Pin Recipe
Rate this Recipe
Ingredients
Vegan Creamy Herbal Sauce:
1/2

cup

raw cashews

broken pieces ok!

1/3

cup

filtered water

1/2

cup

fresh parsley

clean and dried

3

tablespoons

fresh chives

(can substitute scallion greens)

2

teaspoons

fresh lemon juice

5

medium

cloves garlic

softened in oil - see recipe below

1/4

teaspoon

sea salt

1/8

teaspoon

smoked paprika

2

pinches

chili flakes

2

tablespoons

extra virgin olive oil

(use the oil from softened garlic)
Peas & Pasta:
1/2

pound

sugar snap peas

(about 1 1/2 cups)

3/4

pound

English shelled peas

OUT of their pods (about 1/2 pound)

1

tablespoon

extra virgin olive oil

3

tablespoons

thinly sliced garlic

1/8

teaspoon

sea salt

1/8

teaspoon

freshly cracked black pepper

8

ounces

dry pasta

I used gluten free; see note
Garnishes: Add a few tablespoons of chopped parsley and chopped chives
Instructions
Soften there Garlic:
Add 5 cloves of garlic to a small 5" pan. Add FIVE tablespoons of extra virgin olive oil; will almost cover the garlic. Heat to a LOW simmer and cook until the garlic has softened, but has not colored about 10 minutes. Use the Garlic & TWO tablespoons of oil in the sauce - reserve the extra olive oil for the sauté and remainder for cooking or a salad dressing.
Herbal Cashew Cream Sauce:
Drain soaked cashews. Add them to a high speed blender with all ingredients (cashews through extra virgin olive oil.) Blend from low to high speed - high speed for 2 minutes until creamy, vibrant green and smooth.

Makes about 1 cup - use 3/4 cup for this recipe, serve extra on the side.
Pasta, 2 Peas & Sauce
To finish the dish - Cook pasta al dente, drain.

To a large stick proof skillet, add 1 reserved tablespoon olive oil, set heat to medium-low. Add sugar snap peas and sauté 3 minutes until just a tad golden but very crisp. (Do not over cook at this point.)

Add the 5 tablespoons of sliced garlic, salt & pepper and sauce just 2 minutes until the garlic has just softened.

Add the shelled peas and sauté ONE minute, not more.

Add 3/4 cup of Herbal Cashew Cream Sauce, mix in. Add the pasta and give a big stir to coat.

Serve in a large bowl, or individual bowls. Serve extra sauce on the side.

Garnish with chopped parsley & chives, and serve with lemon wedges.

Add grated aged cheese if desired for a vegetarian dish. Enjoy!
Notes
BEST Gluten Free Pasta's are Italian, choose Sanity Irollo brand or La Fabbrica Della Pasta. Use regular pasta for his recipe if desired. 
This recipe may not be reproduced without the consent of its author, Karen Sheer. 
Nutrition Facts
Summer Pasta with Sugar Snap Peas, Fresh English Peas & a Creamy Herbal Vegan Sauce
Amount per Serving
% Daily Value*
* Percent Daily Values are based on a 2000 calorie diet.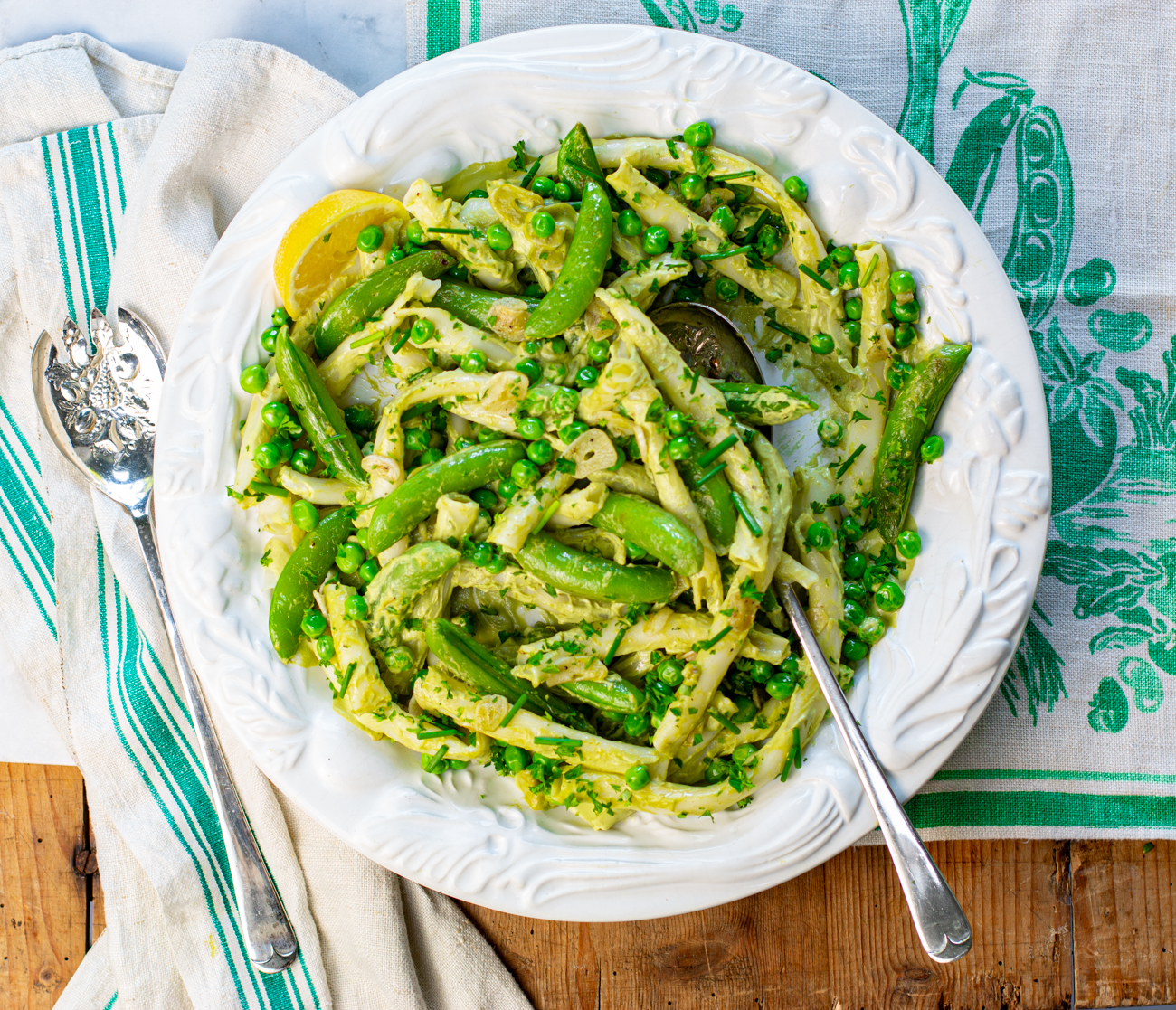 Karen Sheer