Summer Pesto Recipes and NEW: Fresh Pea & Basil Pesto!
Ah…Pesto in Summer –
I'm blending Fresh Peas from their pods with traditional pesto ingredients for a creamy and earthy flavor – a Pesto you will love!
English Peas – are known for their sweet flavor and bright, beautiful green color. These need to be shucked from their pods… the prize is inside. Find them at Farmers' Markets right now and better markets.
Why are they special? ~ They are super-sweet with peas ranging from small to large inside.
There really is no substitute for them… the frozen types do not have a crisp, firm texture which is wonderful.
Ingredients for the Fresh Pea Pesto: Fresh shelled peas (you will blanch for 2 minutes), fresh basil, garlic, parmesan reggiano cheese, toasted pine nuts, preserved lemon (or lemon rind and a squirt of lemon juice) and sea salt.
Uses for the Summer Fresh Pea & Basil Pesto:
Use as a topping for crostini – perfect schmeared with the pea pesto!
Add to mayonnaise, then toss with warm steamed potatoes and chill.
Dot the top of homemade pizza before & after cooking
Add to warm roasted or grilled vegetables
Fold in an omelet with halved colorful cherry tomatoes
Use as a topping for proteins off the grill, let the pesto melt in
Coat fish with the pesto, cover with breadcrumbs and bake
Add to cooked grains to jazz up such as couscous & quinoa… add vegetables please!
Use a sandwich condiment
Fold into a soup for extra flavor and color
Add to pasta as I did above – adding sugar snap peas and an extra dose of fresh peas
Other PESTO Recipes: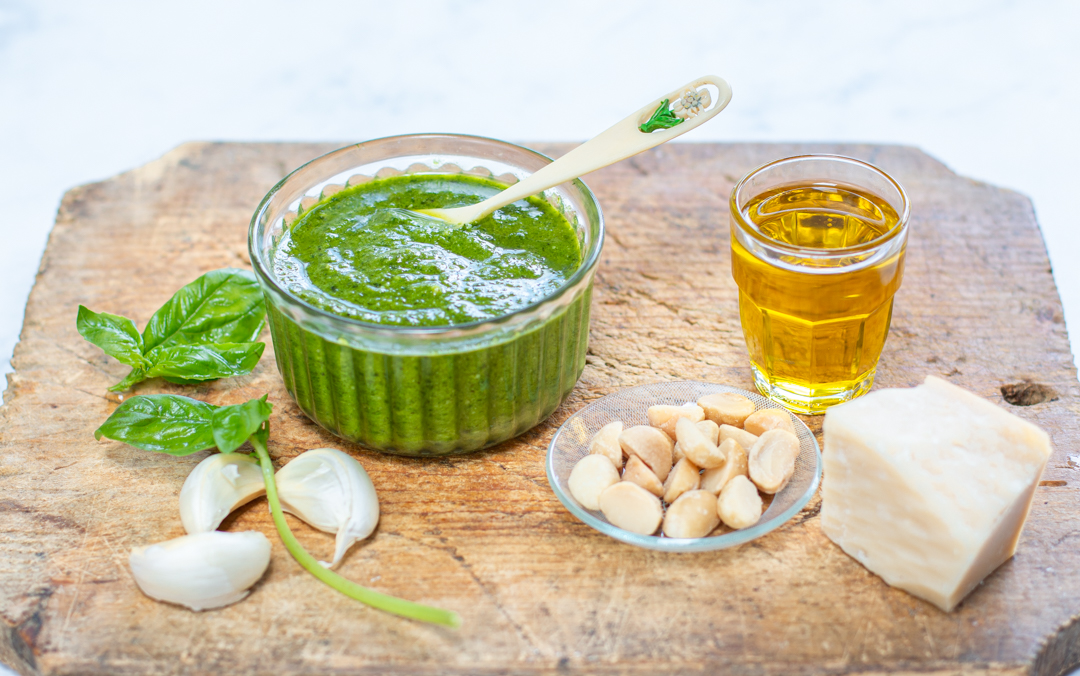 A Delicious & Easy Pesto using Toasted Macadamia Nuts. Adds a rich and buttery flavor.
Use as you like or to top my Salmon Steaks with Basil & Macadamia Nut Pesto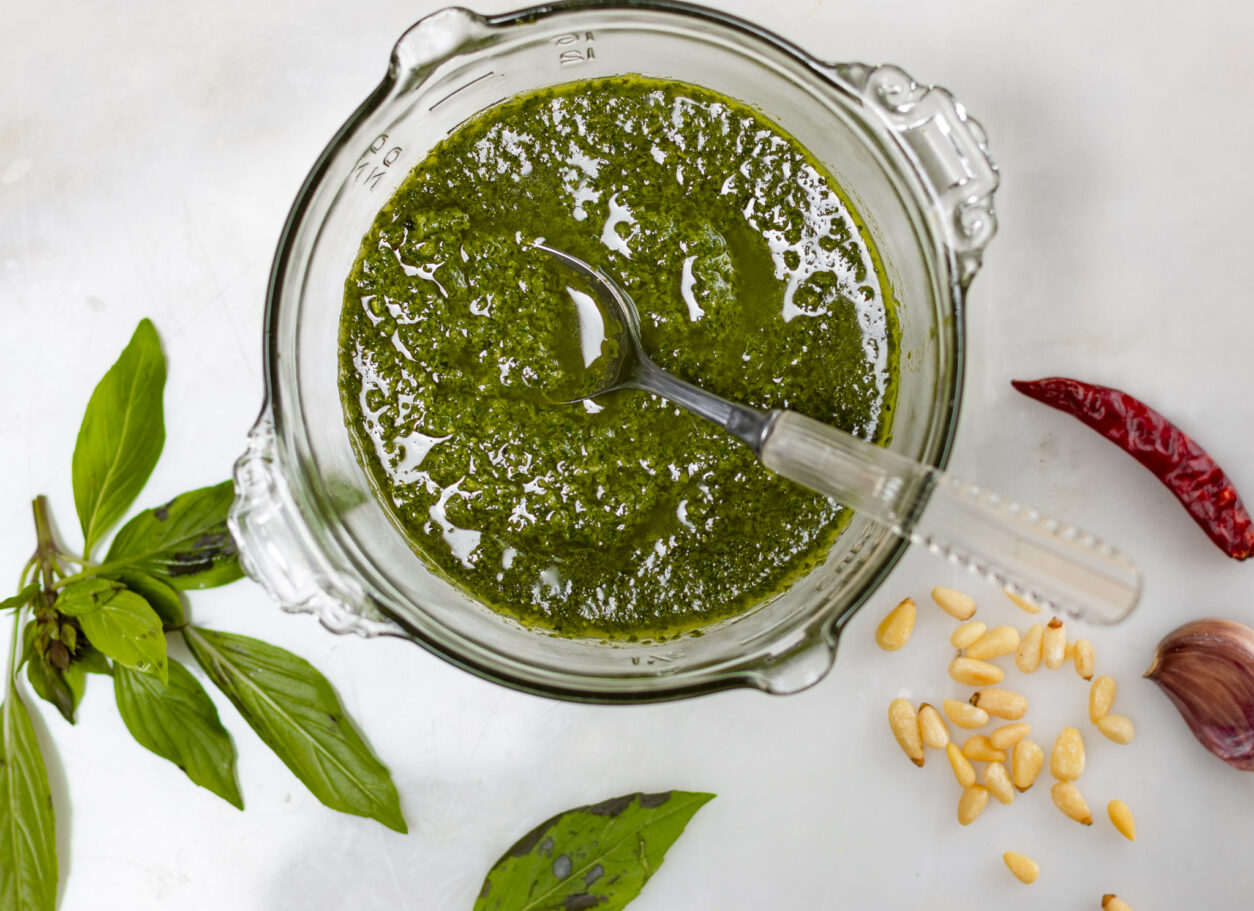 The flavor has a pronounced licorice essence and a little spicy kick. So many uses – see my list. Find this wonderful variety at farmers' markets. Makes a delicious and unique pesto!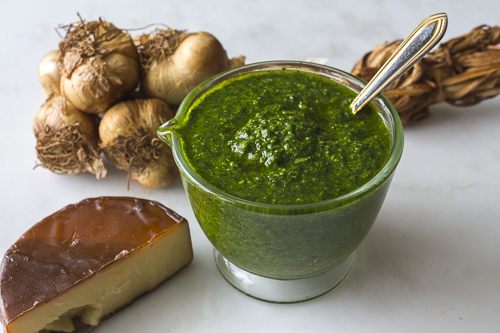 Adds a distinctive smoky note which does not overpower. A great year-round pesto that's anything but ordinary. If smoked garlic is not available, use regular – use a good quality smoked cheese.

An Herbal Pistou ~ Similar to a Pesto, but with Kale; Combine Basil, Kale and Chives with garlic and extra virgin olive oil processed to a creamy paste.
Adds a zesty and flavorful essence to soups, brushetta, pasta, vegetables and more!
Recipes I LOVE with PESTO: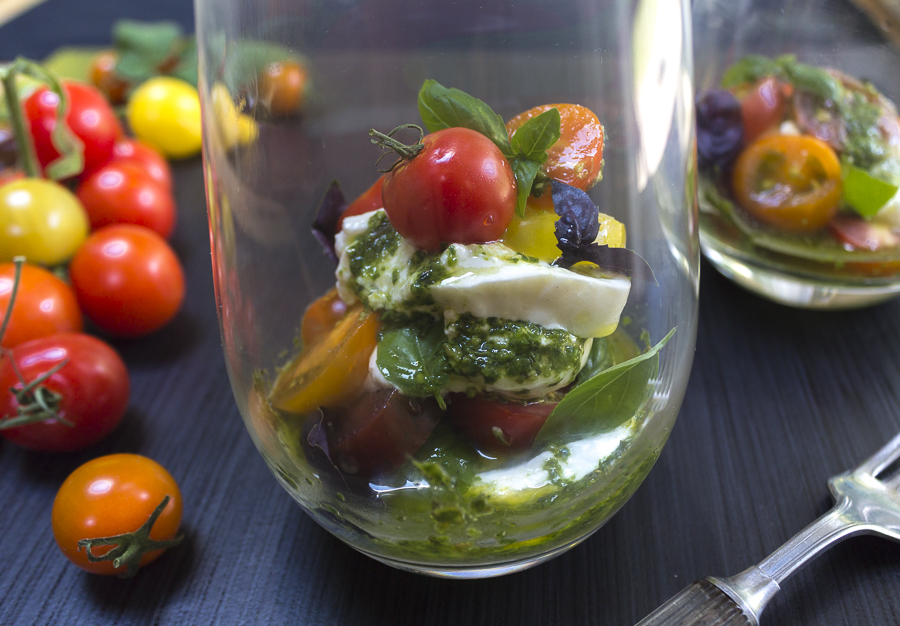 Rich, buttery, creamy Burrata Cheese is sliced and layered with summer Cherry Tomatoes, Pesto Vinaigrette and Basil Leaves. Simply layer in a stylish glass – and lavish the bright flavors.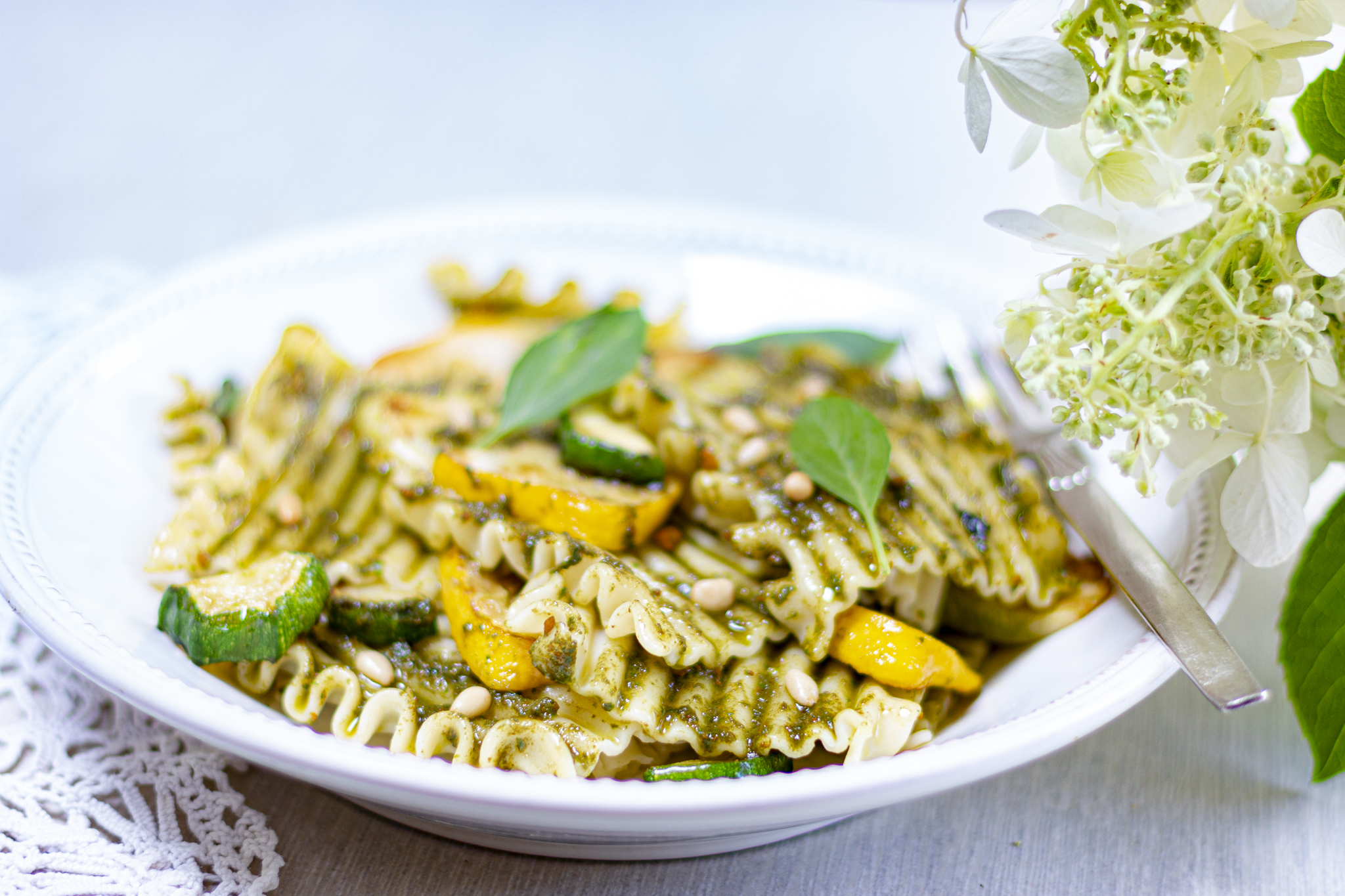 A favorite easy recipe: Cook Pasta and toss while warm with the Pesto. Toss in Roasted Zucchini (or your favorite veggies), Pine Nuts – and garnish with plenty Thai Basil Leaves.
Perfectly paired flavorful Grilled Shrimp over creamy stirred grits. Parsley joins basil in the pesto mix.
Pesto used: Karen's Smoked Pesto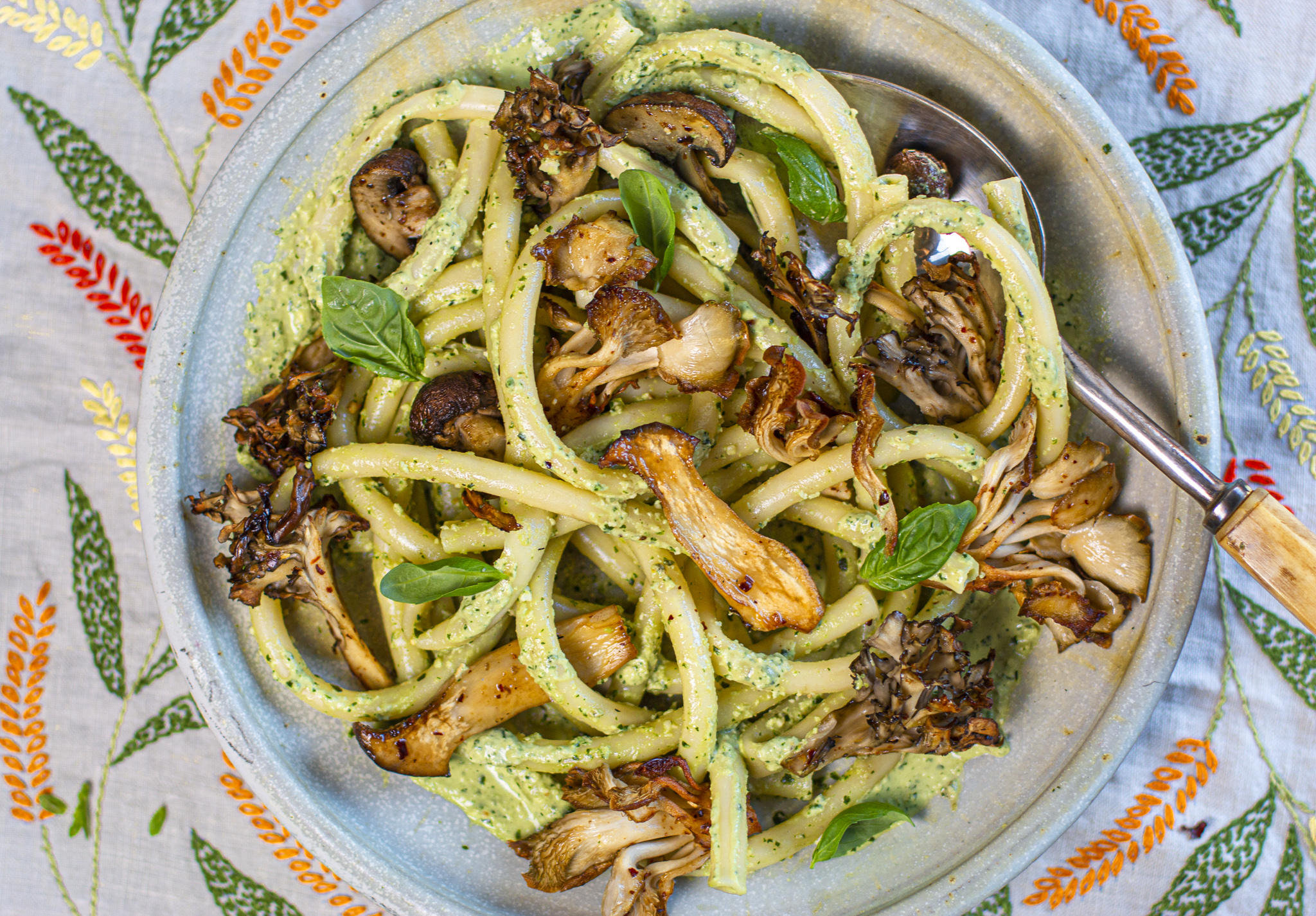 Wonderful Meaty Roasted Mushrooms Team with a Vegan Pine Nut-Pesto Creamy Sauce Layered over Pasta.|
The blender Pine Nut Basil Sauce is creamy-vegan-delicious… soaked pine nuts add a creamy quality.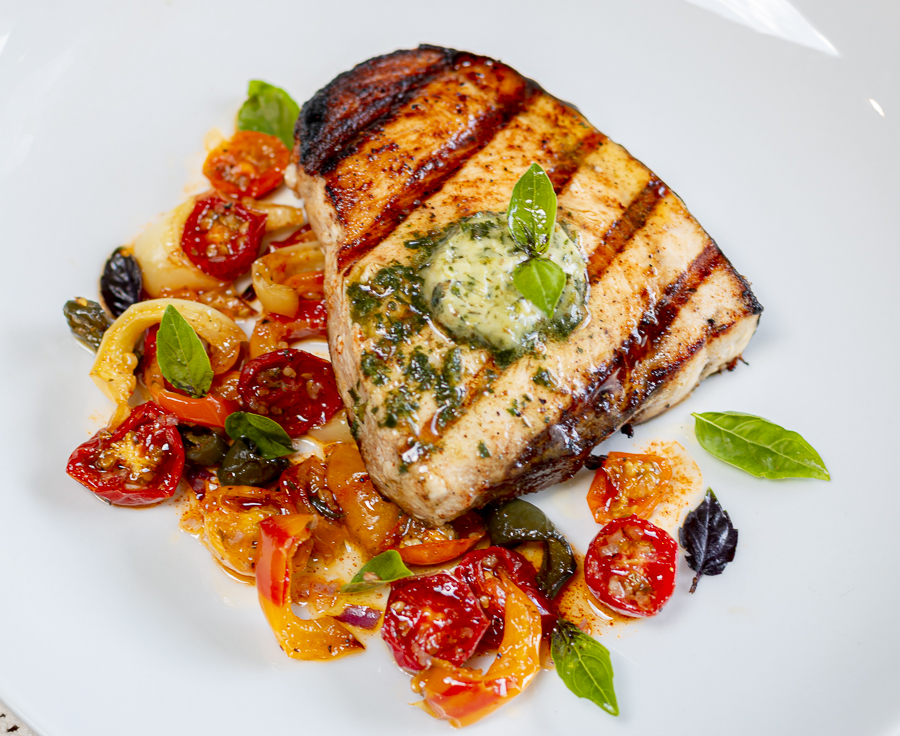 Have too much Summer pesto on hand? Make delicious compound butter in minutes! Slice and add to just-off-the-grilled local swordfish ~ melts into a dreamy sauce.
Enjoy all the fresh Summer flavors… Pesto included!
Karen
Karen's Fresh Summer Pea & Basil Pesto
I'm blending Fresh Peas from their pods with traditional pesto ingredients for a creamy and earthy flavor - a Pesto you will love! See all the uses for it.
Servings:
12
2 T. portions; makes 1 1/2 cups
Print Recipe
Pin Recipe
Rate this Recipe
Ingredients
3/4

pounds

fresh peas in their pods

Shelled: 3/4 cups*

3

tablespoon

pine nuts

gently toasted

1

cup

fresh basil leaves

cleaned, dried; packed in cup

3

teaspoons

fresh garlic

peeled and coarsely chopped

1/4

cups

parmesan reggiano cheese

coarsely chopped

1 1/4

teaspoon

preserved lemon

it's fabulous, or (1/4 t. lemon rind and 1 t. lemon juice)

1/2

cup

extra virgin olive oil

divided

1/4

teaspoon

sea salt

a bit more if not using preserved lemon
Instructions
Shell peas - will have 3/4 cup. Cook the peas in 1 cup boiling water, bring to a simmer and cook for just 2 minutes. Refresh in colander with cold water.

Add pine nuts through sea salt in a food processor with just 1/4 cup olive oil. Whirl until coarsely chopped.

Add the cooked, cooled fresh peas and extra 1/4 cup of olive oil and pulse until a nice paste - but with a little texture.

Can add more olive oil when using as a sauce for pasta.

Store in a clean glass container with a film of olive oil on the top. Use within 10 days or freeze extra.
Notes
* HINT: Can cook 1/4 cup extra peas for adding to the pesto when incorporating with pasta, or using as a topping for crostini. 
This recipe may not be reproduced without the consent of its author, Karen Sheer
Nutrition Facts
Karen's Fresh Summer Pea & Basil Pesto
Amount per Serving
% Daily Value*
* Percent Daily Values are based on a 2000 calorie diet.
Karen Sheer