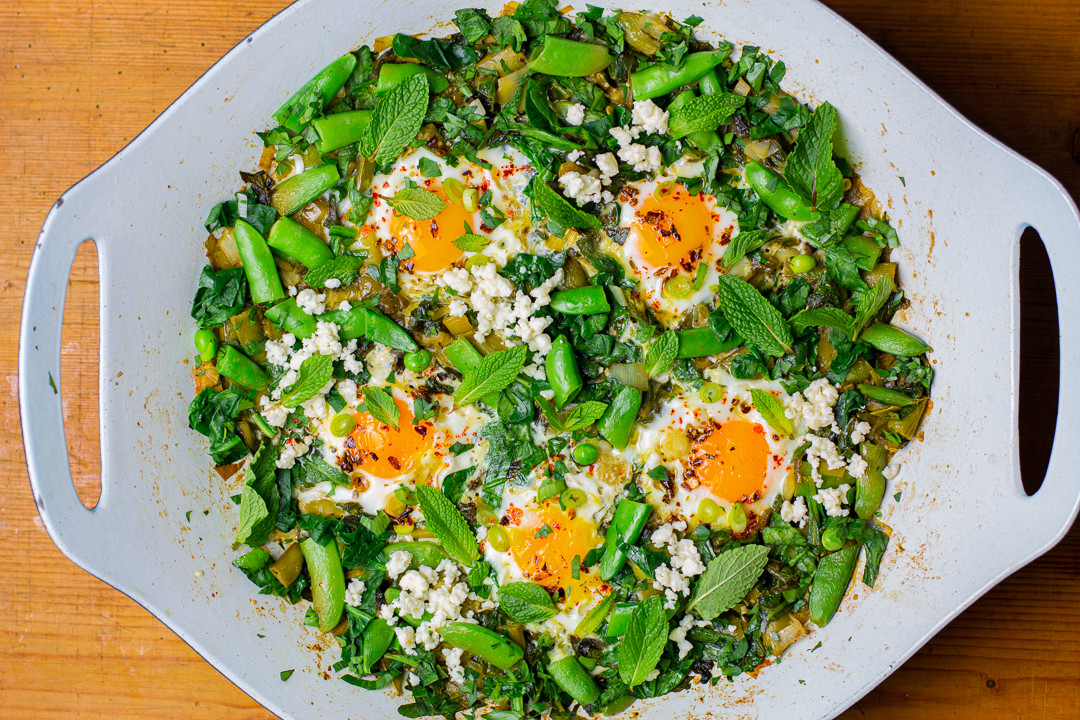 Southwest Style Green Shakshuka with Hatch Chili Oil
What to eat on New Years Day!
Gather the ingredients you will need and pump up the green antioxidants in this one-pan dish.
Healthy and satisfying with mild heat. My favorite Brunch recipe!

Also see: Holiday Hors D'Oeuvres , Pick-Up Appetizers & Nibbles for amazing New Year's Eve ideas!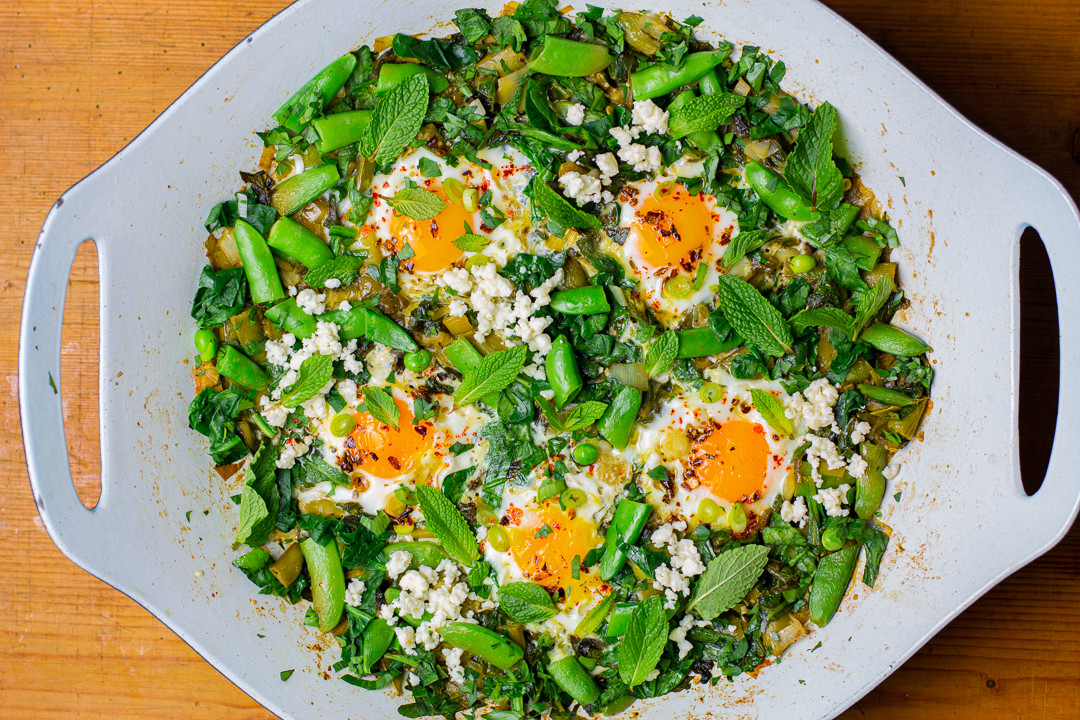 With the surge for global cuisine ~ Middle Eastern food is a it's height of popularity, and the Mediterranean Diet proves to be an established healthy way to eat (not so much as a diet, but a lifestyle.)
Green Shakshuka Sauce uses Tomatillos as its base. They are are sweet, tart and a little earthy (the main ingredient in salsa verde.) They make an incredible creamy base to which other green ingredients will be added.
All heart-healthy ingredients, with great sources of lycopene, antioxidants, fiber and protein.
This Mediterranean-style meal contains extra virgin olive oil with wonderful flavor and health benefits. EVOO, from the first pressing of olives, has anti-inflamitory properties and is associated with the decreased risk of heart disease. When you shop for olive oil,  look for those that are sold in dark tinted bottles since the packaging will help protect the oil from oxidation caused by exposure to light.
Green Vegetables in this recipe:

Tomatillos
Leeks
Poblano Pepper
Fresh Spinach
Sugar Snap Peas
Garnishes: Scallions, Parsley, Fresh Mint Leaves & Feta Cheese
The recipe is very adaptable! I love to start with Tomatillos at its base – lends a creaminess AND a tart-sweet flavor. Poblanos taste similar to a green bell pepper with a little more kick with a smokiness and some heat – I suggest you use them!
How to vary the Green Ingredients: Use green vegetables you enjoy! Swap swiss chard or kale for the spinach. Use frozen peas for the sugar snaps. Green zucchini and Italian frying green peppers would work here too.
Southwestern cuisine reaps the benefits of a host of local ingredients which is often naturally plant-based.
The presence of chiles is perhaps the most prominent defining characteristic of Southwestern cuisine.
Hatch Chiles are the darling of this cuisine – about a third as hot as a jalapeño. Grown in the Hatch Valley Region of New Mexico – they have a short season in the end of summer – you can find them canned or dried (That's what I used for my Hatch Chile Oil.) Use them in this recipe if you can find them fresh!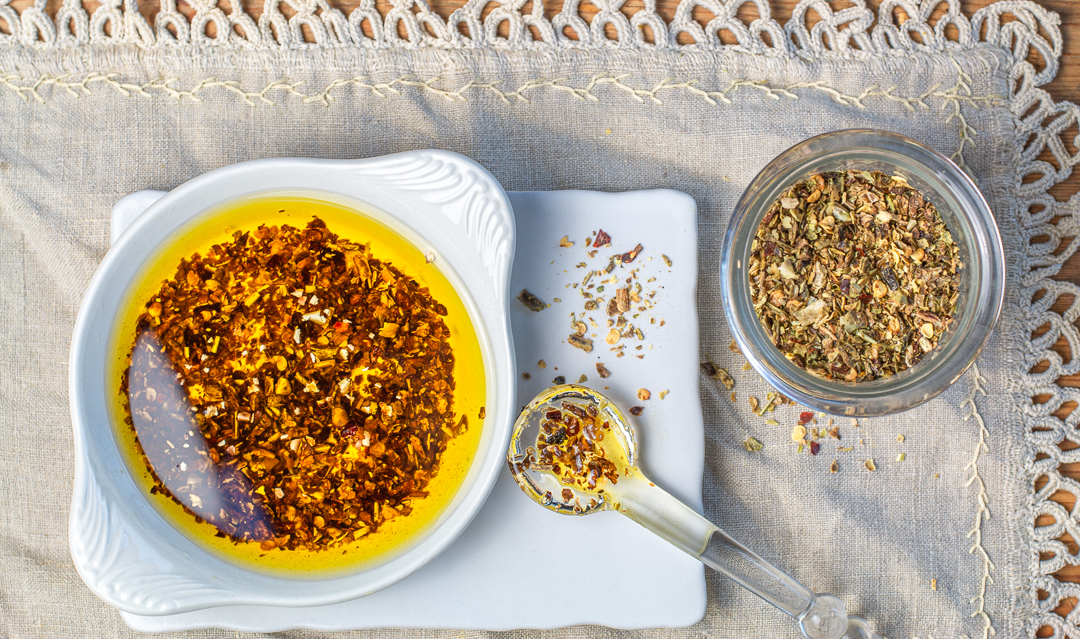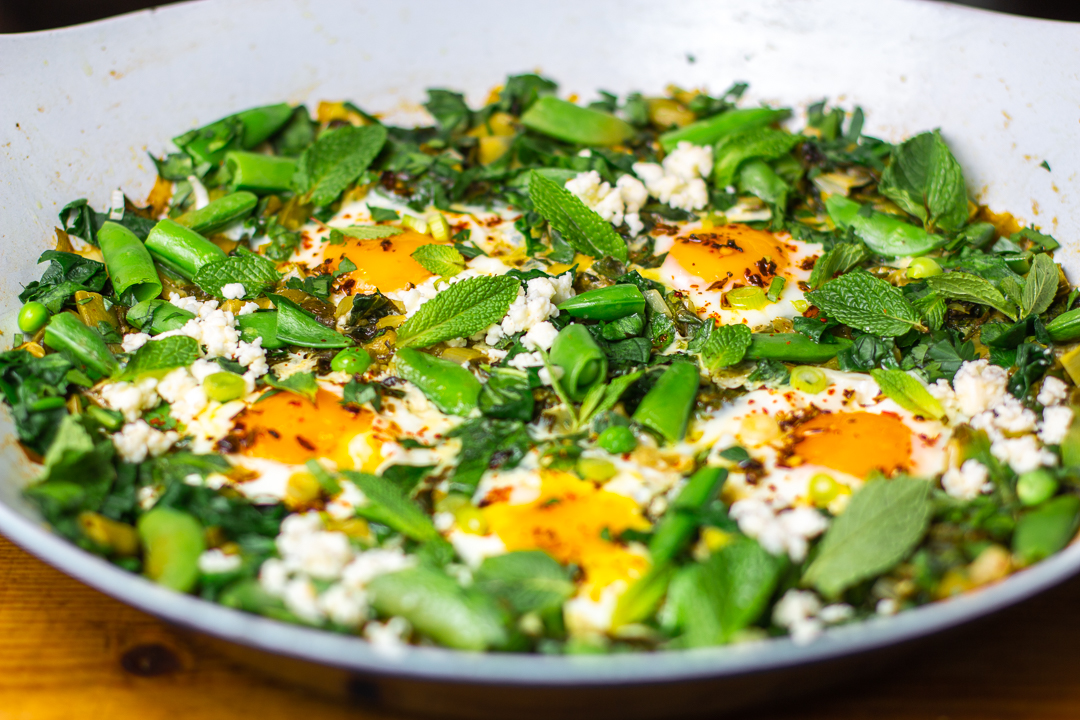 Who doesn't love the simplicity of a one-pan meal? Add an assortment of sautéed green veggies, some with a little kick with eggs tucked in and brilliantly garnished. Pasture Raised Eggs are preferable for their enhanced flavor, nutrition and bright orange yolk.
Shakshuka is the ultimate breakfast or brunch – or enjoy for lunch and a light dinner.
It is traditionally served with warm pita bread, challah, or naan (I like tortillas too.) Also pairs well with hummus, grits, roasted potatoes, herb salad, cucumber salad, or Greek salad.
Some Shakshuka History:
The dish's name, shakshuka, essentially means 'all mixed up' – and that's what it really is. The dish, presumed to have originated in either Yemen or Tunis, is made up of eggs cooked in tomato sauce and peppers, sometimes with onions, other herbs or cheese, and is usually served in the iron pan it was cooked in, along with some bread, which is meant for dipping in the sauce and the soft cooked-egg.
Today, one of the most popular dishes in Israel is enjoying its moment in the spotlight in many places around the world, due to its hearty, comforting nature and healthy Middle Eastern ingredients. Different variations are prepared including all kinds of spiciness levels.
When immigration to Israel from North African countries was in its prime, settlers suffered financial difficulties and this hearty and affordable dish of local ingredients, containing eggs, vegetables and bread, became a household favorite. An economical dish – considered a perfect meal for a family on a budget.
Did you know?
Shakshuka is a staple dish on any Israeli breakfast table. In fact, they eat it at breakfast, lunch and dinner – both at home and in restaurants. The dish is so popular there that it's considered right up there with falafels and hummus as the best of Israeli cuisine.
Also See: Greek Eggs with Homemade Salsa in a Casserole
THE new breakfast classic – a hearty vegetarian spin on Huevos Rancheros filled with Greek flavors to enjoy anytime of the day! Think Shashuka with a twist.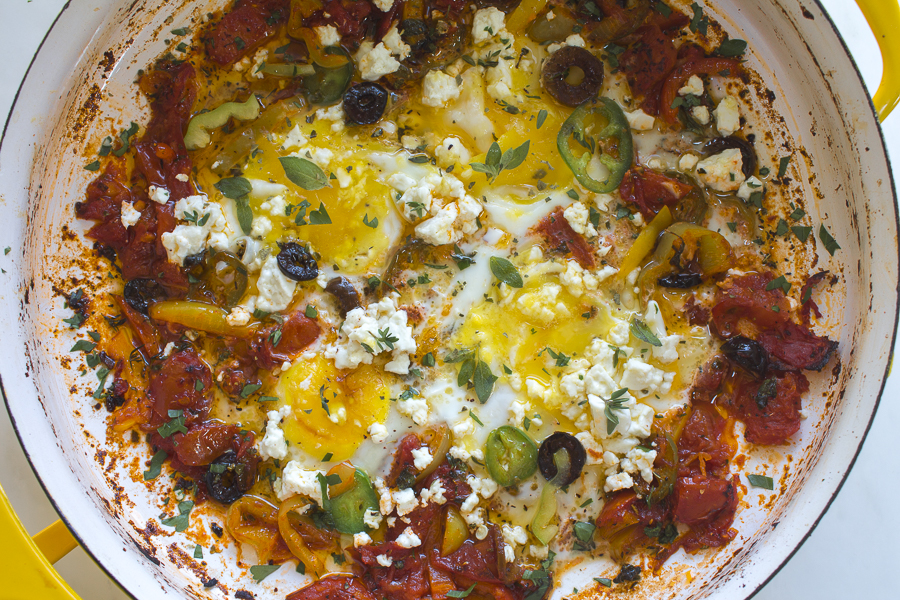 Happy New Year to All! Ring in the New Year with this Vibrant Shakshuka recipe!
Karen
Southwest Green Shakshuka with Hatch Chile Oil
Gather the ingredients you will need and pump up the green antioxidants in this one-pan dish. Healthy and satisfying with mild heat - eggs poach in flavorful sauce, then garnished. My favorite Brunch recipe!
Print Recipe
Pin Recipe
Rate this Recipe
Ingredients
1/2

pound

tomatillos

about 6 large, husked, washed, cut 1/2" dice

4

tablespoons

extra virgin olive oil

divided

1/2

teaspoon

ground cumin

1/2

teaspoon

sea salt

1/2

teaspoon

pure cane sugar

1

teaspoon

jalapeño

minced

2

teaspoons

garlic

peeled and minced

3/4

cup

leeks

(1/2 large leek) cleaned, sliced 1/2"

1

medium

poblano pepper *

blackened, peeled, chopped (see note*)

8

ounces

fresh spinach

about 7 1/2 cups, cleaned, sliced 1" thick

1

cup

sugar snap peas

strung, cut in half

5

whole

Pasture Raised Eggs

I use Whole Foods 365
Garnishes:
1/2

cup

feta cheese

crumbled

1/4

cup

sliced scallion

2

tablespoons

fresh parsley

coarsley chopped (can use cilantro)

2

tablespoons

fresh mint leaves

3

teaspoons

Hatch Chili Oil

(see recipe)
Instructions
For the Green Base:
Add 2 tablespoons of evoo to a 14" skillet with a lid (I use a enameled cast iron.) Raise heat to medium, add diced tomatilllos and give a big stir. Cook, sautéing for 4 minutes until softened.

Add seasonings: cumin, sea salt, sugar, jalapeño and garlic. Turn heat down to low and cook stirring for 3 minutes to blend the flavors.

Add the sliced leeks, stir to wilt, then cover for 5 minutes; low heat. Uncover and add the chopped poblano chiles, stir to combine and cook 1 minute.

Add remaining 2 tablespoons of evoo and all of the sliced fresh spinach. Raise heat to medium, stir to just wilt the spinach - about 3 minutes.

Add the sugar snap peas with 2 tablespoons of water. Give a big stir, cover the pan until the peas are tender-crisp and bright gren, about 3 minutes.
Add the eggs to the green sauce:
Remove the cover, make 5, 4" indentations to make room for the eggs. Crack each egg and add to each opening in the pan. Over medium-low heat - cover the pan and cook until the eggs are set - the whites are bright and the yolks have just set, 4 - 5 minutes.
Add garnishes and serve:
Top with garnishes: feta cheese, scallions, parsley and mint. Top each egg with some Hatch Chile Oil. Sprinkle with some red hot pepper flakes (such as aleppo pepper) if desired and serve!

Serve with crisp corn tortillas, flour tortillas or your favorite toast.
Notes
* Blacken the Poblano Chile over a hot flame unit blackened all over. Add to a paper bag and fold tight to steam. When cool enough to handle, scrape off the skins with the back of a knife, seed the pepper and coarsely chop.
5 light servings in this recipe ~ although 2 could easily polish off this entire dish! 
This recipe may not be reproduced without the consent of its author Karen Sheer. 
Nutrition Facts
Southwest Green Shakshuka with Hatch Chile Oil
Amount per Serving
% Daily Value*
* Percent Daily Values are based on a 2000 calorie diet.
Karen Sheer