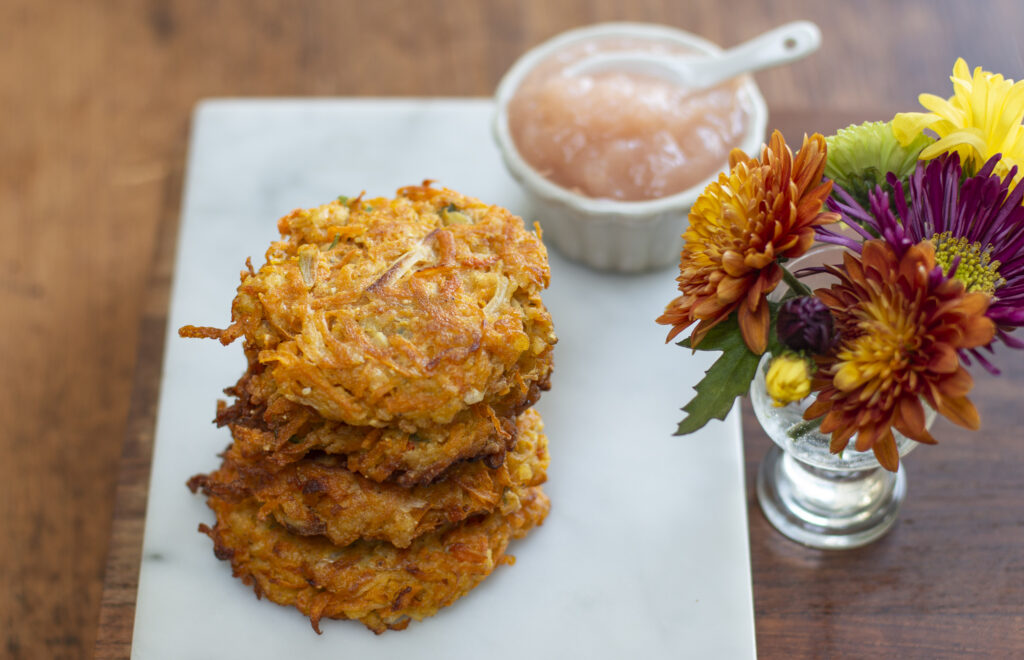 How to Make the BEST Potato Latkes! & After Thanksgiving Recipes for your Leftovers
Just when we have digested the Thanksgiving dinner (and leftovers the entire weekend) – Chanukah is here! And it's time to enjoy some crispy latkes. There is still time to creatively use up your tasty leftovers… see below.
Enjoy Potato Latkes this week ~ learn the tricks of a crispy yet light potato pancake.
There are many interesting flavor combinations. Make a batch of homemade applesauce for dolloping on top. 
Chanukah Latkes are that ethereal treat; a potato mixture made by dropping large tablespoons into a skillet of shimmering, hot oil.
The perfect Latke recipe, crispy on the outside, tender inside. Serve with my homemade pink applesauce.
Fried foods are traditionally eaten during this "festival of lights" in commemoration of the oil that miraculously burned for eight days. Crispy, naturally sweet, salty and irresistible – it's a shame we wait all year to enjoy them.
I like to play with my latke ingredients and discover interesting, distinctive combinations.
I love extra veggies in the batter, so I fold in 3 kinds of onions – leeks, scallions and yellow onions.. and carrots for color and a blast of extra sweetness. Two kinds of potatoes are used, Yukon Gold for their flavor and appealing yellow color, and Russets for their high starch content. Many times I add some grated zucchini and chopped parsley into the batter.
The trick for a perfect latke is twofold:
1. For Crispiness: Squeeze your potatoes in a tea towel (or paper towels) until very dry.
2. For Lightness: Separate the eggs; glossy egg whites will make a lightened latke, with a meringue-type batter.
Serve the latkes with my favorite homemade applesauce (see recipe), and sour cream if desired.
For a Gluten-Free version, simply use a all-purpose gluten free flour blend in place of the flour for great results.
A little history – In European and Middle Eastern countries, potato pancakes are cooked in first-pressed extra virgin olive oil.
My "best" Chanukah Latke Recipe – topped with Beet Cured Gravlax you can make and cure in just two days. A sophisticated topping for the Potato Latke.
Gravlax is quite simple to prepare – brined with Vodka, Citrus Juices, Grated Beets, Dill, Sugar, Salt and Pepper. Weighted down, the gravlax is ready in two days – slice when ready to enjoy.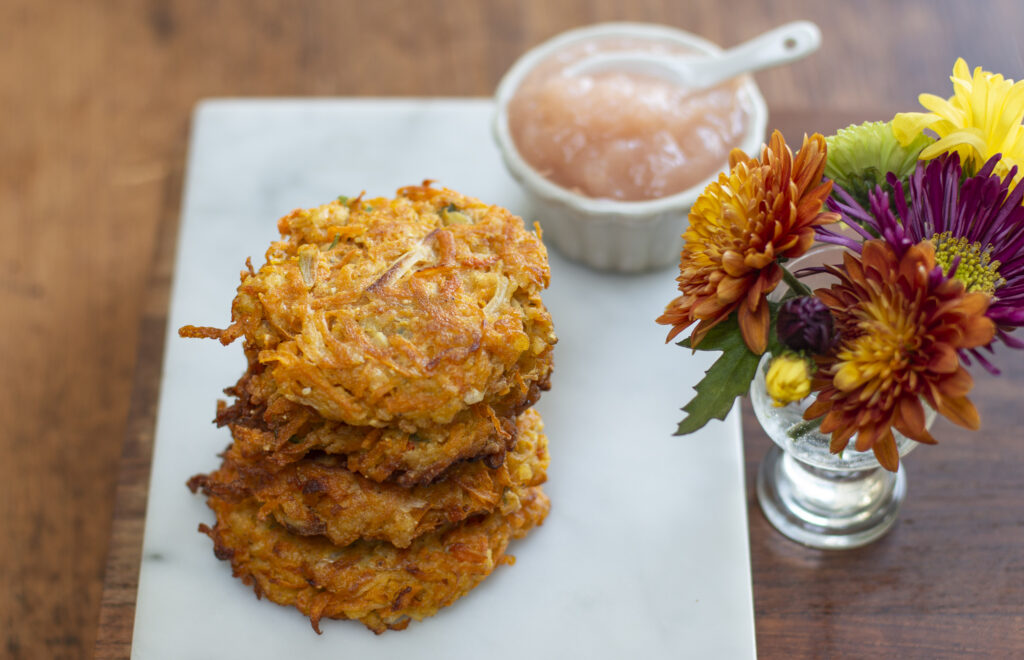 A new twist for your Potato Pancake repertoire.
Butternut squash with warm spices makes a delicious sweet latke that is perfect for Chanukah or anytime! Gluten Free adaptable.
My ultimate latke recipe with more veggies for added color and crunch. The beets are optional, but I think your family will love the addition.
Bake these treats in muffin tins for a lightened – up version of the
fried potato pancake!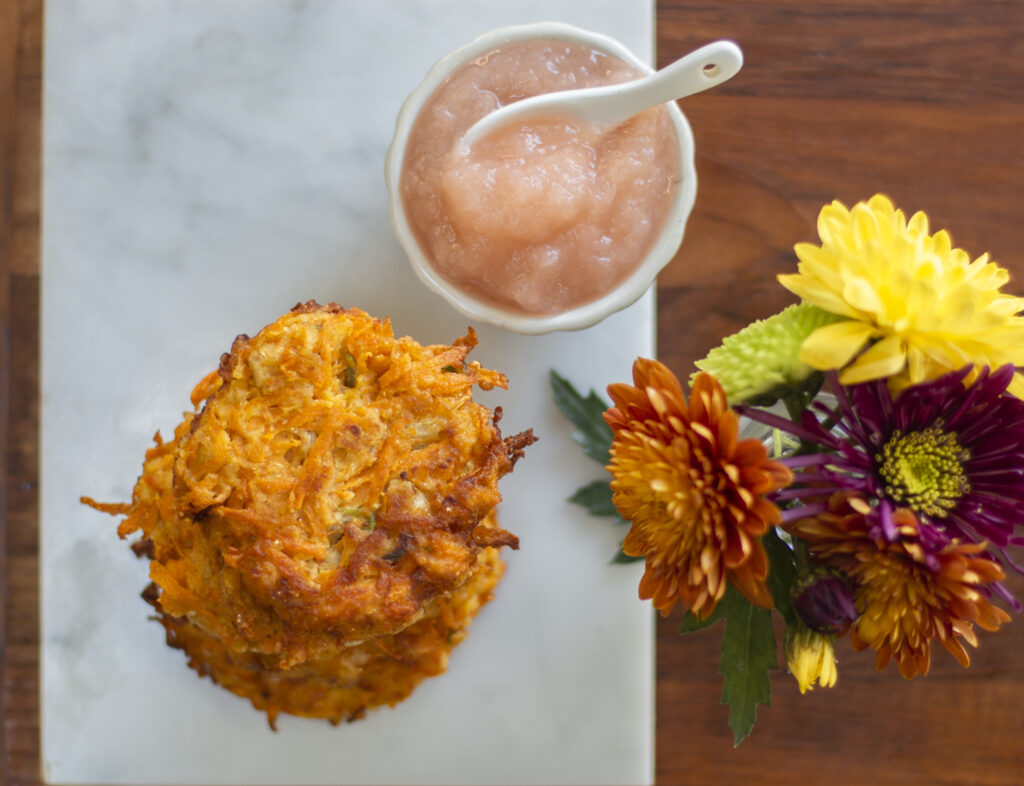 Here's what I'm cooking up with the holiday's leftovers:
Soup, Salad, Throw-back Casserole, Tacos, Chef Salad, Frittata and more – create new meals for the week with minimal effort.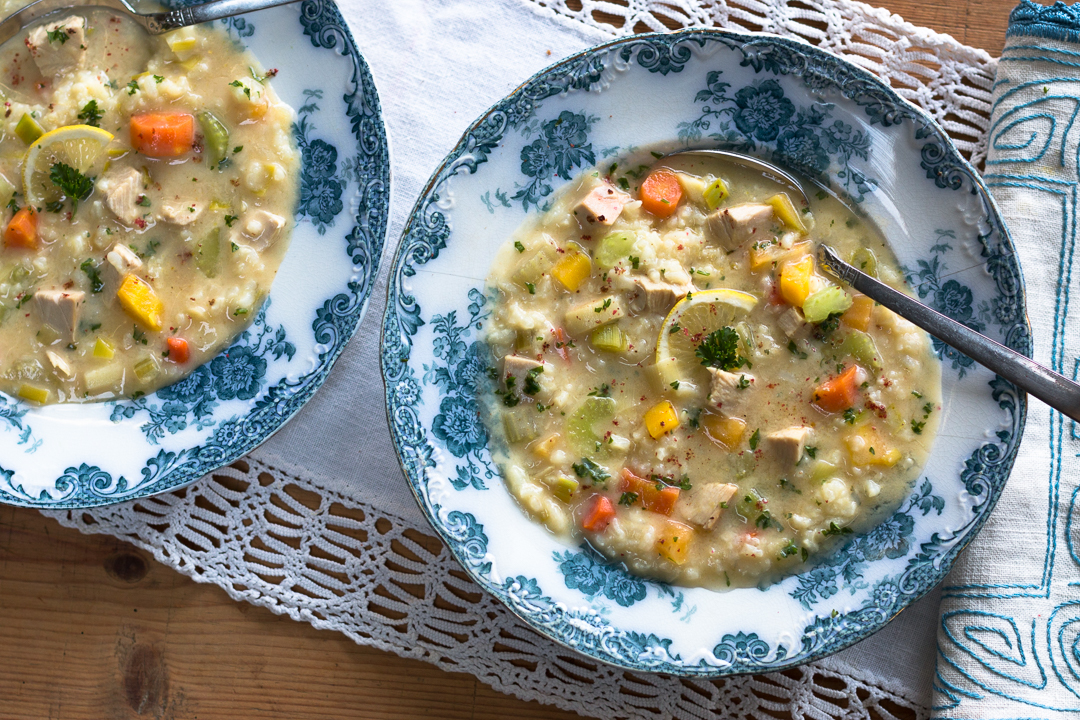 After Thanksgiving – besides dunking roast turkey into russian dressing (homemade of course) I crave this soup!
It's zesty lemony flavor with many vegetables mingling in the soup seems light yet satisfying.
A Hearty & Healthy Soup using 2 cups of diced freshly roasted turkey from your Thanksgiving feast. Make again using leftover chicken! 
Avgolemono soup is a Greek lemon chicken soup that is thickened with an egg sauce (whipped eggs and lemon juice.) With rice and vegetables, it's a meal in itself!
Almost every culture has some version of chicken soup, noodles or not.
My Avgolemono style soup recipe is a redux on the classic Greek version.
Extra veggies – turkey substitutes for chicken – a little extra thickness in consistency.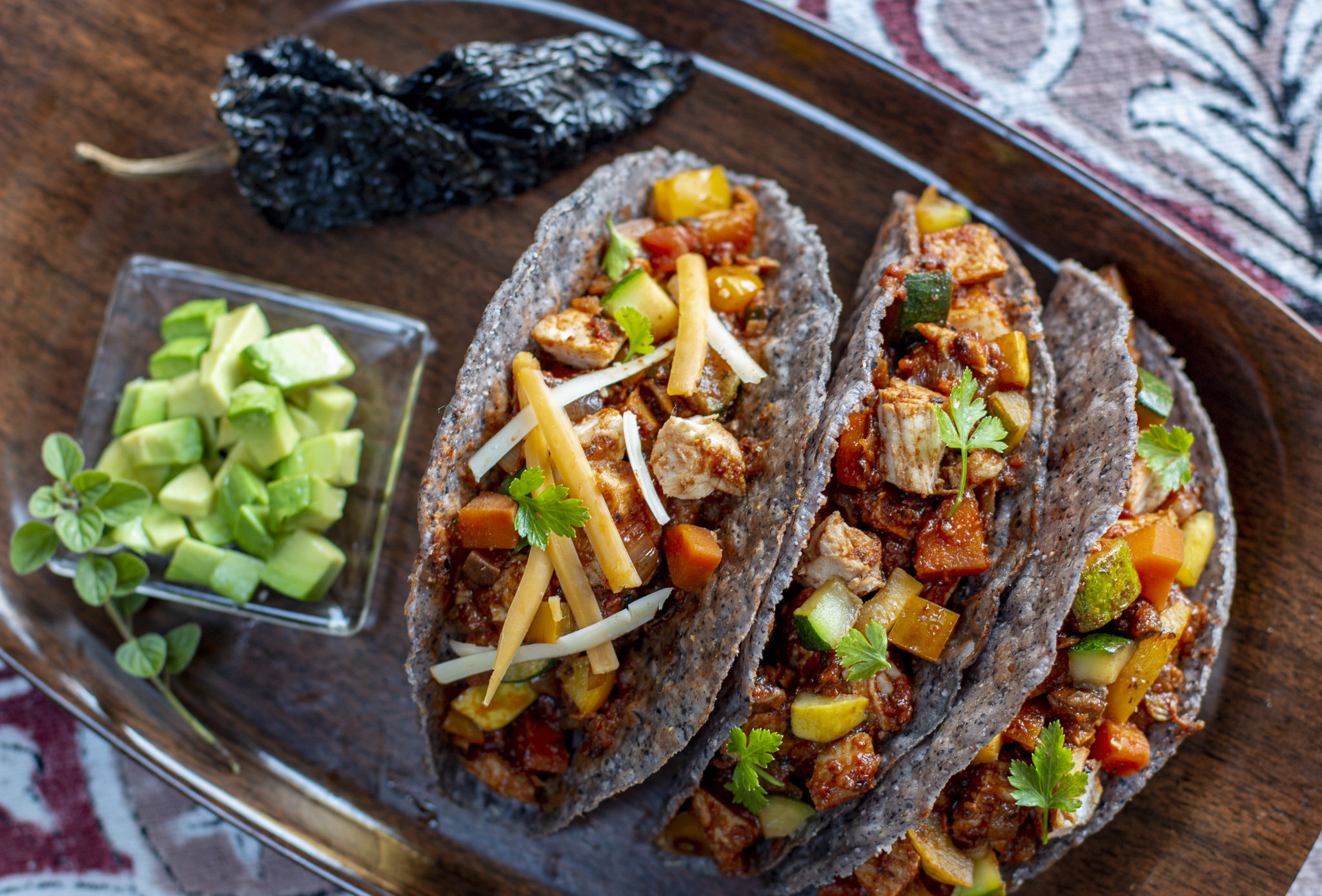 Roast Turkey & Veggie Mexican-Style Hard Shell Tacos
Have lots of leftover veggies? Enough roasted turkey to make cubes for another meal?
Here is what I like to do with my leftover turkey – MAKE TACOS!!

Garnishes are a must – choose the ones you like! 
Yes – You can substitute shredded or cubed chicken in the recipe!
Cubes of your thanksgiving turkey are totally transformed into a fabulous filling for tacos.
Assertive seasonings and mulato chiles are needed to create just the right smokey and a little spicy infused flavor.
I love Mulato Dried Chiles (dried poblano) – they are typically used in Mexican mole sauces with a delicate smoky flavor.
The recipe has as many vegetables as turkey – so I'm keeping things healthy!
Your Go-To Recipe After Thanksgiving! Leftover Turkey and Vegetables are tossed together and baked into a hearty main course casserole. Lightened-up and delicious!
 I love this Turkey Tetrazzini ~ Simple to prepare, and Gluten Free (light on the carbs, there's just a small amount of quinoa and brown rice noodles inside.)
"Tetrazzini" is an American dish made with diced poultry or seafood and mushrooms  in a butter-cream and cheese sauce flavored with wine or sherry.
The dish is named after the Italian opera star Luisa Tetrazzini and days back to 1905.
A Chef Salad is a great way to use up leftovers! – and a great alternative (and carb-free!) to the classic turkey sandwich.

Make the most of your Thanksgiving leftovers with this healthy & tasty salad. Use what you have! Drizzle with this Cranberry Sauce Vinaigrette (it takes minutes to prepare!)

Use what you have – compile it into individual bowls for a main course, healthy meal. The options are endless… depending on leftovers at hand, and what's in your crisper bin!
A great way to use up your extra cranberry sauce… I know you have some!

The vinaigrette is perfect for all your after-Thanksgiving salad creations. Easy to make in a blender or food processor.

Thanksgiving Leftover Frittata with Greens, Sweet Potatoes and Fontina 
After a festive holiday meal, the dishes are done … what's for breakfast? This frittata is easy to put together with minimal effort or mess.
Healthy, sensible ingredients you already have on hand. Sauté, bake until puffed and enjoy.
Use leftover potatoes and sauté any greens you gave on hand.

Yummy Pumpkin Oatmeal Pancakes
These pancakes are great to make over the long weekend after Thanksgiving! Have extra pumpkin puree?
The recipe can also be made with extra sweet potatoes of butternut squash – but plain ones, whipped to a puree. The recipe calls for one cup of puree… and they're delicious. I love topping with Yogurt, Granola, Caramelized Apple Slices and a drizzle of Pure Maple Syrup.
Enjoy eight nights of Chanukah!
Karen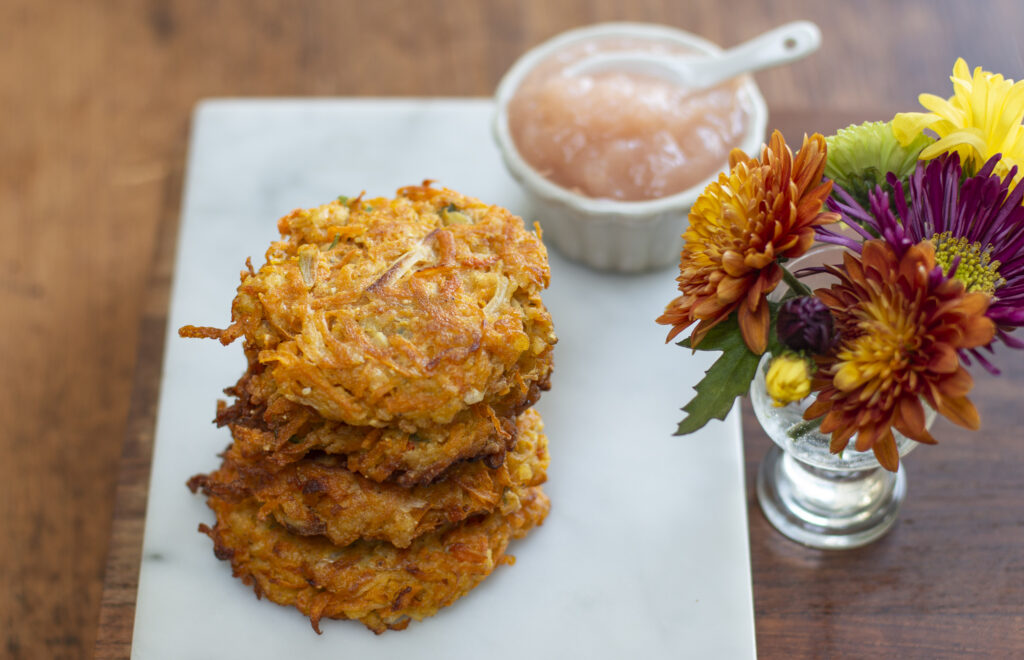 Karen Sheer