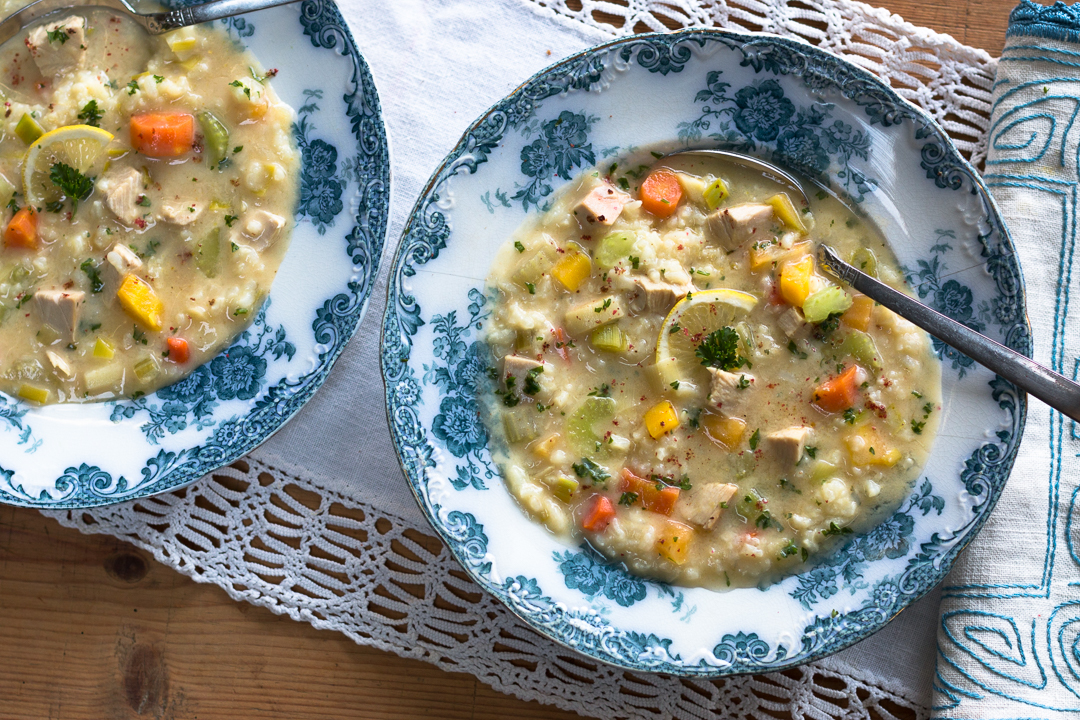 Greek Lemon Turkey Soup (an after Thanksgiving special recipe)
A Hearty, Healthy & Zesty Soup using 2 cups of diced freshly roasted turkey from your Thanksgiving feast. Make again using leftover chicken!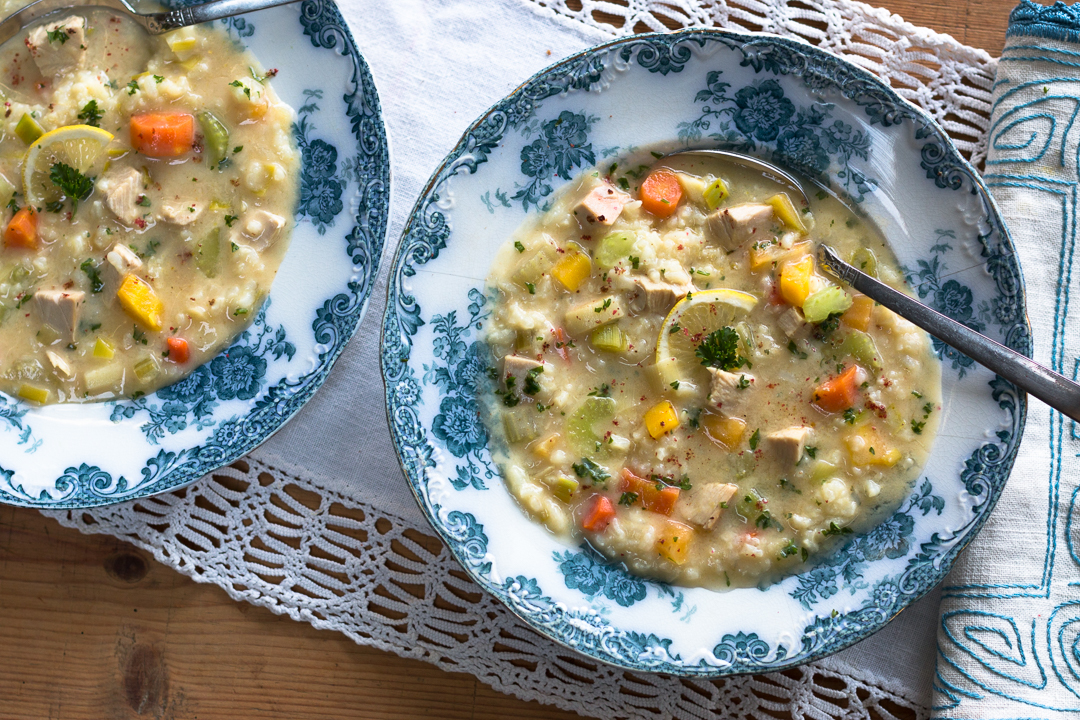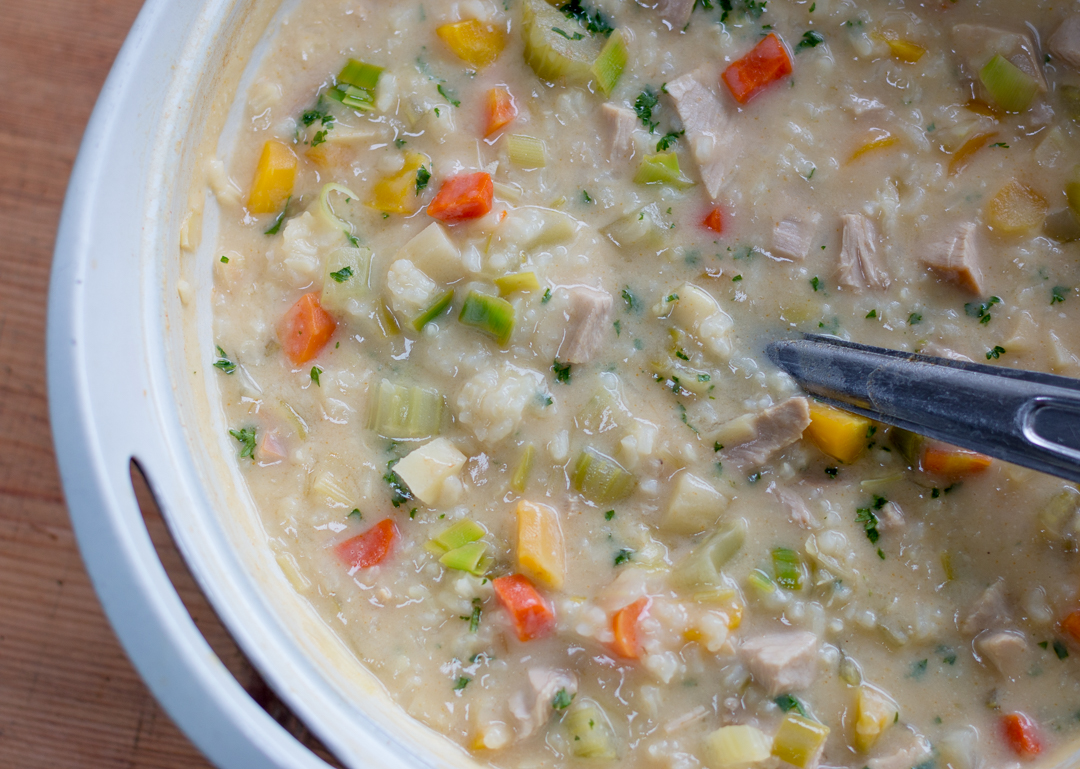 Instead of classic orzo rice, I have use a medium grain white rice… Calrose rice. It has great natural thickening properties, which is what I love.
This soup has tons of vegetables – a waistline savor after the holidays. You know me, I'm always looking to add extra veggies to soups.
Similar to Avgolemono soup ~ a Greek lemon chicken soup that is thickened with an egg sauce (whipped eggs and lemon juice.)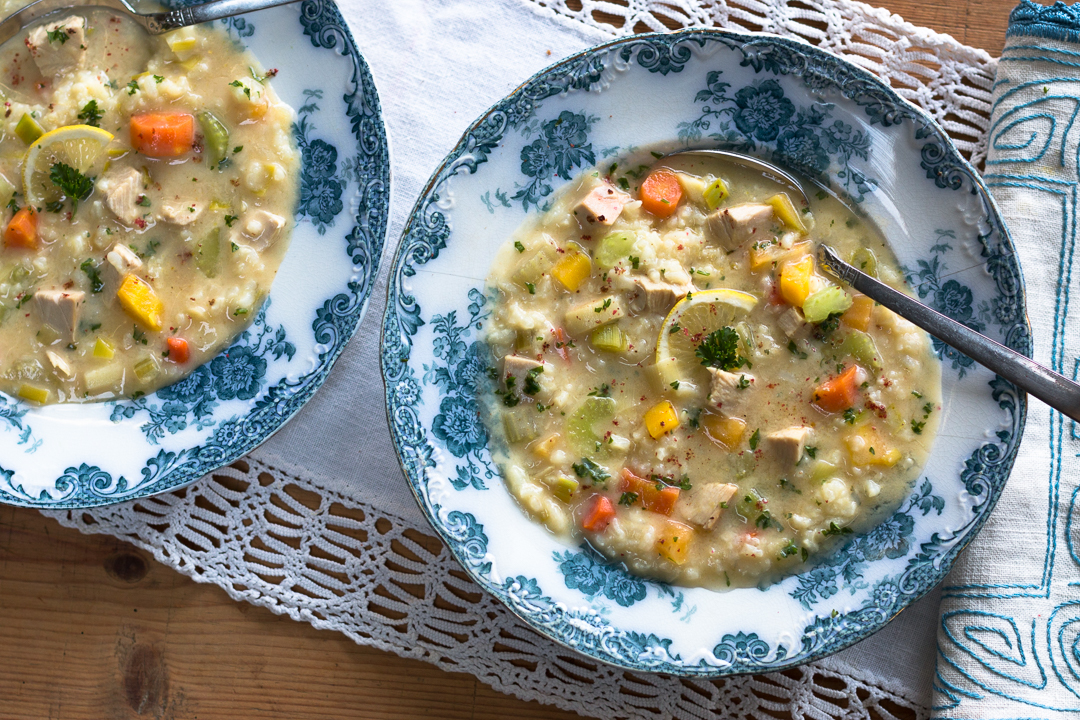 Ingredients
2 cups cooked white meat turkey , ½"cubes
8 ½ cups homemade chicken broth, or turkey broth
1 cup Calrose rice*, medium grain rice
1 ½ cups fresh carrots, peeled, ½ " dice (I chose heirloom)
1 ½ cups fresh celery, peeled, ½ " dice
1 cup fresh leeks, cleaned, ½ " dice
¾ cups fresh parsnips, peeled, ½ " dice
1 ½ teaspoons fresh garlic, minced or finely grated
2 large eggs
⅓ cup fresh lemon juice
1 teaspoon cornstarch
4 tablespoons fresh parsley leaves, chopped, for garnish
½ teaspoon ground pink peppercorns, for garnish
Instructions
1
Add all the broth to a 4 – 6 quart non-reactive, heavy soup pot.
Bring to a boil. Add the rice, stir well and bring back to a boil.
Cover and lower heat to a simmer. Cook for 10 minutes. (Will be partially cooked.)
2
In the meantime beat eggs well until very frothy.
HINT: add the eggs to a mini food processor and pulse until very frothy for best results.
Add cornstarch to lemon juice and mix well until fully dissolved.
Set aside.
3
Uncover the pot and add all vegetables and garlic. Stir well. Cover and cook for 10 minutes.
Test that the rice has fully cooked, softened and plump, vegetable should be crisp-tender.
4
Add the eggs and lemon juice mixture to the pot of soup and stir constantly over LOW heat until it just comes to a boil.
Remove from heat. The soup will be nicely thickened. Add in turkey until warmed through.
5
Serve the soup in individual bowls. Garnish with parsley all over and cracked pink peppercorns… lemon slices are nice too!
6
*Calrose rice is a medium-grain rice developed at the Rice Experiment Station at the University of California at Davis (U.C. Davis) from the japonica variety. It was developed to deliver the best flavor when grown in the northern California climate. The cooked grains are softer, moist, sticky and absorb flavor well. Calrose is an all-purpose table rice as well as a rice for specialty Mediterranean and Asian cuisine such as paella, risotto, pilaf and rice bowls.
Japonica rice or Aborio rice can also be used.
See BLOG for many more photos and information.
This recipe may not be reproduced without the consent of its author, Karen Sheer.
Karen Sheer