Favorite Summer Recipes! New: Corn Salad with Browned Butter Vinaigrette
There still are a few weeks of Summer left to use up all those fabulous fresh local veggies!
Try a new recipe while the weather is still warm… Fall rolls in on September 22nd.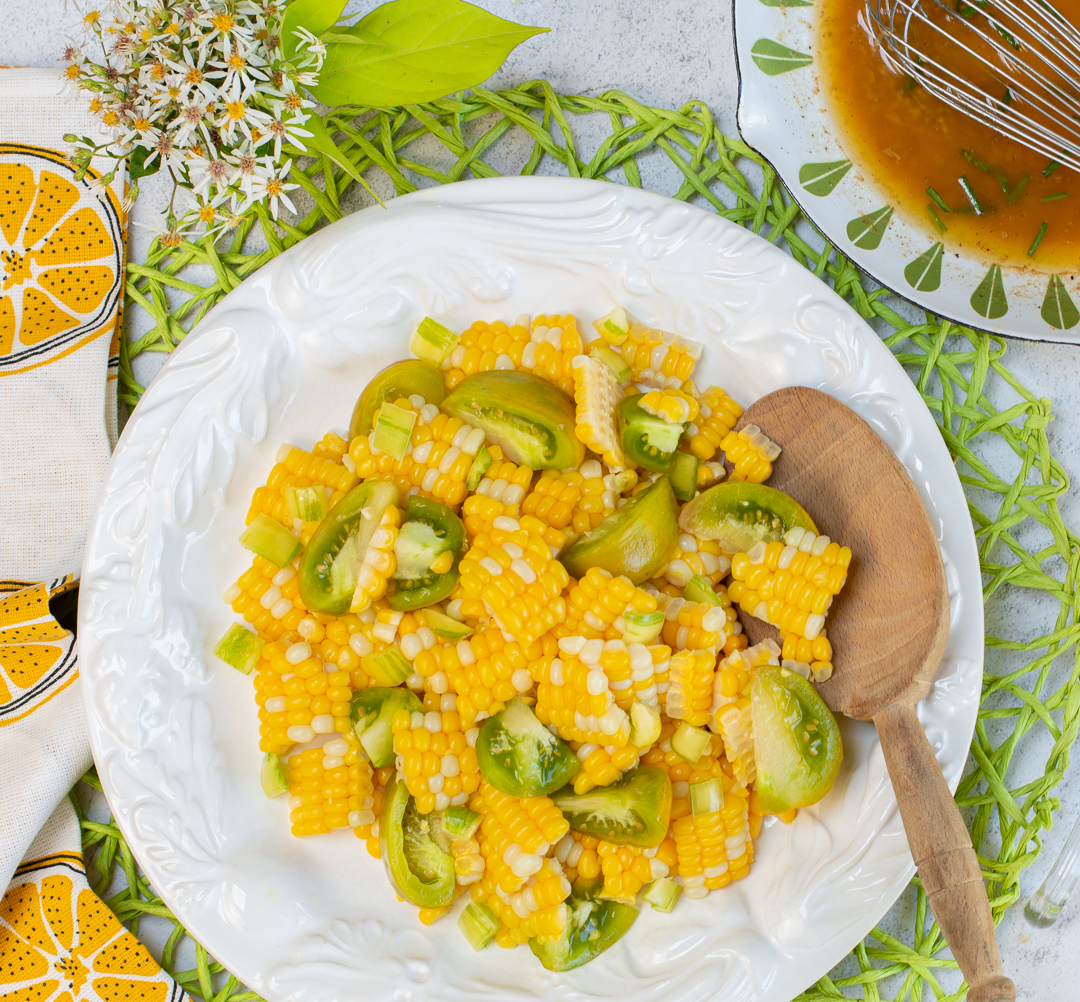 It feels like I have been eating corn every night all summer long! I created this salad with minimal ingredients and ready to crunch in minutes.
How do I get the corn to release in strips? There is a secret… refrigerate the corn, then cut strips with a sharp knife.
Fresh Corn off the Cob teams with Heirloom Green Tomatoes and tossed with a Nutty & Toasted Brown Butter Vinaigrette. Fresh Zesty Flavors with Crunch! A treasured Summer Recipe.
I like this color combo – minimalist; just yellow & green. These tiger striped green heirloom tomatoes are incredibly sweet and low in acid.
The vinaigrette lends nutty and caramel notes. Ingredients are Browned Butter – then garlic, lemon juice, chives, salt & pepper are whisked in.
Learn how to brown butter – it's simple!! Use the vinaigrette on fish too.. delicious!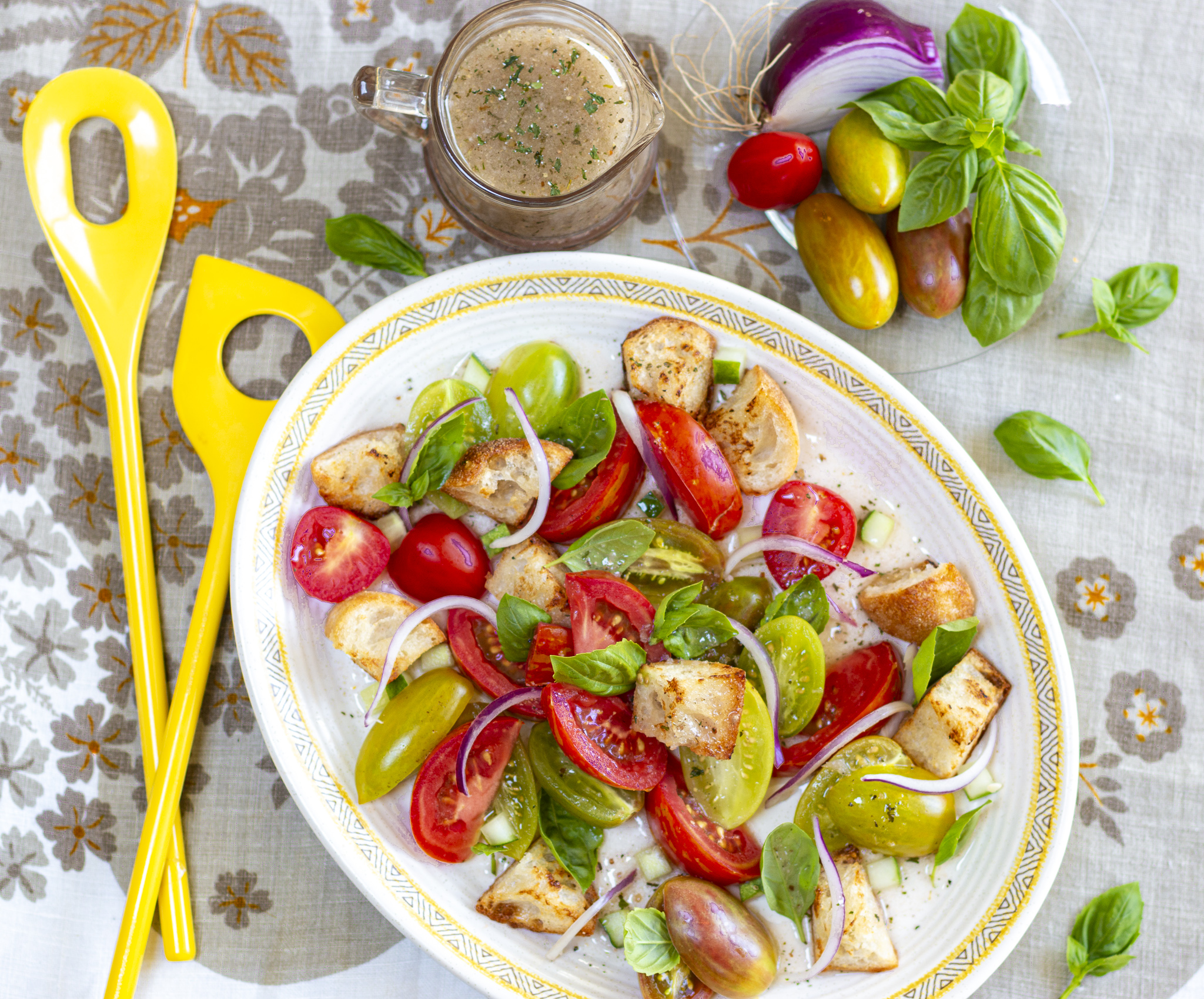 Ripe Heirloom Tomatoes team with Garlicky Toasted Bread and Plenty of Basil Leaves. Top with my Zesty "Shaken" Italian Dressing and scatter some thinly sliced Red Onions and cubes of Cucumber.
See to a Gluten Free Version: Gluten Free Summertime Panzanella Tomato Salad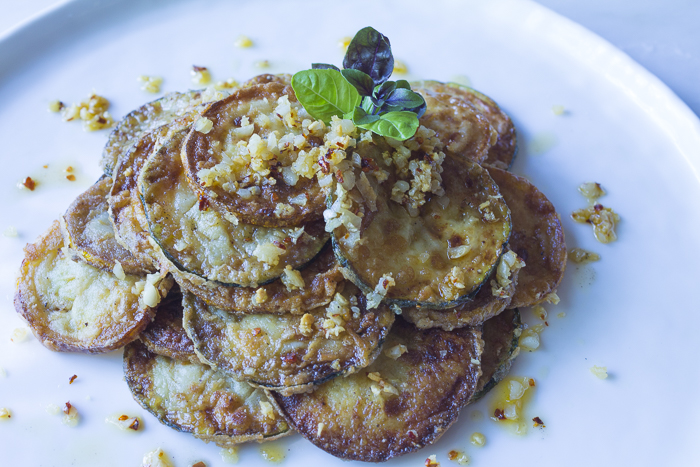 A lightened-up Fried Zucchini Recipe inspired from the famous Il Mulino Restaurant in New York City. A healthier yet delectable version! My master recipe is Gluten-Free.
Blistered Shishito Peppers are cut in half and stuffed with a medley of Mediterranean ingredients for an addictive appetizer.
Stuffed with softened goat cheese, colorful peppers. tomatoes and herbs, then broiled one minute.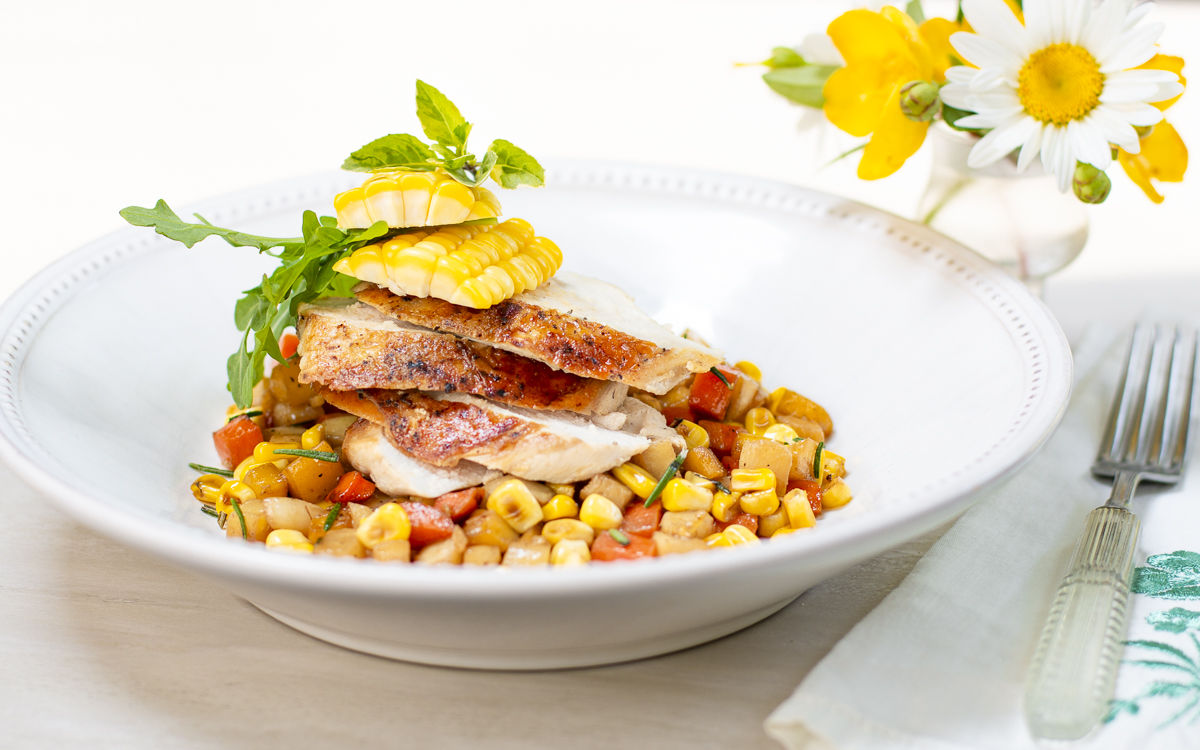 Tender chicken with an outrageous crispy crust pairs with a vegetables melange of carrots, turnips & corn and a rosemary pan-sauce.
The ultimate one-pan healthy comfort food main dish.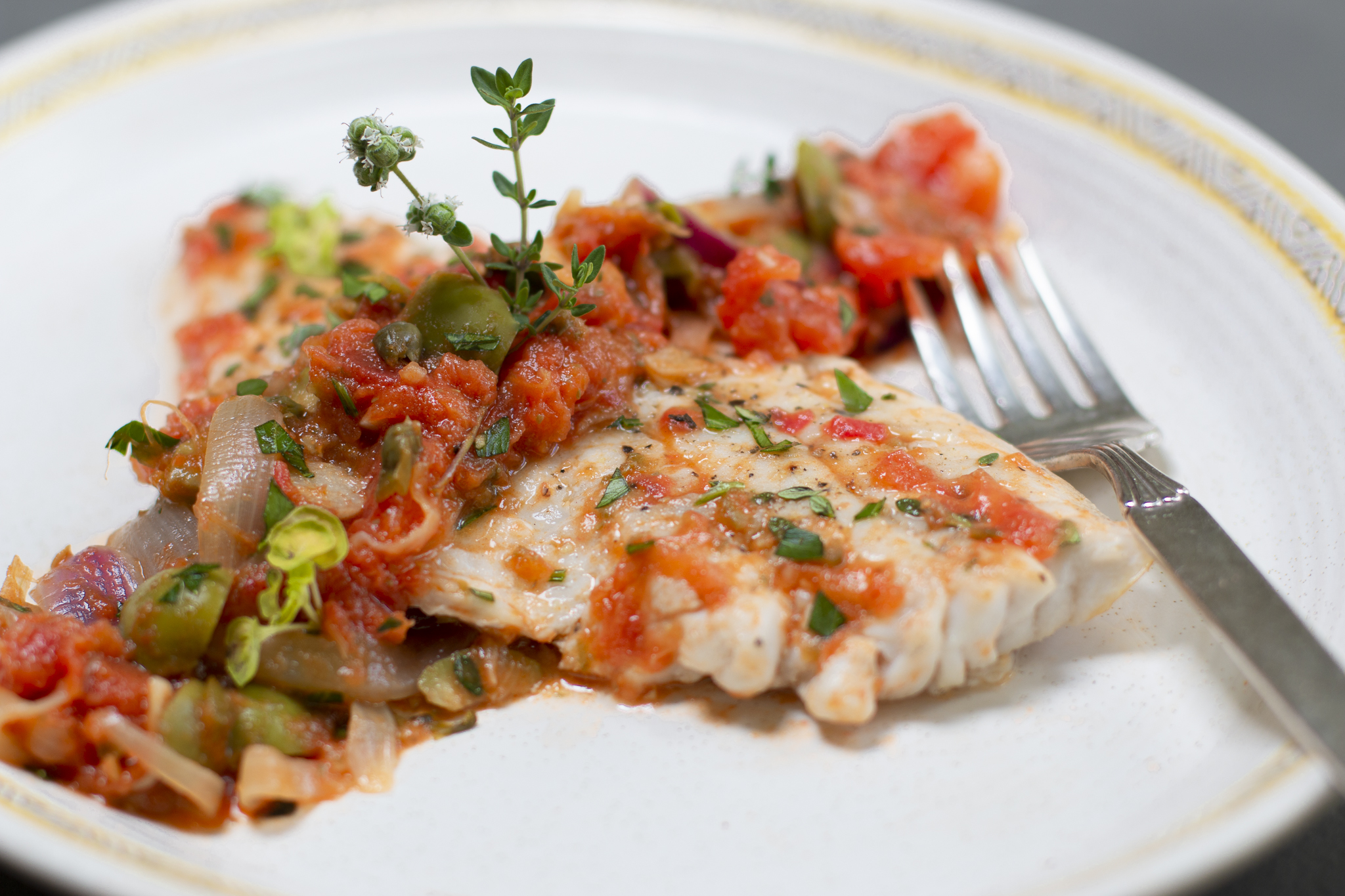 I've taken classic dish and reworked it with Just Picked Local Tomatoes and added Fresh Garden Herbs. The result – a lighter and aromatic dish bursting with flavor. Serve with my delicious and simple Arroz Blanco.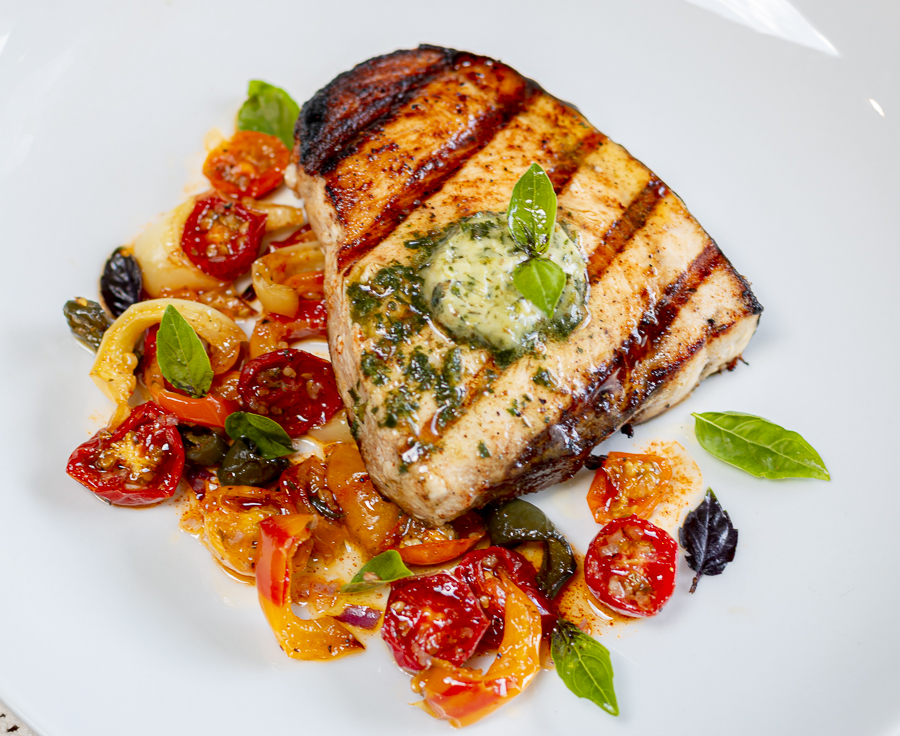 Have too much Summer pesto on hand? Make delicious compound butter in minutes! Slice and add to just-off-the-grilled local swordfish ~ melts into a dreamy sauce.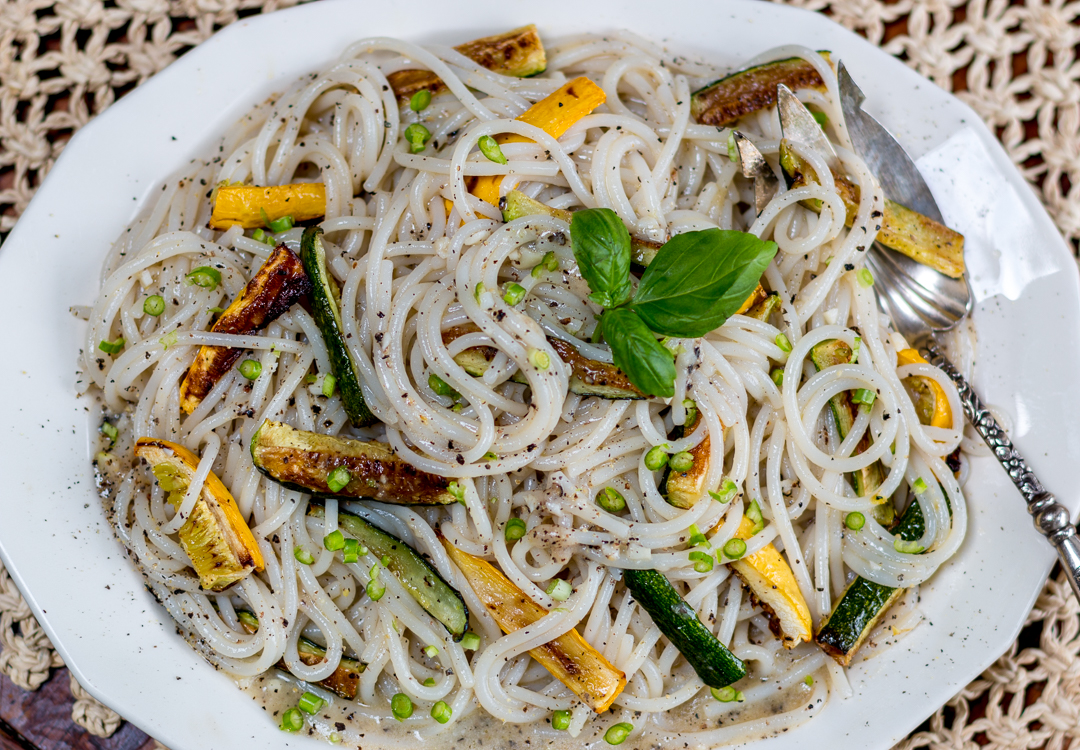 Cacio e Pepe is a quick and tasty Roman Pasta Dish with a creamy, stirred peppery sauce ~ which is getting a little makeover with roasted veggies. This gluten-free spaghetti is the best I've tried… use traditional pasta too. Add any seasonal roasted Veggies ! 
From the Mediterranean area – Caponata is a Sicilian eggplant relish or eggplant salad typically served room temperature. I'm seriously grilling lately – so I have turned one of my favorite dishes into a grilled spectacular Italian dish.
A Must Try Summer Salad! So simple, fresh & delicious! Summer peaches are sweet and juicy and their flavor intensifies on the grill.
Homemade Creamy Deliciousness!
I'm loving it with chunks of sugar cookies – great with or without!
A classic foolproof Summer Peach Pie with all the instructions you need for a flaky crust and perfectly spiced peach filling.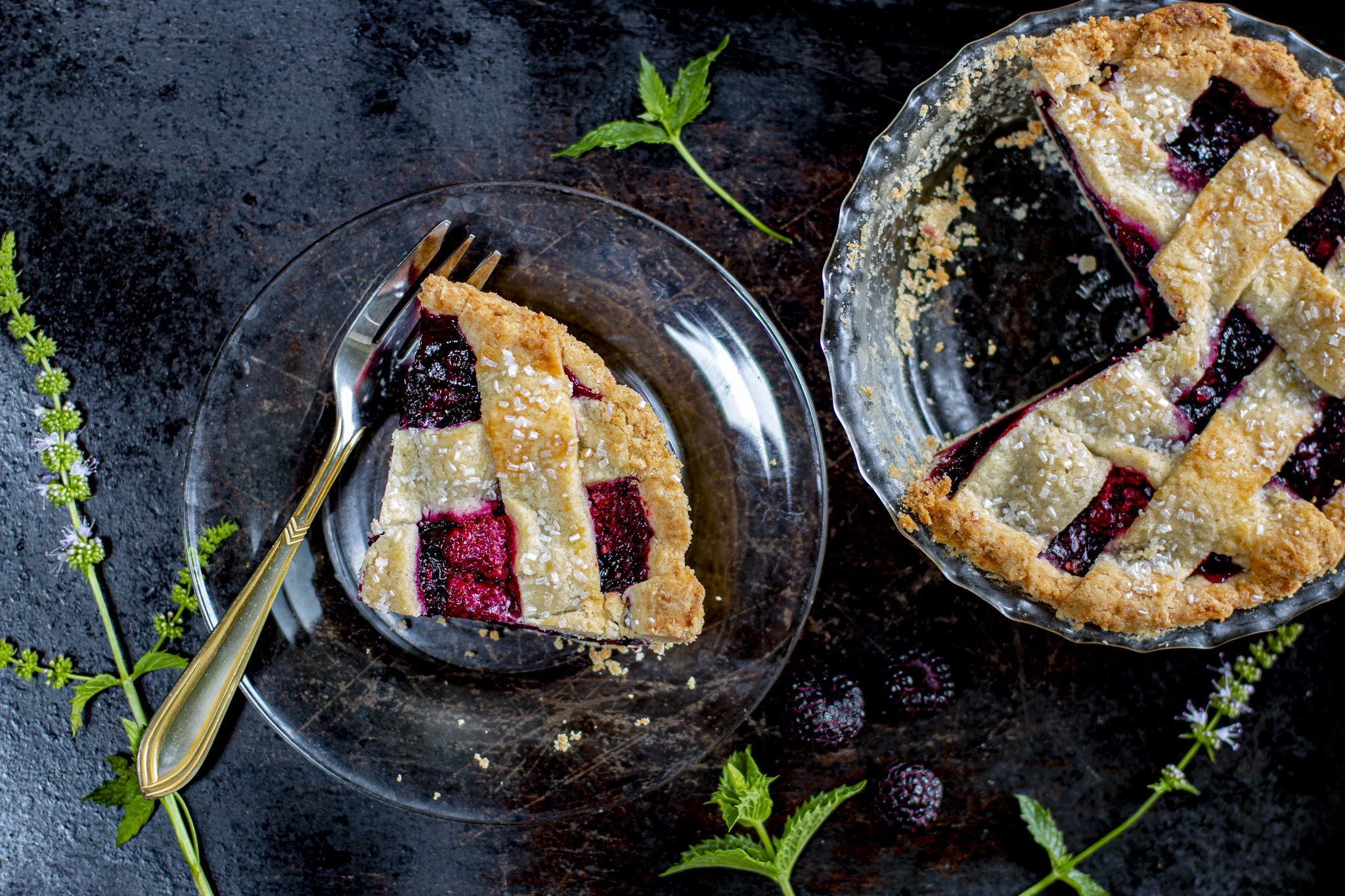 Summer Black Raspberries lie under a buttery & flaky lattice crust. Perfection with every bite. You will not believe the crust is Gluten Free! A pie to savor ~ I've added a handful of red raspberries for color contrast.
This years crop of corn has been fantastic and it is such a versatile veggie. When fresh-picked it's the kernels are milky-sweet with crunch, crunch, crunch – no need to cook more that three minutes; your choice steam or boil.
See my Favorite Corn Recipes: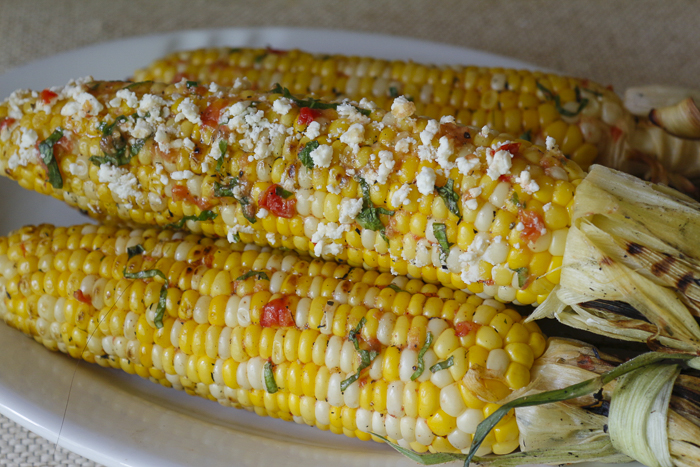 Baste corn with flavored butter, bursting with flavor – cover with husk and grill outdoors. Add crumbled feta or cotija cheese to the grilled corn if desired.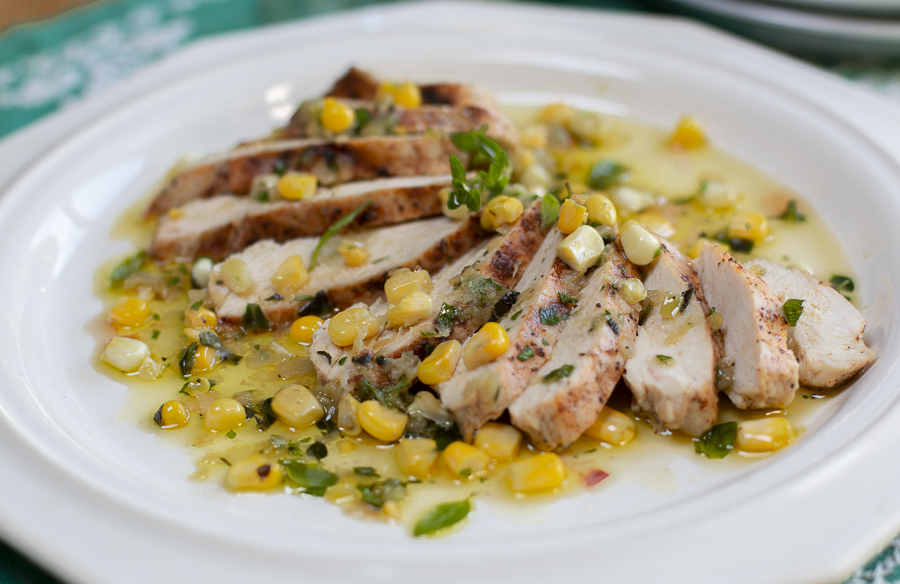 A light and hearty Mediterranean "Sauce" for Chicken, Fish and beyond. An Extra Virgin Olive Oil Based Pan Sauce combines Garlic, Shallots, Five Herbs and Fresh Corn.

The BEST cold corn soup! The difference from all the rest?
The recipe is mostly corn. Minimum ingredients so you have lots of Pure-Corn-Flavor. Roasted Pepper with Jalapeño and EVOO adds just a punch of interest.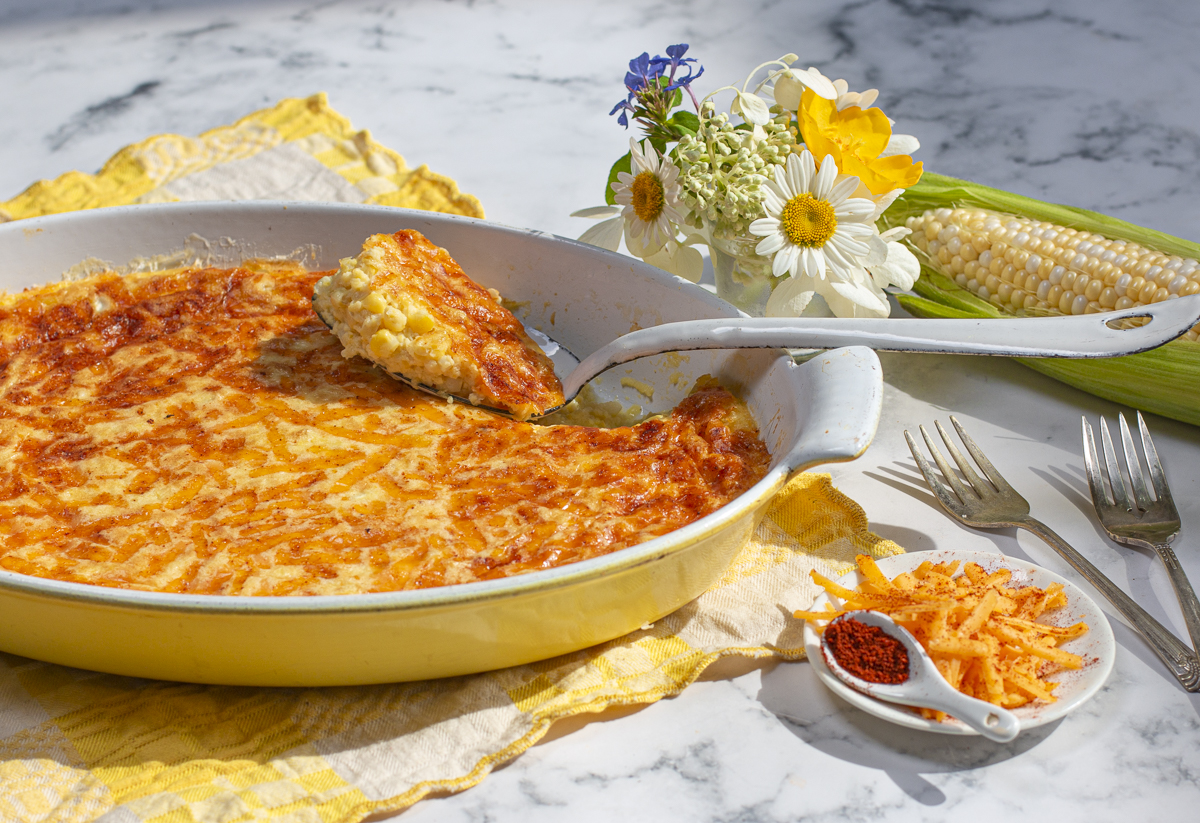 Today's recipe: Corn Salad with Browned Butter Vinaigrette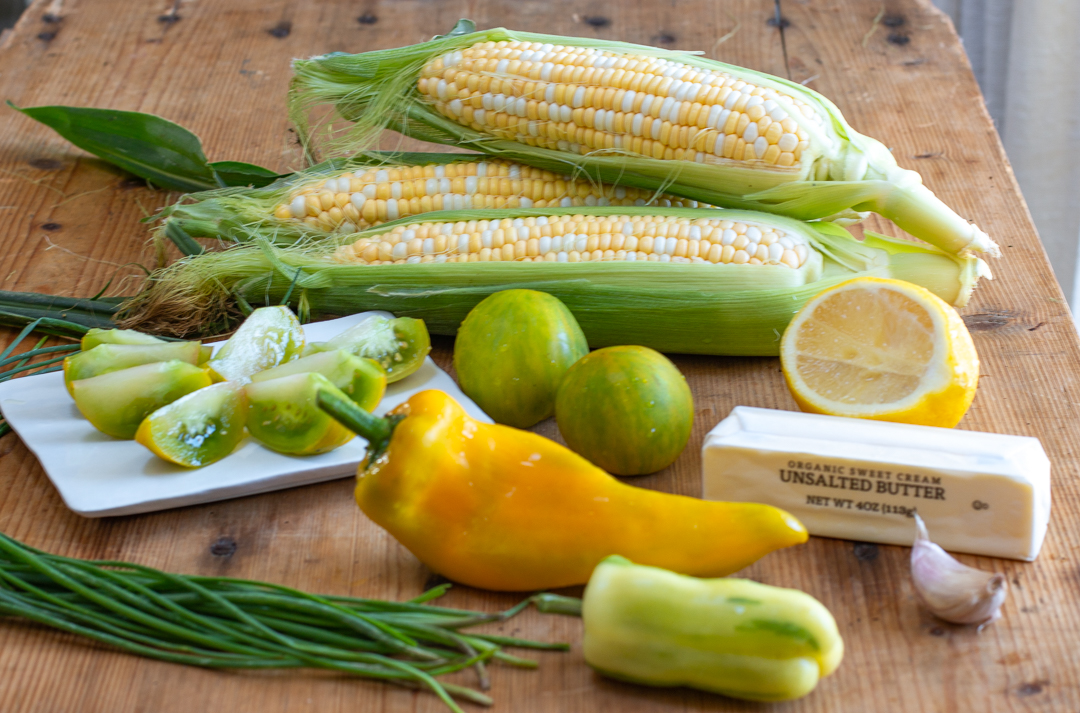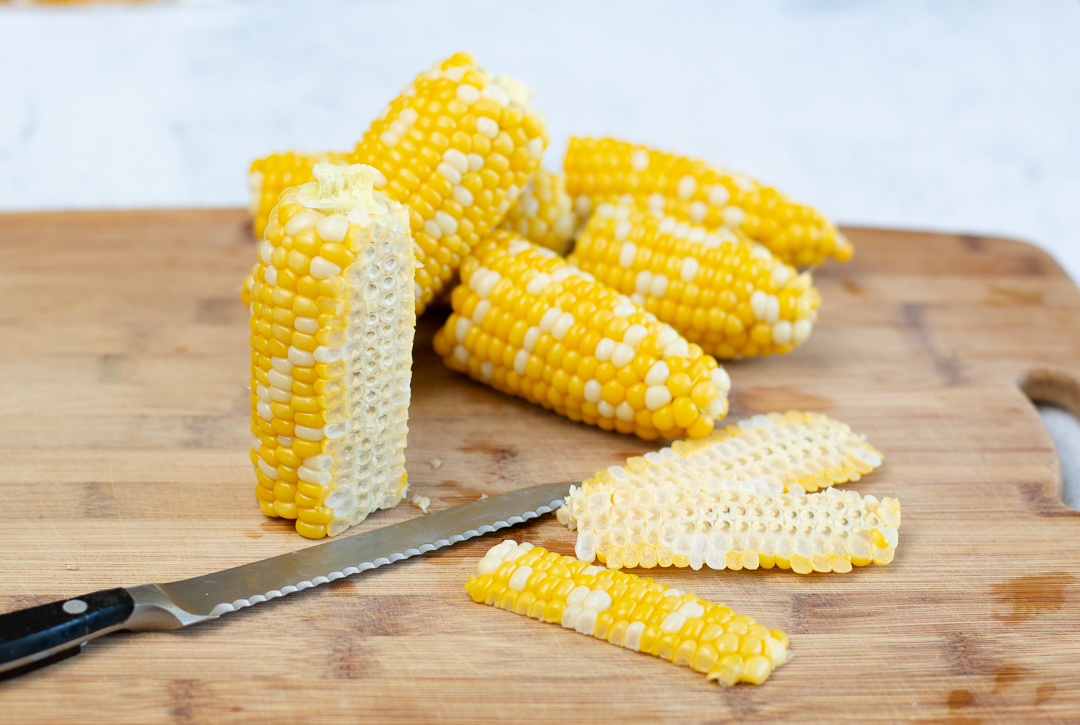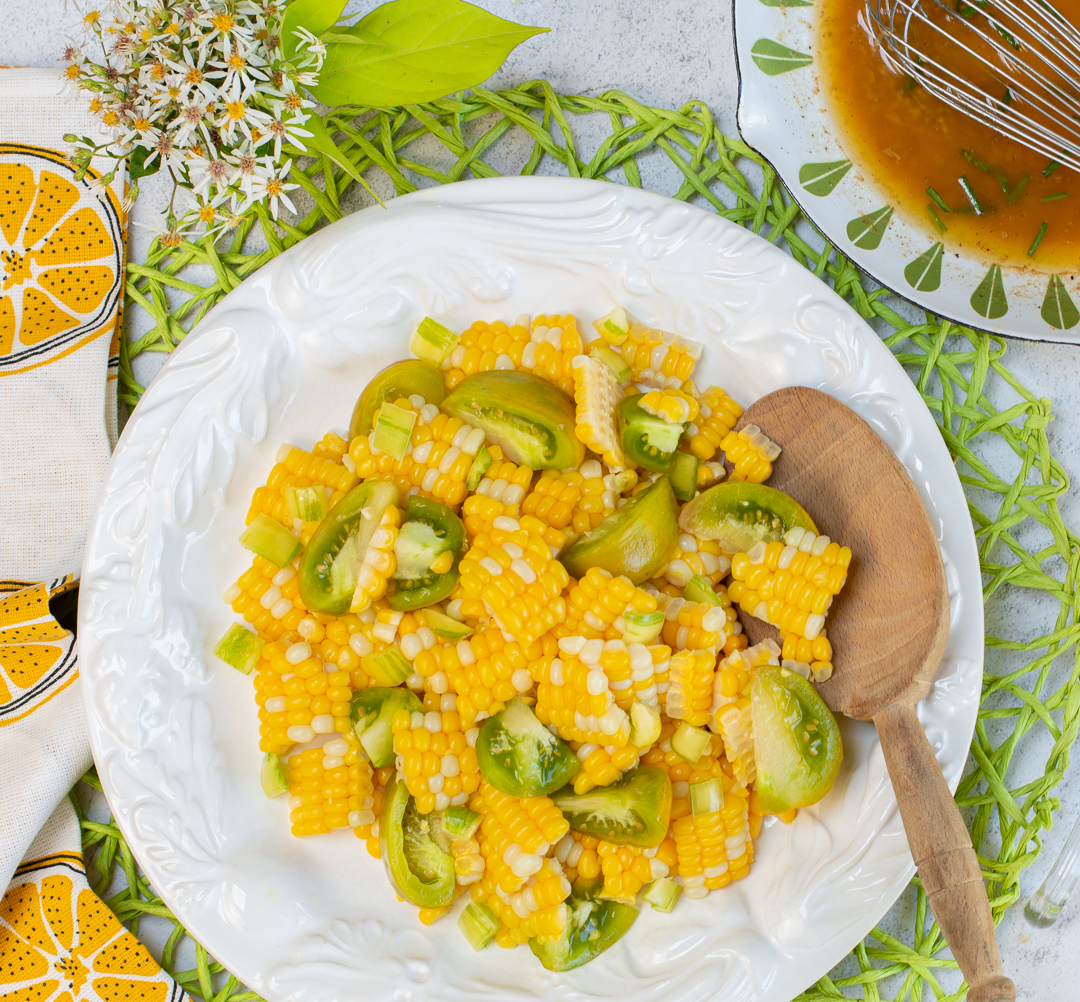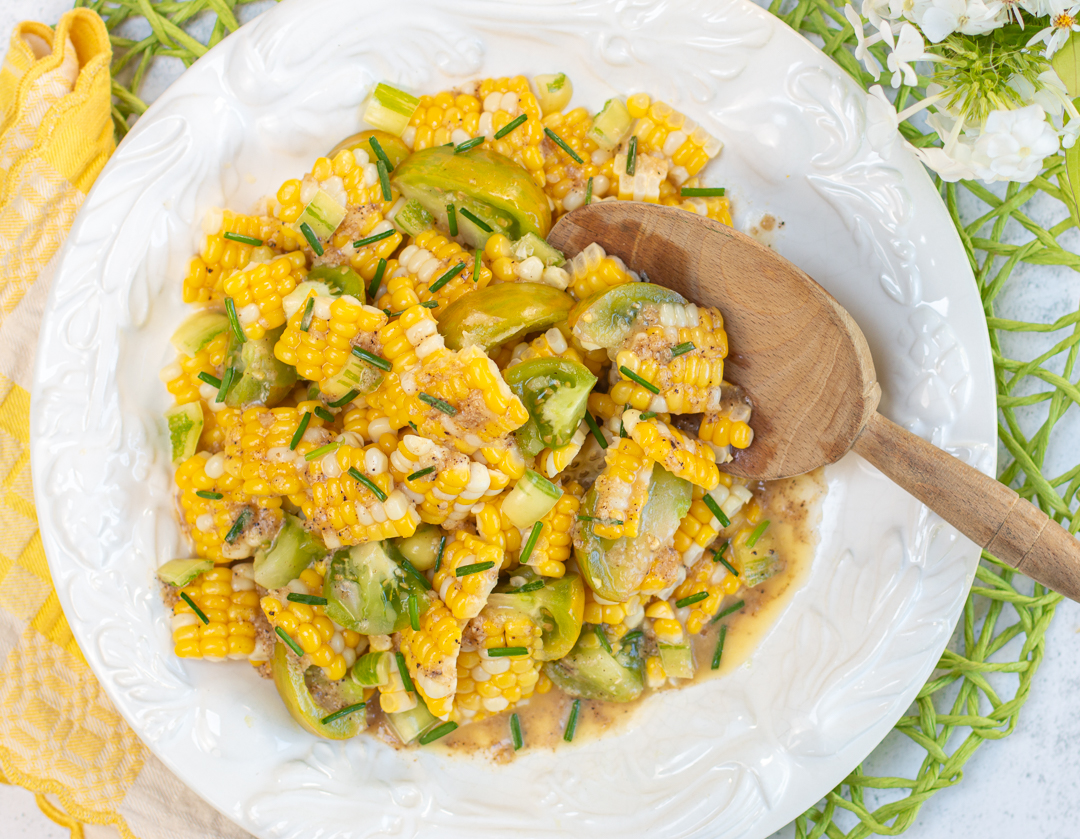 Enjoy the last weeks of Summer!
Karen 
Corn Salad with Brown Butter Vinaigrette
Fresh Corn off the Cob teams with Heirloom Green Tomatoes and tossed with a Nutty & Toasted Brown Butter Vinaigrette. Fresh Zesty Flavors with Crunch! A treasured Summer Recipe.
Print Recipe
Pin Recipe
Rate this Recipe
Ingredients
3

ears

fresh corn

1

cup

tomatoes

I used Heirloom Green Zebra Striped

1/3

cup

yellow peppers

1/3" dice
Brown Butter Vinaigrette
1

stick

unsalted butter

8 tablespoons

1

teaspoon

fresh garlic

finely minced

1/2

cup

fresh lemon juice

1/8

teaspoon

sea salt

6

grinds

pepper

1 1/2

tablespoons

fresh chives

cut 1/3" lengths
Instructions
Husk and de-silk the corn. Steam for 3 minutes until bright yellow; alternately can boil.

Place in the sink and cover with cold water for 3 minutes to quickly cool the corn. Dry off the corn, place on a plate and refrigerate.

When the corn is cold - you will be able to cut wide strips of corn (that will stick together!)

Cut corn off the cob with a sharp knife in wide strips. Place in a serving bowl or platter.

Cut the tomatoes into chunks and add to the corn with the yellow peppers.
Browned Butter Vinaigrette:
Add a stick of unsalted butter to a 7" to 8" skillet. Set to low heat. In a few minutes, the butter will melt and begin to splutter. As the butter turns yellow, time to stand by and stir as the butter will become light brown (I use a wire whisk.) The milk solids will continue to brown, and it will smell beautifully nutty. When you see deep golden bits of butter remove from heat, in about 3 minutes. (Cooking too long you will have a bitter butter.)

Cool the butter 3 minutes, then add the garlic; stir well. Cool 5 minutes, add the lemon juice slowly with the whisk until emulsified. Add salt, pepper and chives, stir in.

Will use 6 tablespoons of the Vinaigrette; save the remainder for another recipe.
Serve immediately:
Pour 6 tablespoons of the brown butter vinaigrette over the corn salad while warm and toss!

If making the vinaigrette ahead of time, simply warm through 20 seconds to melt. The vinaigrette will solidify as it stands. Use the remaining vinaigrette for another recipe - wonderful on grilled chicken, vegetables, seafood & shrimp.
Hint:
Toss the salad with the vinaigrette just before serving.
Notes
This recipe may not be reproduced without the consent of its author, Karen Sheer. 
Nutrition Facts
Corn Salad with Brown Butter Vinaigrette
Amount per Serving
% Daily Value*
* Percent Daily Values are based on a 2000 calorie diet.
Karen Sheer