Perfect Peach Pie with Whipped Coconut Cream & Basil Syrup
A classic foolproof Summer Peach Pie with all the instructions you need for a flaky crust and perfectly spiced peach filling.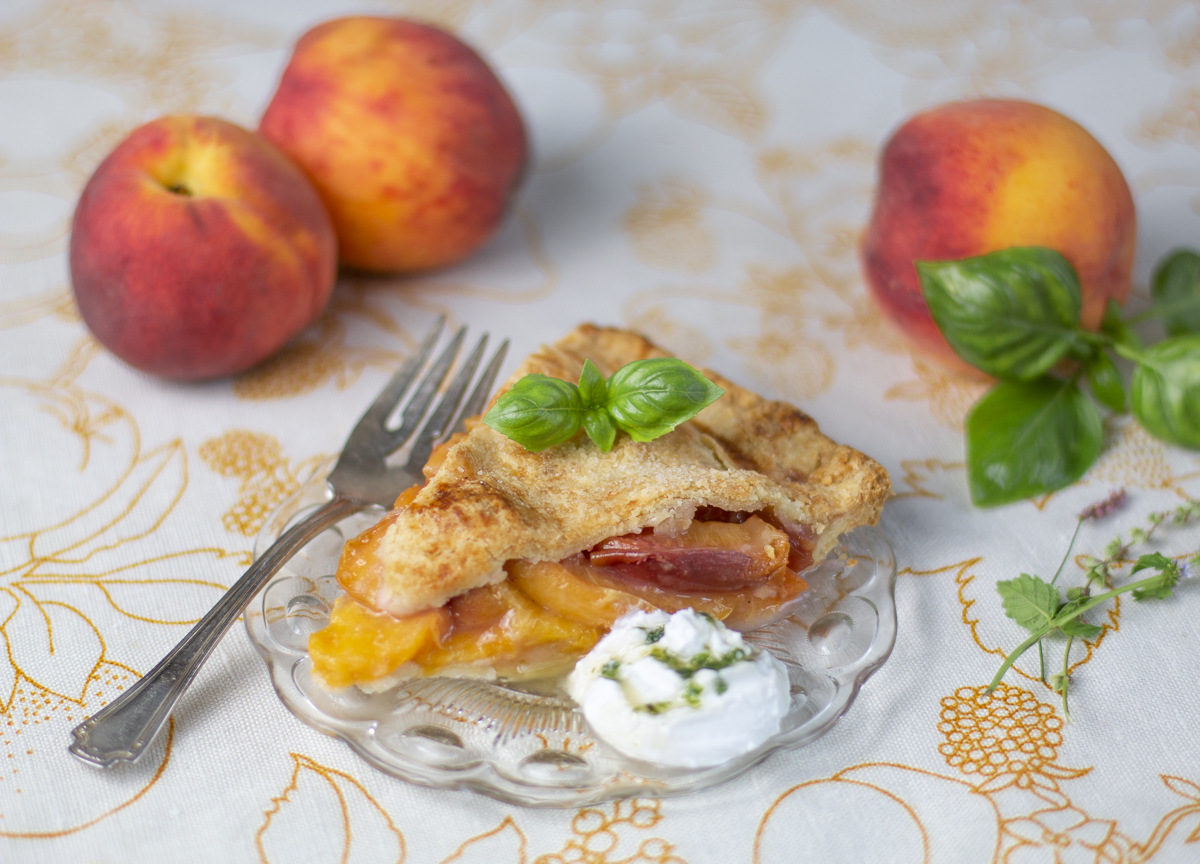 Try something new! Instead of whipped cream on the side – try whipped coconut cream!
I refrigerate a can of coconut milk, scoop out the thick cream and whisk until light. A little basil syrup adds sweetness and an herbal essence. You could try a mint syrup too!
What type of pie pan to use?
Metal pans conduct heat exceptionally well and are thinner than glass and ceramic making them the best choice in the browning department.
I have a collection of vintage pie pans – I find them between 5 – 10 dollars.
The pans are punched with air/steam hole patterns, and advertising pressed into the bottoms.
Table Talk aluminum pans, boast the phrase "New England Flaky Crust Pie – 10c Deposit."
Back in the day, you bought a pie with the tin… and paid a 10 c deposit – and returned the tin!
They have since become an easy and affordable collector's item. Easily found at antique shops, Etsy and Ebay.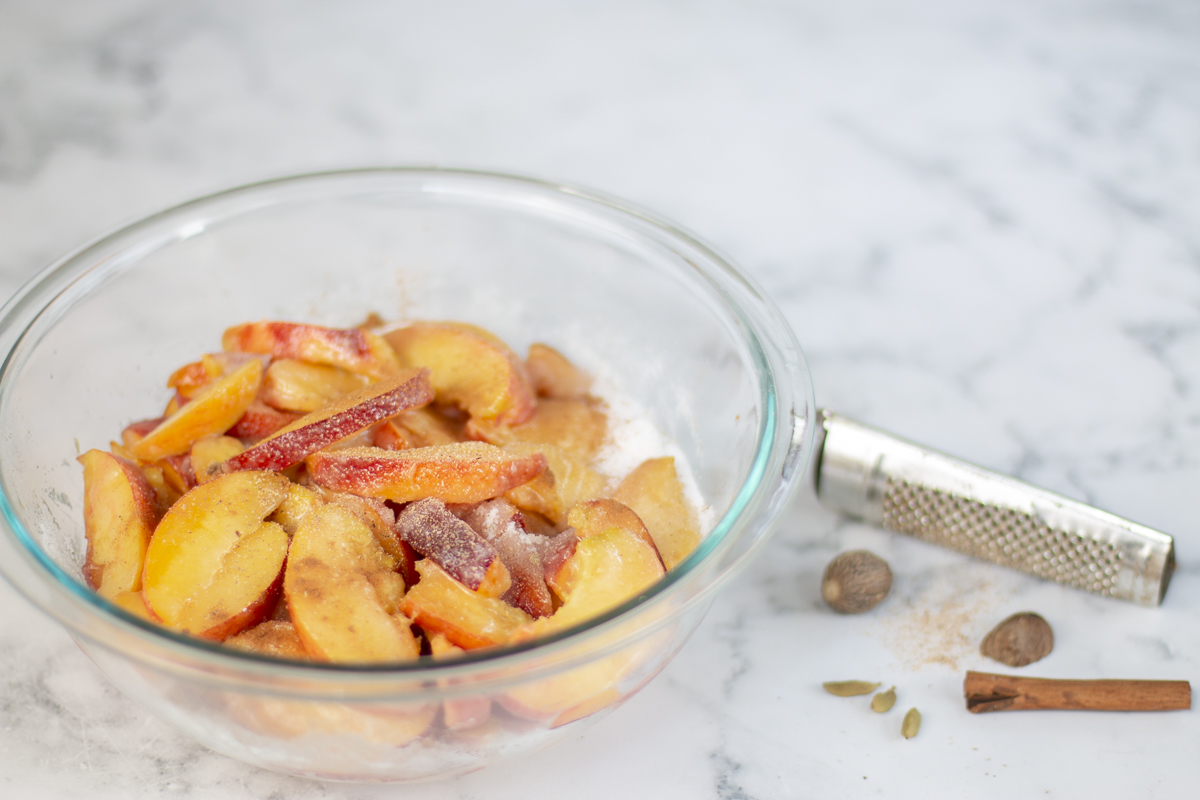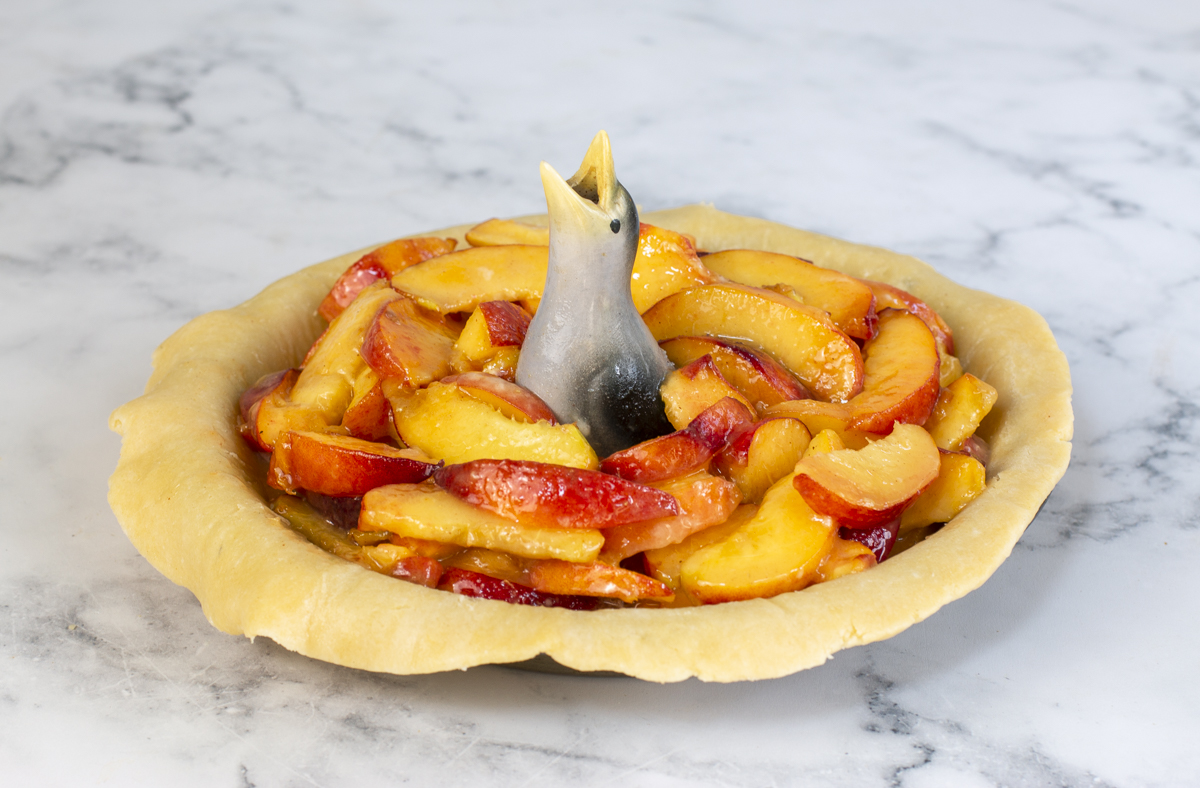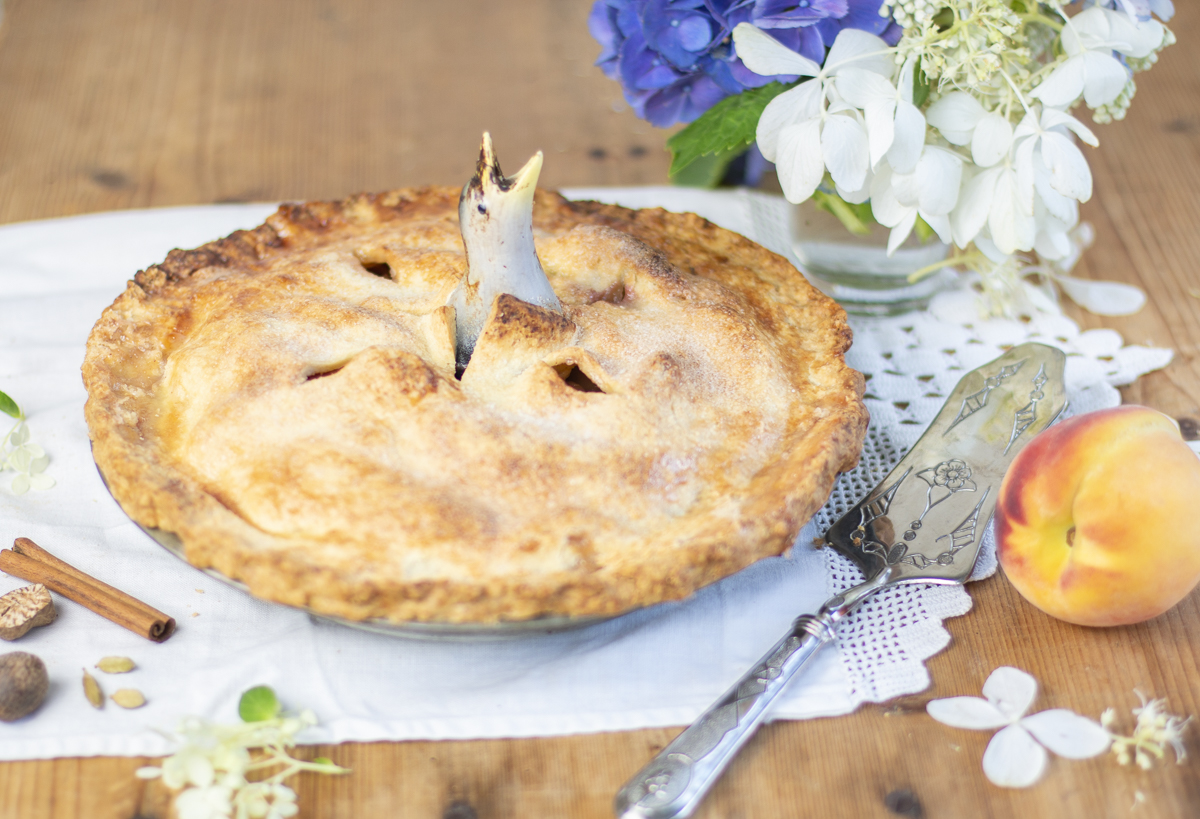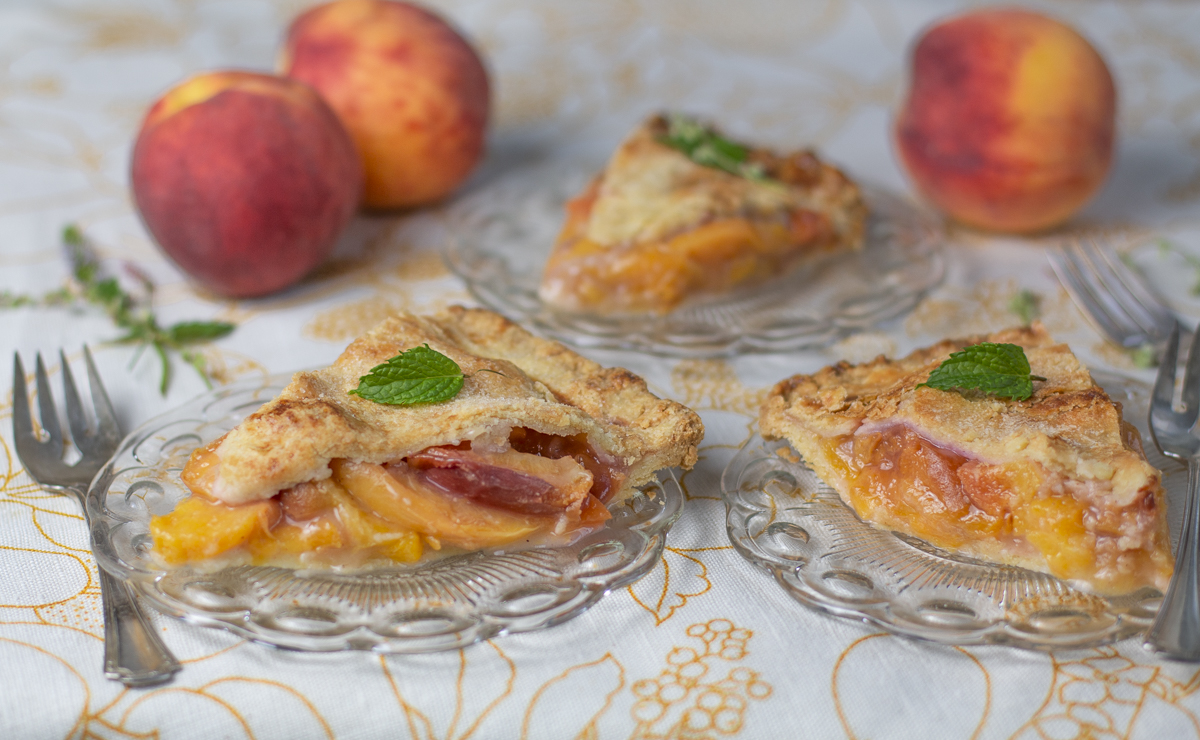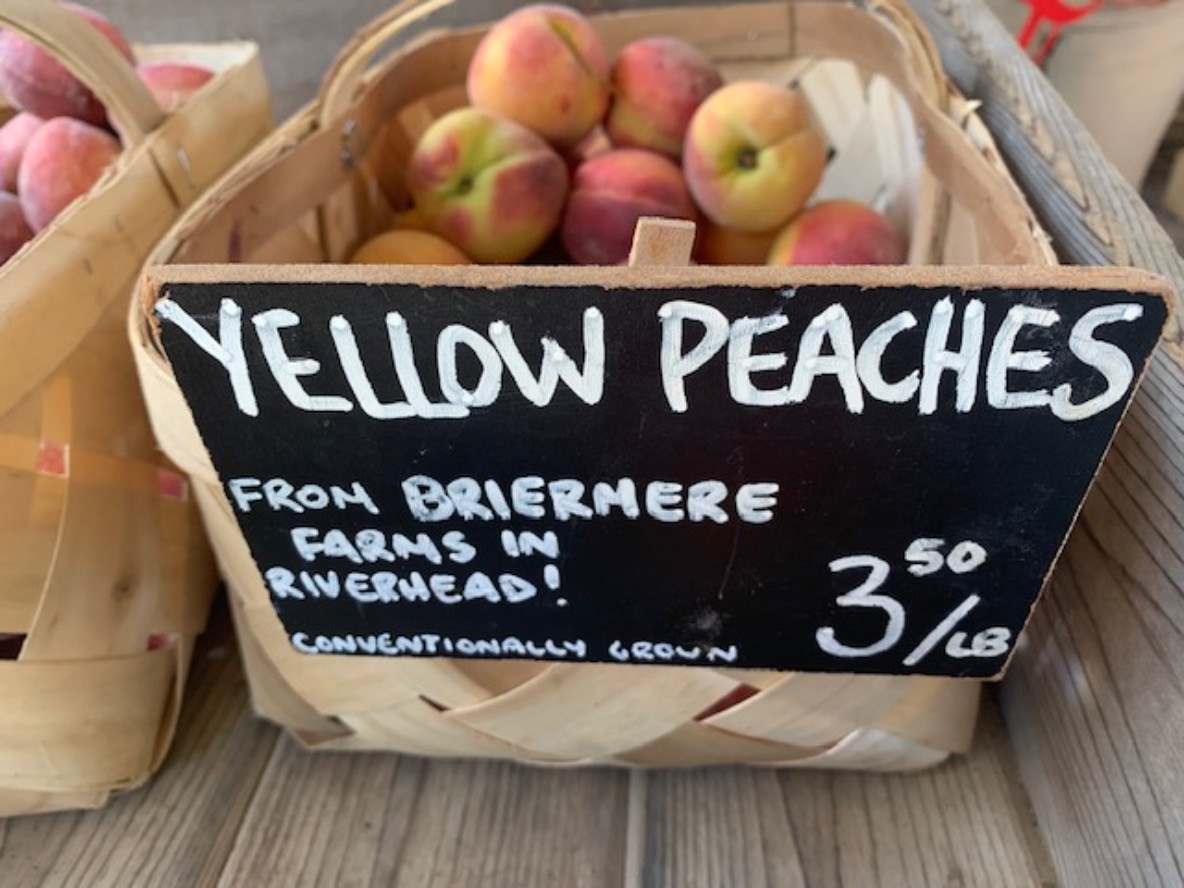 Time for a pie party? I'm serving the pie on vintage pressed glass plates on a vintage decorative linen.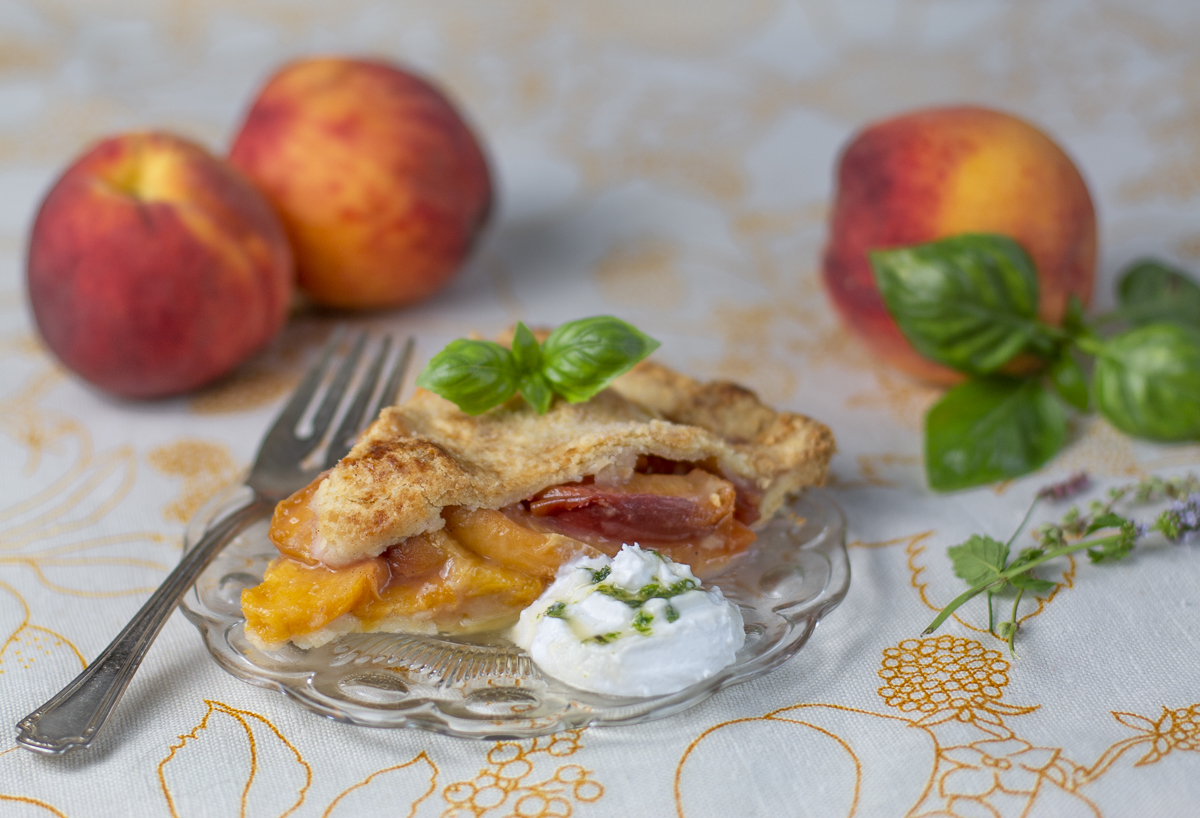 Pie is buttery and flaky when served warm with cool coconut cream – the combination is magical!
It's officially peach season in my neck of the woods – time to visit a farmers' market or an orchard for peach picking! I LOVE making pies and sourcing the most flavorful fruit in summer. Making and working with pie dough takes a lot of love and a little experience. Rolling it out, filling and crimping is a creative and cathartic experience.
You will need about 7 peaches for my pie – 6 cups sliced. Make sure your bottom crust is golden – cook long enough and please cover the crust with foil so it does not over brown.
I love adding just the right amount of warm spices to the pie. Nutmeg, cinnamon and cardamom do the trick without overwhelming the peach flavor – which you want to shine through.
Add a Pie Bird for the crispiest pie crust and prevents bubbling over of filling juices.
Whether bird-shaped or not, they are usually ceramic – tall & narrow, and always hollow. They allow steam to escape from inside the pie. From the 1940s they have been produced in a multitude of designs. These are collectible too!
Tips for Pie Making Success:
For a flaky and flavorful crust – add very cold butter cut into tablespoons. Use a pastry blender and cut them into the size of large peas. Add the ice water (I use an egg yolk too for a flexible dough) – just enough, and bring the dough together quickly with your hands until it comes together.
Always work in a cool kitchen! The dough will soften too quickly if warm.
Work quickly – the dough needs to be flexible, but not warm.
Add your pie bird (if using) and fill with the prepared peach filling. Cover with the top dough

 

and quickly crimp the edges decoratively.
Place the pie in a foil or silat lined baking sheet to fit (to catch any drippings.)
Refrigerate the formed pie for 15 minutes, or until cold.
Cover the edges of the pie crust with foil and bake at 400 degrees for 15 minutes, reduce to 375 degrees and bake until golden – remove the foil last 10 minutes to brown evenly.
Do not underbake the pie – the bottom crust needs time to brown, and the filling needs to thicken.
Let cool before cutting, at least 1 hour.
Enjoy pie making ~ will be delicious even if not perfect!
Karen
Perfect Peach Pie with Coconut Whipped Cream & Basil Syrup
A classic foolproof Summer Peach Pie with all the instructions you need for a flaky crust and perfectly spiced peach filling. Basil Coconut Cream adds an interesting addition.
Print Recipe
Pin Recipe
Rate this Recipe
Ingredients
Flaky Pie Dough
2

cups

flour

I use non GMO

1 1/2

tablespoons

pure cane sugar

I use non GMO

1

teaspoon

sea salt

10

tablespoons

cold unsalted butter

cut into tablespoons, I use organic

2

tablespoons

firm coconut oil

or organic shortening

1

large

egg yolk

(save white for basting pie)

3

tablespoons

ice water
Peach Filling
6

cups

sliced peaches (ripe but not soft)

about 7, 1/3" slices

1

cup

pure cane sugar

1/4

teaspoon

ground cinnamon

1/8

teaspoon

grated nutmeg

1/8

teaspoon

ground cardamom

5

tablespoons

flour

1

large

egg white
Instructions
Karen's Flaky Pie Crust:
Add flour to a large bowl - add sugar, salt, butter and coconut oil (or shortening.) Using a pastry blender, cut fat into flour using a pastry blender until they are the size of large peas.

Whisk egg yolk and ice water (ice removed) together until very well mixed. Pour this into the bowl. Use a wooden spoon and mix gently until it starts to come together. Use your hands now to bring the dough together - pinching into a mass ball (your hands are warm, so do so quickly.)

Shape the dough into a round ball. Cut evenly in half. Place each half in a 2 foot piece of waxed paper, fold over and roll thinly to make a 11" even round circle. Repeat with next half.

Place the 2 rolled dough circles on a cookie sheet and refrigerate. Chill dough for 30 minutes - then make peach filling.
Peach Filling:
On rimmed cookie sheet lay down a silpat liner or aliminum foil. Add your pie pan on top. Preheat oven to 400 degrees.

Add cut peaches to a large bowl. Add sugar, cinnamon, nutmeg, cardamom and flour. Mix gently until well combined.

Take out dough from refrigerator. When pliable - place one on bottom of pie pan evenly. Add "pie bird" if using in the center. Pour all the pie fiiling on the bottom crust, smoothing evenly.

Lay second pie crust over the filling - IF using pie bird - cut a 2" X in the center and lay on top so the pie bird peeks though. Trim the edges of the pie crust if too much. Crimp egdges decoratively. Add 4 - 6 slits, about one in in length around the pie for steam vents.

Cut three 18" lengths of heavy foil 2 inches wide. Fold over the edges (about an inch) of the pie crust, crimp gently to hold in place. Do not leave out this step! I dislike when the edges get too dark - and they will!

Whisk the egg white until foamy and brush over the pie crust (will not use all.)

Refrigerate the pie for 15 minutes until cold to the touch - this ensures a flakey crust!

Bake the pie in the bottom 1/3 of the oven. After 15 minutes, reduce the heat to 375 degress and cook until the filling is BUBBLY and crust is a nice deep golden color - about 40 minutes longer, total time will be about 55 minutes*.

*With 10 minutes to go at the end of baking - remove the foil and let the pie develop a little more color around the edges.

Cool pie before serving as the filling sets as it cools. Undercooked pies will have a runny filling, make sure your pie has cooked through.
Notes
Coconut Whipped Cream with Basil Syrup:
 Refrigerate a can of coconut milk (I use organic.)
 Scoop out 1/2 cup of top thick layer, add to a small - medium bowl. 
Whip with a wire whisk until creamy and light. Add 2 tablespoons of  cooled basil syrup - scoop the coconut cream next to a piece of pie. Or - scoop the coconut cream and drizzle 2 T. basil syrup on top. 
Basil Syrup:
Heat 2 T. water and 2 T. pure cane sugar in microwave until sugar has dissolved, about 45 seconds. Add 1/2 cup of packed basil leaves with warm syrup in a small food processor; run until the basil is very finely chopped. Cool. 
This recipe may not be reproduced without the consent of its author, Karen Sheer. 
Nutrition Facts
Perfect Peach Pie with Coconut Whipped Cream & Basil Syrup
Amount per Serving
% Daily Value*
* Percent Daily Values are based on a 2000 calorie diet.
Karen Sheer