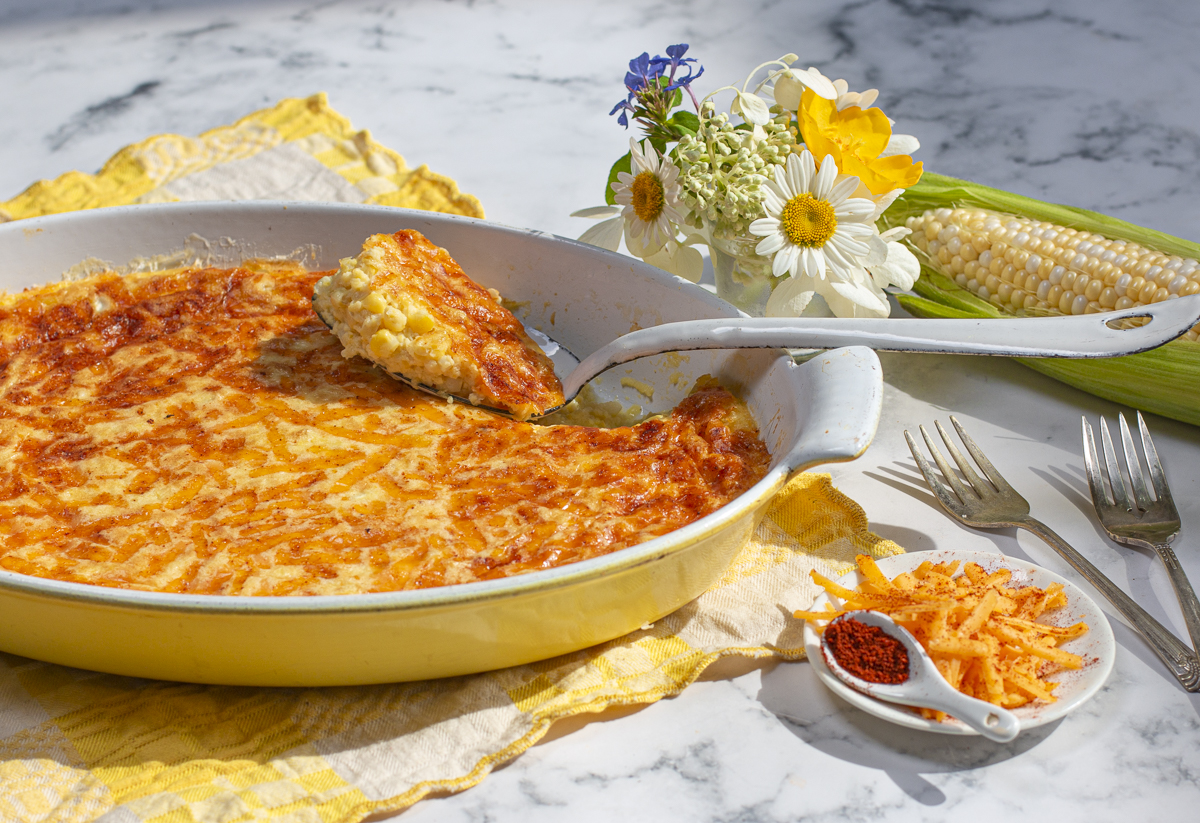 Corn Pudding with Cheddar and Chipotle Crust
14 CORN RECIPES to Make and Savor All Summer! 
Plus NEW Corn Pudding with Cheddar and Chipotle Crust – a must side-dish that is healthy, light & delicious. See bottom for recipe.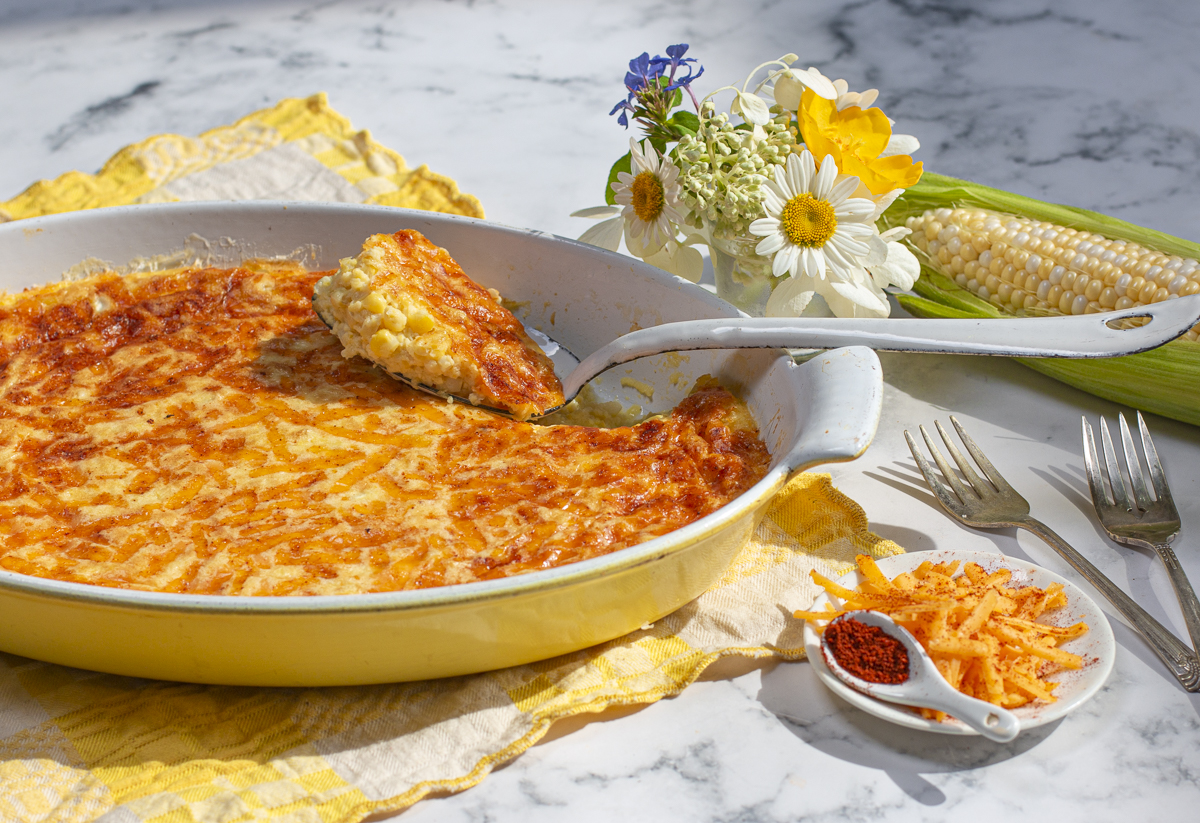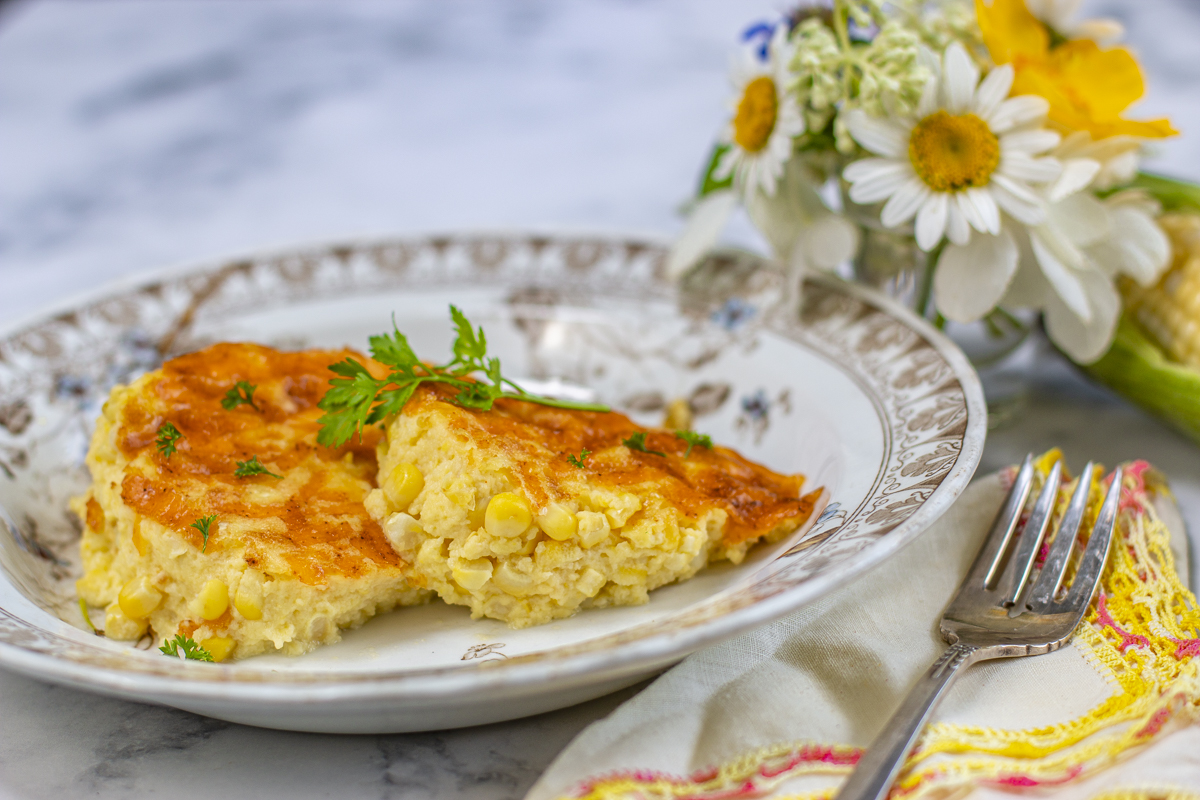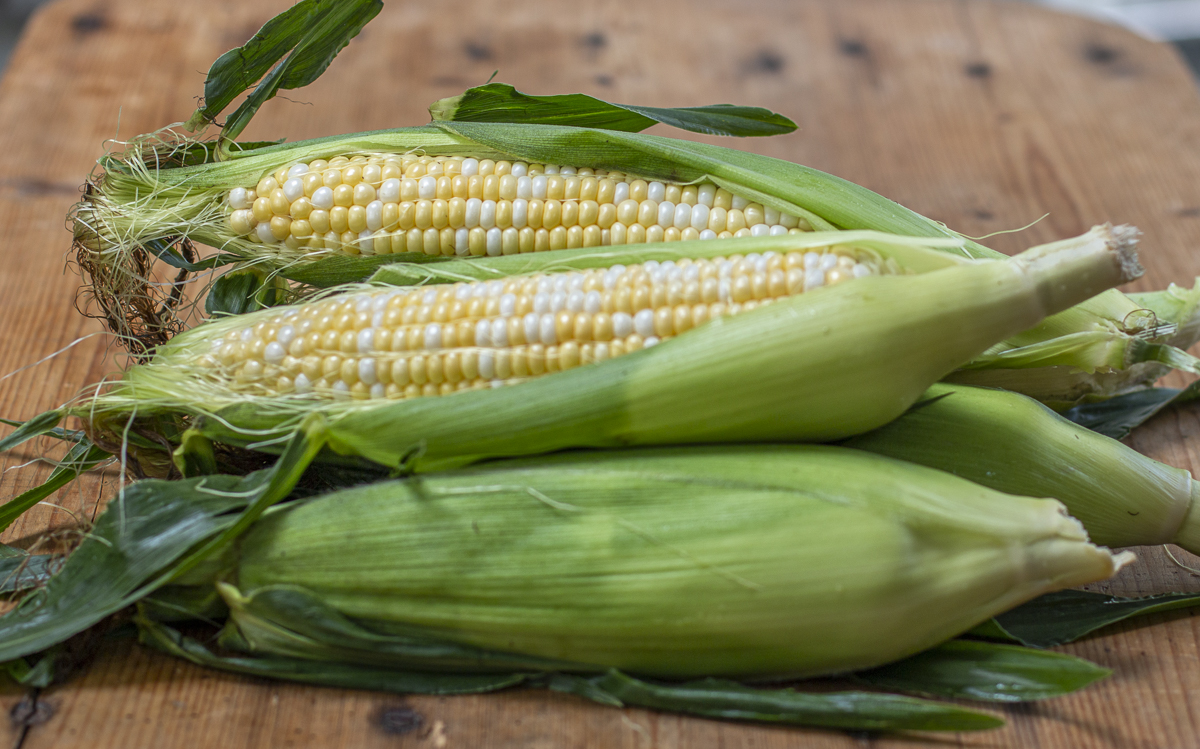 Butter and Sugar corn is considered the best tasting corn. It is a favorite for its sweet flavor, texture and quality.
I'm obsessed with this recipe! Easy to prepare with minimal ingredients – so the corn flavor shines bright.
Check out your local farmers' markets and try some new varieties of corn like I did.
Cheddar cheese tops the corn pudding and spicy chipotle seasoning is mixed in for a shot of heat… just a little.
I like the pop of color it lends and bolt of flavor.
Here are my Best Corn Recipes that are creative, inventive & well tested!
Click on each title for the recipe.
Velvety corn soup to cool you down! Minimum ingredients so you have lots of Pure-Corn-Flavor. Roasted Pepper with Jalapeño and EVOO adds just a punch of interest.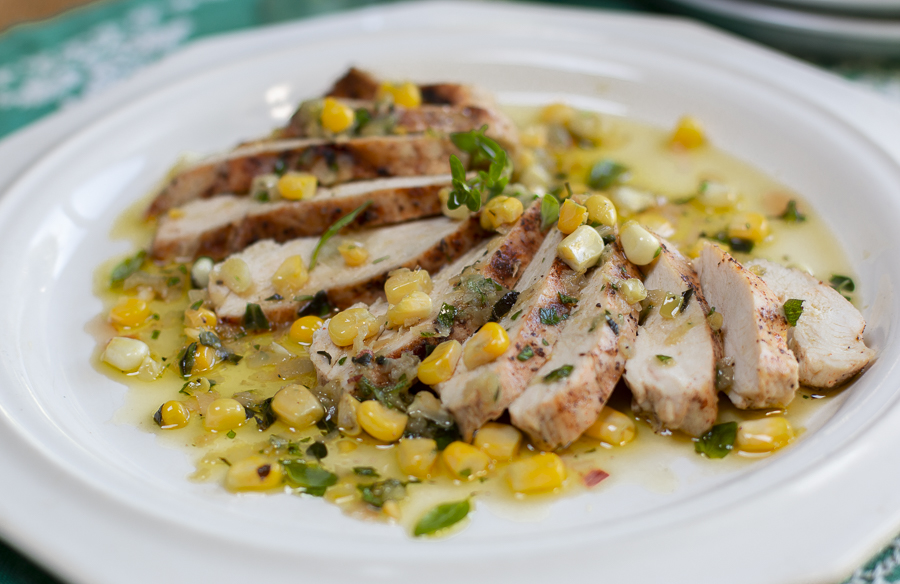 A light and hearty Mediterranean "Sauce" for Chicken, Fish and beyond. An Extra Virgin Olive Oil Based Pan Sauce combines Garlic, Shallots, Five Herbs and Fresh Corn.
A blue corn crust adds interest (and a soft lilac color) – a creamy corn center with truffle cheese is savory, sweet and scrumptious
This simple corn salsa has a puréed base which gives it stability and creaminess. A wonderful addition to my Hummus and Grilled Veggie Tacos with Corn Salsa.
This lush and velvety soup contains no dairy ~ with the addition of silken tofu, leeks, potatoes and lots of corn, a creamy soup that eats like a meal! Roasted Delicata Squash and Chives make the perfect garnish.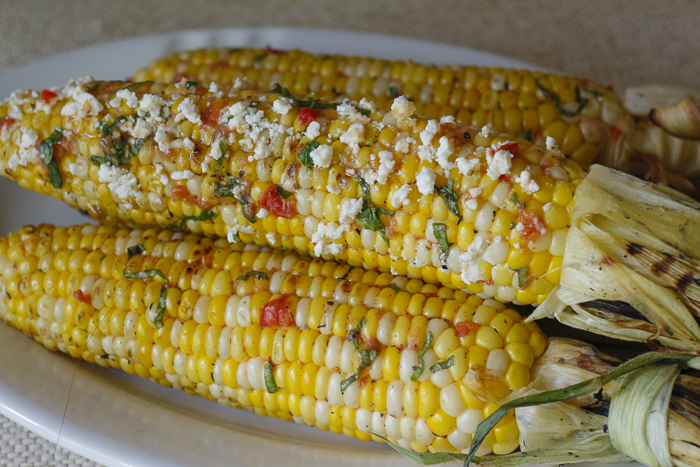 It's Barbecue Season! Baste corn with bursting flavor – cover with husk and grill outdoors.
Slather with my Tomato Butter and top with crumbled feta cheese or cotija cheese.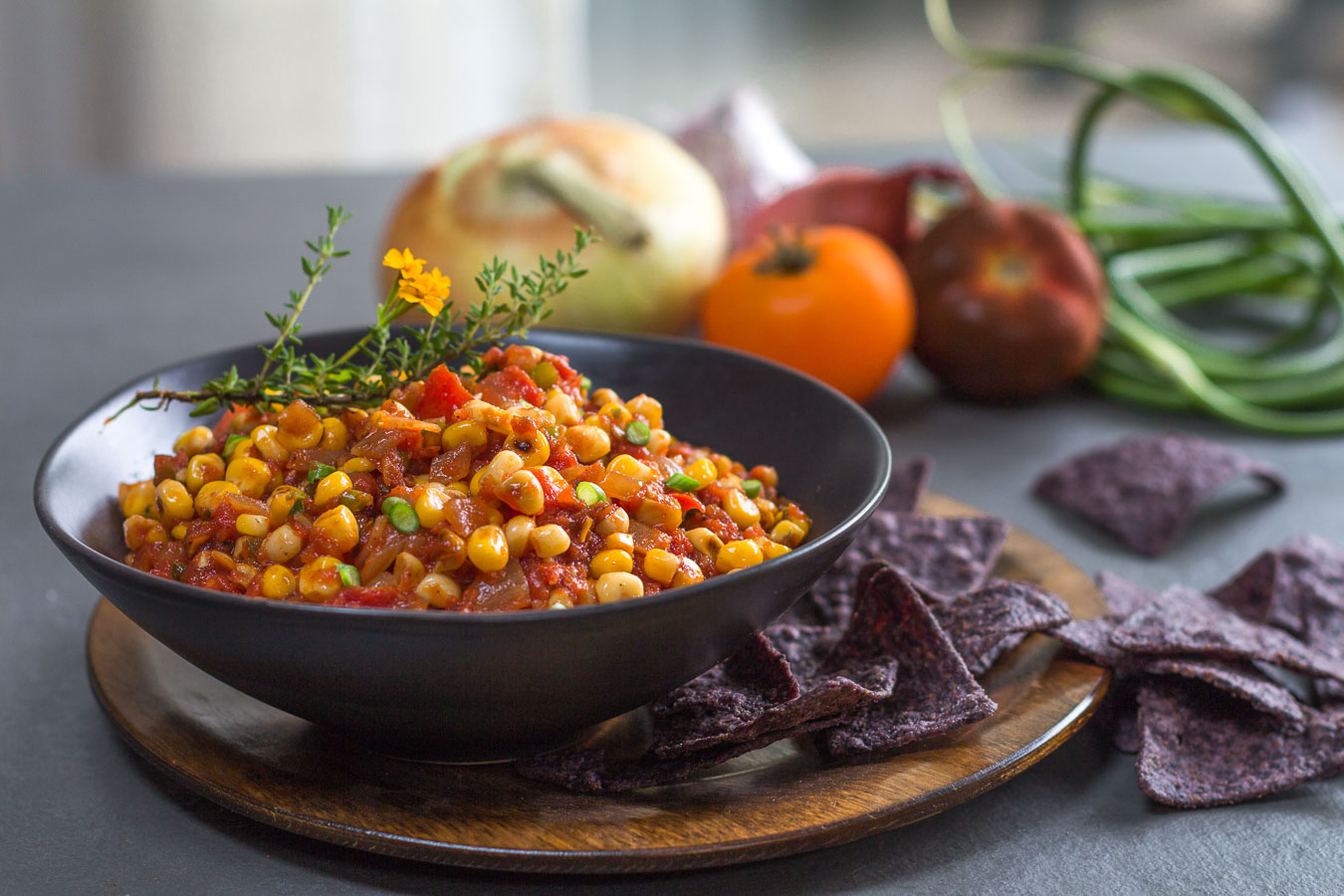 Charred and stirred in a skillet, then cooled, this summer salsa packs a lot of flavor!
A lively summer recipe with local fresh corn. Great for dipping and will brighten all your summer dishes.
A twist on the Spanish "Tortita" ~ these vegetable griddle cakes are delicious.. you can't eat just one! With good-for you ingredients, chock full of zucchini, corn, scallions, jalapeño, feta, grated parmesan and a generous mound of fresh dill. Eat alone, with your favorite salsa, or, as my mother would do- sour cream.
I'm loving a home made Pad Thai with loads of local summer veggies! Toss in fresh mint, peanuts and bean sprouts for a fresh crunch.
Summertime is all about light, fresh meals, and these chicken and corn lettuce wraps fit the bill exactly. Loaded with lush flavors and textures – the perfect recipe to master… and enjoy!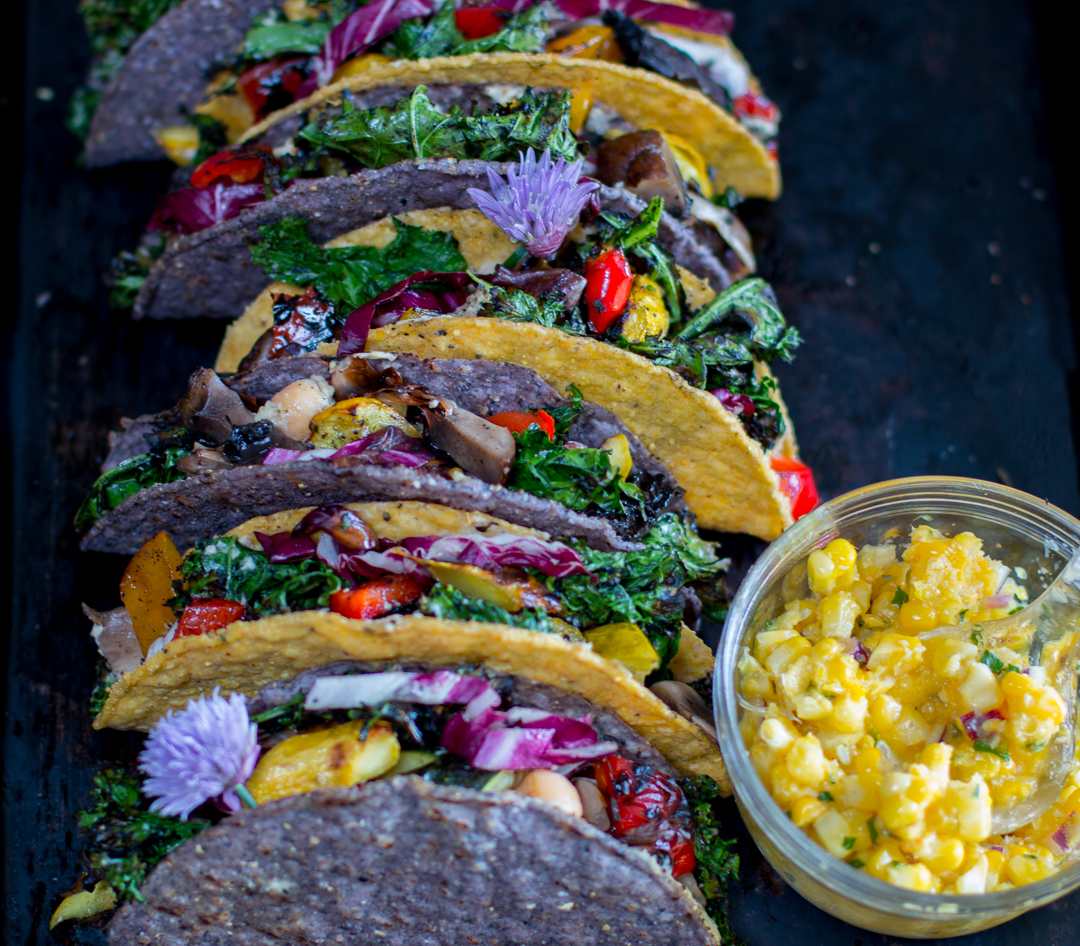 My favorite hard shell Tacos filled with Za'atar seasoned Hummus and brimming with colorful Vegetables just off the grill. Corn Salsa adds a layer of natural sweetness, heat and crunch.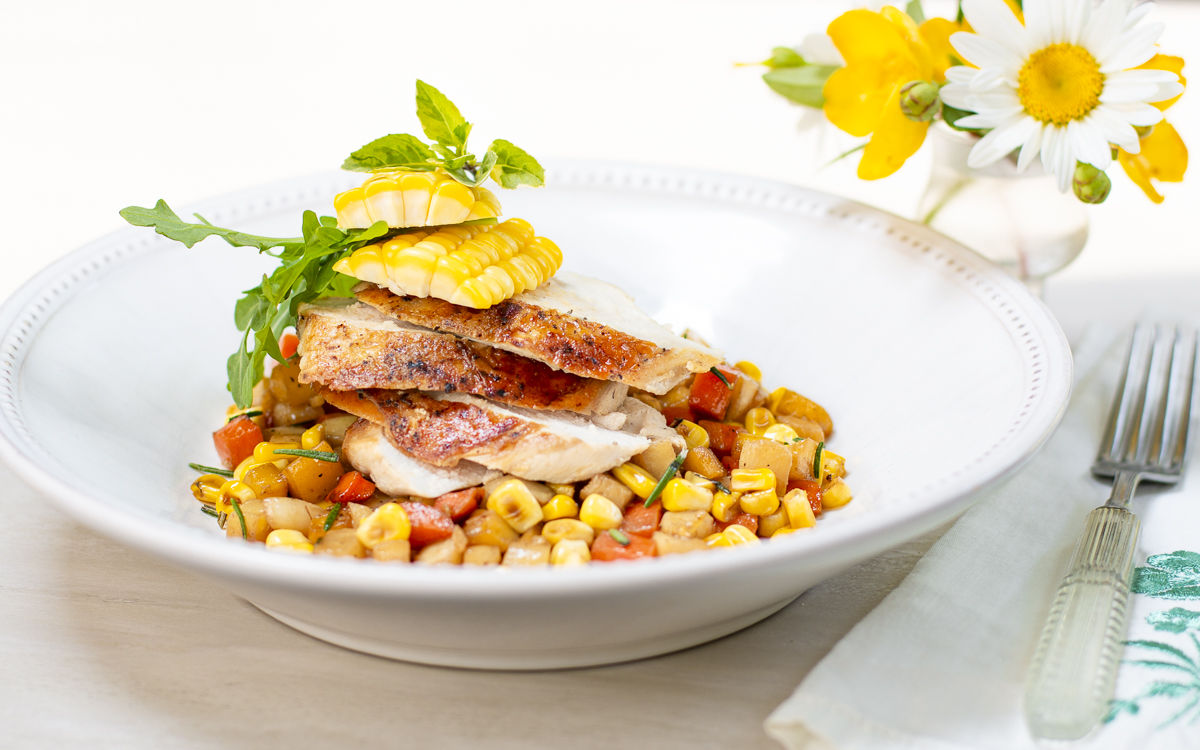 Tender chicken with an outrageous crispy crust pairs with a vegetables melange of carrots, turnips & corn and a rosemary pan-sauce.The ultimate one-pan healthy comfort food main dish.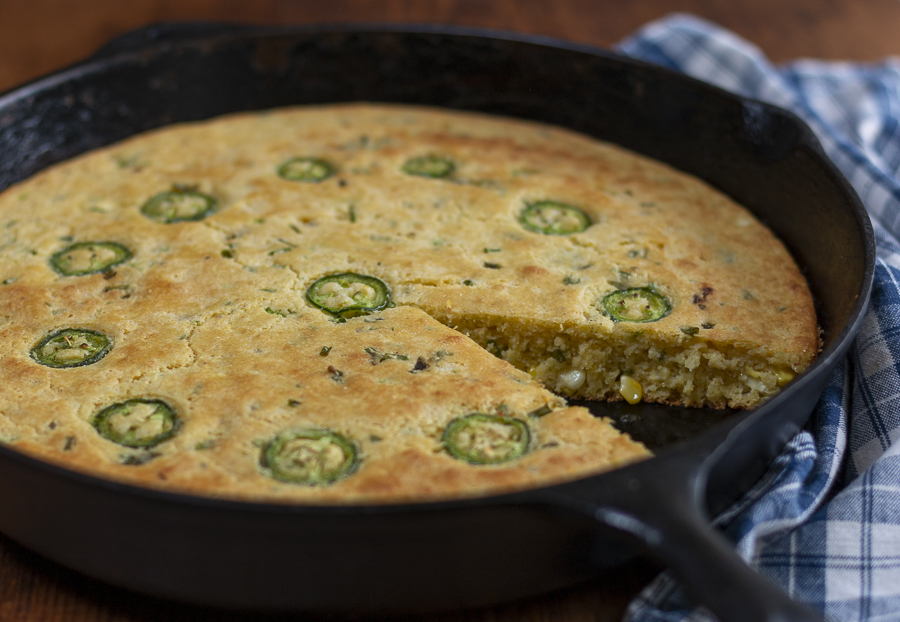 Mildly spicy and full of flavor! Additions include Jalapeños, Poblano Chiles, Chives and Fresh Corn. Gluten Free.
Did you know?
Only a small percentage of sweet corn grown in the U.S. is genetically modified, according to the USDA. Most GMO corn is used in processed foods like corn chips, breakfast cereals, high-fructose corn syrup and corn oil, or turned into livestock feed and ethanol.
One plain ear of corn has about 100 calories, similar to an apple. And with nearly 3 grams of fiber per serving, corn can help you feel full longer, so you're less likely to overeat and pack on the pounds.
An ear of sweet corn has less than half the sugar of a banana and only about one-third the sugar of an apple.
Cooking sweet corn actually boosts its benefits. Researchers found that while sweet corn loses vitamin C during cooking, its antioxidant activity increases.
Few things say "summer" like a freshly picked ear of sweet corn!
Enjoy these marvelous corn recipes!
Karen

Corn Pudding with Cheddar and Chipotle Crust
Absolutely the best Summer Corn Pudding! Use just picked corn for a side dish that is healthy, light & delicious! Print the recipe - you will make over and over agian.
Print Recipe
Pin Recipe
Rate this Recipe
Ingredients
5

large

ears corn

I used Butter & Sugar Corn

1

tablespoon

unsalted butter

softened for casserole dish; I use organic

4

tablespoons

unsalted butter

4

tablespoons

gluten free flour blend

or regular flour

2

tablespoons

minced sweet onion

such as Vadalia

2

cups

full fat milk

I use organic

1

teaspoon

sea salt

2

teaspoons

pure cane sugar

I use non GMO

5

large

eggs

I use pasture raised

3/4

cup

extra shredded sharp cheddar cheese

1/4

teaspoon

chipotle powder

double if you like; can be spicy!
Instructions
Husk corn, remove all the silks. Wash and dry.

Smear 1 T. butter in a 1 1/2 quart casserole 9" x 12" to coat evenly and thickly. Set aside.

Grate 3 ears of corn using large holes of your grater. Will be creamy - save all juices - will have 1 heaping cup.

Cut the kernels off from remaining 2 ears of corn. HINT: cut corn in half - place flat edge on a cutting board, remove kernels with a sharp knife; will have 2 cups.

Preheat oven to 350 degrees.

Make a roux: Add butter to a 2 quart pot, melt over low heat. Add the flour (gluten free or regular) and minced onion and whisk smooth for one minute. Add milk - 1/2 cup first whisking until creamy & thick over medium heat, about 30 seconds. Add remaining 1 1/2 cups of milk whisking until starts to thicken about 2 minutes.

Add all grated corn, salt & sugar; whisk in - remove from heat.

Let cool 5 minutes. Bring a full kettle of water to a boil (for the water bath.)

Add eggs, one at a time whisking each until smooth. Add corn kernels, mix well.

Pour corn mixture into the prepared pan. In a small bowl mix shredded cheddar cheese & chipotle seasoning so it is well mixed. Top corn pudding evenly with the cheese mixture.

Add corn pudding into the larger pan - carefully pour boiling water in the pan to reach half way up the sides.

Carefully place in the oven and cook until puffed and cooked 35 minutes. (Feel the top - should be just firm.)
Notes
This recipe may not be reproduced without the consent of its author, Karen Sheer. 
Nutrition Facts
Corn Pudding with Cheddar and Chipotle Crust
Amount per Serving
% Daily Value*
* Percent Daily Values are based on a 2000 calorie diet.
Karen Sheer