SOUPS ON! My Favorite Soups to Make Right Now
15 Soups to Make right now and into Winter's Cooler Months. Creative, original soup recipes with wholesome ingredients bursting with flavor. A wonderful collection to try… before I send out all the Thanksgiving essential recipes!
Sunchokes lend a creaminess to warm soups, perfectly paired with the velvety smooth Kabocha Squash for a wonderful Fall & Winter Soup. A great festive yet simple recipe for Thanksgiving! Vegan. Sunchokes look like ginger, cooks like a potato, but tastes like a cross between an artichoke heart and the best potato you've ever had.
A wonderful soup to master, and eat everyday in cooler weather. A meal in a bowl! Hearty and Healthy.
My Minestrone is brimming with antioxidant goodness. The perfect soup for an everyday lunch, snack or addition to many entrées. I can eat this soup everyday!
Soup entices the senses as it simmers ~ warm and fragrant. Healthful ingredients combine flavors and textures, colors and garnishes.
They're a great way to stay hydrated and full… and give your immune system a boost!
From last weeks post… My Favorite New Soup of the Season – Perfectly Seasoned and Quite Easy to Prepare.
The fabulous creamy texture of Honeynut squash makes a velvety soup – Thai spices from an unexpected place – in a little can… how convenient! Please try Honeynut Squash ~ this mighty, newer hybrid variety of winter squash has a more concentrated flavor than butternut squash.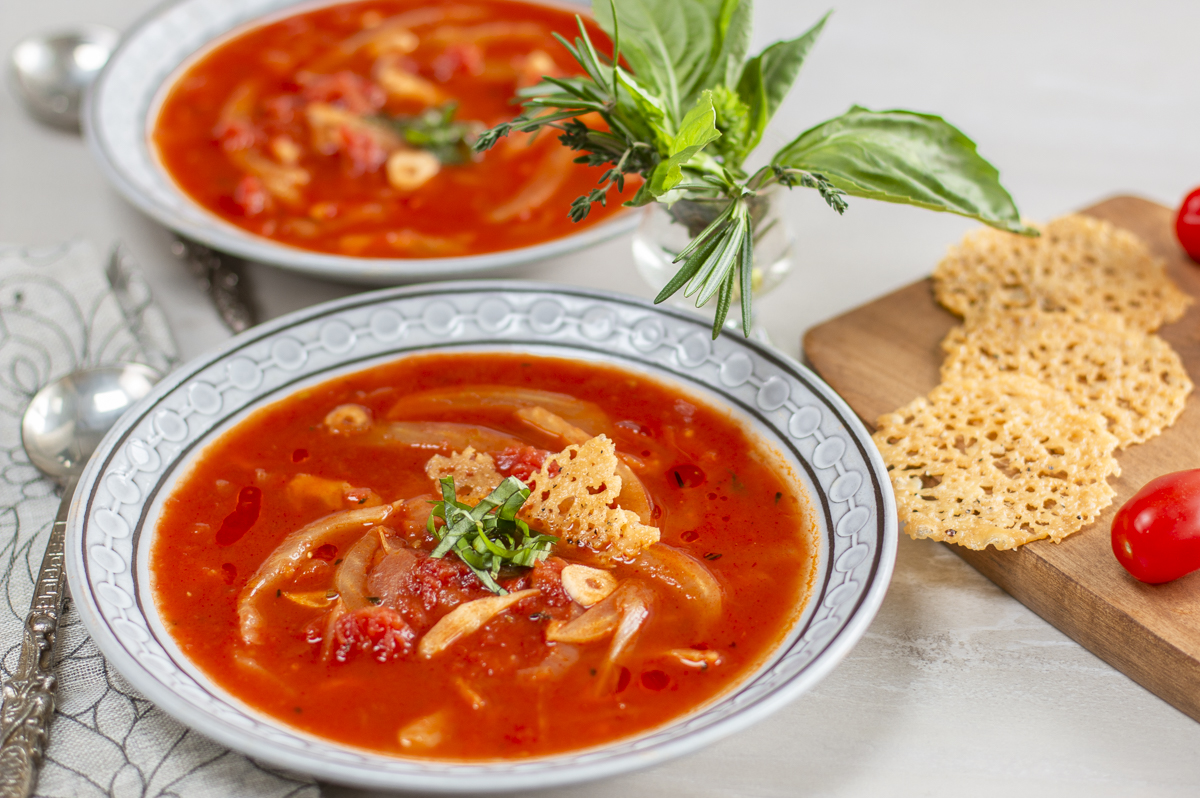 In the Mediterranean Tradition – the flavors here are a combination of mellow and bold.
Aromatic Basil and Fennel both have hints of anise (licorice) and team beautifully with sweet San Marzano Tomatoes.
For a fabulous umami garnish – add the parmesan crisps; bursting with enormous crunch and flavor.
Soup-Making is an art! As an artist applies different mediums to a canvas – a soup maker adds ingredients to a pot… no all at once, but the ingredients that take longer to cook at the beginning, aromatics are added, then the liquid, with quick cook embellishments last. Garnishes are not just pretty ~ but can add that zest of flavor and textures to make it special.
A bevy of vegetables enrich this soup; ginger adds a boost of flavor with powerful anti-inflammatory and antioxidant properties. Pure soul-comfort food. Gluten Free with rice noodles. All should master a good chicken soup recipe!
The comfort soup of the season! Your Instant Pot will cook this soup beautifully… healthy & hearty. Want to make on the stovetop? ~ I've got notes for that! Pea Soup with Garnishes: Crisp Turkey Bacon, Fresh Corn and Black Pepper Croutons.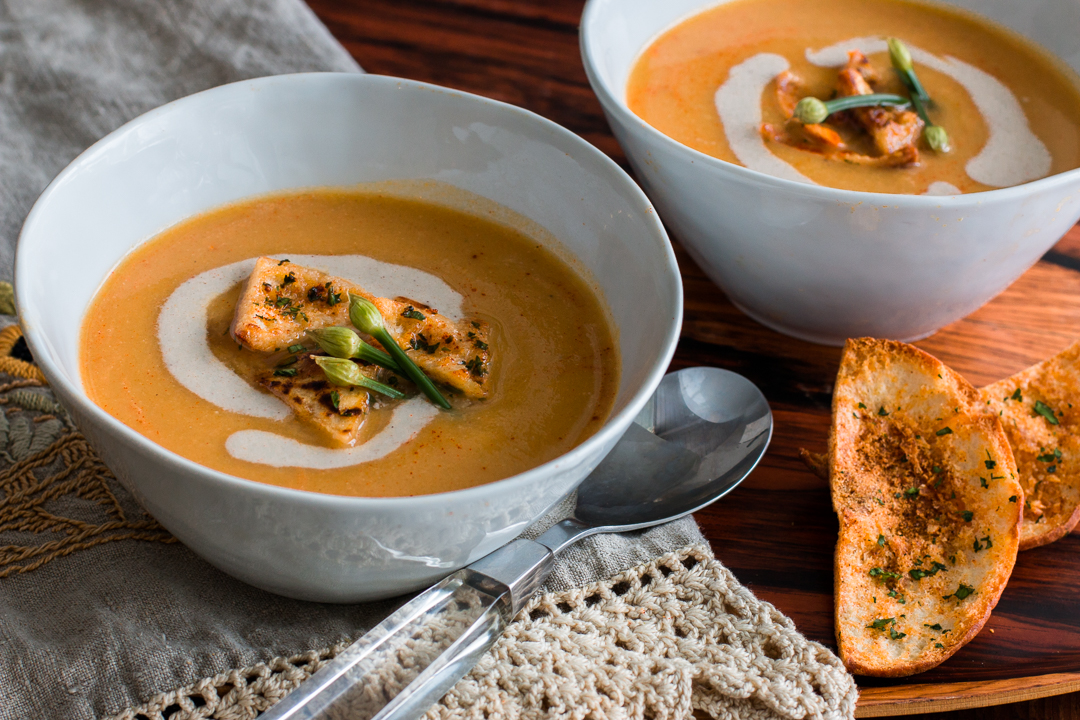 A healthy soup with a creamy texture from the celery root (celeriac) and potatoes. Delicious and Silky Smooth.
Dairy Free. Add a swirl of Cashew Cream for a decorative touch. Vegan.
THE soup to fuel you through winter! Bake potatoes, use the flesh for the soup, skins for "croutons."  Healthy and lightened up with broth, milk and loaded with vegetables. Add some sharp grated cheddar cheese and fresh rosemary to the baked potato wedges and serve with the soup… a dollop of sour cream is welcome!
A classic twist on Mexico City's Soul Food Soup. Fresh, intense flavors combine with vegetables and pulled chicken – your go-to-healthy-soup for the winter season. Good-for-you ingredients in a spicy broth with cheddar cheese and crispy tortillas.
A velvety soup without dairy products… Parsnips and Yukon Gold Potatoes give the soup its creaminess when blended. The trick to its glorious color is blending the soup right after the spinach is added. Easy Crispy Skewered Croutons – adds character and panache to a bowl of soup!
This hearty and flavorful soup will transport you to southern France with your first spoonful. A fragrant, saffron and fennel scented soup has a tomato base and luminous chunks of tender white fish. Top with an assertive Rouille Sauce (garlicky mayonnaise) – a sauce that originated in the Mediterranean and is traditionally served with seafood soups and stews.
Perfect for Thanksgiving! See my easy way to peel a Kabocha Squash. You'll love the Cashew Crema with hints of maple & cinnamon ~ the Spiced Cashews make a terrific, crunchy garnish.
A Thai twist on the beloved Chinese soup – best made at home with the freshest ingredients! Tips on how to adjust the heat so it's just right! Totally worth your time… yummy! Gluten Free.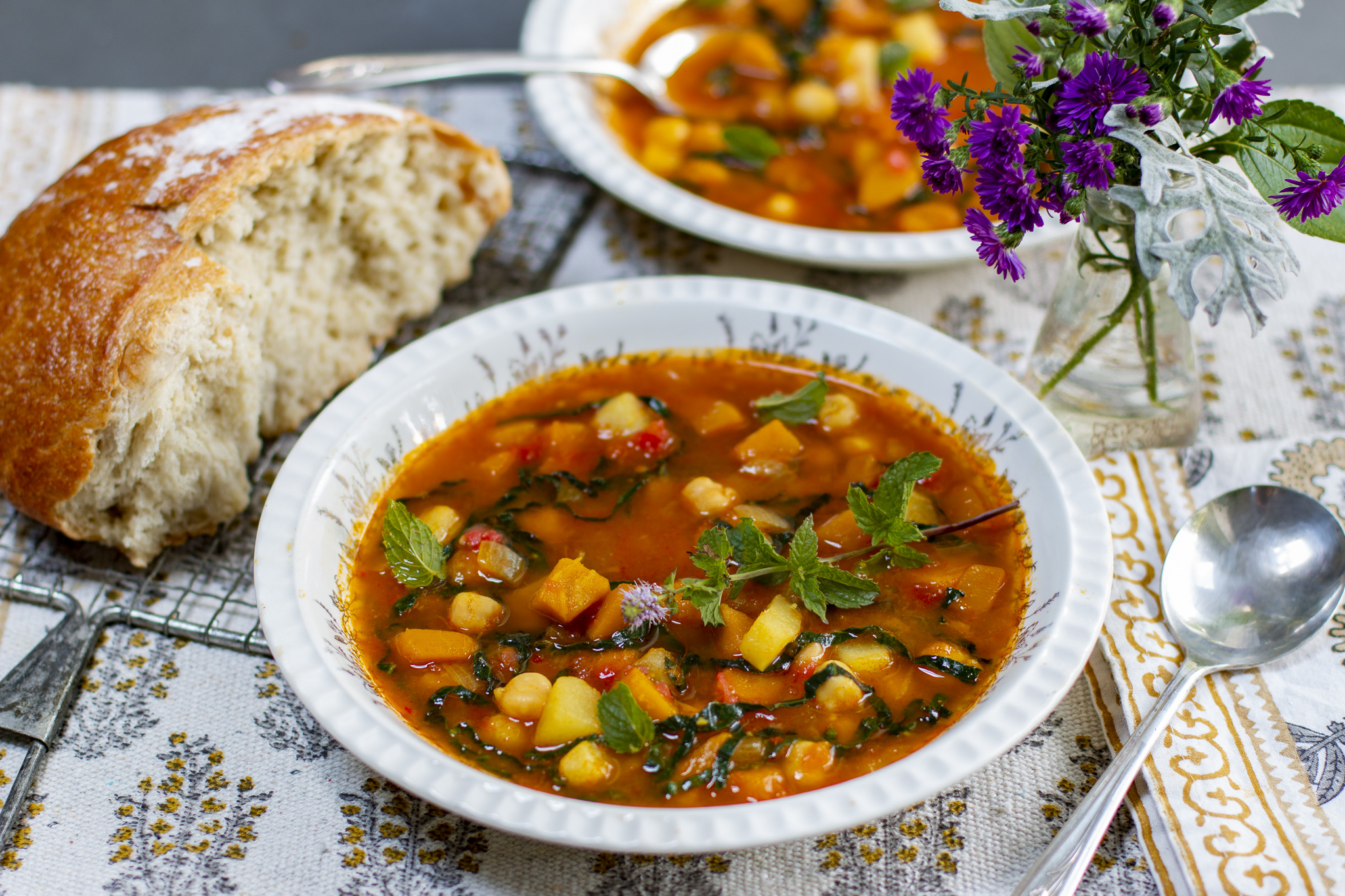 A wonderful rich bodied vegetable soup with delicious spices: Saffron, Turmeric, Juniper Berries, Smoked Paprika and fresh Mint for exceptional flavor. Try Kabocha squash (also called Japanese pumpkin) ~ with its sweet taste and velvety texture.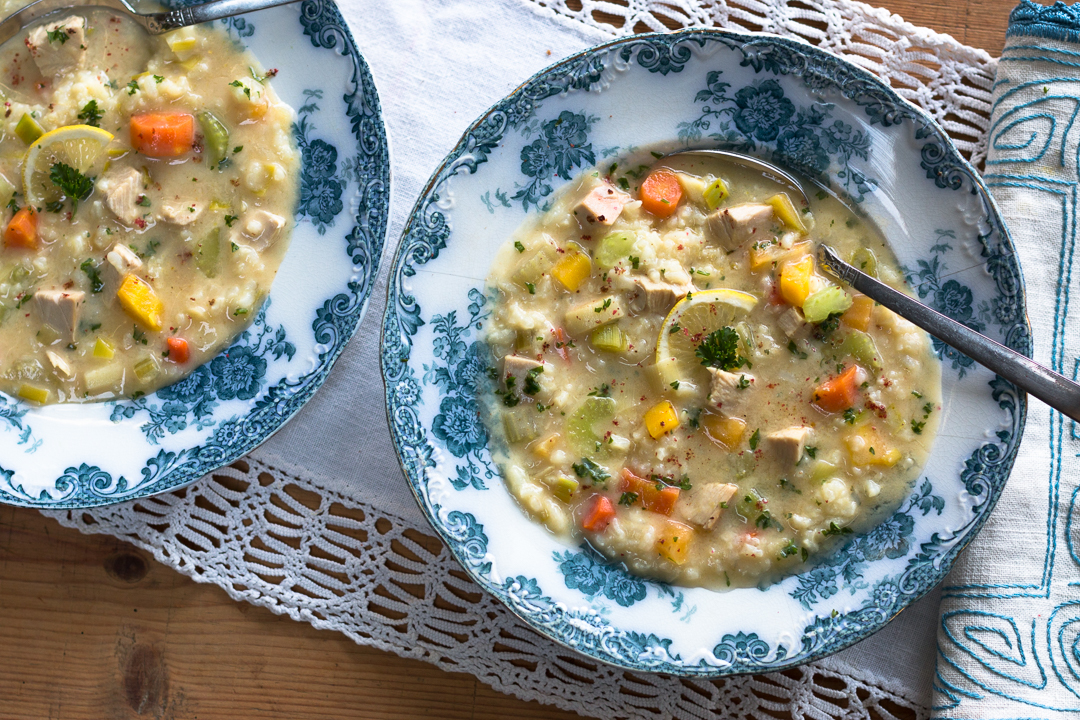 A Hearty, Healthy & Zesty Soup using 2 cups of diced freshly roasted turkey from your Thanksgiving feast. Make again using leftover chicken! Instead of classic orzo rice, I have use a medium grain white rice… Calrose rice. It has great natural thickening properties, which is what I love.
Continue cooking all my Fall Recipes (click here!)
Which one will be your favorite?
Karen
Sunchoke & Kabocha Soup with Fabulous Garnishes
Sunchokes lend a creaminess to warm soups, perfectly paired with the velvety smooth Kabocha Squash for a wonderful Fall & Winter Soup. A great festive yet simple recipe for Thanksgiving. A simple soup with 6 yummy garnishes! Vegan.
Print Recipe
Pin Recipe
Rate this Recipe
Ingredients
2

pounds

kaboacha squash

1 1/2

pounds

sunchokes

(jerusalem artichokes)

1

tablespoon

extra virgin olive oil

1

cup

onion

peeled, 1/2" dice

1

tablespoon

grated garlic

3/4

teaspoon

pink peppercorns

ground

5

cups

vegetable broth*
Instructions
Cook the Kabocha Squash:
Preheat the oven to 350 degrees. Lay a piece of parchment paper on a baking tray, cut the squash in half lenghtwise, scoop out the seeds, add to tray. Brush with a small amount of olive oil underneath. Bake until softened, about 35-40 minutes. Cool slightly, cut into strips, remove skin with a knife, chop squash into 1" pieces. (Will have about 4 1/2 cups.)

Can also use your favorite winter squash.
Finish the Soup
While the squash cooks: Wash the sunchokes - gently peel them and cut the into 1" chunks (will have about 4 1/2 cups.) If the skins seem very thin, you may srub with a brush.

Add olive oil to a heavy soup pot, raise heat to medium low - add the onion. Cook, stirring until softened, 5 minutes. Add the chopped sunchokes, garlic and peppercorns; stir for 5 minutes. Add the broth, bring to a boil, then cover and turn heat down to a simmer.

Cook until softened, about 20 minutes. Add the kabocha squash - simmer covered to blend all the flavors, 10 minutes.

Cool slightly - puree the soup in 2 batches. Taste for salt (depends on saltiness of broth.) Pour soup into each bowl.
Serve warm with Garnishes - use one, or all:
1. Swirl Coconut Cream (or Crème Fraîche - if not vegan) in the center of the soup bowl.

2. Add 3 Sunchoke "Petals" decoratively on each bowl.

3. Add Broken Garlic Croutons - crush and scatter them on top.

4. Add Fresh Herbs - Chopped Fresh Chives, and or Petite Parsley Sprigs.

5. Add a touch of good quality Truffle Oil on top.

6. Add an extra sprinkle of extra Pink Peppercorns.
Notes
Fabulous Garnishes:
Sunchoke Petals: Preheat oven to 425 degrees. Slice a 1" wide sunchoke thinly; 1/8 inch thick - to make 18 slices, 3 per soup serving. Lay on a metal tray - brush tops and bottom with olive oil. Sprinkle with sea salt and cook until edges have lightly browned and they are crisp. Cool.
 Broken Garlic Croutons: (See linked recipes) ~ crumble 1 tablespoon of croutons on each serving of soup. 
* I used: Better Than Bouillon Organic Vegetable Soup Base.
     The sodium in the soup depends on the vegetable broth you use. 
This recipe may not be reproduced without the consent of its author, Karen Sheer.
Nutrition Facts
Sunchoke & Kabocha Soup with Fabulous Garnishes
Amount per Serving
% Daily Value*
* Percent Daily Values are based on a 2000 calorie diet.
Karen Sheer