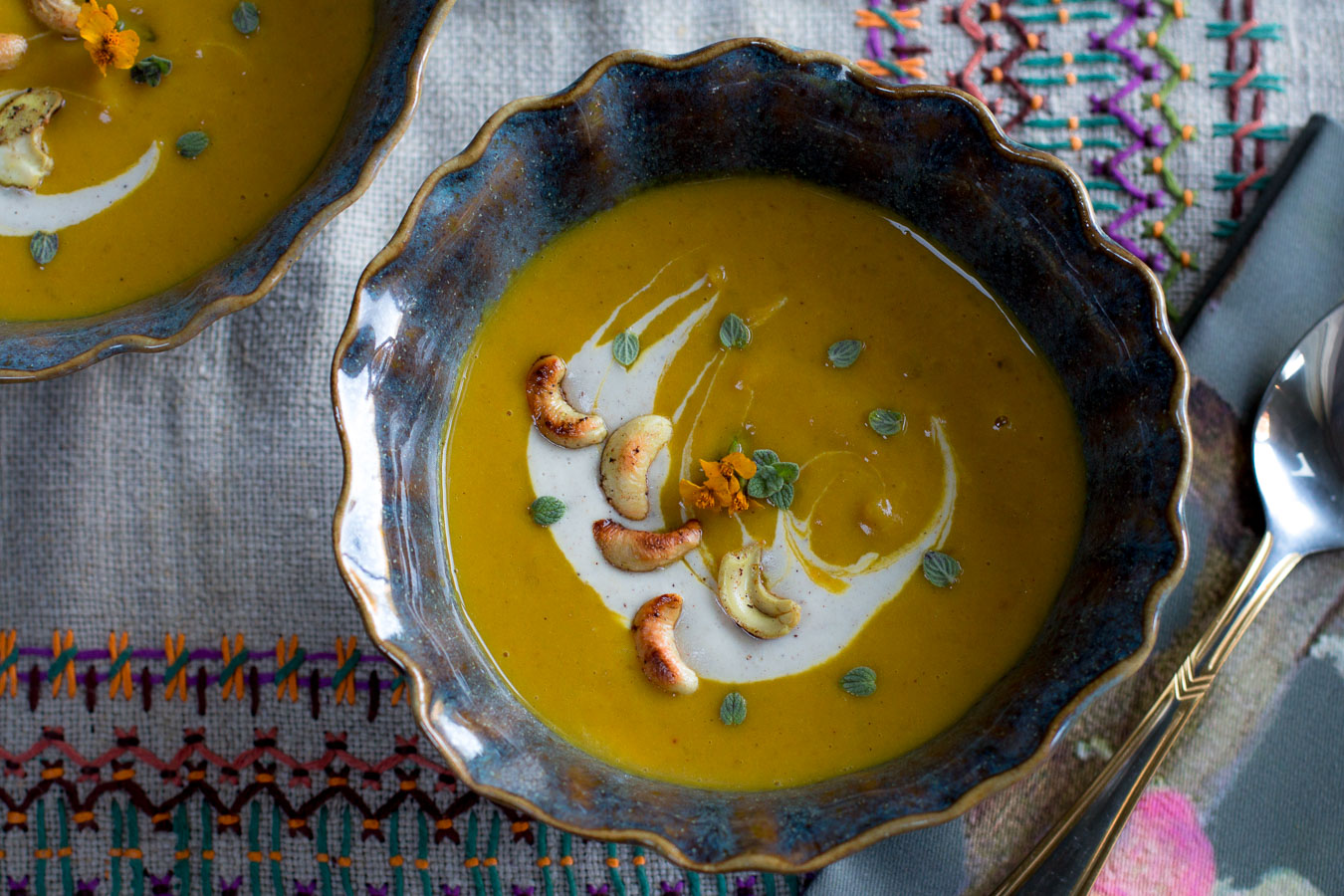 Kabocha Squash Soup with Apples and Cashew Crema – Vegan
Perfect for Thanksgiving! See my easy way to peel a Kabocha Squash. You'll love the Cashew Crema with hints of maple & cinnamon ~ the Spiced Cashews make a terrific, crunchy garnish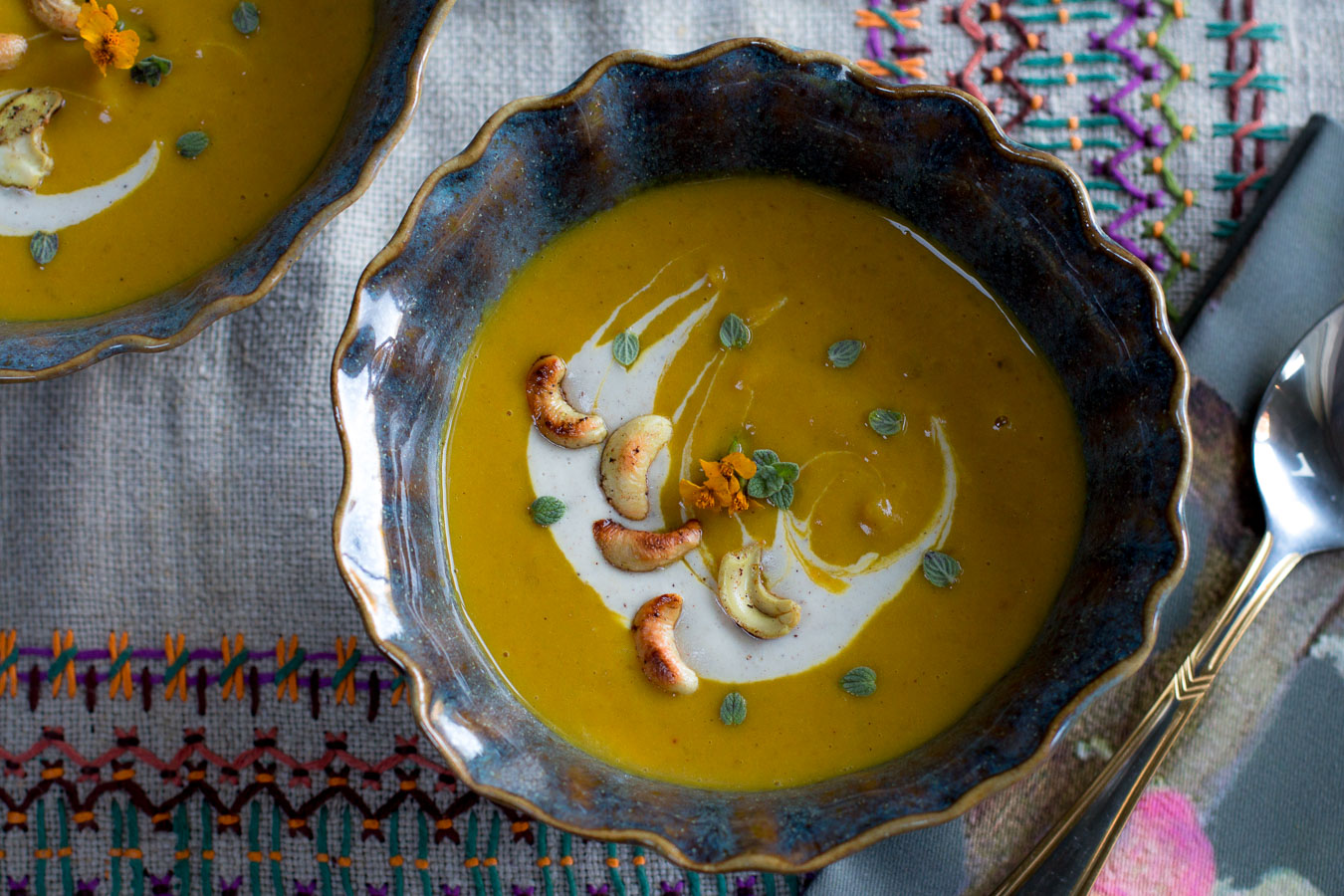 A universal soup all and your Vegan guests will adore! Can make the soup ahead and freeze for a hassle- free Thanksgiving soup. The garnishes make it extra special.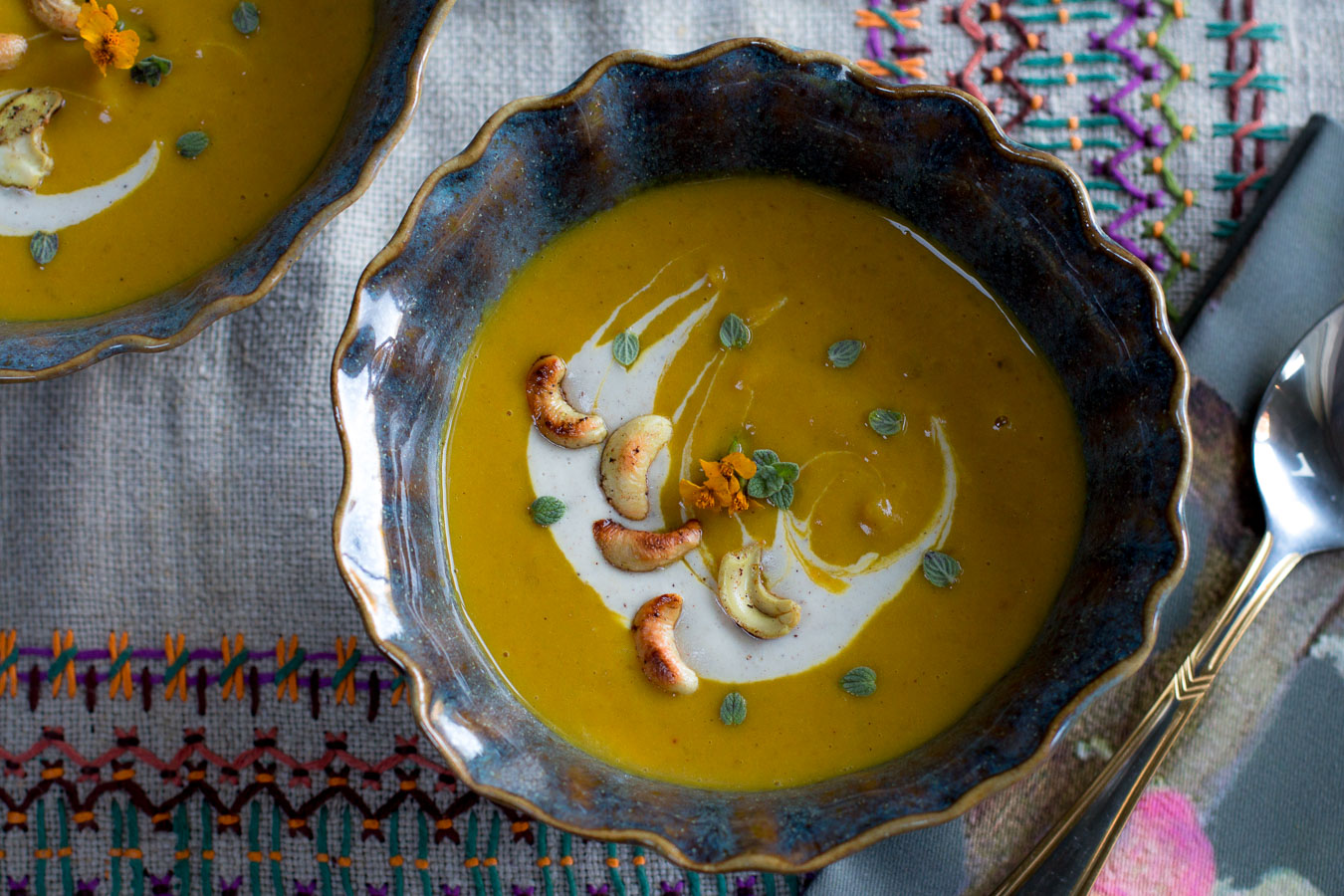 Ingredients
1 medium kabocha squash, (6 cups) from a 2 ½ pound squash
2 teaspoons coconut oil, organic, or neutral oil
1 cup shallots, peeled, coarsely chopped
1 tablespoon fresh garlic, peeled and minced 
1 ½ teaspoons curry powder
1 teaspoon garam masala
¼ teaspoon crushed chile peppers, adjust to your level of spiciness
2 cups fresh apples, peeled, coarsely chopped (I used Macoun apples)
4 ½ cups vegetable broth*
1 cup fresh apple cider, check ingredients for no preservatives
1 cup raw cashews, divided (half for Cashew Crema) see recipe: Cashew Crema
Spiced Cashews (garnish) see recipe below
Instructions
1
Soak raw cashews in plenty of cool water to cover by one inch to soak. Cover and let stand for 6 hours, or overnight.
Drain, rinse and divide – will use 1/2 cup for the Soup, and 1/2 cup for Cashew Crema.
2
Make the Cashew Crema:
To the carafe of a blender: Add 1/2 soaked raw cashews with 1/4 cup coconut milk and 1/4 cup filtered water.
Add flavorings: 1/2 teaspoon apple cider vinegar, 1 teaspoon pure maple syrup, a pinch of sea salt and a big pinch of cinnamon.
Blend all on low to high speed until very creamy and smooth, about 30 seconds.
(No need to clean the carafe if making the soup next!)
Remove to a clean glass bowl or container. Refrigerate if not using within an hour. Will stay for about 5 days.
3
Make the Soup:
Prick the Kabocha Squash all over with a fork and place in microwave on a plate.
Cook until squash has softened, and you can easily cut through it – 5 – 6 minutes.
4
Cut squash into 8 large wedges, remove and discard seeds.
Cut away and discard peel – this should be quite easy, as the skin has softened.
Cube the squash into 1 1/2 inch pieces.
5
In a heavy, non reactive soup pot (I used an enamel coated cast iron one) add coconut oil, melt over medium heat.
Add the squash, stir to incorporate, for 3 minutes until lightly browned.
Add the next six ingredients: shallots through apples. Stir up and cook over medium heat for three minutes to lightly color the ingredients and toast the seasonings.
6
Add the vegetable broth and apple cider, raise heat, bring to a boil.
Cover, turn heat down to low and simmer for 15 – 20 minutes, until all has softened nicely.
7
Take off heat and cool slightly.
To the carafe of a blender: Add half the soup with 1/2 cup soaked, raw cashews. Blend low to high speed about 30 seconds, or until very smooth. Pour into a large bowl or pot.
Blend the second half of the soup for just 5 seconds – or until a little chunky. (You may also blend very smooth.) Add to the other soup and mix well.
8
To serve:
Ladle soup into individual bowls. Top with Cashew Crema (see photos) ~ Dollop some on the side of soup, and drag a sharp knife through it to create a pattern.
Top with Spiced Cashews and fresh herbs (I used marjoram leaves.)
9
Spiced Cashew Garnish:
Heat 1/2 teaspoon coconut oil in a small 7 inch skillet over low-medium heat. Add 1/4 teaspoon curry powder and 1/4 teaspoon garam masala.
Stir to toast spices a few seconds. Add 1/4 cup raw cashew halves, stir and cook until they are lightly golden brown.
Remove to a clean plate and cool. Sprinkle with a pinch of sea salt.
Adding cashews to the soup will result in a creamy, dairy free soup.
10
Main ingredients in spices used:
Curry: turmeric, chili, coriander, garlic, cumin, cinnamon and bay leaves.
Garam Masala: coriander, black pepper, cumin, ginger, cinnamon and cloves.
11
*Organic Better Than Bouillon Vegetable Base is a wonderful time saver – and much more delicious than boxed vegetable broths… if you are not making it from scratch! Available in health food stores, and some Costco's.
See BLOG for many photos and information.
This recipe may not be reproduced without the consent of its author, Karen Sheer.
Karen Sheer