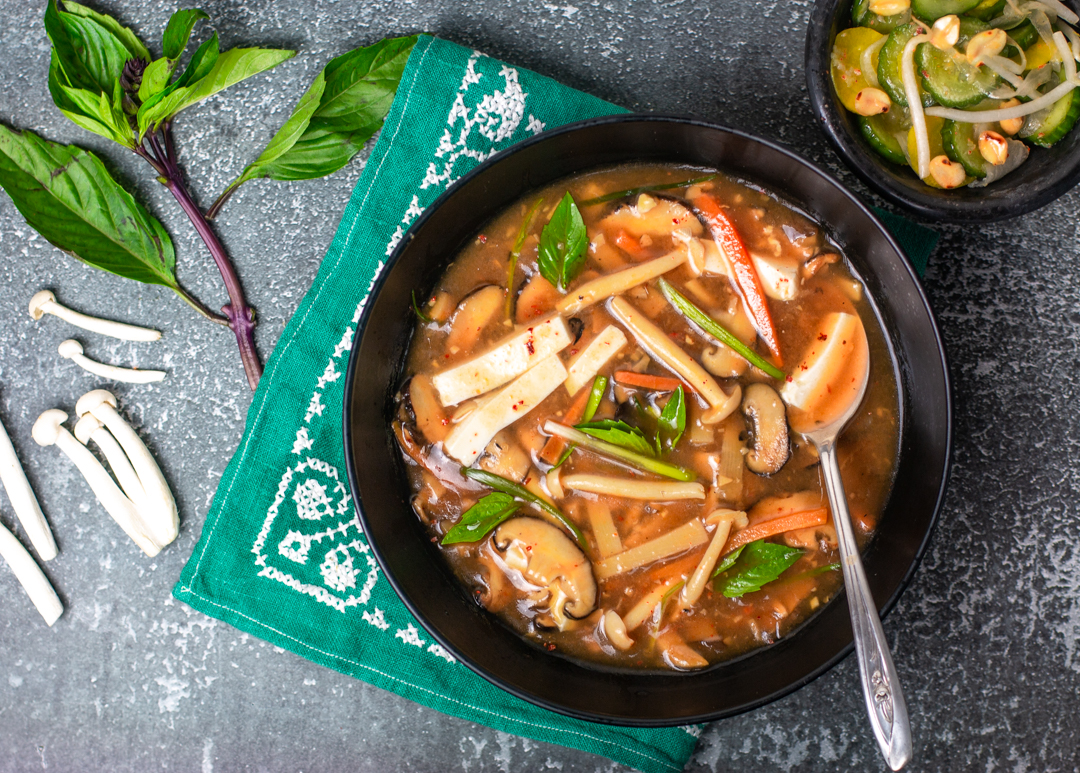 Karen's Thai-Style Hot & Sour Soup
A Thai twist on the beloved Chinese soup – best made at home with the freshest ingredients! Tips on how to adjust the heat so it's just right! Totally worth your time… yummy! Gluten Free.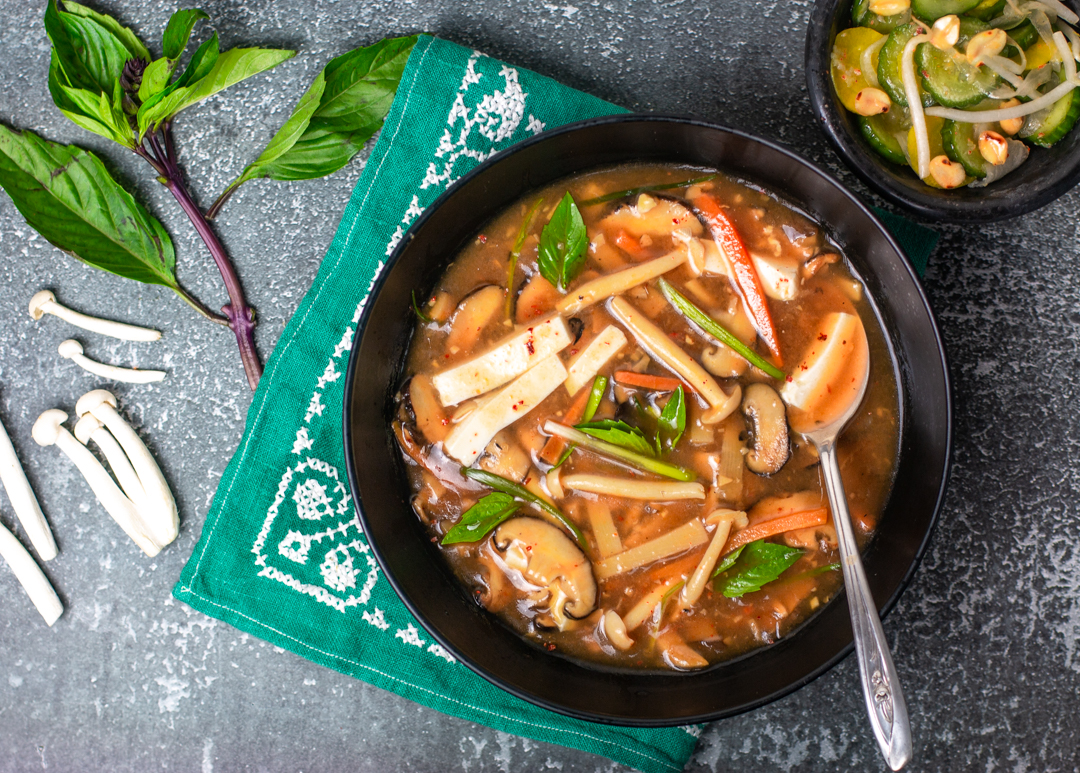 Hot and Sour Soup is a tradionally is a Chinese soup that's savory, spicy and tangy – its flavor is incredibly rich and complex. I've added some robust Thai ingredients.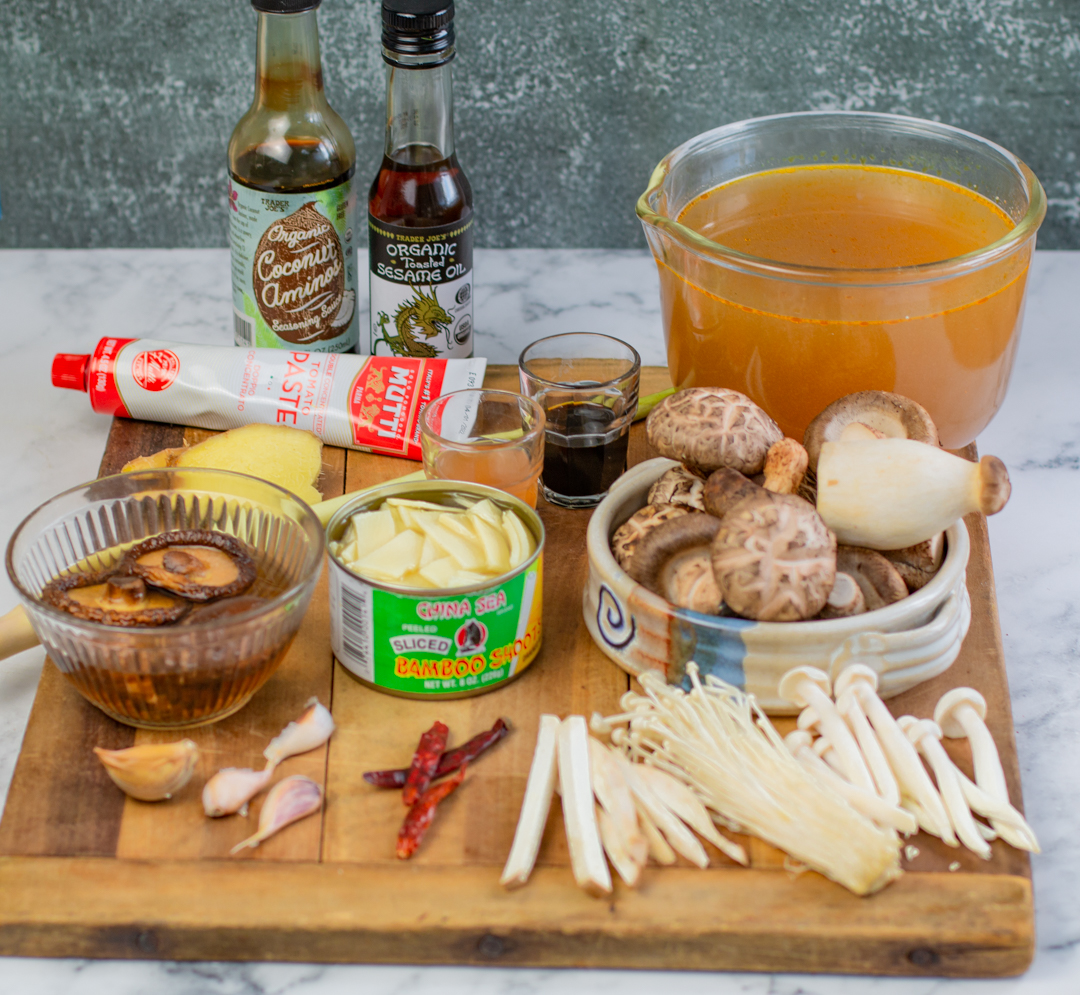 I'm using both Gluten Free Tamari (similar to soy sauce) and Coconut Aminos.
Did you know Coconut Aminos have about one-third less sodium? – Yet big on flavor.
Use both, or either one in the soup.
Some recipes do require many ingredients – this is one of them!
Each addition adds a layer of flavor for the best homemade soup ever… your time well spent!
Once you have your ingredients prepped, it will not take long until ready to serve!
I'm loving the Thai ingredients that take the soup to the next level.
Added are lemongrass, Thai chiles and Thai Basil.
Luckily, near me is a wonderful Asian grocer who sells Thai Basil year- round .
Thai basil has a sweet, anise quality whereas regular basil is found to be spicy and peppery. Can use regular basil too.
The Method:
Sauté the shiitake mushrooms, then add the dried soaked mushrooms (these add intense mushroom flavor!), carrots and bamboo shoots.
Garlic, ginger & lemongrass are added to the pot next, with tomato paste.
Followed by broth, vinegar, soy, coconut aminos, dried chiles and enokis mushrooms.
Cover now and simmer to blend all the flavors.
Time to thicken the soup with a cornstarch slurry – will thicken in one minute at a simmer! A little sesame oil is added for balance.
Garnishing is next! Soup gets poured into individual bowls and topped with silken tofu (love this!), basil leaves and fresh scallions.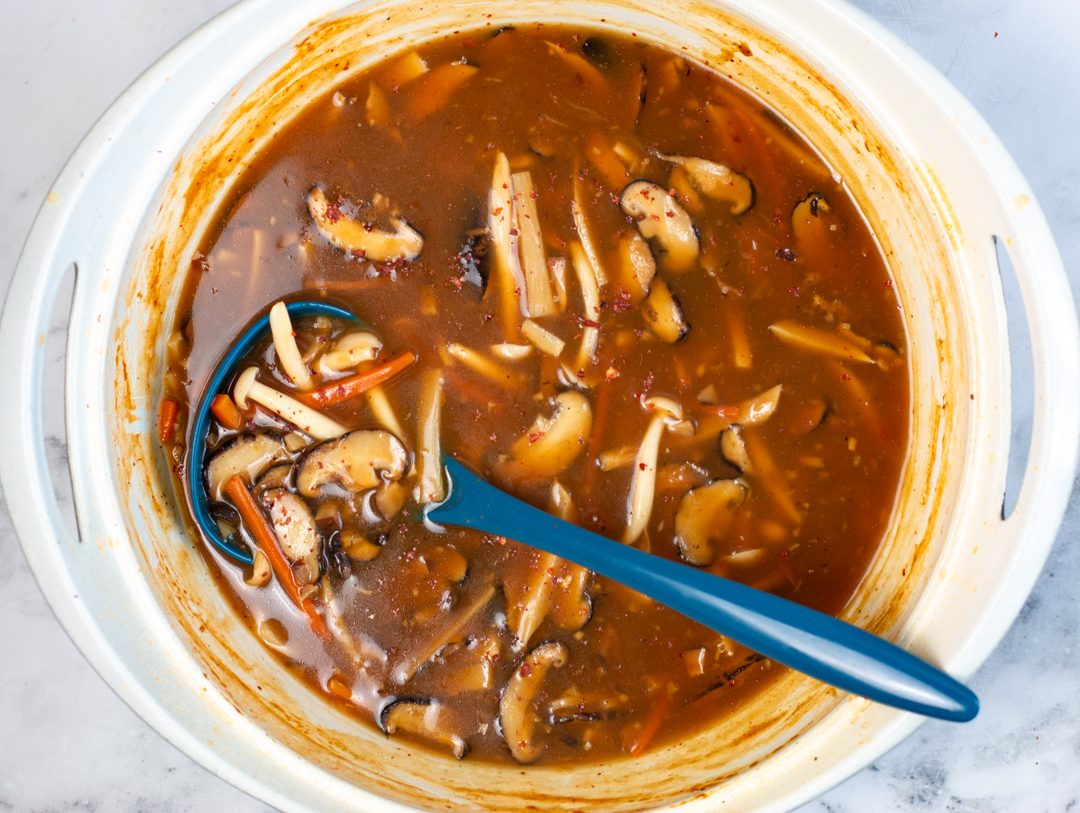 Lemongrass adds a nice complexity and fresh note and Thai chiles have a great spicy bite!
Add in the Cornstarch Slurry – Some Tips:
Stirring. Gradually stir cold liquids into corn starch until completely smooth. Continue to stir gently during entire cooking period. Stirring too vigorously may cause mixture to break down and thin out.
Temperature. Cook over medium-low to medium heat. Cooking over high heat can cause lumping.
Cooking time. After boiling 1 minute, the starch granules will have swelled to their full capacity, causing the mixture to thicken. Overcooking thickened soup may cause it to thin out as it cools.
Instead of pouring the slurry all at once, add gradually and check the consistency before adding more.
Health Benefits:
Low in calories and fat, yet rich in nutrients such as manganese, potassium and fiber.
Compounds in shiitake may help fight cancer, boost immunity, and support heart health.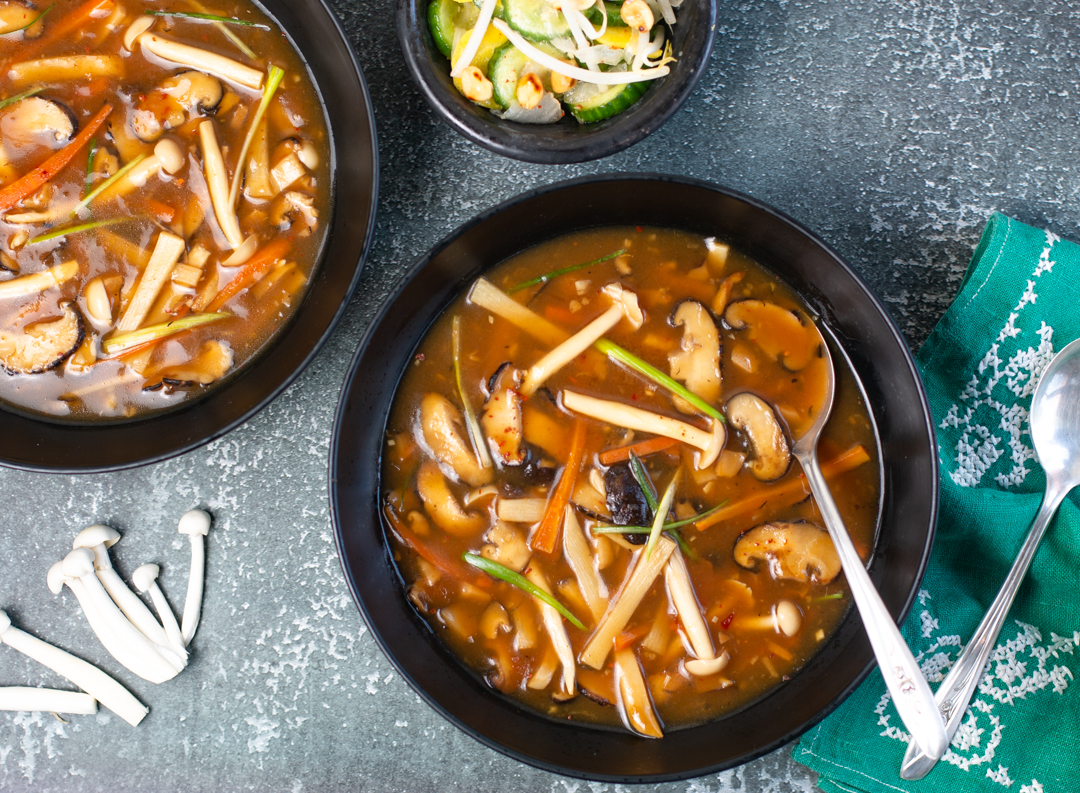 Love Soup- Making? See all the recipes: SPECIAL SOUPS
Enjoy making and slurping this wonderful soup at home!
Karen
Karen's Thai-Style Hot & Sour Soup
A Thai twist on the beloved Chinese soup - best made at home with the freshest ingredients! Tips on how to adjust the heat so it's just right! Totally worth your time... yummy! Gluten Free.
Print Recipe
Pin Recipe
Rate this Recipe
Ingredients
4

medium

dried shiitake mushrooms

(to soak and dehydrate) or dried wood ear mushrooms

3

cups

fresh shiitake mushrooms

cleaned, thinly sliced, about 5 ounces

1

tablespoon

neutral oil

such as expeller pressed safflower

1

medium

fresh carrot

peeled; julienned

4

ounces

bamboo shoots

from can, cut on half lengthwise

3

medium

fresh garlic cloves

peeled an minced

1

tablespoon

fresh ginger

peeled, finely grated

1

teaspoon

fresh lemongrass

inner whites, minced (optional but love the flavor)

2

teaspoons

tomato paste

5

cups

vegetable or chicken broth**

preferably homemade

2

tablespoons

apples cider vinegar

I use Braggs brand

2

tablespoons

soy sauce or tamari

(I use gluten free tamari)

1

tablespoon

coconut aminos***

1

teaspoon

dried Thai chilies*

or your favorite dried chili

3/4

cup

enoki mushrooms

ends timmed

4

tablespoons

cornstarch

to be mixed with 4 T. water; slurry

2

teaspoons

sesame oil

try a roasted variety

7

ounces

silken tofu

1/2 container, cut into thick strips

1/4

cup

fresh Thai basil leaves

washed & dried

1

tablespoon

fresh scallions

julienned
Instructions
Make the Soup:
Soak the dried mushrooms in very warm water. Leave to dehydrate and soften at least 30 minutes. Prep your ingredients.

In a large, heavy soup pot (non-reactive) add 1 tablespoon of neutral oil - set heat to medium-high. Add the sliced mushrooms and give a big stir to coat. Cook, stirring until golden around the edges, about 5 minutes.

Strain the soaked, dried mushrooms in a fine sieve; chop them 1/4" dice. Save the soaking liquid, you have the option of using it in place of some broth.

Add the soaked mushrooms, carrots and bamboo shoots with a pinch of salt, stir one minute.

Add garlic, ginger and lemongrass, stir 1/2 minute to blend the flavors. Add the tomato paste, stir in.

Add all the broth, vinegar, soy or tamari coconut aminos, dried chilies and enoki mushrooms.

Bring to a boil, then reduce to a simmer and cover the pot. Cook at just a simmer for 5 minutes to blend the flavors.

Taste the soup for seasonings! Need some heat? - add more dried chiles to your liking. Like it a tad more sour? - Add some fresh lime juice.
Thickening the Soup:
In a small bowl, add 4 tablespoons cornstarch with 4 tablespoons cool water. Blend well with a fork to make a cornstarch slurry.

Bring soup to a simmer. Add the slurry in a stream into the soup, stirring all the time with a wooden spoon. Simmer only one minute until thick and glossy. Take off the heat.
Serving & Garnishing:
Add 2 teaspoons of sesame oil to the soup and stir.

Serve in individual bowls topping with some silken tofu in each (hot soup will heat it), a portion of basil leaves and scallions.
Notes
*Some chilies are hotter than others. Start with a moderate amount - can always add more later! The soup is best a little spicy.
**Broths vary greatly in saltiness - taste as you add, see if you need salt or soy sauce if broth is salt-free. 
**Coconut Aminos: Coconut aminos is a dark-colored sauce that tastes similar to soy sauce. Instead of being made from soy, coconut aminos comes from the sap of the coconut plant and are soy-free and gluten-free (no soy or wheat.) Can interchange for soy sauce.
This recipe may not be reproduced without the consent of its author, Karen Sheer.
Nutrition Facts
Karen's Thai-Style Hot & Sour Soup
Amount per Serving
% Daily Value*
* Percent Daily Values are based on a 2000 calorie diet.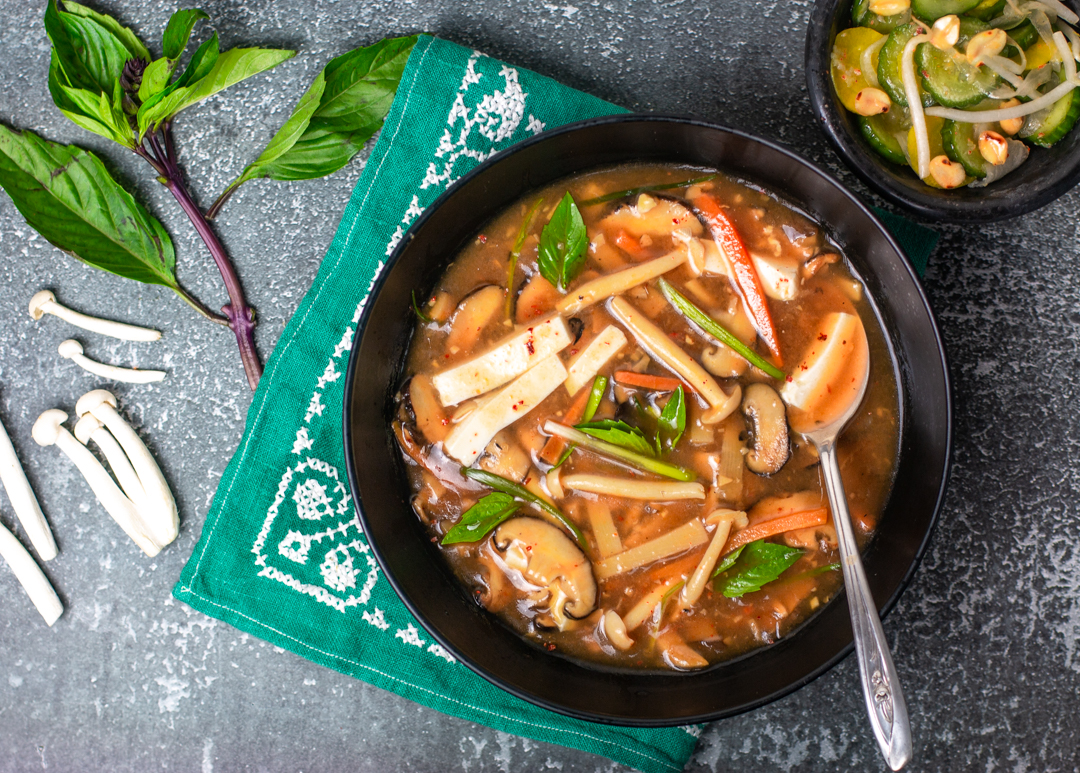 Karen Sheer