12 Beet Recipes You Will Love for Summer + NEW Quattro Colore Beet Salad
I can't get enough of the earthy-sweetness of Beets! Especially in summer when they are just pulled from the ground in a myriad of colors. 
They are healthy, easy to prepare –  adds a little color to your life.
A Simple Beet Salad Showing Off Their Natural Glorious Colors.
Four different colored beets are sliced with a pungent vinaigrette and pickled onions.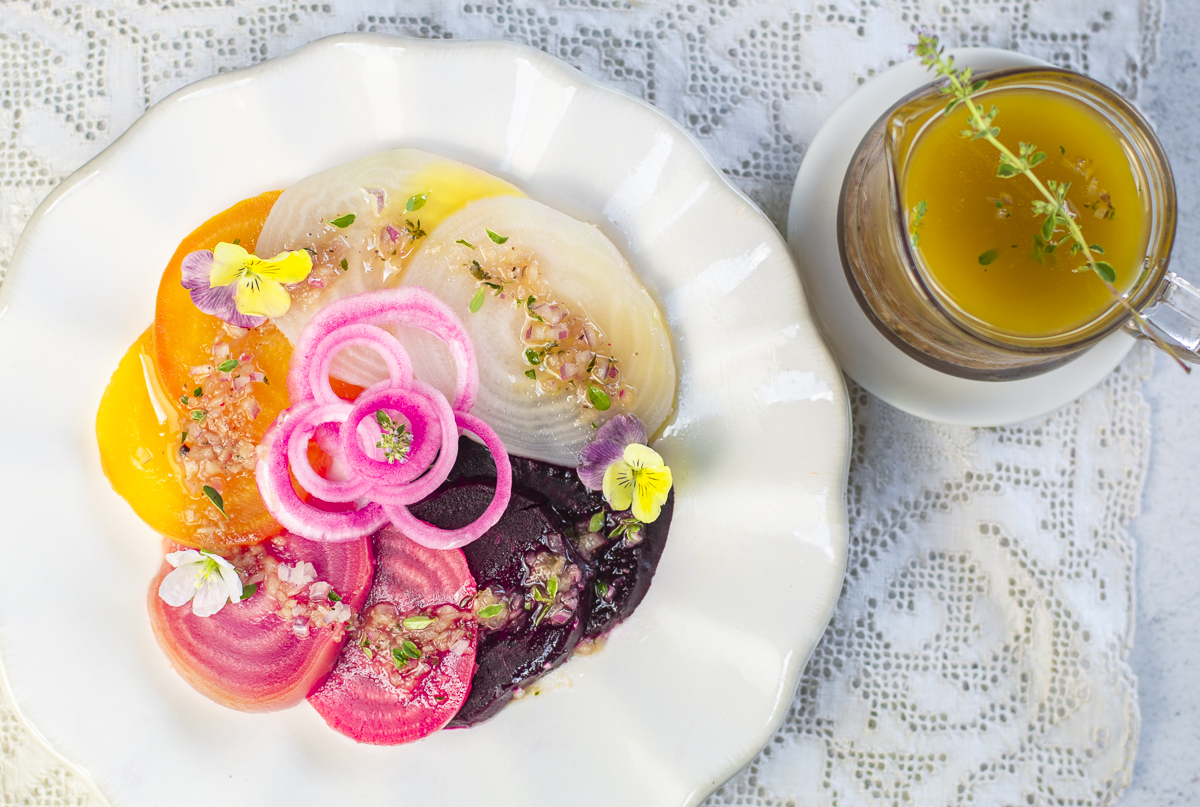 For the Quattro Colore Beet Salad – I steam the beets all at once in a steamer basket. The colors will not bleed like they would if you boiled them – covered in water.
I do recommend steaming beets until just cooked through and easy to slip off their peels to maximize their nutrition and flavor. Their concentration of phytonutrients, such as betalains, is diminished by more heat.
(Although I really love the flavor of roasted beets too – they are intensely sweet and cook for a longer time.)
Steamed, Roasted or Raw – the many ways to enjoy beets!
Shredded, diced or sliced in salads. Roasted until the sweetness concentrates, wood fired for a smokey essence, whirled with yogurt for a healthy dip, creamed with tahini for a dressing, pair with strawberries for an interesting salad, form into savory  cakes with chickpeas, mint and lemon zest, cure gravlax with beets for a surprising color or pickle crunchy turnips with beets.
Here is My Collection of My Favorite Beet Recipes: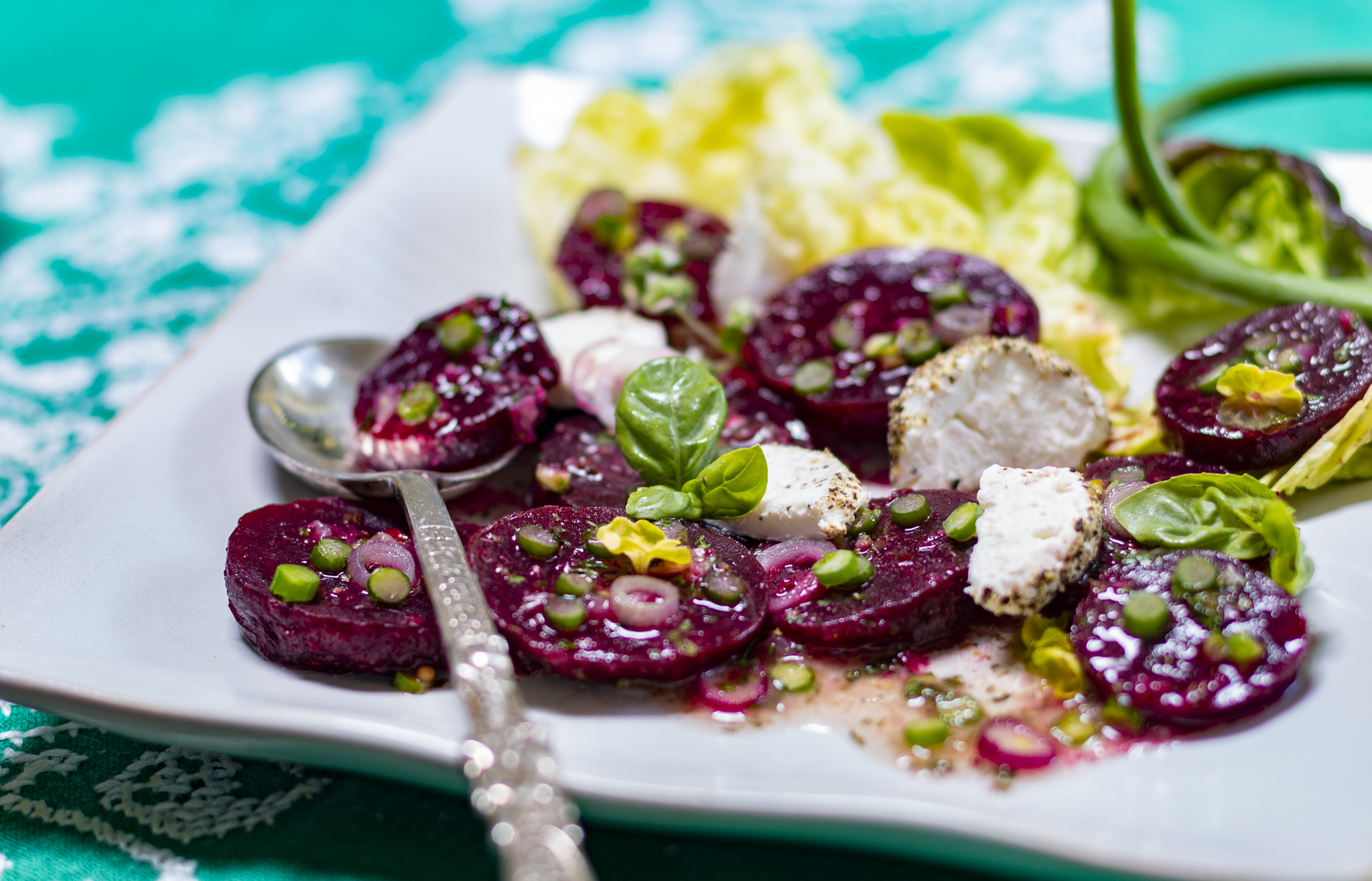 A Simple Recipe using Ingredients from a local Farmers' Market. It's easy to steam beets! Add to an assertive and zesty vinaigrette with Green Garlic Scapes; the curly shoot of the garlic bulb… they're like scallions with a garlic kick!
Healthy and Oh-So Colorful! A Zesty But Light Sauce enriches many recipes and perfect with my Grilled Chicken Skewers.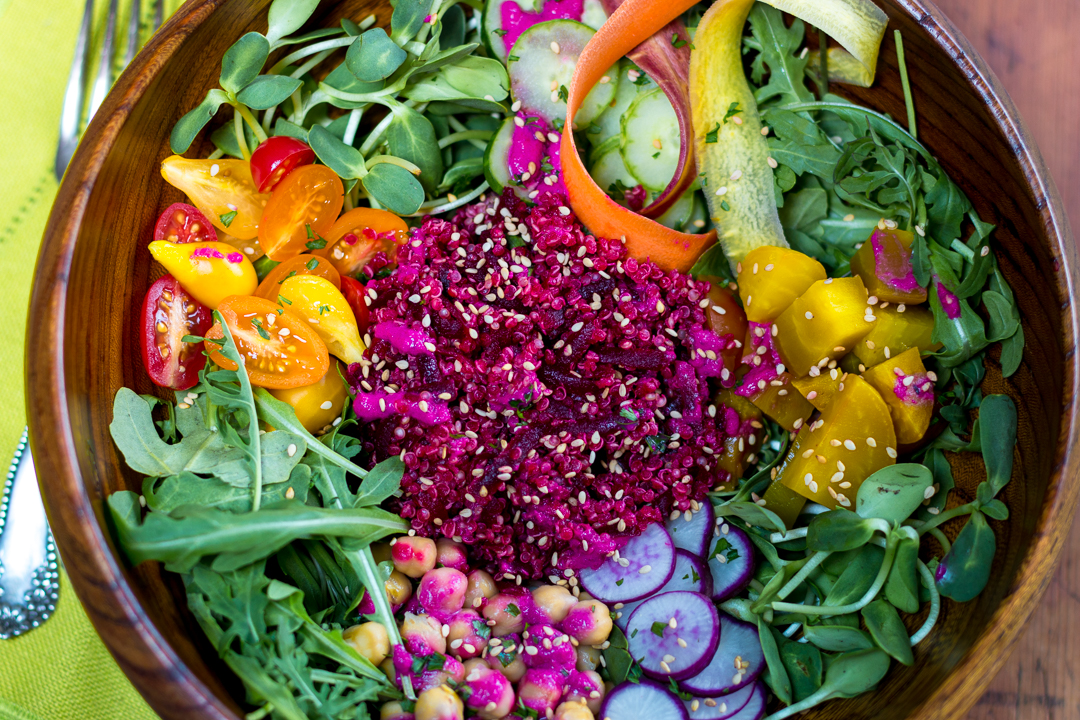 Buddha bowls are trending for good reason – they're one bowl meals packed with grains, veggies, protein, a homemade dressing and finished with seeds or nuts. Use ingredients you have on hand, love ~ or follow my delicious recipe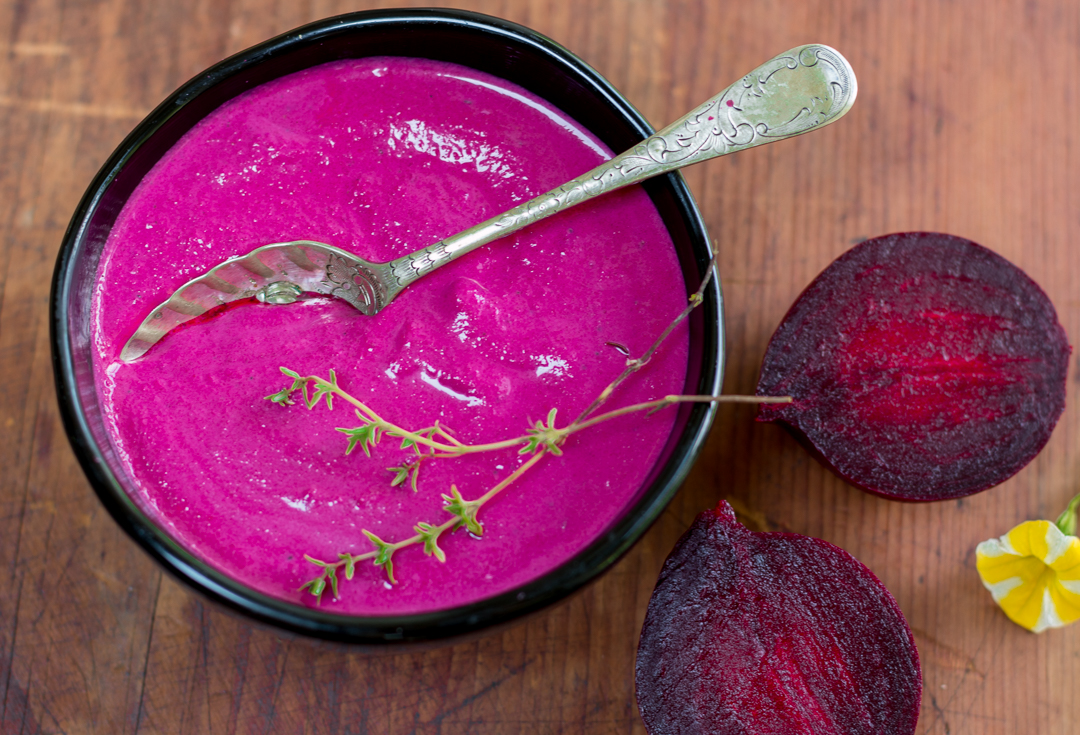 A creamy tart-nutty dressing with a gorgeous pink hue. Healthy and a great addition to a composed salad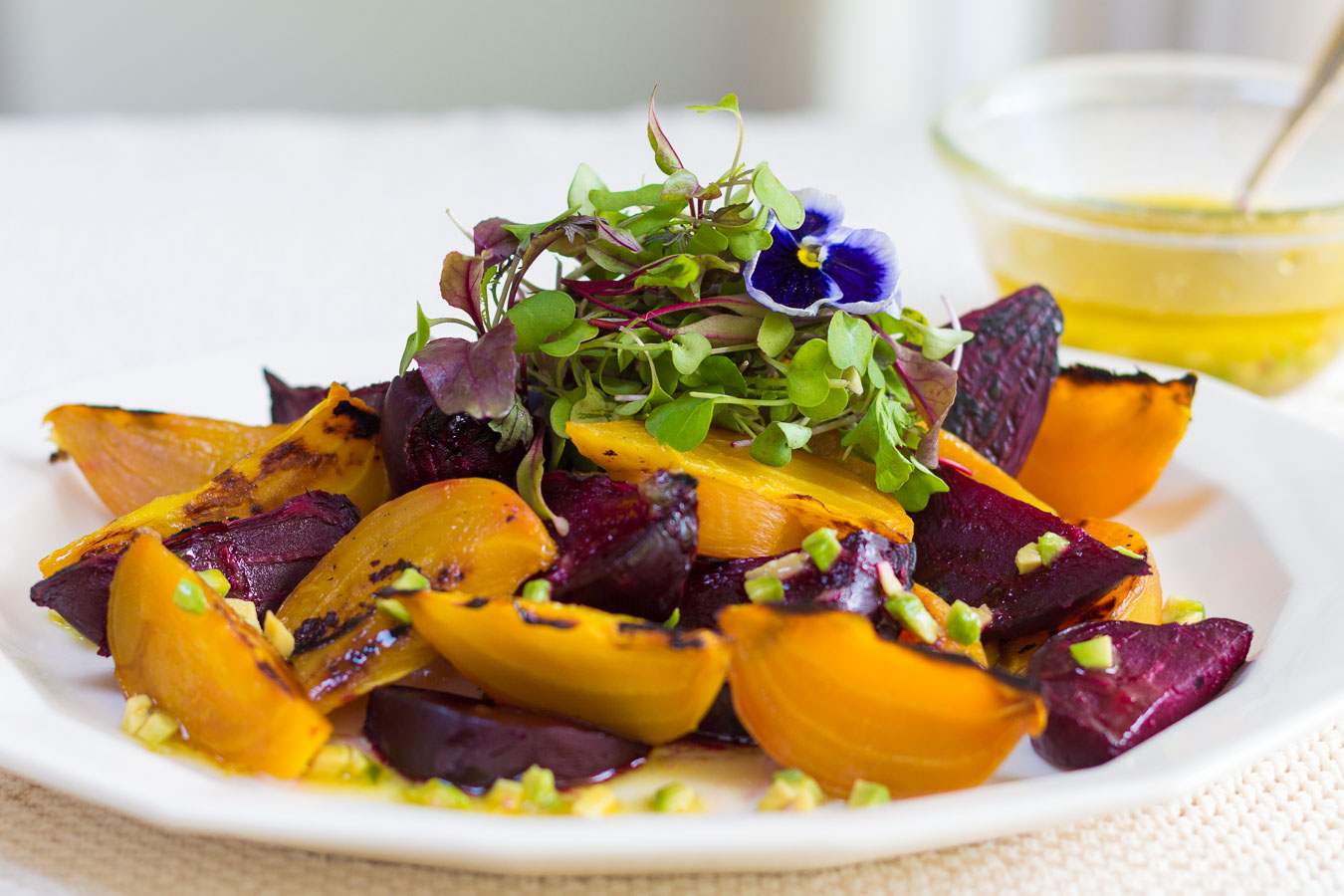 Simply Delicious ~ Wood Fired Infused Smoked Beets easily prepared on your grill. Finish the Salad with Petite Greens and a Zesty Avocado-Citrus Vinaigrette.
A summer bonanza of colors and flavors! Use the beet greens to make an earthy and delicious vinaigrette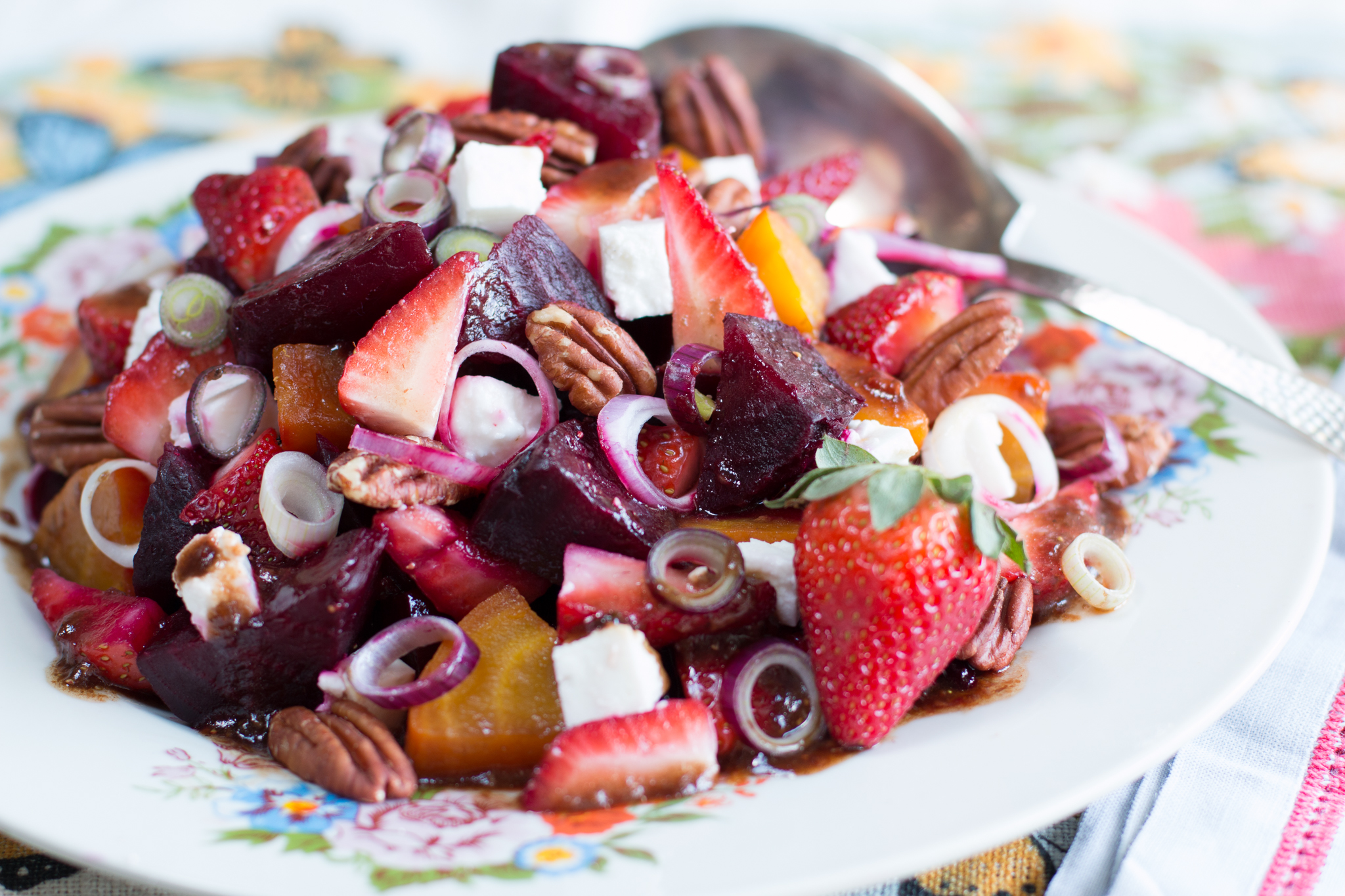 This vibrant salad is crave-worthy and perfect for entertaining!
Ruby and Golden Beets team with Feta Cheese, Scallions & Pecans dressed with an Strawberry-Honey Balsamic Vinaigrette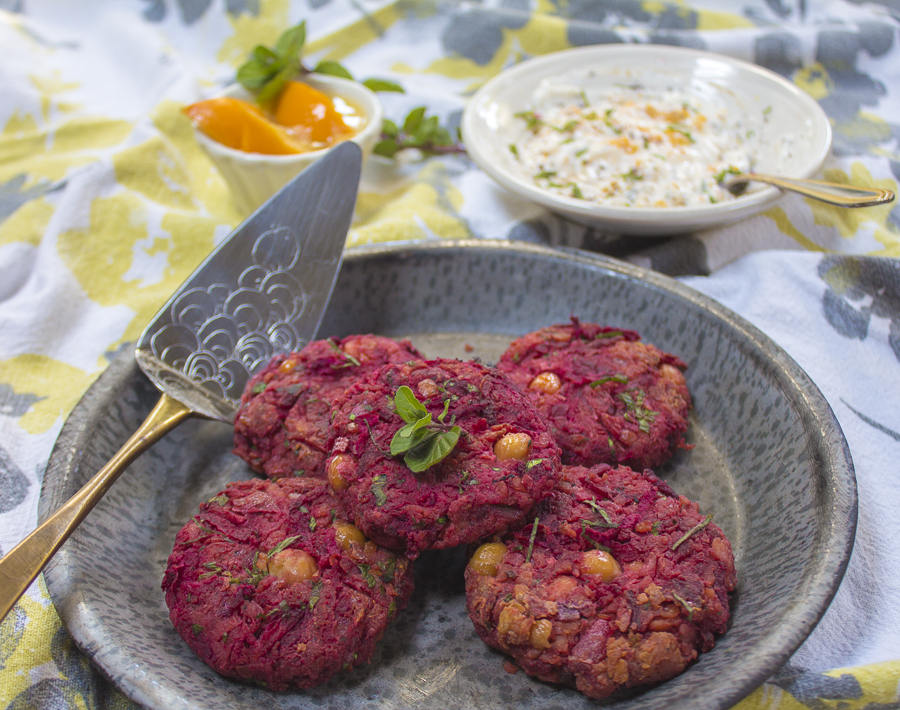 Here's a updated savory vegetarian chickpea – beetroot cake. Perfect as a meal, or the ultimate appetizer.
Serve with Zesty Yogurt Dip with Preserved Lemons and Mint.
Gravlax is quite simple to prepare – brined with Vodka, Citrus Juices, Grated Beets, Dill, Sugar, Salt and Pepper. Weighted down, the gravlax is ready in two days – slice when ready to enjoy.
Delightful little pink Middle Eastern Pickles – great crunch and ready in minutes… fabulous punch of color!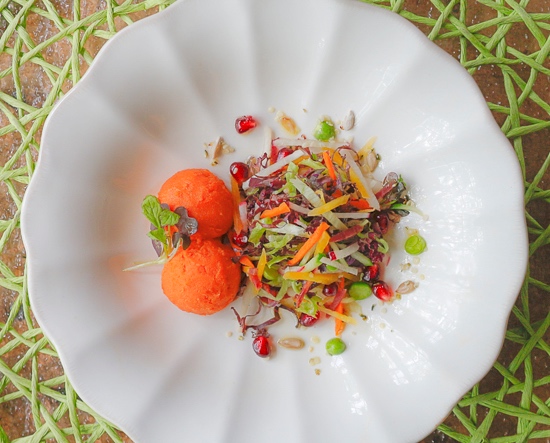 Produce is coming into its peak season – indulge in nature's finest offerings with this super hydrating, super crunch salad! Pair with super-refreshing Carrot Sorbet!
On a recent visit to Rhode Island – I met the owner Matt of Luckyfoot Ranch in Saunderstown, Rhode Island at a farmers' market where he was showing off his bountiful collection of vegetables. So impressed, I visited his farm – which practices Organic Guidelines.
These beets for this latest salad are from his farm – and delightfully delicious!
All about Beets:
Red Beets: Research has found that betalains (which give beets their rich red color) have powerful antioxidant and anti-inflammatory effects. Look for 'Detriot Dark Red' – an heirloom variety or 'Bulls Blood.'
White Beets are the most lesser-known beets, though they are slowly growing in popularity at farmers' markets. These beets do not have any betalain, which is the pigment present in both red and gold beets that gives them their vibrant color and earthy flavor. As a result of this, white beets taste very different from most other beets and have higher sugar content. This makes them sweeter tasting than red and gold beets.
Golden Beets contain less betalain than red beets, but more than white beets, which means they have a flavor that lies somewhere between the two. Have a sweet flavor too – more mellow and a little less earthy.
Chiogga: candy cane striped Beets:  These beets are named after Chioggia, a coastal town in Italy that was renowned for growing an abundance of these interesting beets. Chioggia beets are favored for their striped firm flesh, which has circles of deep red and white. They are best used when sliced raw, as their colored stripes can bleed and become less pronounced when cooked.
The length of time you store red beets can also affect their flavor; they are well known for having a long shelf life and store well, gaining sweetness but losing tenderness as they age in storage.
Sugar in Beets – beets do have more sugars than other vegetables, yet they are high in fiber, which traps the sugar and slows its absorption into the bloodstream.
How about GMOs : The beets we eat (known as table beets) are not a genetically modified crop. However, the vast majority of sugarbeets—which are grown to make white sugar—are GMO (and I buy only pure cane sugar; non GMO.)
Enjoy the flavors and colors of Summer!
Karen
Quattro Colore Beet Salad with Shallot-Thyme Vinaigrette
A Simple Beet Salad Showing Off Their Natural Glorious Colors.Four different colored beets are sliced with a pungent vinaigrette and pickled onions.
Print Recipe
Pin Recipe
Rate this Recipe
Ingredients
1

large

red ruby beet

1

large

golden beet

1

large

white beet

2

medium

chioggia beets

(candy cane striped)

1/2

cup

Shallot-Thyme Vinaigrette

(see recipe)
Instructions
Make the Shallot-Thyme Vinaigrette (see recipe)

Set a steamer basket in a large 3 quart pot. Add water just to the bottom of the basket.

Trim off beet leaves (save for a sauté) scrub them, and add to the steamer basket.

Cover, bring the water to a boil, then turn the heat down to medium-low.

Cook until beets are tender and just cooked through - the Chioggia beets will be cooked first - remove them to the sink. 20 minutes for the Chioggia; 40 - 50 minutes for the others (will greatly depend on their size.)

Cook the rest of the large beets until tender - prick with a skewer to determine doneness.

Add all to the kitchen sink.

Peel all of the beets when cool enough to handle. When cooked, the skins will slip off, pushing with your fingers.

Slice the beets thinly. Beware the red ones stain the other colors - HINT: slice these on a seperate cutting board!

Arrange the beets decoratively on individual plates by color, or on a large decorative platter.

Drizzle a good amount of Shallot-Thyme Vinaigrette all over while still a little warm (will grab the flavors.) Serve with Pickled Onions on top (see recipe below.)

Top with edible flowers. Goat Cheese and Feta Cheese pairs well too with the salad - cut into chunks and add to the top with extra thyme leaves.
Notes
See recipe:
Shallot-Thyme Vinaigrette 
Quick Pickled Onions: Slice to a 1/2 cup - large  (jumbo) scallion bulb into rings or white onions 1/8" thick. Add to a bowl. Add a few slices of cooked red beets, 3 tablespoons of apple cider vinegar - a few pinches of sea salt & pure cane sugar. Stir and let the beets stain the onions. Let stand at room temperature 20 minutes. Remove beets, and brine and use onions. Can refrigerate for longer storage. 
This recipe may not be reproduced without the consent of its author, Karen Sheer. 
Nutrition Facts
Quattro Colore Beet Salad with Shallot-Thyme Vinaigrette
Amount per Serving
% Daily Value*
* Percent Daily Values are based on a 2000 calorie diet.
Karen Sheer