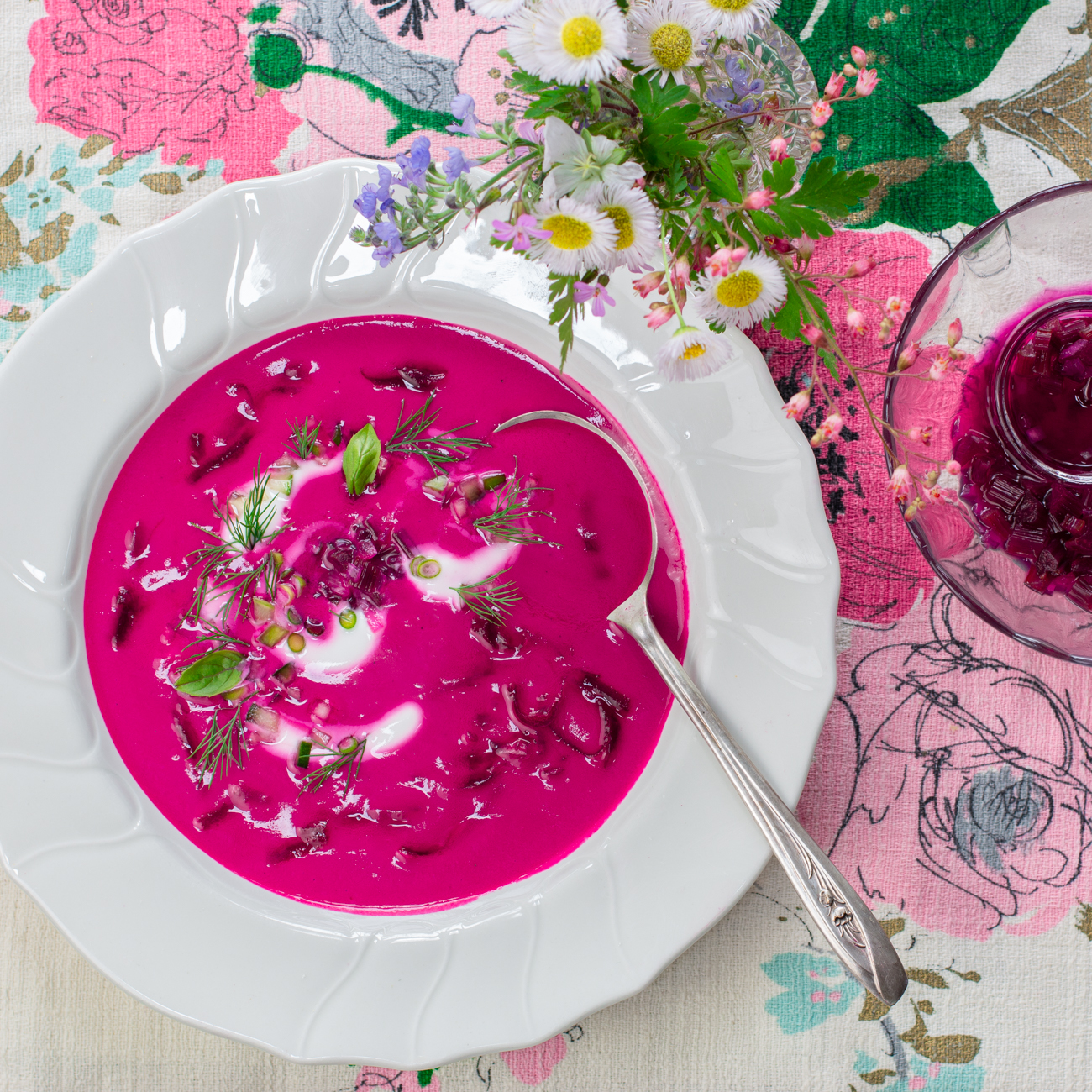 Cool Beet Soup with Kefir and Pickled Beet Stems
A Delicious Cold Blender Beet Soup with personality! Steam fresh beets – then whirl with healthy Kefir and seasonings – it's that easy!
Serve with garnishes that ARE ELEMENTS OF THE SOUP!
Garnishes not only look pretty – they are elements of the soup!
Topping with Fresh Dill, Sliced Garlic Scapes (so Spring), Pickled Beet Stems , Basil Leaves and a good swirl of Greek Yogurt
Keeps the color BRIGHT MAGENTA – add the garnishes when serving… if added to the blender, they would dull the color
Kefir – This popular fermented milk product is widely touted for its health benefits
Kefir contains millions of probiotics, which are bacteria with potential health benefits. It's also low in lactose and packed with vitamins and minerals that are good for your body. Scientists have found a range of possible health benefits of kefir, including improved cholesterol, blood sugar control, and gut health.
High in nutrients and probiotics, it is very beneficial for digestion and gut health. In fact, many people consider it to be more nutritious than yogurt
Kefir originated from parts of Eastern Europe and Southwest Asia. Its name comes from the Turkish word "keyif," which refers to feeling good after eating
How it's Made: Over approximately 24 hours, the microorganisms in the kefir grains multiply and ferment the sugars in the milk, turning it into kefir Then, the grains are removed from the liquid and can be used again
The starter culture grains' lactic acid bacteria turn the milk's lactose into lactic acid. This is what makes kefir taste sour like yogurt — but it has a thinner consistency
One cup contains 9 grams of protein and 104 calories
Packed with Vitamins & Minerals: calcium, phosphorus, magnesium, riboflavin, Vinamin B12 and Vitamin D

 

Yogurt is the best-known probiotic food in the Western diet, but kefir is actually a much more potent source
Substitute for Kefir: a mix of 75% yogurt and 25% milk (but try Kefir!)
Chose beets that are heavy for their size that are firm; with the greens still attached that are brightly colored and fresh looking 
Plenty of Beet Nutritional Benefits:

Beets are naturally sweet; a serving of cooked beets, which is 1/2 cup, has a glycemic load of 6 (low)
To a beet-lover, beets taste like earth: a sort of rich, earthy flavor – some say with a hint of floral
Beets are one of the only root crops that you can eat raw
One cup of cook beets contain less than 60 calories
The root of this crop is not its only edible: the leaves and stem are also edible and can be eaten raw too
Beets get their jewel-like hue from betalains, a type of natural plant pigment that has antioxidant and anti-inflammatory properties.
Beetroot provides a wide range of possible health benefits, such as reducing blood pressure, improving digestion, and lowering the risk of diabetes
This root vegetable has many helpful plant compounds that reduce

 

and protect cells from damage

 

They are also rich in folate (vitamin B9) and contain a good dose of fiber

 

Did you know: Several studies suggest that dietary nitrates like those found in beets may enhance athletic performance
Elements of the Soup:
Make the Pickled Beets Stems – you will use the juices in the soup purée, and the flavorful stems to top the soup

Steam the large beets – keep nutrients locked in, better than boiling

Peel the beets – after 45 minutes, skins will come off easily with the back of a knife

Grate the beets coarsely when cool enough to handle

Add the beets (leaving 1  1/2 cups to add later) to the carafe of a blender with the Kefir and seasonings – blend smooth

Add remaining grated beets; chill the soup until cool

Pour into individual bowls and top with a Yogurt Swirl; garnish with Pickled Beet Stems, Garlic Scapes, Dill and Basil Leaves – Enjoy!
A healthy diet is a colorful diet!
The soup is a good keeper and will last, stored in the refrigerate for a week.
The perfect "WOW" soup for entertaining in warm months.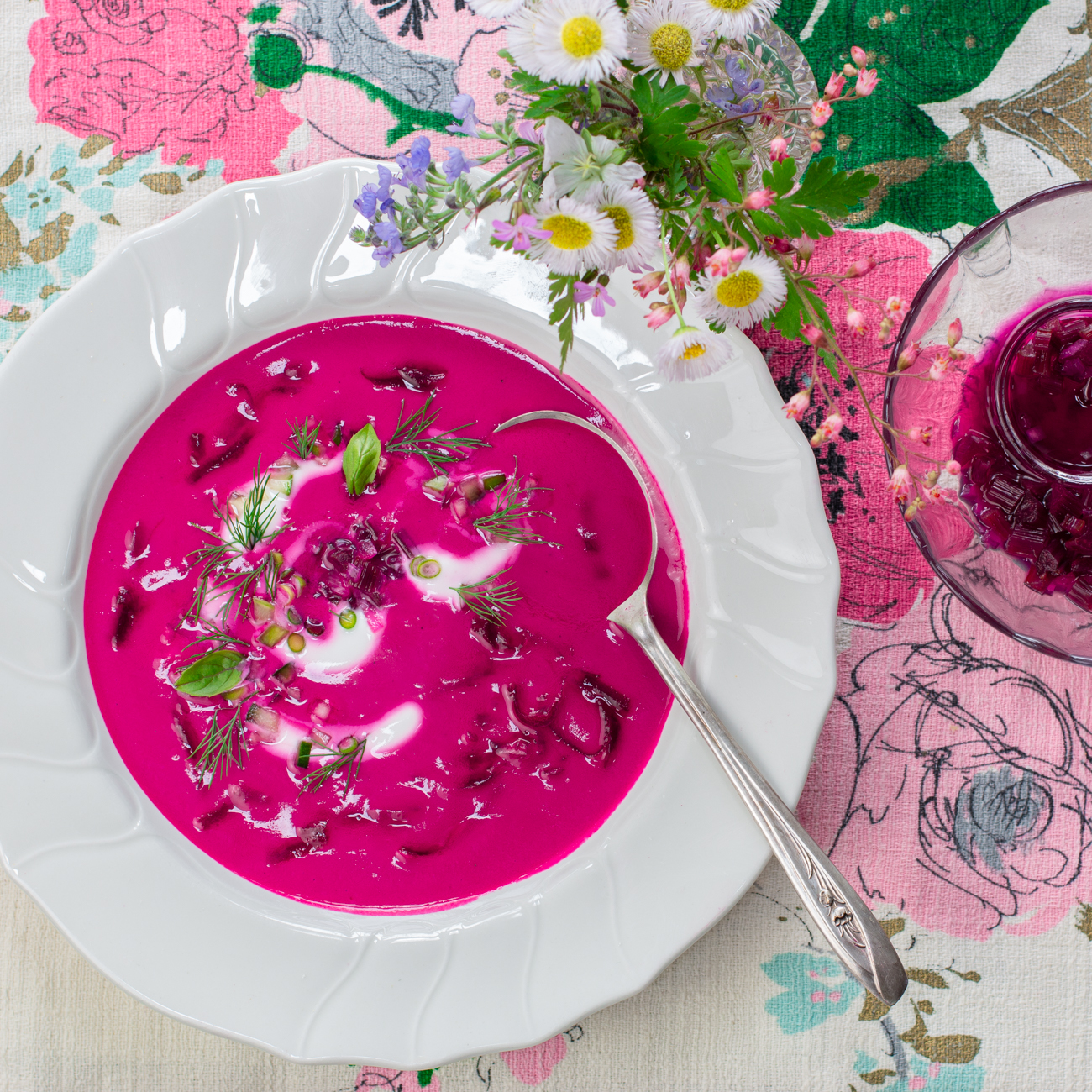 I hope you will make and cherish this recipe.. cool and refreshing
Tell me what you think!
Karen
Cool Beet Soup with Kefir and Pickled Beet Stems
A Delicious Cold Blender Beet Soup with personality! Steam fresh beets - then whirl with healthy Kefir and seasonings - it's that easy! Serve with garnishes that ARE ELEMENTS OF THE SOUP!
Servings:
6
large servings, or 8 smaller ones
Print Recipe
Pin Recipe
Rate this Recipe
Ingredients
2 1/2

pounds

fresh ruby beets

3 large

3

teaspoons

fresh garlic

peeled and coarsely chopped

1/4

teaspoon

sea salt

1/4

teaspoon

freshly cracked black pepper

3

tablespoons

juices from Pickled Beets

(recipe below)

3 1/2

cups

Kefir*
Mini Ingredients that are Garnishes:
1/3

cup

cucumbers

small dice (use local cucumbers from a framers' market)

2

tablespoon

garlic scapes

thinly sliced (can substitute fresh chives or scallions)

3

tablespoons

fresh dill

1

tablespoon

small basil leaves

4

tablespoons

Pickled Beet Stems

(Recipe below)

3

tablespoons

greek yogurt

(will thin with milk)
Instructions
Make Pickled Beet Stems (recipe below) - Will use the juice for the soup; stems for garnish.

Scrub beets; save stems. Steam beets in at least 2 inches of water for 45 minutes, will feel softened when pierced with a knife. (Check to make sure the water has not evaporated.) Under running water peel beets - the skins should fall off with a nudge of the back of a small knife.

Cool slightly, coarsely grate the beets - will have 4 cups of grated beets.

To a blender add 2 1/2 cups grated beets, garlic, sea salt, pepper, 3 tablespoons of pickled beet juice (from pickled beets) and Kefir. Whirl from low to high speed for one minute until well blended.

Add to a bowl to fit, fold in 1 1/2 cups remaining grated beets. Taste for seasonings. Refrigerate the soup base until cold, at least 3 hours.
To Serve:
Portion the soup into individual bowls. Swirl 1 teaspoon milk (or water) into the greek yogurt - add a portion on top of each bowl of beet soup in a decorative, swirled fashion.

Add the remaining garnishes on the soup: cucumbers, garlic scapes, dill, basil leaves and pickled beet stems. Serve and enjoy.
Notes
Pickled Beet Stems: Add 2 tablespoons rice vinegar, 2 tablespoons pure cane sugar, one tablespoon diced shallots, one slice fresh ginger and 1/8 teaspoon sea salt in a small skillet. Bring to a boil - add 1/3 cup cleaned beet stems, in small dice. Reduce to a simmer and cover, cook only three minutes. Remove from heat and cool. Use the liquid to add to the soup in the blender - use drained pickled beet stems to garnish the soup. 
Alternately, if you do not make the pickled beet stems - add 1 teaspoon sugar and 2 teaspoons vinegar (red wine or rice) to the blender. Taste for seasonings.
*Kefir - is a cultured, fermented milk drink with gut-supporting probiotic bacteria. Can substitute yogurt thinned with milk. 

Substitute for Kefir: a mix of 75% yogurt and 25% milk (but try Kefir!)
This recipe may not be reproduced without the consent of its author, Karen Sheer.
Nutrition Facts
Cool Beet Soup with Kefir and Pickled Beet Stems
Amount per Serving
% Daily Value*
* Percent Daily Values are based on a 2000 calorie diet.
Karen Sheer