A summer bonanza of colors and flavors! Use the beet greens to make an earthy and delicious vinaigrette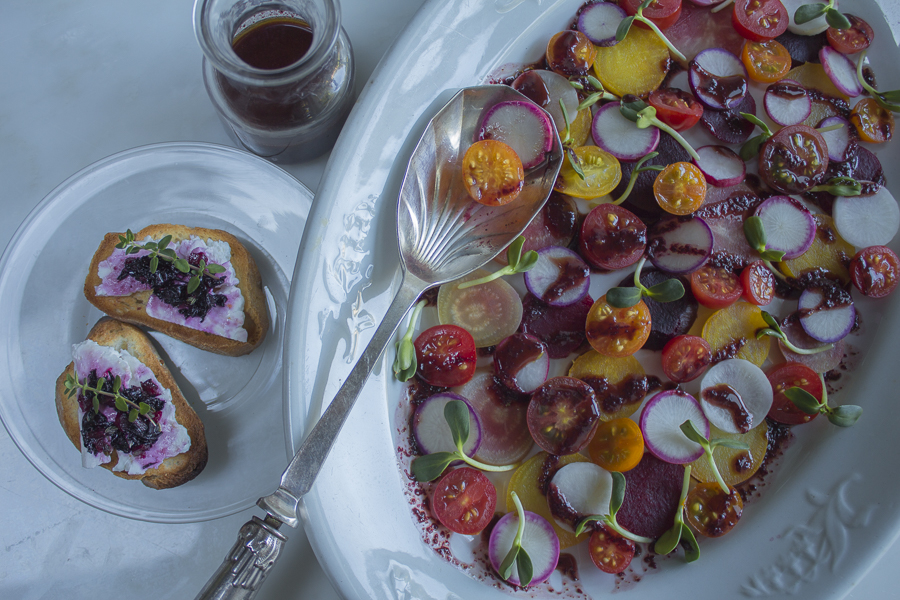 A kaleidoscope of colors makes this salad a visual stunner!
Such simple ingredients join together – each one with a different flavor profile.
I chose multi colored beets (really digging the purple, Bull's Blood heirloom variety), breakfast radishes (with Easter type colors), and heirloom multi-colored cherry tomatoes at my local farmer's market. Visit one for a selection of wonderful heirloom varieties, which are at their peak of flavor right now.
Using these beautiful, mulberry colored beet greens was a priority – loaded with nutrients. Beet greens are young, leafy-tops of the beetroot plant. These carry more minerals, vitamins and health benefiting pigment antioxidants than its root. They are at their best while the plant is young, and its stems are soft and tender.
So, I broke out a sauté pan and stirred together onion, garlic, extra virgin olive oil and some seasonings with the chopped been greens. This sauté I used to make a delicious Beet Green Vinaigrette (see recipe), with an earthy-sweet flavor and gorgeous hue.
With the remainder,  I topped garlic rubbed crostini slices with goat cheese, beat green sauté and some fresh thyme. I love the way the sauté bleeds into the feta!
Salad & Crostini ~ perfect together … a wonderful summer spread.
Sunflower sprouts are hearty with a nutty essence – my favorite sprout! The perfect topping on the salad, adds texture and a pop of color.
Enjoy the simple pleasures of local summer ingredients,
Karen