My Favorite Shrimp Recipes & NEW: Homemade Panko Popcorn Spiced Shrimp (they're baked!)
Shrimp is the most popular seafood! For good reason ~ they taste so good, are affordable and cook quickly, making meal preparation easy!
Pictured: Homemade Panko Popcorn Spiced Shrimp. Crispy, Crunchy and Drenched in Homemade Panko Crumbs ~ these delicious shrimps are baked on a rack, not deep fried.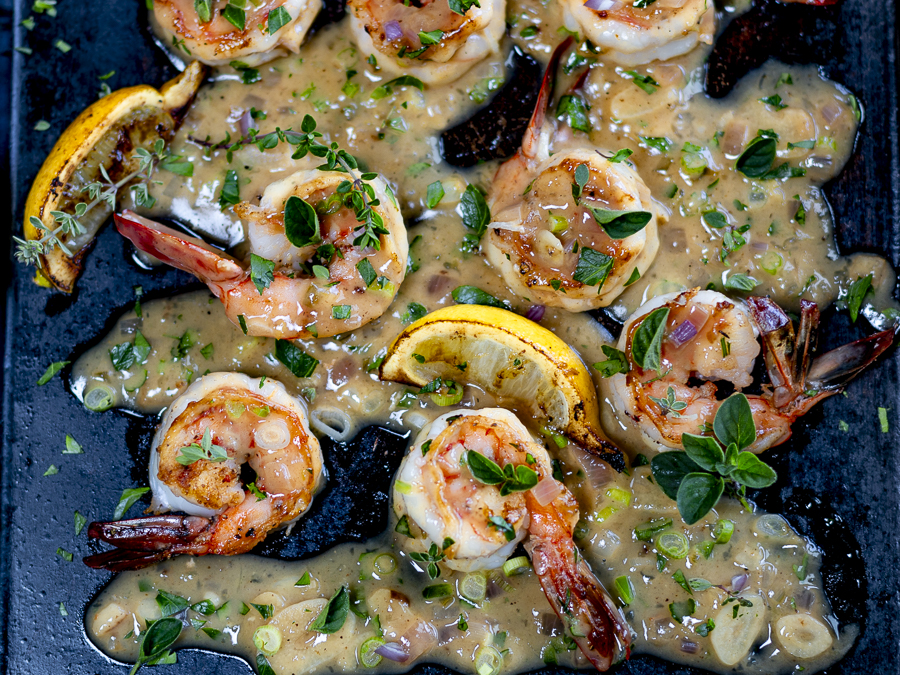 All the buttery, garlicky and lemony flavor with a sprinkling of fresh herbs in a lighter sauce you can make in minutes!
What's different about this recipe?
The sauce has been "lightened-up" ~ which means ALL OF THE FLAVOR with less calories and fat; less butter.
How did I accomplish this?
The quick answer is I have added a cornstarch slurry (equal amounts cornstarch and water) to the sauce to thicken – then swirled in a moderate amount, not too much of butter in the last step.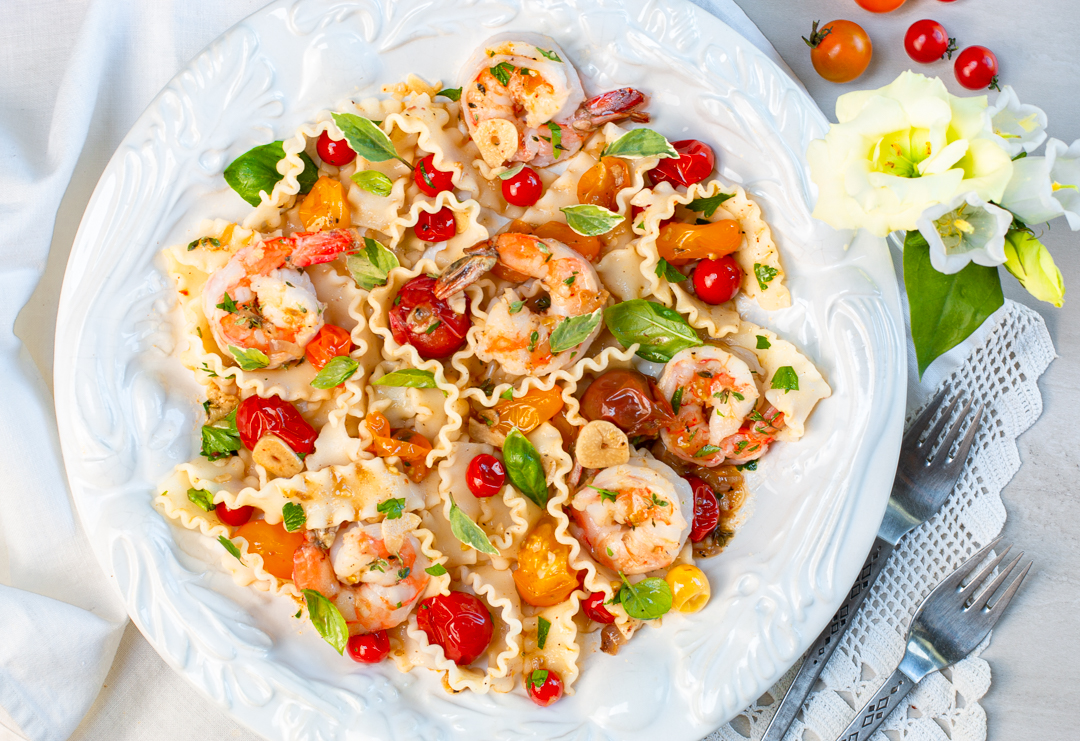 One of my all-time favorites! Create a Quick Sauce with Local Cherry Heirloom Tomatoes to Toss With Pasta and Shrimp.
Tomatoes "burst" – fall slightly apart with all of their natural sweet juices. Garnish with plenty of Basil Leaves.
Skewered Shrimp and subtly spicy Spanish Padrón Peppers are simply grilled, inside or out with a spiked Compound Butter and topped with a Roasted Pepper Salsa. Padróns are similar to their cousin, Shishito peppers, an East Asian variety.
A Simple Skillet Dish with Big ZESTY Flavors – perfect for a weeknight meal, special enough for company. Meaty and silky Jumbo Shrimps – dusted with Chili Seasoning are tossed with plenty of Blackened Green Beans and a Zesty Blood Orange Butter Sauce.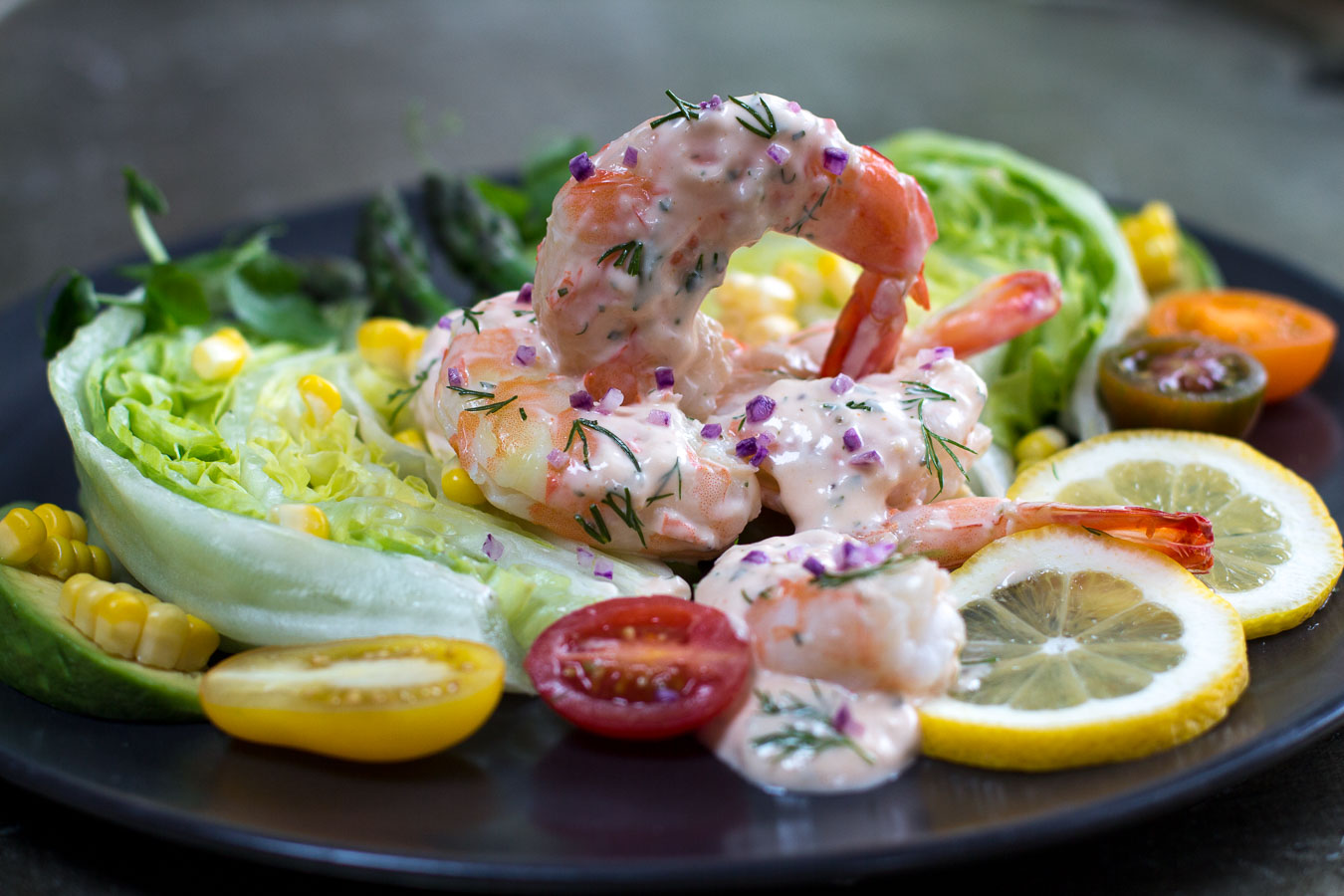 I add this recipe often – for today's palate; healthy and refreshing!! A Comeback for a Classic Dish! This fresh, seafood-rich trendsetter recipe of the early 20th century takes on a modern flair with Fresh (not frozen) Pink Shrimp and a zippy Louis Sauce.  
These shrimps are coated with a SPICY glaze and sesame seeds. Marinate the shrimp for 20 minutes then grilled in a cast iron skillet. Add a Citrus Chili Glaze full of orange, honey and chili flavors. See my tips to transform these shrimps into a Light Spa Salad!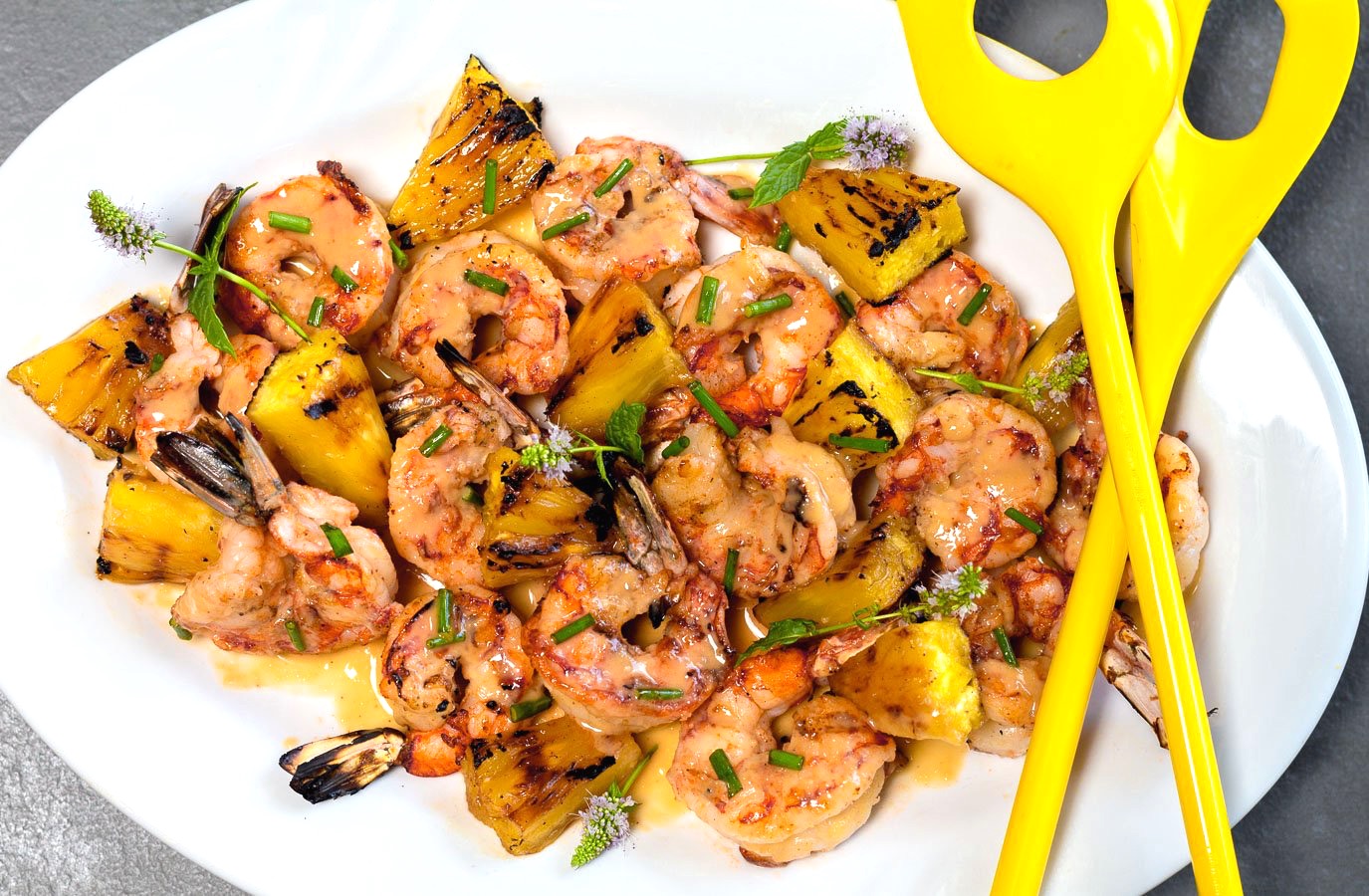 A Quick Healthy Summer Meal Served Hot Off the Grill. Make the Zesty Gingery-Miso Dressing ahead for a speedy recipe. Pineapple is wonderful grilled and adds a natural sweetness to the dish. You will use my Gingery-Miso Dressing again and again! 
A skillet dish with an amazing flavor combination – healthful and colorful. Shiitake "Bacon" is a game changer – my tasters said taste just like the real thing… but vegan! Florida Shrimp with Charred Broccolini, Purple Peruvian Potatoes (or your favorite grain) with Shiitake "Bacon" and a Brown Butter Garlic Drizzle ~ garnished with Fresh Chives.
If you want to avoid additives and prioritize freshness, buy frozen shrimp with the only word on the ingredients list being "shrimp." At many supermarkets, the "fresh" shrimp at the counter are likely to have been previously frozen anyway.
Sodium Tripolyphosphate is a versatile chemical it is often used as a preservative in seafood like shrimp and scallops to "help retain…tenderness and moisture during storage and transport." STPP can also improve the physical appearance of seafood and retain water to increase the weight, and therefore cost, of the product. It is also used in cleaning products, detergents, soaps, paints, ceramics – UGH!
Do not purchase these shrimp with ingredients:  Shrimp; Salt; Sodium Tripolyphosphate (to retain moisture)
For instance, Whole Foods sells Gulf Wild Caught with one ingredient: Shrimp! Buy these. (Also nice, Whole Foods Key West Pink Shrimp.)
Is Sodium Tripolyphosphate safe for consumption?
Well, the FDA says it is GRAS – (generally rated as safe) YET for some people, sodium phosphate may be used to prepare the bowel prior to colonoscopy.
I have read: high levels of phosphate may elevate mortality rates for the general public, as well as for those with kidney disease and cardiovascular disease.
So, I never buy shrimp with this additive. 
Bottom line SKIP IT! Buy frozen shrimp with ONE Ingredient… SHRIMP!
Enjoy my favorite Shrimp Recipes!
Let me know what you think!
Karen
Homemade Panko Popcorn Spiced Shrimp - they're baked!
Baked, Crunchy & Irresistable! Dipping into a Lemony- Garlicky Aioli for some zesty goodness. Follow this method for a delicious snack or meal.
Print Recipe
Pin Recipe
Rate this Recipe
Ingredients
1

pound

large jumbo tiger shrimp

peeled and deveined
Marinade for Shrimp:
1

large

egg

I use pasture raised

1

teaspoon

greek yogurt

plain

1/2

teaspoon

cajun seasonings

see my recipe

1/4

teaspoon

sea salt
For the coating:
1 1/2

tablespoon

unsalted butter

melted, I used Kerrygold (no natural flavoring)

2/3

cups

panko crumbs

see below: How to Make Panko Crumbs from Japanese Milk Bread

1/2

teaspoon

cajun seasonings

1/4

teaspoon

sea salt

1/2

teaspoon

neutral oil

(for brushing the wire rack)

1

recipe

Karen's Lemony Aioli Dipping Sauce

see recipe
Notes
To make Homemade Panko Crumbs:
Take 2 slices of Japanese Milk Bread, trim off the crusts and cut in half.
Place in a ziplock bag and freeze until very firm, at least 4 hours.
Using your hand grater - medium hole; grate the frozen bread using long strokes onto a wax paper sheet underneath. Spread  the crumbs into a single layer and leave to dry overnight. (You can bake on a low 300 oven until crisped but not colored, about 5 minutes.) Store in an airtight container, no need to refrigerate. 
See: Recipe: Karen's Lemony Aioli Diping Sauce
This recipe may not be reproduced without the consent of its author, Karen Sheer.
Nutrition Facts
Homemade Panko Popcorn Spiced Shrimp - they're baked!
Amount per Serving
% Daily Value*
* Percent Daily Values are based on a 2000 calorie diet.
Karen Sheer