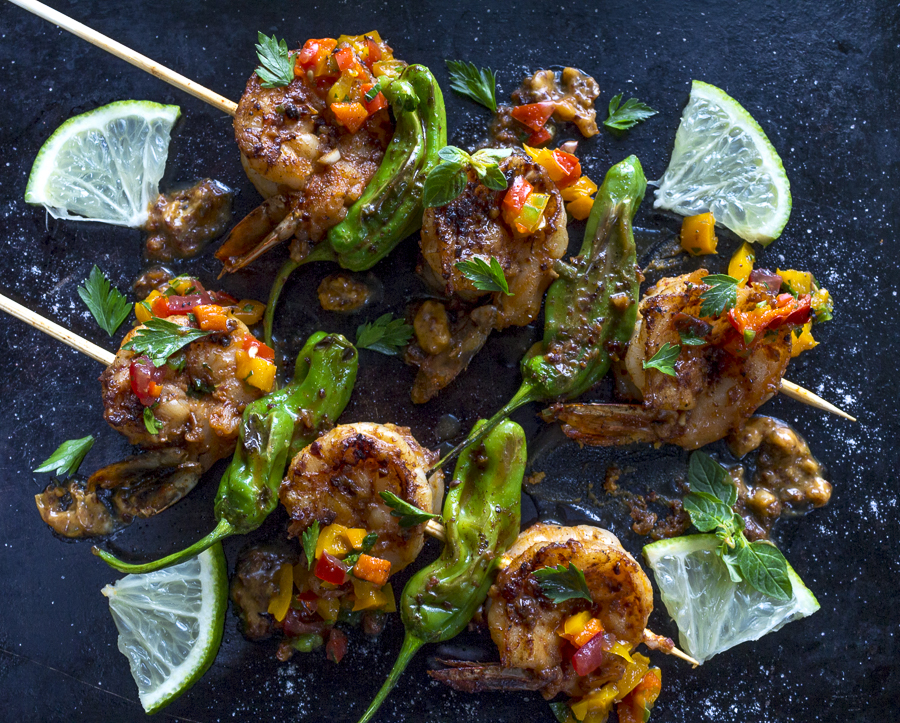 Grilled Shrimp with Padrón Peppers ~ Ancho Chile Spiked Compound Butter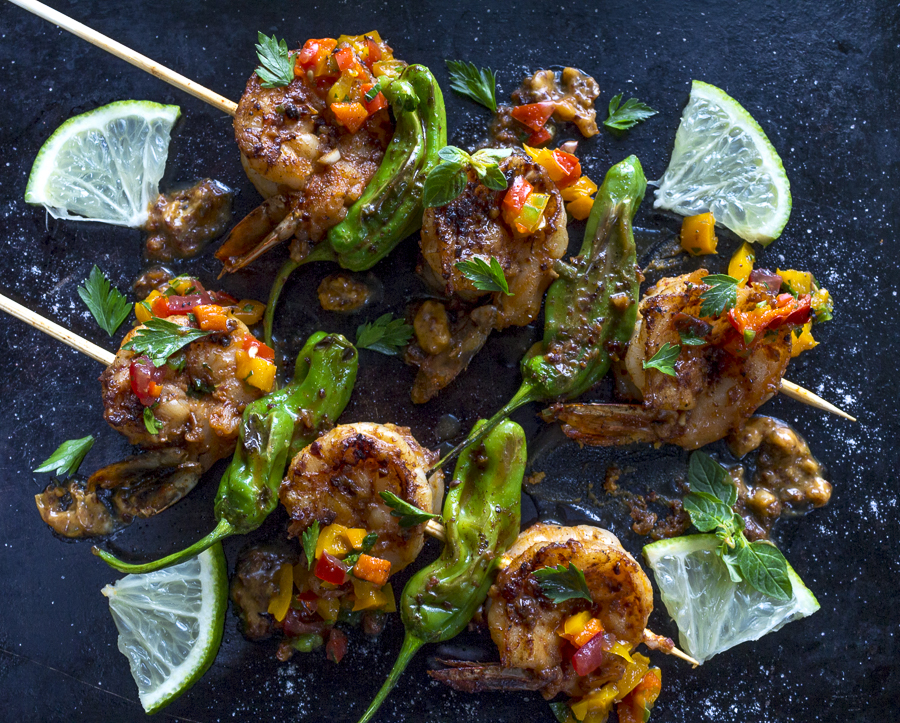 Throw a fiesta with this flavorful recipe – fire up the grill, and discover the flavors of Mexican cuisine, updated with fresh ingredients.
Skewered Shrimp and subtly spicy Spanish Padrón Peppers are simply grilled, inside or out with a spiked Compound Butter and topped with a Roasted Pepper Salsa. Padróns are similar to their cousin, Shishito peppers, an East Asian variety. Shishito's are also somewhat mild, and just a tad thinner in size. Either one is great for skewering with the shrimp.
I love this recipe and serve it for friends, or a special weeknight meal at home. Such color appeal, and light on the waistline… gluten-free too!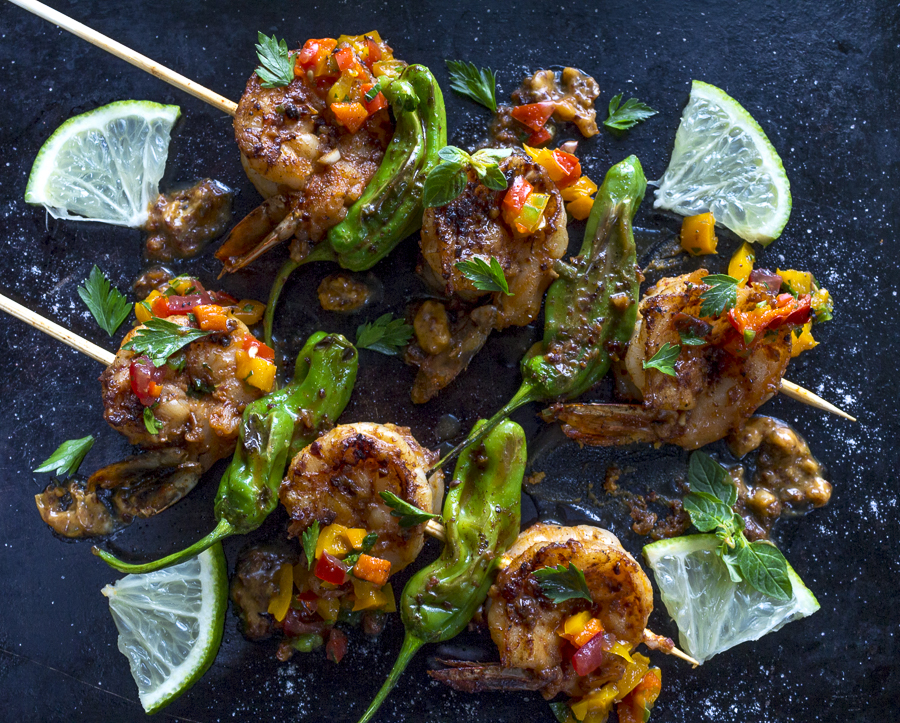 Ingredients
24 large shrimp, peeled and deveined, tail left on (about 2 pounds)
½ teaspoon smoked paprika
¼ teaspoon ground cumin
¼ teaspoon salt & pepper
16 padrón peppers, cleaned
Instructions
1
Soak 8, 10″ wooden skewers in water for 1 hour, so they will not burn.
Make Compound Butter and Roasted Pepper Salsa (can make in advance.)
2
Shrimp Skewers:
Add shrimp to a bowl to fit, add smoked paprika, cumin, salt & pepper and mix in to coat.
Make Skewers: Place one shrimp through the skewer followed by a pardon pepper, shrimp, pardon pepper and shrimp. Continue making 8 skewers, place them on a tray.
3
Heat an outdoor grill, or indoor grill pan to medium-high heat.
Using 1/4 of the compound butter, cut it into bits and mix into the shrimp skewers.
Brush grill with some neutral oil, grill skewers until dark and blackened on the first side, about 3 minutes. The butter will help to caramelize.
4
Turn over with tongs, and cook in the second side until the peppers are charred, and the shrimp is firm and cooked through, about 3 minutes more. Remove to a platter.
5
Top with extra thin slices of Compound Butter (it will melt into the warm shrimp and form a sauce), and some Roasted Pepper Salsa.
6
Garnish with lime slices and fresh herbs- parsley, cilantro and oregano.
7
Compound Butter:
In a small bowl, cream the butter with a fork.
Drain the ancho chile from the water and mince with a knife, and mash into a puree. Add the puree to the butter with the jalapeño, red onion, garlic, lime rind and salt. Mix well with the fork, creaming the mixture until all incorporated.
8
Cut a 8″ piece of waxed paper, add the butter to the center. Pat down and roll into a cylinder. Twist the ends and freeze for 30 minutes, then refrigerate until needed.
9
See Recipe: Roasted Pepper Salsa
Karen Sheer