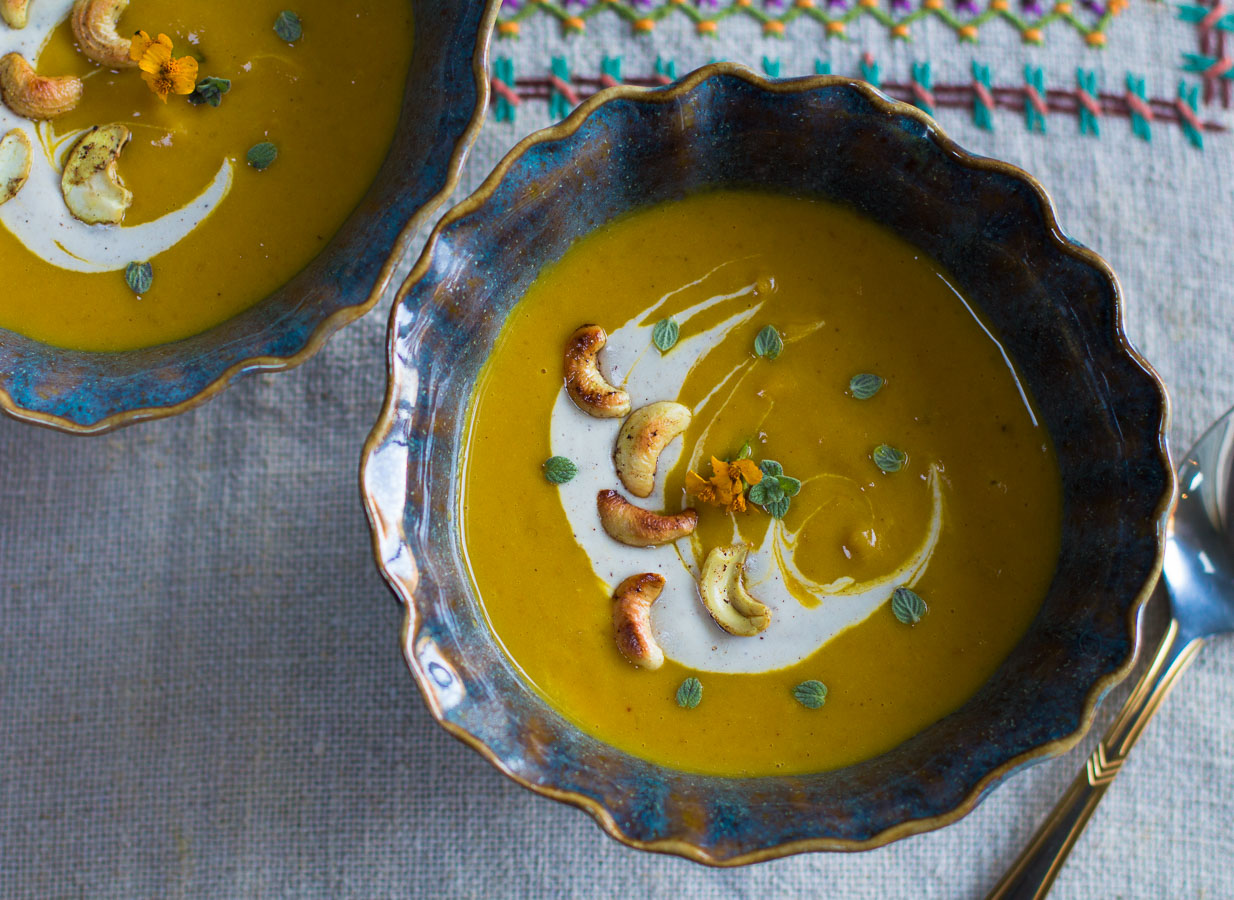 Flavors of Fall – 20 Irresistible Squash & Apple Recipes!
Here to inspire you – what to cook that is in season right now!
Comforting & nutritious recipes prepared with seasonal ingredients to warm you up from the inside and make you enjoy the fall season at its fullest. Cook & Bake with confidence with my healthy and well-tested recipes.
Press on the green titles for all the recipes.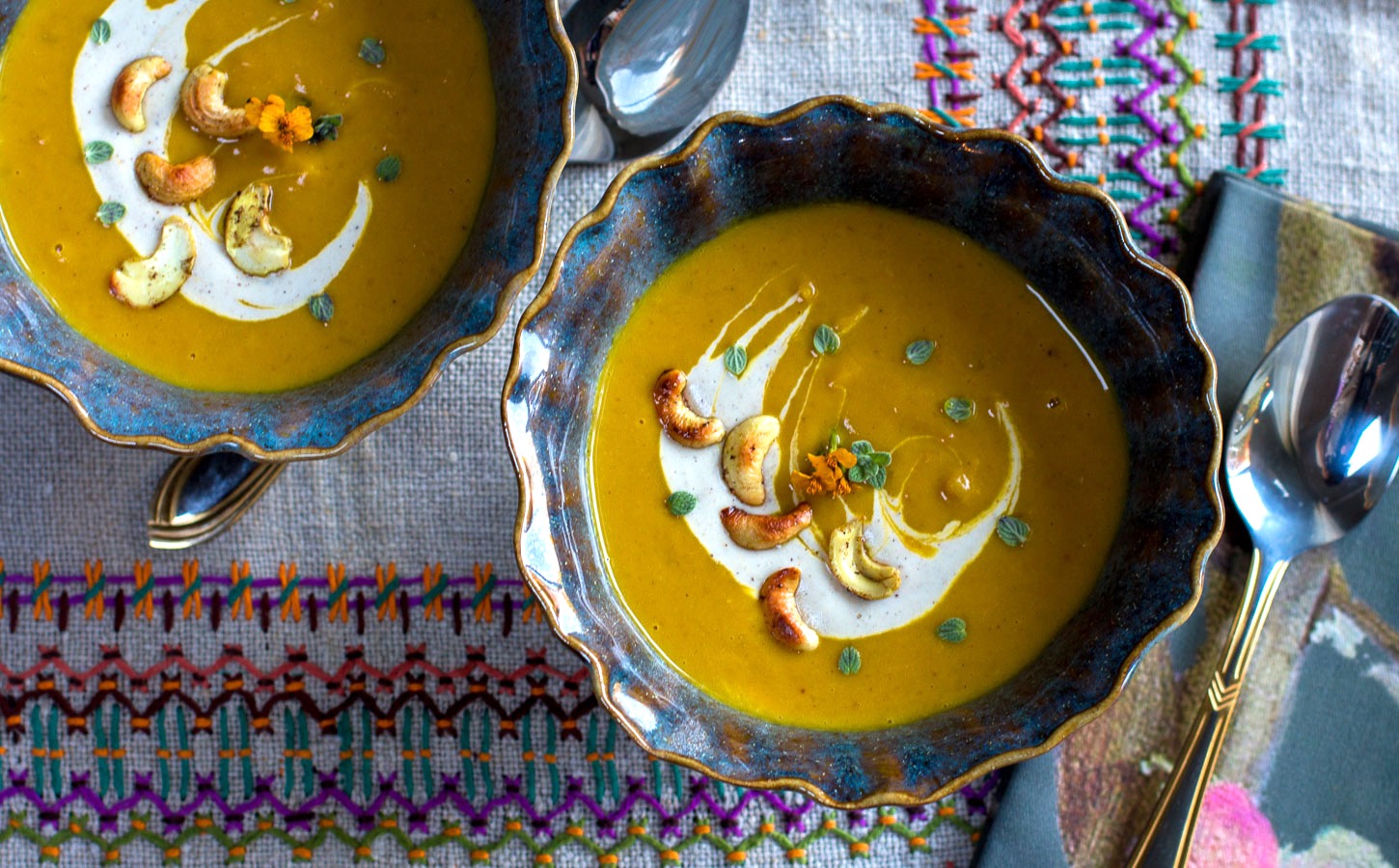 You'll love the Cashew Crema with hints of maple & cinnamon ~ the Spiced Cashews make a terrific, crunchy garnish. See my easy way to peel a Kabocha Squash! A seasonal favorite soup that combines sweet and savory flavors.
Winter Squashes that are available now in Fall:
Kabocha Squash (Japanese Pumpkin), Butternut, Delicata, Sugar Pumpkin, Spaghetti Squash, Sweet Dumpling, Blue Hubbard, Red Kuri, Acorn and Buttercup.
Recipes with Squashes: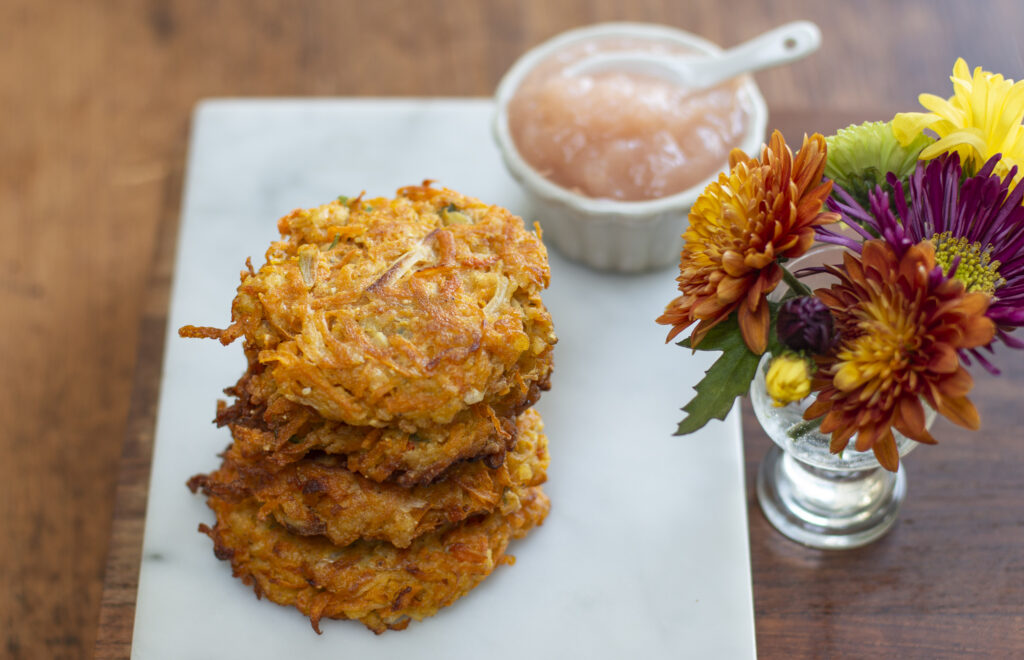 A new twist for your Potato Pancake repertoire.
Butternut squash with warm spices makes a delicious sweet latke that is perfect for Chanukah or anytime! Gluten Free adaptable.

Sometimes I'm craving One Pan Cooking!
Chicken, Delicata Squash Rings and Shallots roast in the oven and produces a delicious simple dinner.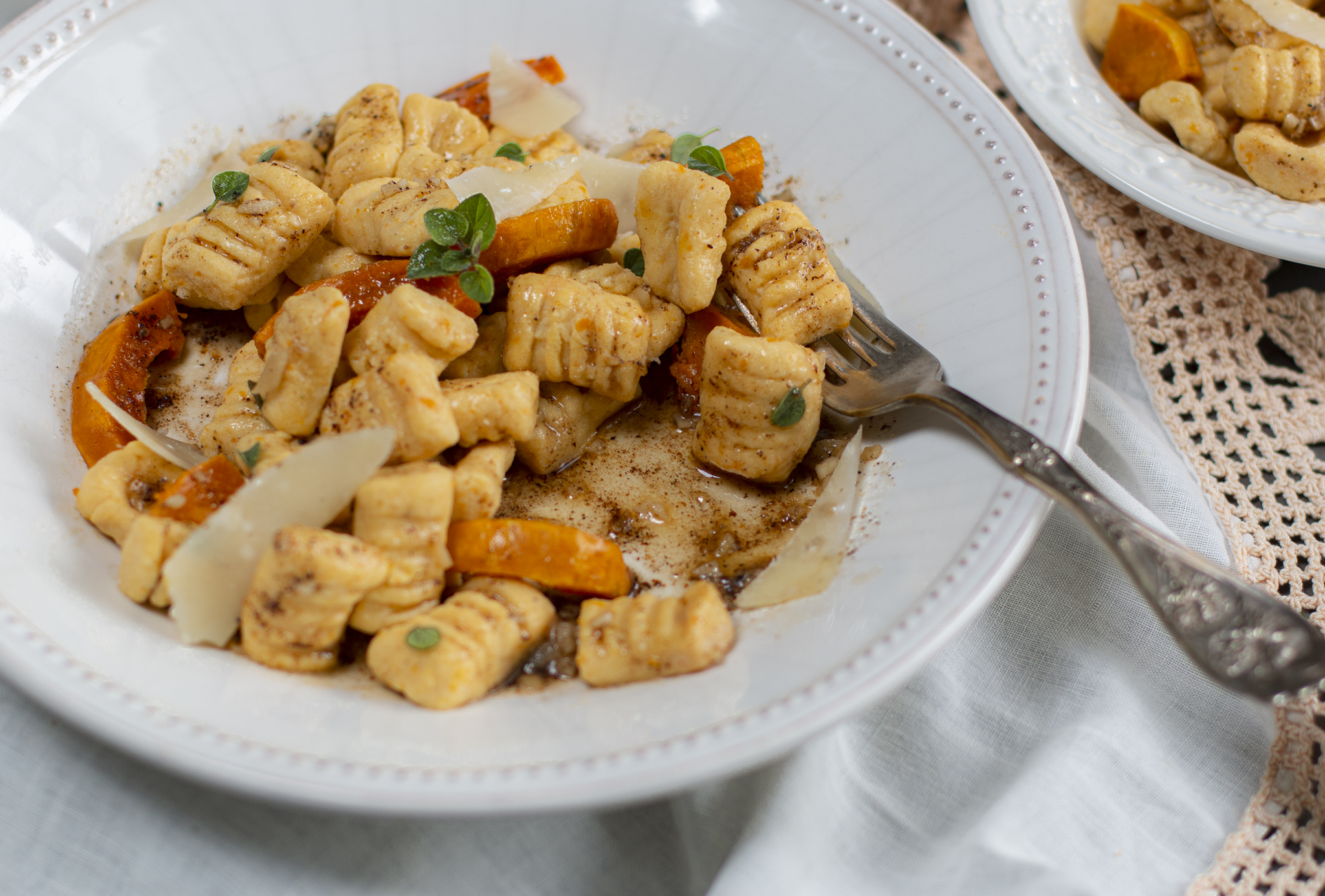 Using flavorful Honeynut squash – these pillowy gnocchi include the roasted squash in the dough and also served in the finished dish. Serve with simple browned butter and fresh herbs – delish!
Seriously ~ gluten free never tasted so good.

Delicious and creamy – chock full of nutrients  Simple to prepare, just 3 main ingredients! – plus salt & pepper and parsley. Browned Butter – also called beurre noisette, named because it smells like hazelnuts and has a similar nutty color, plus a nutty, toasted flavor. It enhances the flavor of almost everything!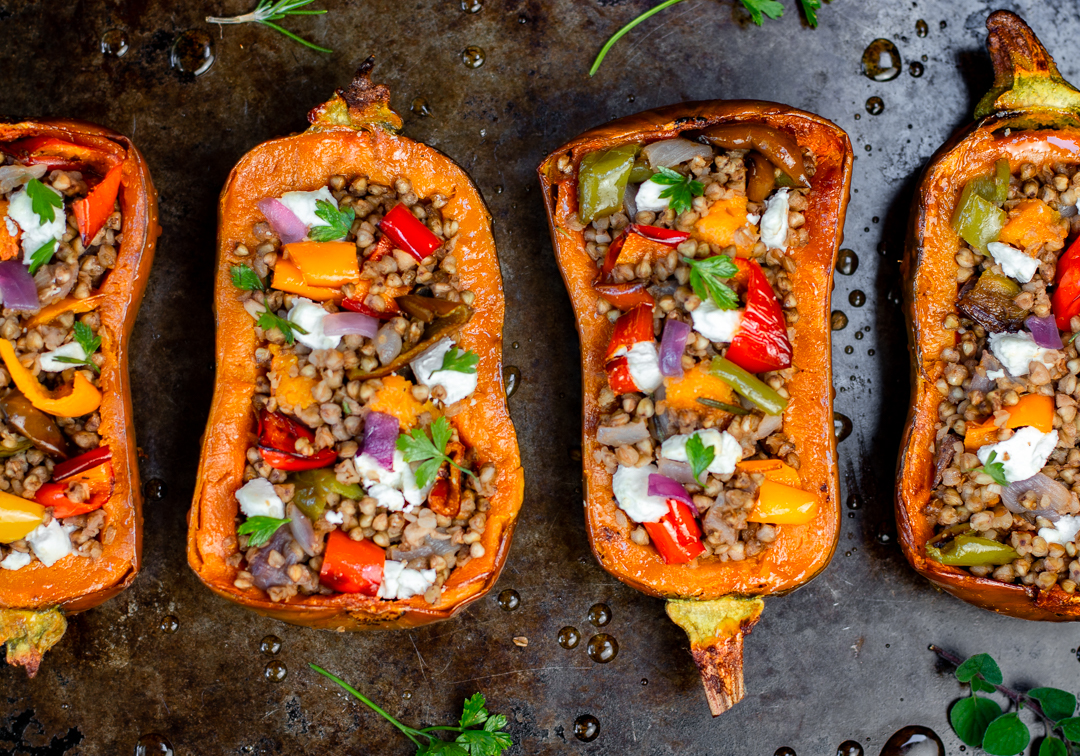 Super Sweet Honeynut Squash is special and in season! It's small size boasts a sweet and nutty flavor with a hint of caramel. Easily roasted and stuffed with a Kasha (Buckwheat) Pilaf with plenty of Roasted Peppers, Red Onions, Herbs and Creamy Goat Cheese.
The most delicious Fall main course or side dish!

A Creamy & Chunky Soup with a Coconut Cream Swirl and Hatch Chiles… very comforting and healthy! Perfect for weekdays, special enough for company and holidays.

Comfort food – you know we all need some right now! Delicious and loaded with healthy ingredients with tips on how to cook a pumpkin and make homemade Pumpkin Puree. Try gluten free flour too.
What's better than homemade macaroni and cheese? Here's a recipe that is creamy, rich, and has a crunchy topping that is irresistible! (Awesome Gluten-Free option too.) I've added roasted cubes of butternut squash and apples. Just love how vegetables and fruits add a depth of flavor and interest – really… wonderful additions!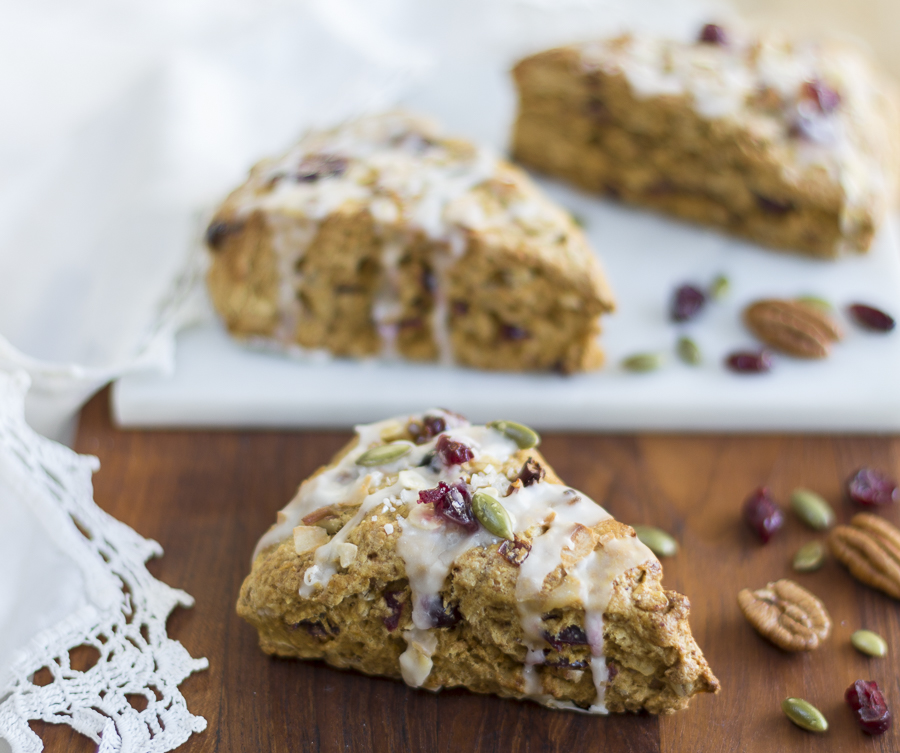 Bakery quality scones! Barely sweet and irresistible – made from your pantry ingredients… with a secret ingredient: coconut milk.

Apple Varieties: 
Everyone has their favorite variety of apples! There are 2,500 varieties in the USA! Some are best for hand-held eating, others are firmer and will hold their shape in recipes.
Gala, Honeycrisp, Macoun, Fuji, McIntosh, Golden Delicious, Opal, Granny Smith, Pink Lady, Pink Pearl, Jazz  – I have enjoyed all of these varieties with all their magical flavors: Crisp, Sweet, Crunchy, Floral, Tart & Juicy.
My favorite variety is Macoun (very juicy with tender, snow-white flesh), least favorite- Red Delicious. Check out Farmers' Markets in your area and taste a new variety!
Recipes with Apples!
This classic American salad gets a revamp with a lighter taste. Lots of crunch from the seasonal apples, celery and walnuts with mellow additions ~ kale, roasted squash, grapes and a creamy cinnamon yogurt drizzle. A new classic!
Waldorf salad is named for the Waldorf Astoria Hotel in New York City, where it was first created in 1896.
With squash & apples – Silky smooth with some texture from the vegetables – this soup will warm you up on crisp fall and winter days. Cinnamon sticks add a sweet aura of spice – and a hit of cayenne pepper adds the perfect kick.

With squash & apples: A modern Fall Cajun and Creole style stew – with wonderful vibrant flavors.
Étouffée is a French word which means "smothered," – chicken that falls-off-the-bone, and is typically served over rice.

A salad to "fall" in love with! Starring Fall ingredients like Radicchio, Pink Pearl Apples, Pink Radishes, Delicata Squash and teamed with Chèvre Cheese and Pistachios.
Find Pink Peal Apples at Farmers' Markets – such a vibrant and interesting flesh color! 
A super-satisfying treat you bake in donut tins. Baked and coated in cinnamon and sugar, or a decadent brown butter caramel maple glaze ~ are a lighter and equally delicious version of donuts without the frying.

Tastes like an apple crumb pie in a bar! Perfect for your Thanksgiving dessert buffet – not too sweet with a touch of warm spices. The mixture (dough) doubles as a topping. Oatmeal, almonds and walnuts in the crust/topping adds a healthy content and fiber.
Apple season is here – and these cakes are divine! A delicious cake with a bit of honey, these cakes are layered with sliced apples and a crumb topping. The perfect fall dessert – I'm serving with Coconut Whipped Cream
This easy to prepare fall dessert is bursting with harvest flavors: fruit is blanketed with a crisp cinnamon, pecan and oat layer. Vegan, gluten-free and irresistible!

A moist cake with warm spices topped with Caramelized Apple Slices and baked with Fine Almond Flour. I top it with a drizzle of Vanilla Bean Rum Glaze. A healthy new alternative recipe.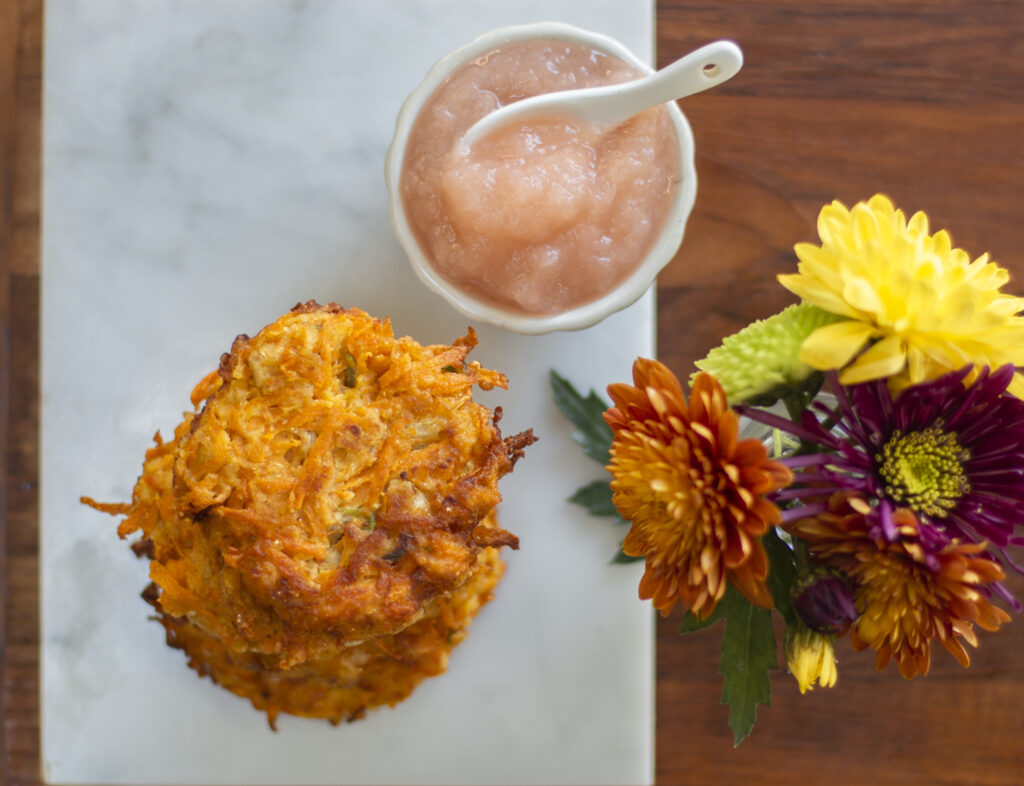 Homemade Applesauce – My Favorite  Homemade applesauce is great to use in baking recipes and as a side dish – wonderful to just put a spoon into and eat as a snack. A little apple peel adds a touch of pink color! Here with my  Butternut Squash Latkes 
Crisp sweater-weather has arrived and leaves are changing into multi-colored works of art.
One of the best things about Fall is cooking with fresh seasonal produce!
I'm super-excited to make cozy, comforting soups again – my go-to everyday lunch.
With Heirloom Tomatoes just a memory now, we turn now to whole new crop of Fall fruits and veggies.
Squash & Apples! Two great reasons to head the kitchen with some seasonal fall ingredients. There are so many varieties of these to choose from, and many work in both sweet and savory applications in cuisines from around the globe. I'm loving the flavor of Honeynut Squash, and their small, compact size cooks very quickly. Many heirloom varieties of apples will delight the senses – find your favorite!
Enjoy all the Fall flavors! Cook with the season.
Karen
See All MY FALL RECIPES HERE: https://azestforlife.com/recipes-category/fall/
Karen Sheer