Vegan Apple Raspberry Crisp
This easy to prepare fall dessert is bursting with harvest flavors: fruit is blanketed with a crisp cinnamon, pecan and oat layer. Vegan, gluten-free and irresistible!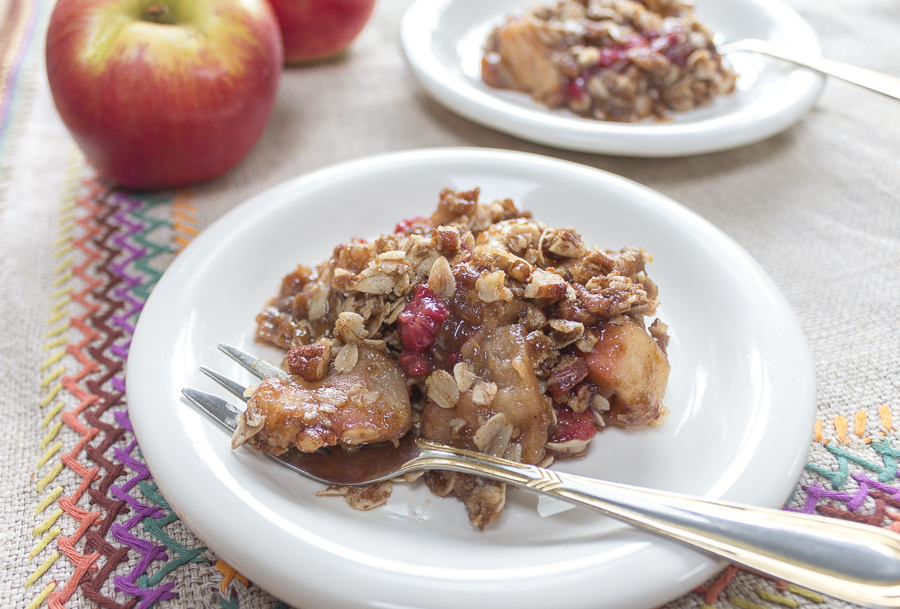 Ingredients
Oat Pecan Layer
6 tablespoons coconut oil, organic
1 ½ teaspoons cinnamon
a pinch ground cloves and nutmeg
¾ teaspoon natural almond extract
1 cup old fashioned oats
8 tablespoons pecans, coarsely chopped
½ cup organic whole cane sugar, such as Rapudura*
½ teaspoon sea salt
4 tablespoons gluten-free all purpose flour
Apple Raspberry Layer:
5 large apples, (6 cups) peeled and chopped into 1" chunks – try "Zestar" variety
6 tablespoons natural apple cider
½ cup whole cane sugar, such as Rapudura*
3 tablespoons gluten-free all purpose flour
1 ½ teaspoons cinnamon
1 pinch sea salt
½ cup fresh raspberries
Instructions
1
Have ready a 9″ square pan, or a 8″ x 10″ pan. Preheat the oven to 375 degrees.
2
Make Oat Pecan Topping:
Heat coconut oil, (microwave works fine) until it has melted slightly, and is no longer solid.
Add the oil to a medium sized bowl with the rest of the topping ingredients, stir to combine.
3
Apple-Raspberry Layer
Place the apple cider in a medium sized bowl – add the apples as you cut them and toss to coat, the cider will keep them from browning. Add the sugar, gluten-free flour all purpose flour, cinnamon and salt to the apples. Mix to combine.
4
Portion the apple mixture into the baking dish. Add raspberries, tucking them in a bit.
Top the apples with the topping.
Place on a rimmed baking tray to fit and bake in the oven until bubbly around the edges and golden brown on top, approximately 25 minutes.
5
*Rapudura sugar is an unrefined and unbleached whole cane sugar with caramel notes. Can substitute coconut palm sugar or light brown sugar.
6
May substitute regular flour for gluten-free.
7
The crisp can be made into eight single serving baking dishes.
This recipe may not be reproduced without the consent of its author, Karen Sheer.
Karen Sheer