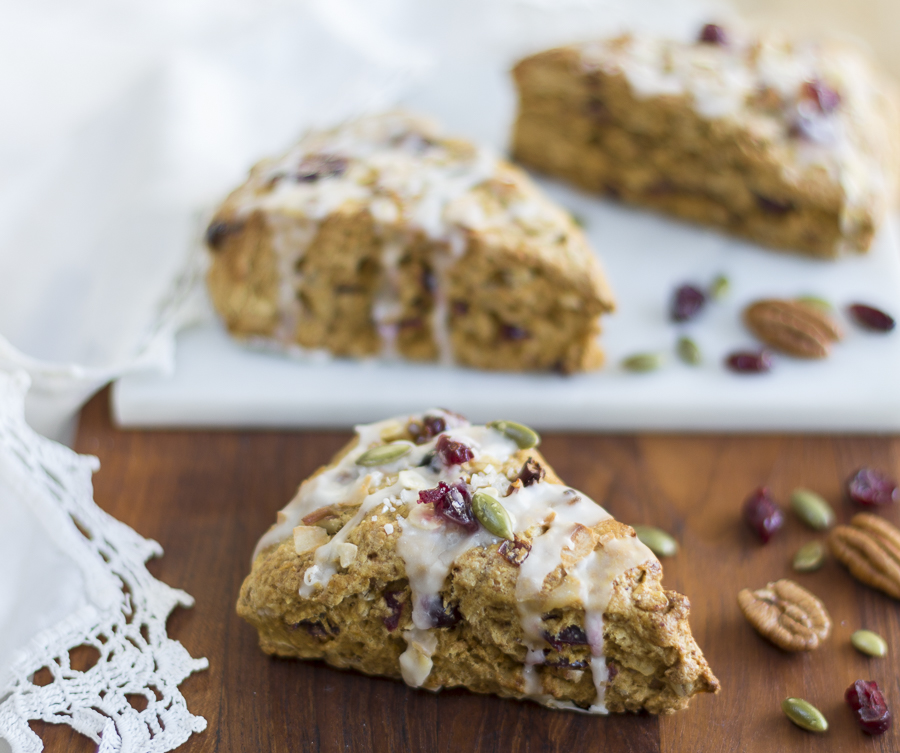 Pumpkin Scones with Pecans, Cranberries and Coconut
Bakery quality scones! Barely sweet and irresistible – made from your pantry ingredients… with a secret ingredient: coconut milk.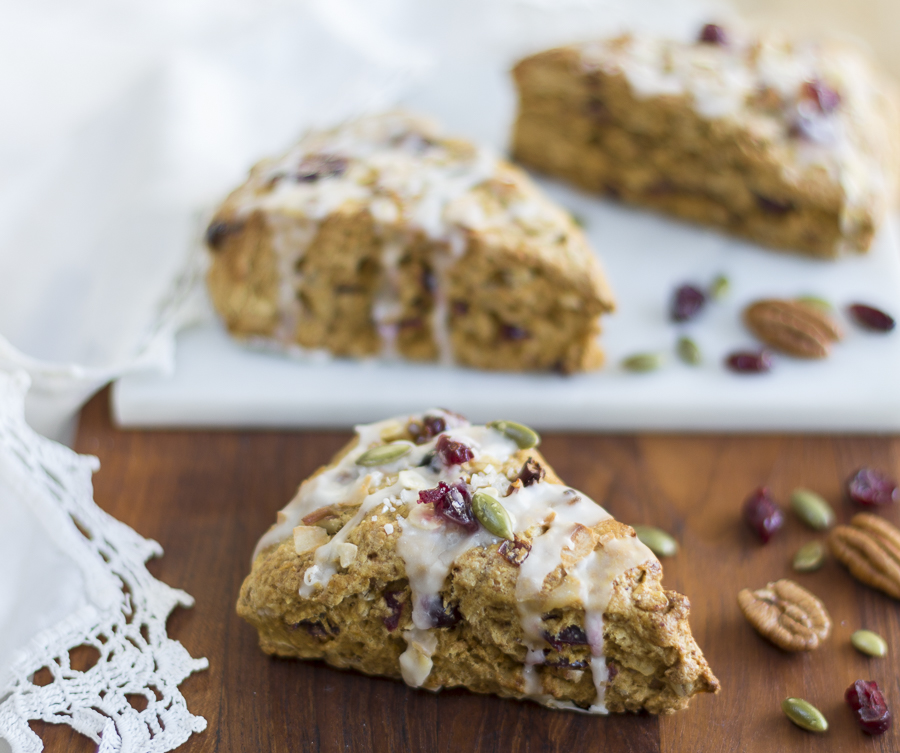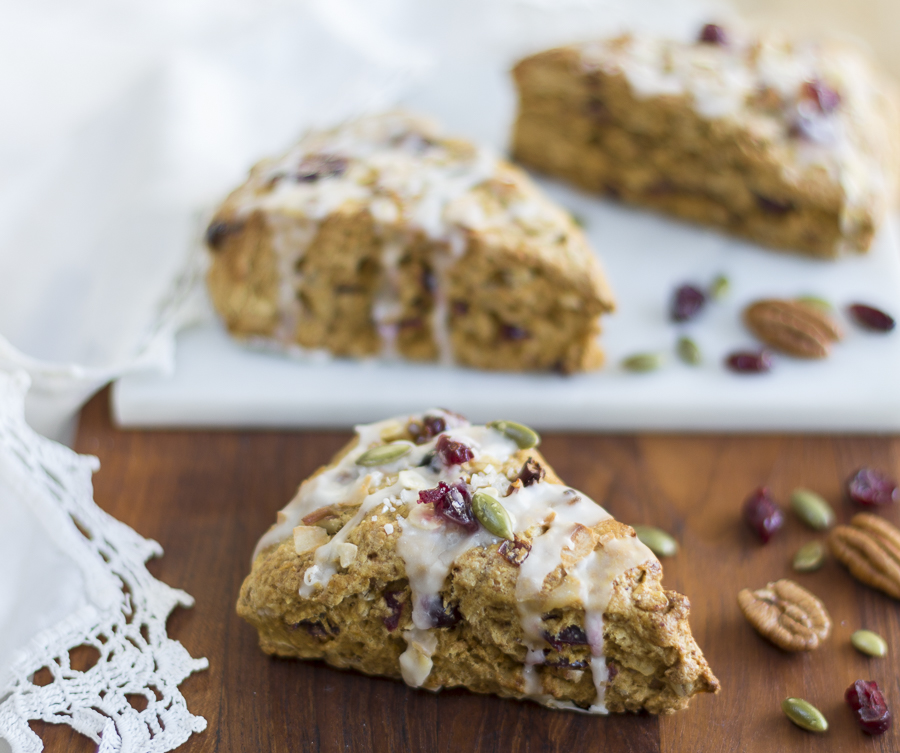 Ingredients
Wet ingredients:
⅓ cups pumpkin puree
1 large egg, cage free
3 tablespoons coconut milk, not "lite"
1 teaspoon vanilla
1 stick unsalted butter, cut into tablespoons, freeze for 20 minutes.
Dry Ingredients:
1 ½ cups flour
¼ cups whole wheat flour
¼ cup rolled oats, toasted
¼ cup oat flour, (ground oats)
¼ cup coconut palm sugar
2 teaspoons baking powder
½ teaspoon baking soda
1 teaspoon cinnamon
¾ teaspoon ground ginger
½ teaspoon sea salt
Add ins:
½ cup pecans, chopped
½ cup dried cranberries
⅓ cup natural flaked coconut, unsweetened 
Topping:
1 large egg white
1 tablespoon pumpkin seeds (pepitas)
1 tablespoon sanding sugar
Coconut Glaze:
1 T. coconut milk (not "lite")
5 T. confectioners sugar, organic
¼ T. vanilla
Instructions
1
Preheat oven to 400 degrees. Freeze butter 20 minutes.
Mix wet ingredients together in a small bowl, set aside. 
In a large bowl, add dry ingredients, flour through sea salt.
2
Best if eaten within 2 days – freezes well!
3
Add the frozen butter to the bowl, cut in with a pastry cutter until the butter is in about 1/3″ clumps.
Add the "add ins" – pecans, cranberries and coconut. Mix with a wooden spoon, distributing all ingredients.
Add the "wet" ingredients, stir with a wooden spoon to incorporate.
4
Flour your work surface lightly with flour. Add the scone dough and shape into a circle, about 10″ around.
Roll the dough with a rolling pin gently, until 1 1/2″ high.
Cut into 8 triangular wedges. Place on a lightly greased baking pan.
5
Add egg white to a small bowl. Whisk well until frothy, and brush a bit over each wedge.
Top with sanding sugar and bake in the oven for 13 – 15 minutes until golden and cooked through.
Place on a wire rack to cool.
6
Combine all in a small bowl, stir well with a fork. Add 1T. more confectioners sugar for a thicker glaze.
7
Drizzle over the scones, top with a sprinkle of toasted pumpkin seeds (pepitas) and sanding sugar if desired, let set.
Best if eaten within 2 days – freezes well!
For a Vegan Scone – use coconut oil (frozen), and a vegan egg replacement (flax and chia seeds work well.)
Use organic ingredients if available.
This recipe may not be reproduced without the consent of its author, Karen Sheer
Karen Sheer