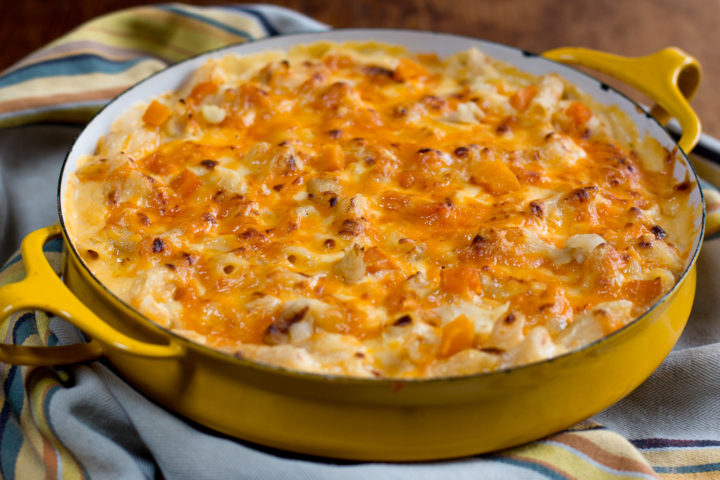 Karen's Mac n Cheese with Butternut Squash and Apples
What's better than homemade macaroni and cheese? Here's a recipe that is creamy, rich, and has a crunchy topping that is irresistible! (Awesome Gluten-Free option too.)

Adding cubes of Butternut Squash and Apples makes for an interesting, updated Fall Macaroni and Cheese. Adds interest and depth of flavor.
Italian Chiocciole shaped pasta or Italian Gluten-Free Penne makes an irresistible dish!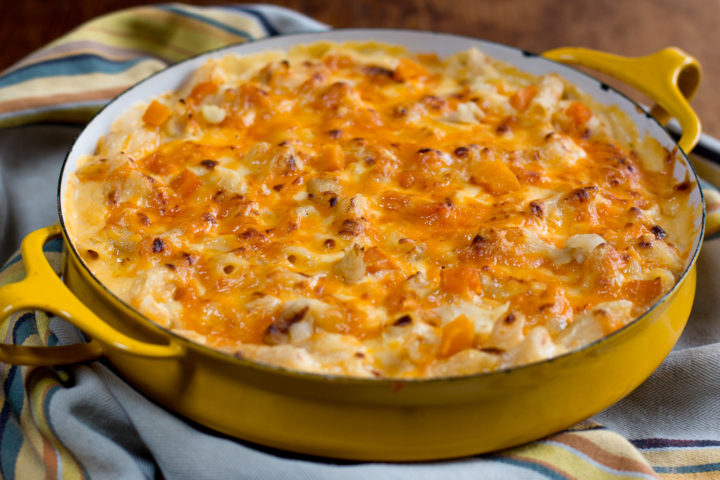 Ingredients
6 tablespoons unsalted butter, preferably organic
6 tablespoons flour for regular – 5 tablespoons all-purpose gluten free flour blend for gluten-free
4 cups whole milk
1 teaspoon sea salt
2 cups sharp cheddar cheese, 3 years aged… or at least 1 year – reserve ½ cup for topping
1 ½ cups cheddar-gouda cheese ("Chouda"), (or use more cheddar)
12 ounces Italian Pasta*, such as Chiocciole shape (Gluten Free: such as Penne Rigate)
½ cup roasted (cooked) butternut squash, chopped: ½ " pieces
½ cup sauteed apples, chopped: ½ " pieces
Instructions
1
Roast cubes of Butternut Squash and Sauté Apples (see notes below.)
2
Cook 12 ounces pasta in plenty of salted water until al dente.
Drain, stream cool water over until has cooled off. Leave in strainer in sink.
3
Have ready a baking dish – I chose and oval sized one, about 13″ x 9″ – butter the bottom and sides.
4
Make Cheese Sauce:
In a heavy 3 – 4 quart pot, gently melt butter.
Add flour – 6 T. for regular; 5 T. for gluten-free.
Stir with a wire whisk 1 minute over low heat.
5
Add 1 cup of milk and sea salt, bring to a boil whisking. The mixture will thicken pretty quickly. Add the remaining 3 cups of milk.
Bring back to a boil, whisking, then reduce to a simmer and cook 5 minutes over low heat, continuing to whisk; will thicken nicely without any lumps.
Turn heat off.
6
Add 1 1/2 cups cheddar cheese and 1 1/2 cups cheddar gouda cheese.
Whisk until cheese has melted.
7
Add drained pasta to the pot. Mix well with a spatula or wooden spoon.
Add cubes of butternut squash and apples, mix in.
8
Pour mac n cheese into butter baking dish.
Preheat broiler – rack 4 – 5 " from the heat source.
Top with reserved 1/2 cup grated cheddar cheese.
9
Broil – watching carefully until golden and a little crunchy on top.
The flavor is wonderful when you let it develop a little color.
10
Roast Butternut Squash: cut squash into small 1″ cubes. Toss with neutral oil and roast in a hot 400 degree oven on a rimmed sheet pan, turning one until cooked through and a touch golden. Sprinkle with sea salt. Cut in smaller pieces if desired.
11
Sauté Apples: Peel and cut a tart apple into 1 " cubes. Add a small amount of butter to a stick proof skillet and sauté apples until they have softened and  a touch golden. Cut in smaller pieces if desired.
12
* I chose "Bionaturae" brand, Crafted in Italy.
See BLOG for many photos of this recipe, and more information.
This recipe may not be reproduced without the consent of its author, Karen Sheer.
Karen Sheer