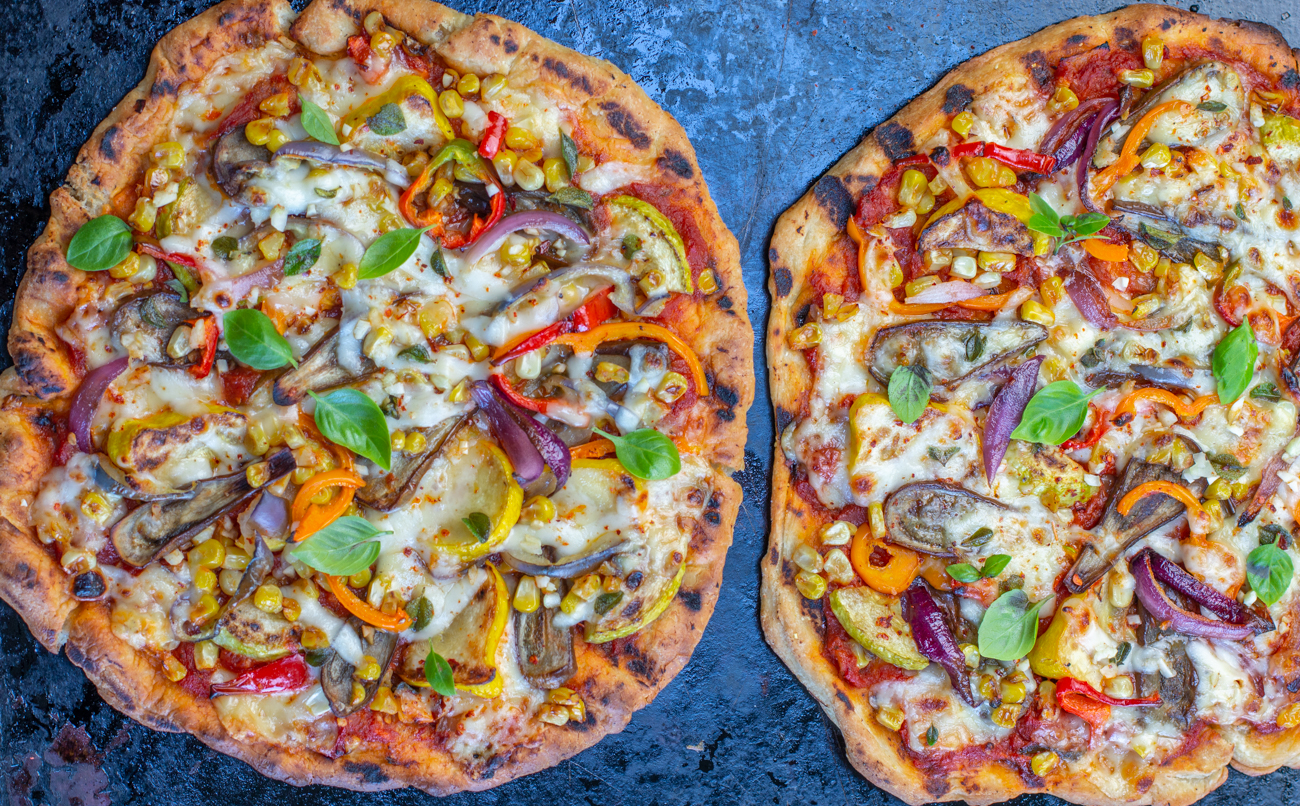 Karen's Very Veggie Grilled Summer Pizza
Summer is a Wonderful Time to Grill Pizza! All Vegetables Have Local-Picked Flavor.
My simple pizza dough recipe is easy to work with and gets blackened on the grill.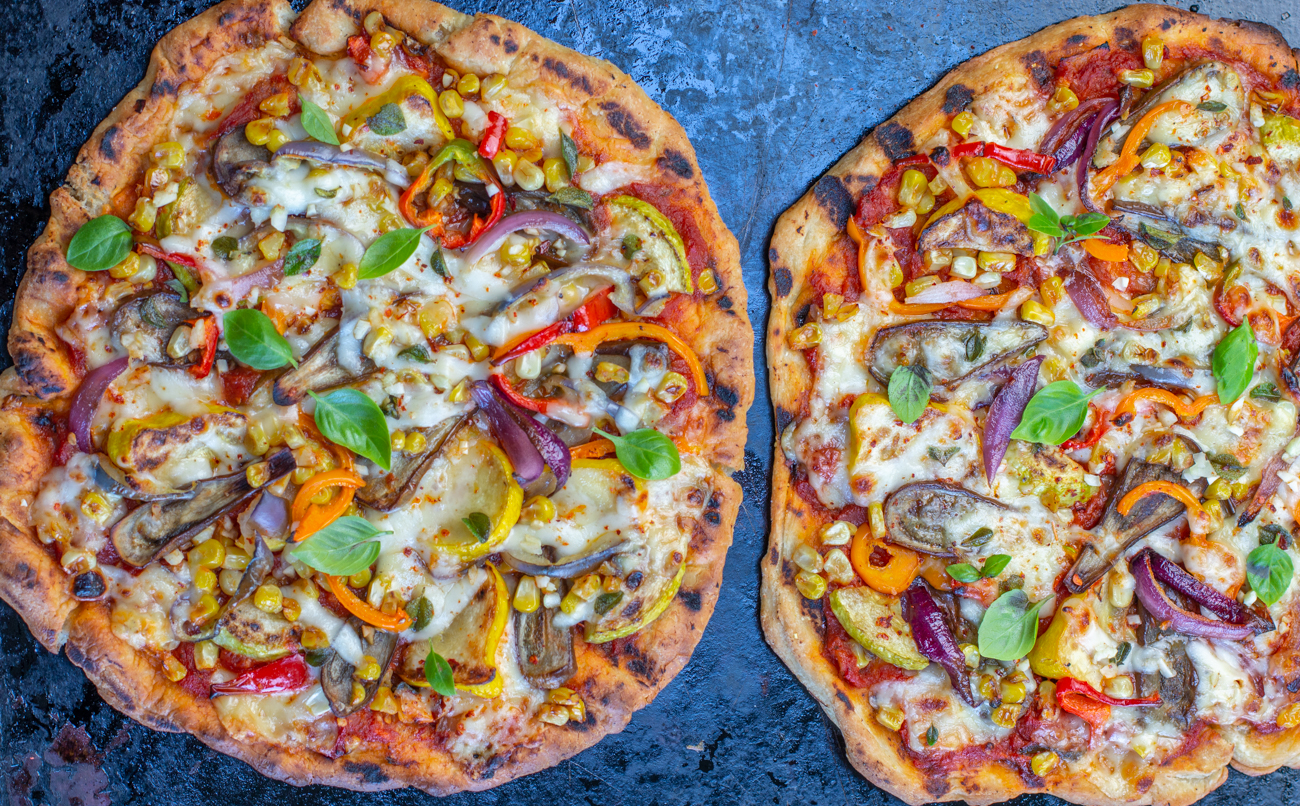 Use VEGGIES you like… I have used a mix of: Fairy Tale Eggplant (the little guys), Zephyr Zucchini, Yellow Pattypan Squash, Red Onion, Red, Orange & Purple Peppers, Fresh Corn and Garlic.
THE TRICK IS: Cook the pizza dough first, on one side, on the outdoor grill over high heat. Then take off heat, grilled side up, add your sauce, veggie toppings and cheese – return the pizza to the grill (the grill has been turned down to low heat) and cook until the cheese is bubbly and melted…. ready to cut into wedges and enjoy!
Why oil the pizza dough?
The dough is simply inverted onto the outdoor grill, falls right off the pan… whew!
Grilling pizza outdoors creates a crispy pizza with a smokey flavor. No pizza stone needed – oil your grates, and use my method to invert the rounds of stretched dough onto the hot grill. In a few minutes, strong grill lines will be achieved underneath, and the dough will beautifully bubble and lighten.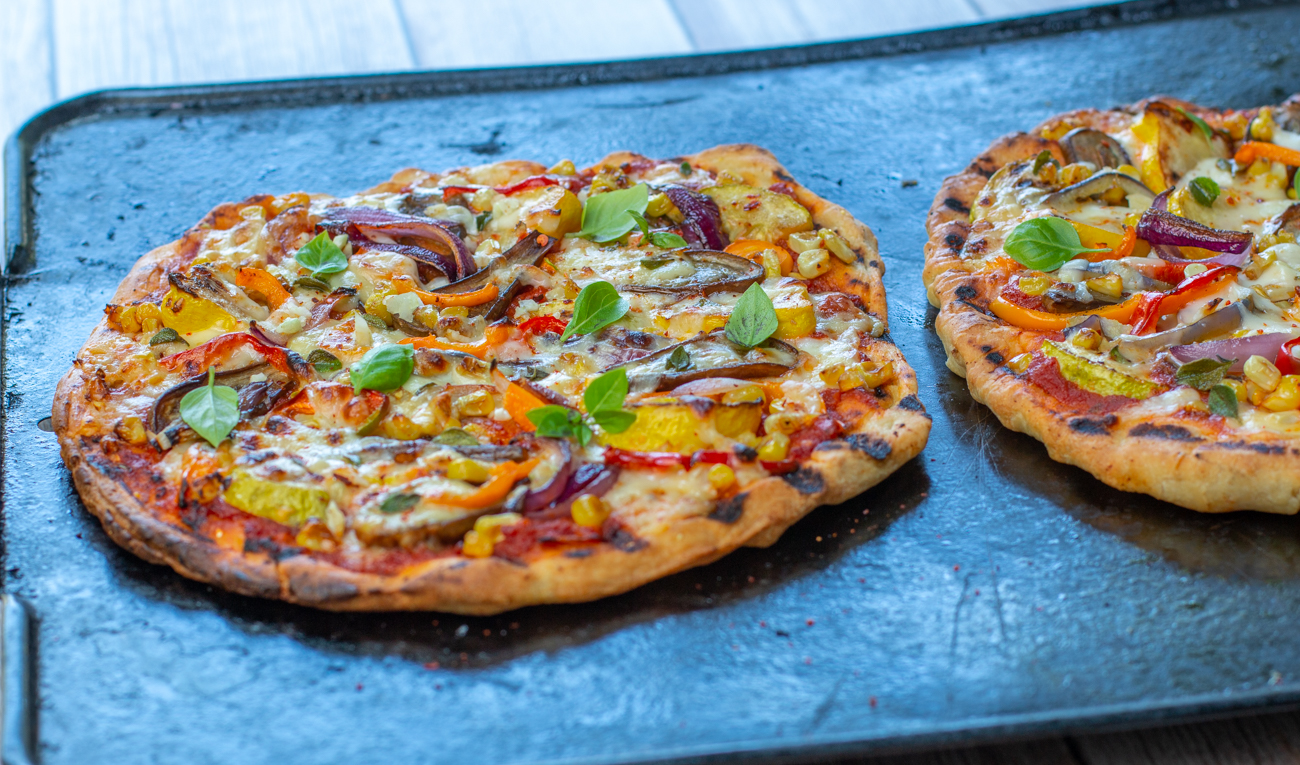 I absolutely love the art of making pizza at home!
I can be creative with ingredients I have on hand, and rarely make two exactly the same.
Making the dough from scratch is enjoyable ~ I usually do by hand because I like the experience of getting my hands into-it, kneading the ball until firm and glossy. The big payoff happens, as you see the dough rise – in about 1 1/2 hours it's fully risen, ready to punch down and shape.
The big question is how much garlic I will add to the top… raw garlic or cooked sliced cloves??
And – the cheeses… they do not need to be all mozzarella!! I love some melty cheeses (goat, edam, gouda) and some firmer ones (reggiano, pecorino, aged gouda.
Make your own masterpiece pizza outdoors on the grill (can adapt to indoor oven too) – well worth your effort!
Karen
Also see another Grilled Pizza Recipe: Grilled Pizza with Raw Garden Tomato Sauce

Other Pizzas to Try: easy
Garlic Garlic Pizza!
Karen's Shaved Asparagus White Pizza
On the Grill: Zucchini Crusted Pizza
Portobello Mushroom Pizzas with Crispy Kale Ribbons
Karen's Perfect Pizza Dough 
Enjoy the outdoors while you grill some awesome pizza!
Karen
Karen's Very Veggie Grilled Summer Pizza
Summer is a Wonderful Time to Grill Pizza! All Vegetables Have Local-Picked Flavor.My simple pizza dough recipe is easy to work with and gets blackened on the grill. 
Servings:
6
2, 11" pizzas
Print Recipe
Pin Recipe
Rate this Recipe
Ingredients
14

ounces

Karen's Perfect Pizza Dough

1

tablespoon

extra virgin olive oil

10

small

fairy tale eggplant*

2/3

cups

colorful peppers

thinly sliced; I use red, purple and orange

1

medium

yellow pattypan

1/2" cubes

1

medium

Zephyr Squash (striped)

cuped (or your favorite zucchini)

1

small

red onion

1

cup

marinara sauce

1 1/2

cups

cheese

I use a combination of mozzarella & edam cheeses

t

teaspoons

fresh garlic (optional)

coarsely chopped

2

teaspoons

fresh oregano leaves

optional, but I love!

1/4

teaspoon

chili flakes

if you like a bit spicy
Instructions
Make Karen's Perfect Pizza Dough. Punch down the dough. Cut dough into 4 even pieces and shape into rounds. Wrap 2 for another day (freezes get.)

Flour your work surface, stretch the dough into 11″ rounds.

Wash and dry the veggies you plan to use. Of the one's I chose - I cooked the eggplant, pattypan squash and zephyr squash, and left the red onion and peppers raw.

Preheat the grill to high heat. Brush the clean grates with a little neutral oil.

Line a large tray with aluminum foil, and brush with oil. Add the dough rounds to the tray, brush the tops of dough with oil.

When the grill is ready, (mine reached 450 degrees) bring the trays over, lift the dough off the tray, and flip each over – adding each to a portion of the grill. Close the grill, and let strong grill marks form, about 5 minutes. Turn over with tongs – turn the grill DOWN to low heat.

Remove the pizzas to your tray, grilled side UP. Portion marinara sauce to each pizza. Portion vegetables on top. Scatter cheese over veggies. Add raw garlic, oregano and hot pepper flakes.

Place pizza back on the grill that has now cooled off to a low heat. Add the pizza, close the grill and cook until golden on the bottom and the cheese is melted and bubbly.

Bring pizzas indoors and cut into wedges with a pizza cutter or serrated knife and enjoy! Extra pizza can be refrigerated for 2 days or can be frozen.
Notes
*Fairy tale Eggplant: The eggplant "Fairy Tale" is a lovely mini eggplant, only 3-4 inches (10 cm.) long. The fruit (classified as) is sweet, without any bitterness, and it has few seeds. Substitute Japanese eggplant. Found at Farmers' Markets and better grocers. 
This recipe may not be reproduced without the consent of its author, Karen Sheer.
See:

Karen's Perfect Pizza Dough Recipe
Nutrition Facts
Karen's Very Veggie Grilled Summer Pizza
Amount per Serving
% Daily Value*
* Percent Daily Values are based on a 2000 calorie diet.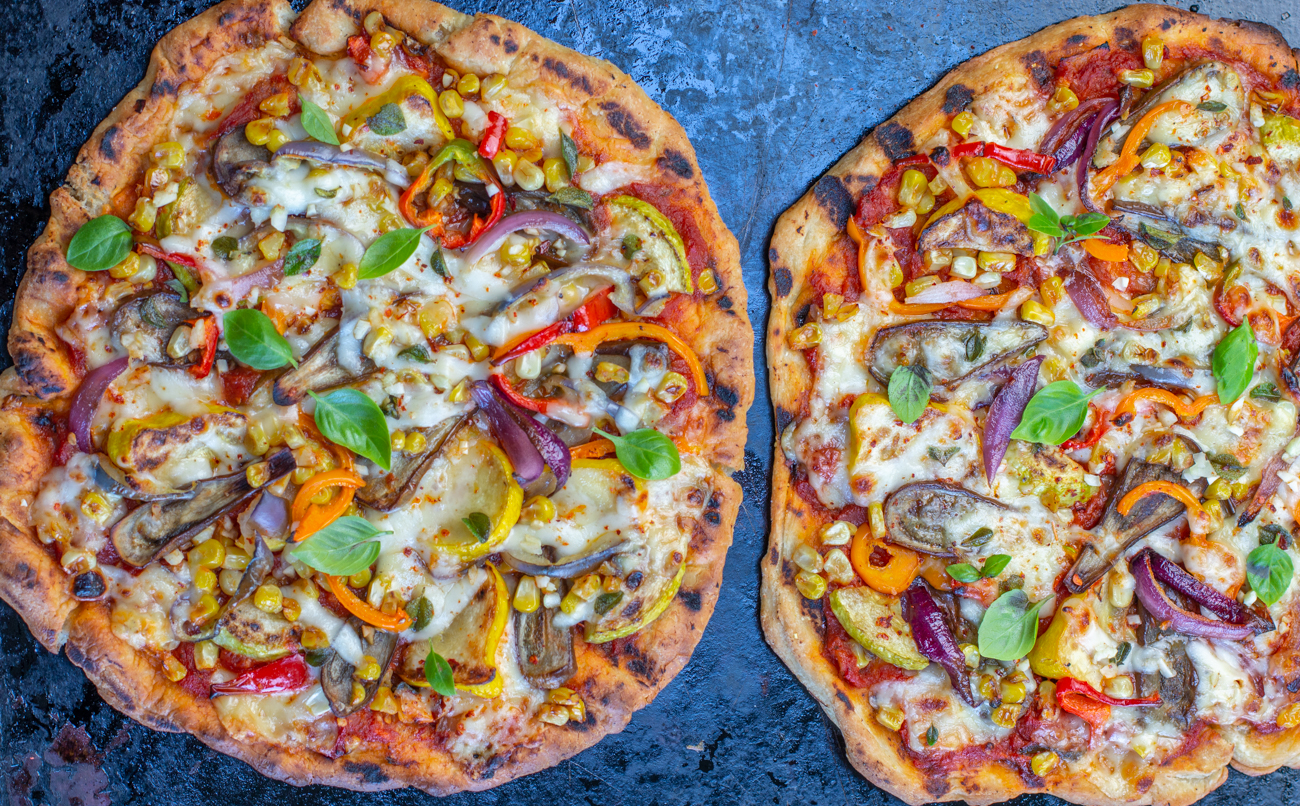 Karen Sheer