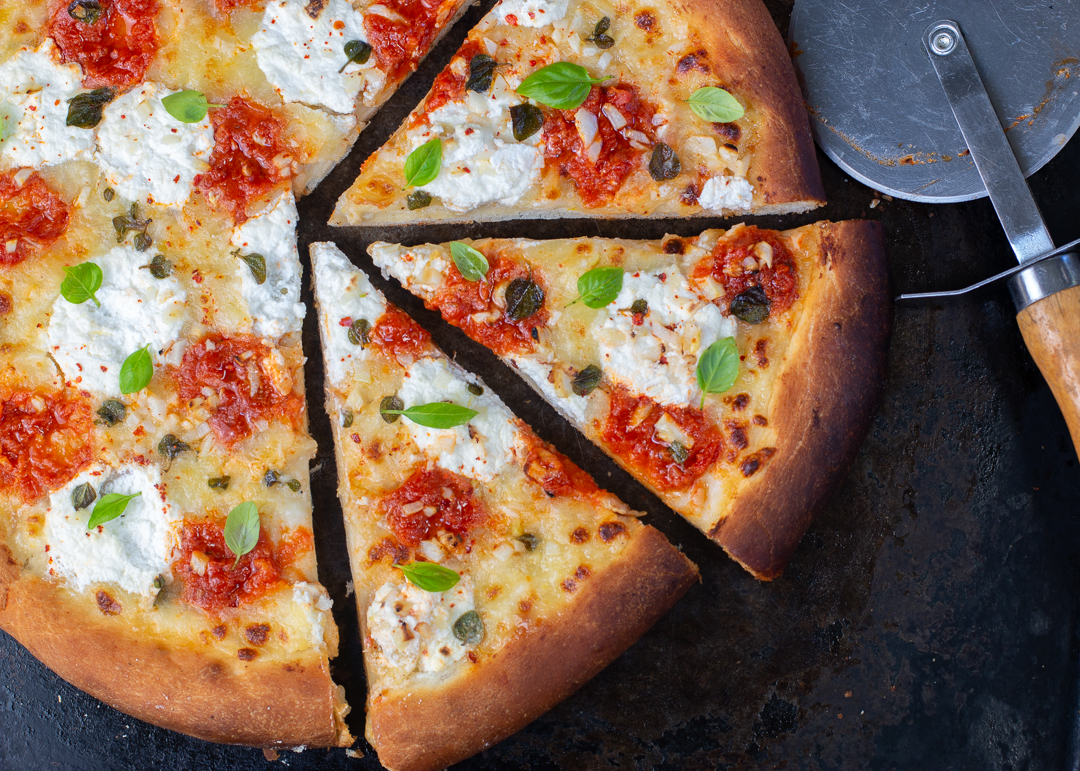 Garlic Garlic Pizza!
Karen's Perfect Pizza Dough is topped with a Roasted Garlic purée, Fresh Mozzarella Cheese, dollops of Ricotta Cheese & Marinara and Chopped Garlic.
Fresh Oregano & Basil with a pinch of Hot Pepper Flakes add to this crave-worthy Pizza!
Back from the Hudson Valley Garlic Festival – Garlicky Pizza is what I'm craving to use up my extensive garlic-stash.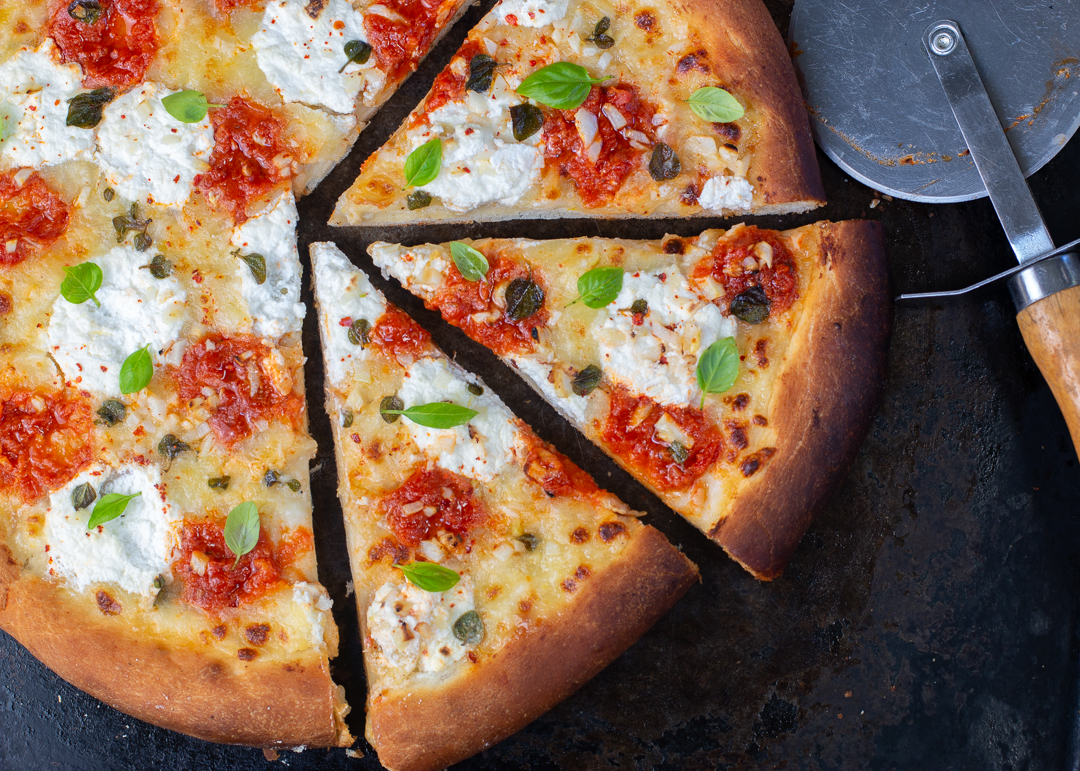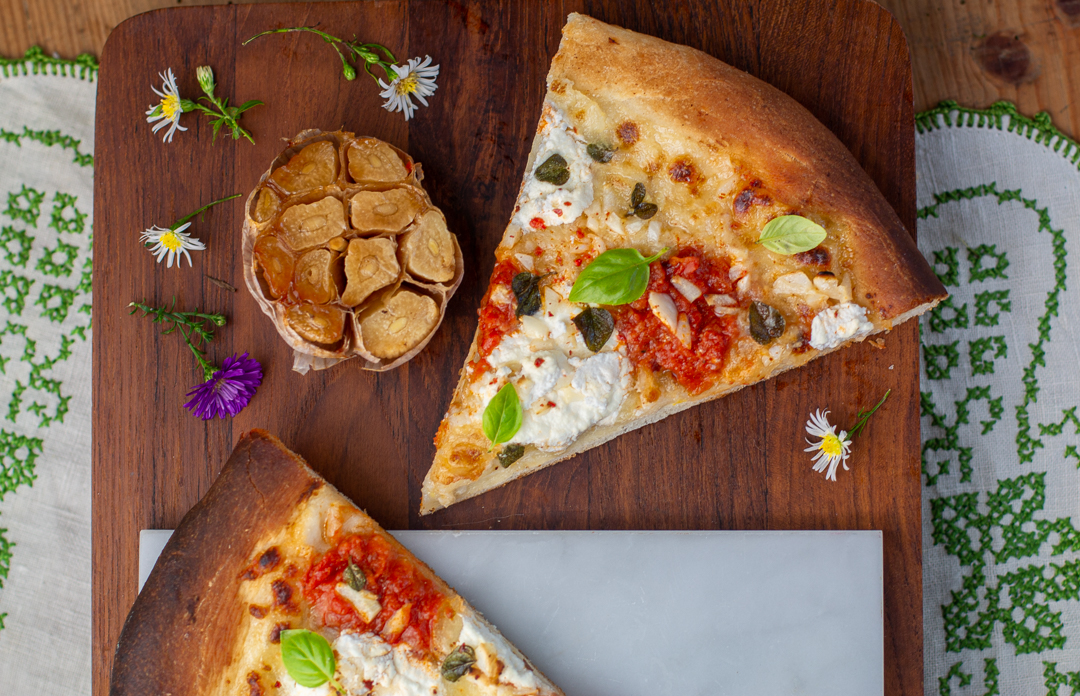 Garlic is in season right now!
The prime growing months in the North East are in July-August (garlic takes 9 months to mature), and cures for 1 – 2 months until ready for sale.
The Hudson Valley Garlic Festival (my favorite culinary day!) took place October 2nd and 3rd this year with dozens of growers, and many who grow organically.
The Gilroy Garlic Festival usually takes place the last week of July, given the earlier growing season in California.
Where & When to Buy Garlic:
Buy now and stash away for the next few months in a dark, cool place.
Most smaller garlic growers hope to sell out of their stash by mid-fall – so look for it in early fall at farmers' markets and specialty shops.
Christopher Ranch from Gilroy, California, the Garlic Capital of the World – is the largest US garlic producer. The can distribute garlic through the year, all 100 million pounds of it!
Chinese Garlic – If the roots are all removed on the bottom – that indicates it is China grown. Off season – I always ask produce managers "where is this garlic from?" More than ever, garlic is now labeled – product of USA. I will not purchase Chinese Garlic, as is bleached with unsavory chemicals and are usually smaller in size. Buy American!
There are two types of Garlic – Hardneck and Softneck.
Hardneck Garlic is more flavorful and the cloves are bigger and easier to peel than Softnecks – there are usually five to six cloves per head. This type produces lovely Garlic Scapes in the spring.
Softnecks Garlic – the kind usually found in supermarkets and often imported, has the best storage life and is easier to braid than hardnecks.
From the outside, it's tough to tell a hardneck from a softneck garlic. But when cracked open, softneck heads don't have a hard core at their center like hardnecks do, and they have many cloves of different sizes.
My German whites were grown by Wunderful Life Farms in Lyon, NY.
I recently had a conversation with Daren, owner at Grá den Talún Farm in White Creek, Upstate NY to learn about new varieties he is growing and trying out. All grown with organic practices, he sells 120 varieties of Heirloom Garlic such as Georgian Fire, Asian Tempest and Rose de Lautrec. He sells in season from his website.
Fresh Garlic is super-firm with juicy cloves and never dry. Fresh heads are hard and tight, while older bulbs will be soft and pliable.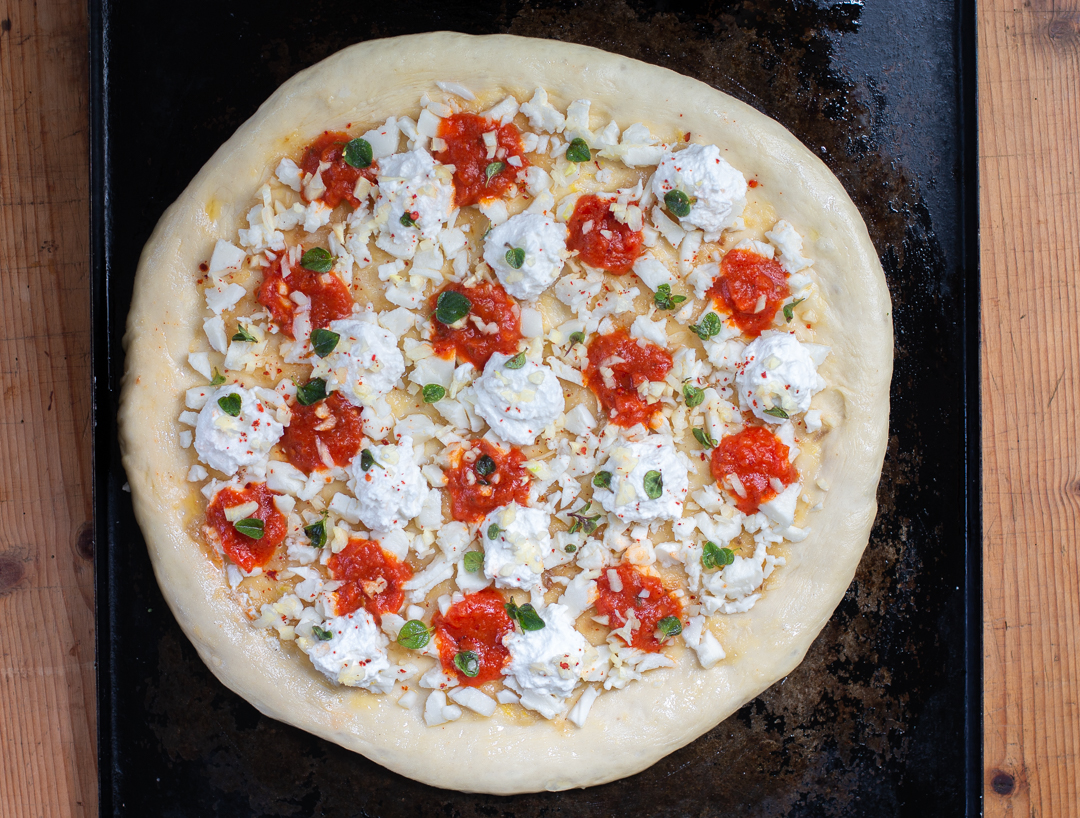 The Roasted Garlic Purée over the dough has a mellow flavor – the Raw Garlic on top is more assertive.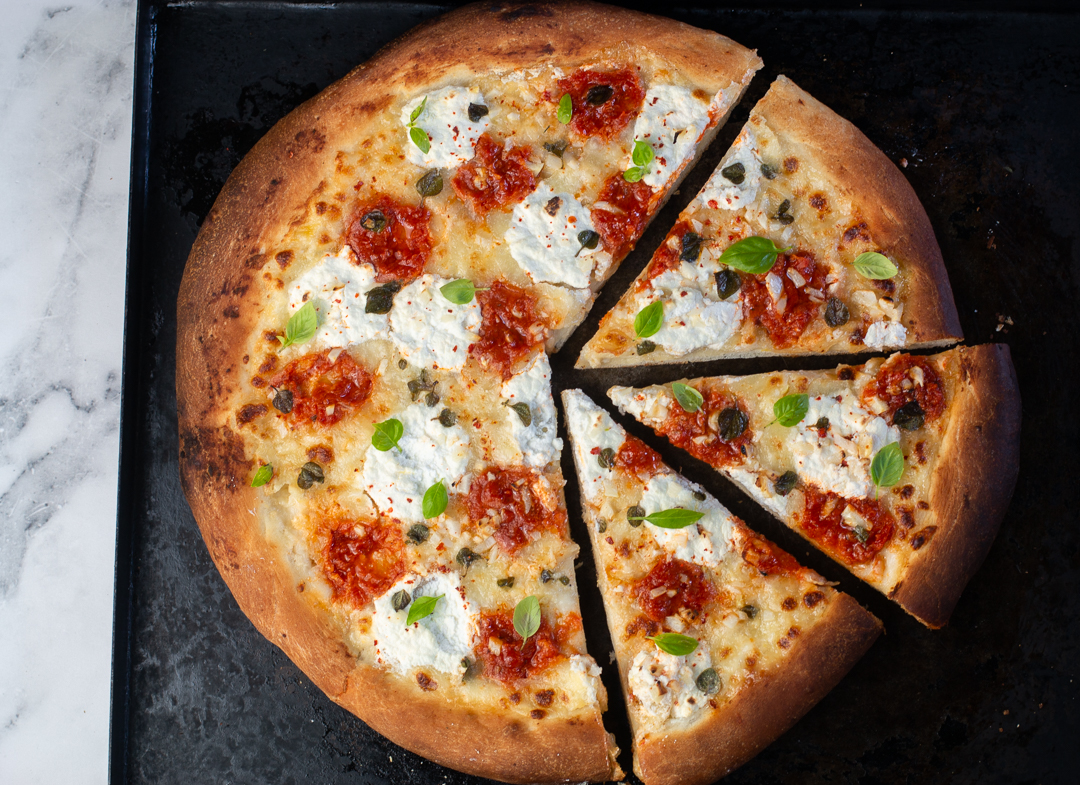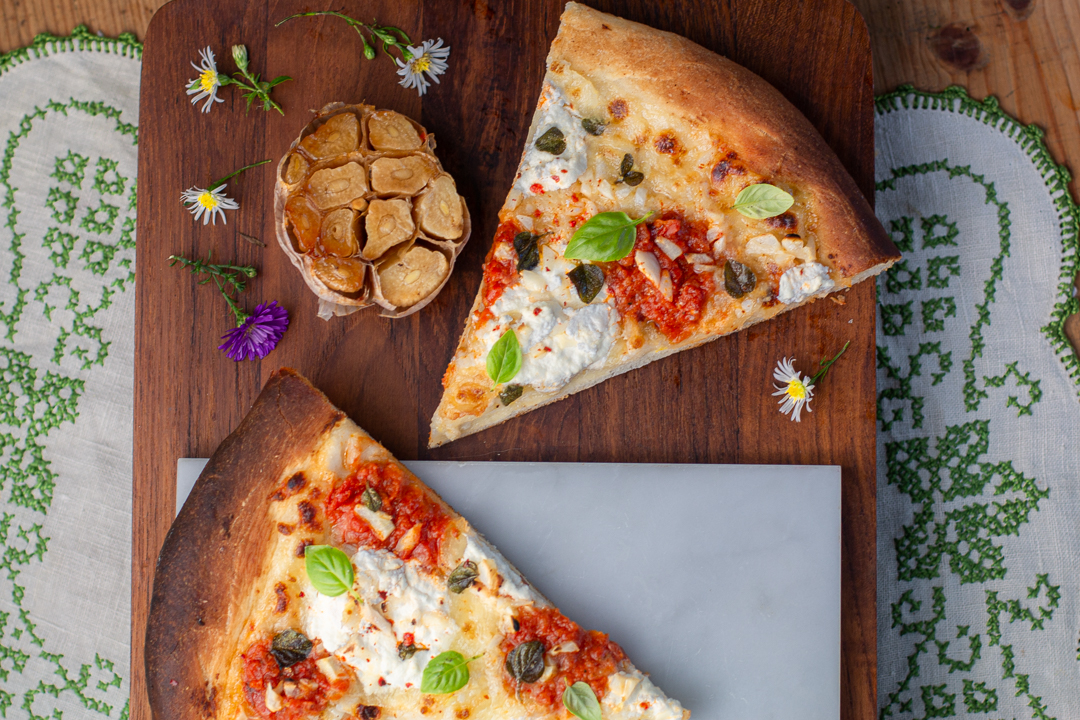 Karen's Perfect Pizza Dough is easy to make and produces a light, pillowy dough with great texture that crisps wonderfully. I LOVE pizza making days… a package of yeast, water at just the right temperature a few cups of flour quickly produces a large ball of dough what will rise, and become endlessly spongy, light and heaven to work with.
Rolling it out – or stretching if you prefer, you will feel the lightness of the dough, and in minutes your creation will be cooked and ready to eat.
Making pizza is surely an art, enjoy preparing in your home kitchen and add something intuitive to the process. Be adventurous with your toppings. My dough makes two 12″ pies – so the second ball you can improvise with.
Garlic may increase longevity:
Garlic can benefit the heart, brain, and other organs. It reduces risk factors, such as blood pressure, cholesterol, and heavy metal toxicity, which can help people live longer. Garlic is also a rich source of antioxidants and nutrients, and it boosts the immune system as well.
Check out these Garlic Recipes for ALL your Culinary Creations:
How to Roast Whole Garlic Heads in Olive Oil and How to Use It
Karen's Garlic Confit ~ A Silky, Spreadable Condiment
See my category dedicated to Garlic: I Love Garlic! 
Enjoy peak garlic season!
Karen
Garlic Garlic Pizza!
Karen's Perfect Pizza Dough is topped with a Roasted Garlic purée, Fresh Mozzarella Cheese, dollops of Ricotta Cheese & Marinara and Chopped Garlic. Fresh Oregano & Basil with a pinch of Hot Pepper Flakes add to this crave-worthy pizza!
Servings:
6
servings; 1 12" pizza
Print Recipe
Pin Recipe
Rate this Recipe
Ingredients
1

recipe

Karen's Perfect Pizza Dough

use one ball of dough; recipe makes two

1

large

heads of garlic

I used German White variety

3

teaspoons

extra virgin olive oil

divided

1

cup

mozzerella cheese

I use fresh, grated, about 4 ounces

1/2

cup

marinara sauce

6

tablespoons

fresh ricotta cheese

full fat

1 1/2

tablespoon

fresh oregano leaves

2

tablespoons

fresh garlic

peeled and chopped

few

pinches

hot pepper flakes

to taste

1 1/2

tablespoon

fresh basil leaves
Instructions
Make Karen's Perfect Pizza Dough. Will use half recipe*- one ball. (See recipe)
Roast Garlic, mash to a puree
Preheat oven to 350 degrees. Cut a head of garlic in half vertically. Add a piece of parchement paper to a small baking pan, drizzle with olive oil, add the garlic cut side down. Cover with foil and bake for 45 minutes - 1 hour for a very large head. Check that the garlic is nicely softened. Cool slightly.

Push the garlic from their paper, add to a cutting board and mash with the side a knife. Add to a small bowl, add 2 teaspoons olive oil and stir up -set aside.

Hint & time saver: consider roasting two heads of garlic and using the second for another recipe.
Roll dough, top and bake the pizza:
Preheat oven to 475 - 500 degrees. Place rack on lowest position.

Punch down the dough, roll on a floured board with a rolling pin to a 12" round. Can also roll to flatten and stretch with your hands. Brush a baking pan with oil, (I use a black steel one, holds heat very well.

Add the dough to the pan, building up a crust edge about 3/4 inch wide.

Gently spread all the garlic puree over the dough. Scatter the mozzerella evenly over the garlic.

Top with 12, 1 1/2 teaspoon dollops of ricotta cheese all over, spacing them. Add marinara sauce in 1 1/2 inch dollops in between the ricotta.

Brush the oregano leaves with olive oil and scatter the leaves all over. Top with the chopped garlic and a few pinches of hot pepper flakes.

Bake the pizza until the crust is nicley browned and the pizza is good and bubbly, about 8 minutes. Top with basil leaves.

Slice and serve! Make 6 slices or 8 smaller ones.
Notes
*or make two 12" pizzas. Dough and pizza freeze well.
Karen's Perfect Pizza Dough Recipe
https://azestforlife.com/recipe/karens-perfect-pizza-dough/

This recipe may not be reproduced without the consent of its author, Karen Sheer 
Nutrition Facts
Garlic Garlic Pizza!
Amount per Serving
% Daily Value*
* Percent Daily Values are based on a 2000 calorie diet.
Karen Sheer