12 Super Bowl Party Food Recipes – Yes – They're a Little Healthier
Crowd-Pleasing 

Updated Party Foods with a Healthier Twist that all will enjoy.

I might not be your source for Chicken Wing Recipes… BUT  here are some SPECTACULAR Game-Day party suggestions with Less Calories, Carbs, Sodium, Fat & Preservatives – Will help you feel good without sacrificing flavor!
A nice shift from the same old appetizers and heavy, uninspired so called "party pleasers."
Nachos are Necessary
1. Grilled Chicken Buffalo Nachos (Vegetarian version too)
Better For You Nachos:
Ditch the FRIED CHICKEN WINGS OR NACHOS loaded with ground beef and smothered in cheese…
Organic Blue Corn Tortillas – or your favorite type
YES to Veggies! Yellow Peppers, Tomatoes and Scallions
Freshly-grilled chicken cubes in your favorite hot sauce
Lingering "Buffalo" flavors
Dotted blue cheese on top of the nachos
Cheese Sauce – gluten free option (which I make)
---
Who Doesn't Love Shrimp??
2. Spicy Citrus Chili Shrimp and what to do with them (hint: put a skewer in them)
An easy and pungent marinade transforms Shrimp with intense flavor.
An easy and pungent marinade
Simply grill shrimp with sesame seeds in cast iron skillet
Serve in a bowl on top of a pool of: Citrus Chili Glaze
Lighten up version: serve in a bowl over a pool of Asian Orange-Sesame Vinaigrette
---
3. Skewered Shrimp Scampi Appetizer
Sautéed Shrimp in a Hearty Garlic Herbal Butter Sauce Skewered with a Cube of Sourdough Bread to Soak up the Flavors.
Give shrimp a quick marinade
Toast bread cubes in the oven
Sauté shrimp – make Scampi sauce in the pan
Using a 4″ skewer, add a bread cube and shrimp on top
Add warm sauce on a serving platter – add shrimp
---
Meatballs are Expected
4. Spinach & Chicken Meatball Appetizer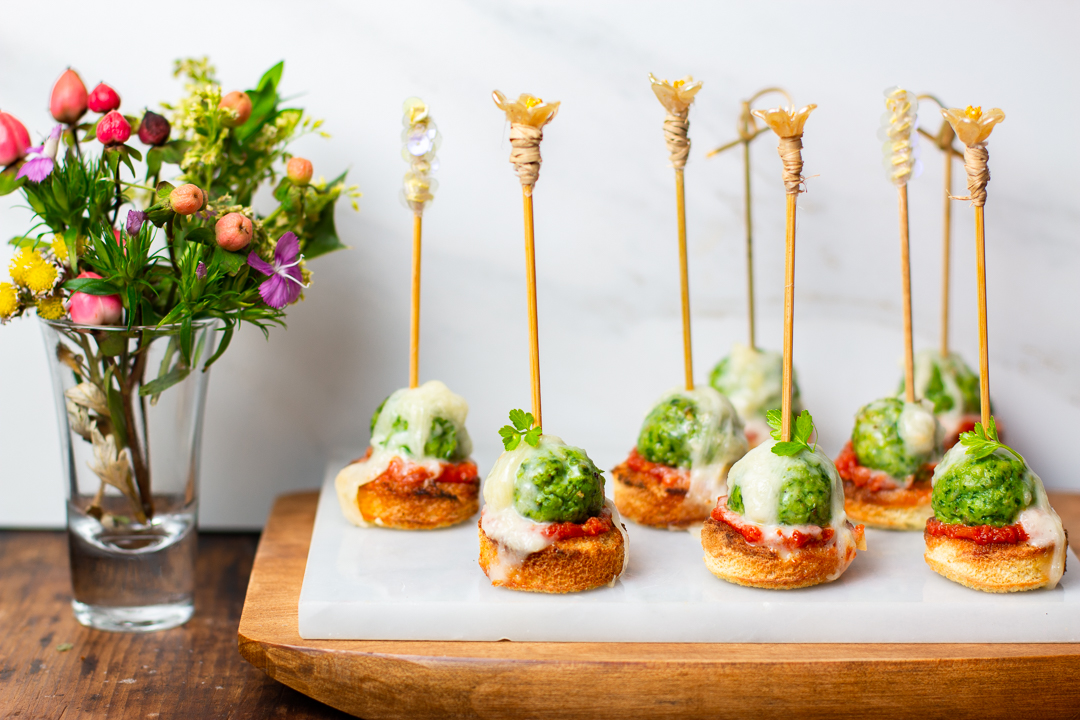 These pop-in-your-mouth meatball~crostini~marinara bites are made with chicken & spinach. Their gorgeous green color is a hint – there's something healthy going on…
Forget the fontina fondue if time is an issue, top with a grated Italian cheese and warm through.
Make meatballs miniature sized: (recipe) Can make ahead of time
Make bread rounds, toast
Make cheese fondue OR grate cheese
Warm marinara and meatball, add to bread round, top with cheese, and skewer
---
Everyone Wants Pizza
5. Garlic Garlic Pizza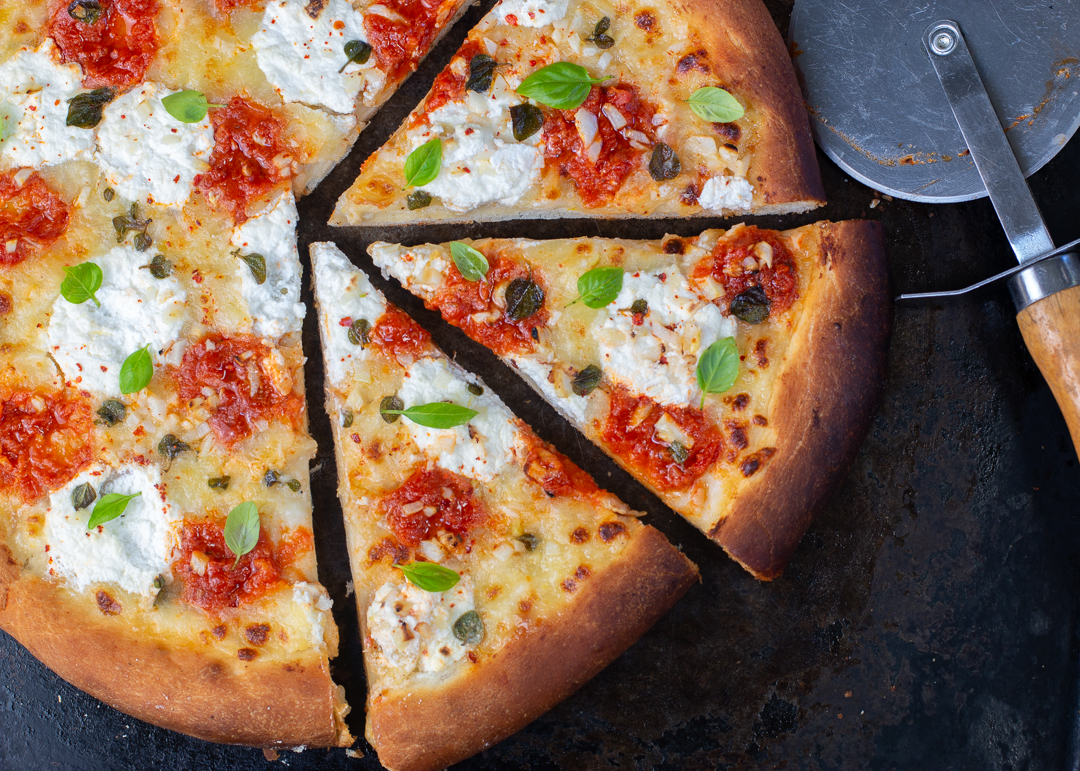 Karen's Perfect Pizza Dough is topped with a Roasted Garlic purée, Fresh Mozzarella Cheese, dollops of Ricotta Cheese & Marinara and Chopped Garlic.
NOTHING smells better than from-scratch pizza from your oven!
Make Karen's Perfect Pizza Dough
Bake a head of garlic, cool, then mash cloves
Roll (or stretch) dough, spread garlic puree, scatter mozzarella
Dollop with ricotta & marinara, add oregano, chopped garlic and hot pepper flakes
Bake until bubbly, cut slices & eat!
---
Serve. A. Vegetable!
6. Mediterranean Stuffed Shishito Peppers
Blistered Shishito Peppers are cut in half and stuffed with a medley of Mediterranean ingredients for an addictive appetizer 
Quick blister shishitos in a heavy skillet. Cool, slice in half horizontally
Make goat cheese & vegetable filling:
Add cooked and raw veggies to goat cheese, add fresh herbs
Place shishitos on a baking pan, add filling to each, broil until warm and bubbly
---
7. Sesame Blistered Shishito Peppers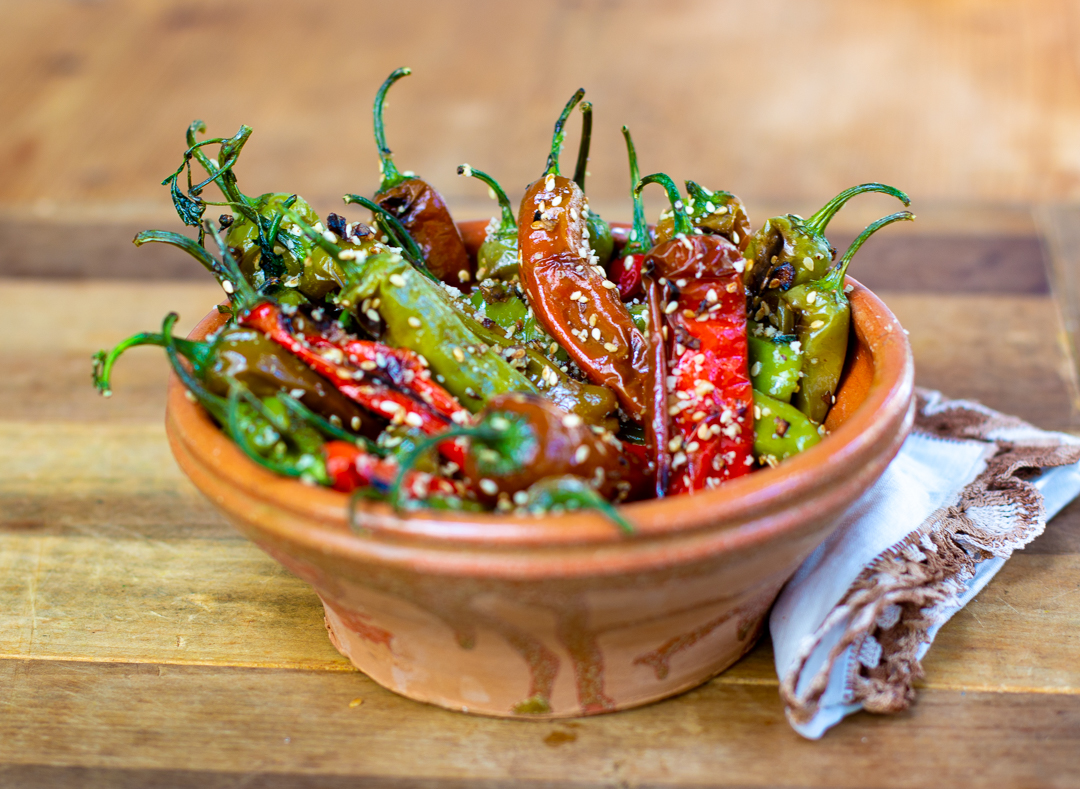 An amazing, fun & delicious EASY appetizer and side dish – these charred peppers are addictive and healthy!
These are QUICK TO COOK – can easily make dozens.
Just pick up by the stem & enjoy.
Heat a cast iron skillet with neutral oil add shishito peppers and a pinch of sea salt
Blister them over high heat; 3 minutes
Add shallots, sesame oil and cook 3 minutes – add sesame seeds and hazelnuts
PS: Shishitos are now available at Trader Joe's!
---
Make a Homemade Salsa
8. Karen's Winter Kumato Tomato Salsa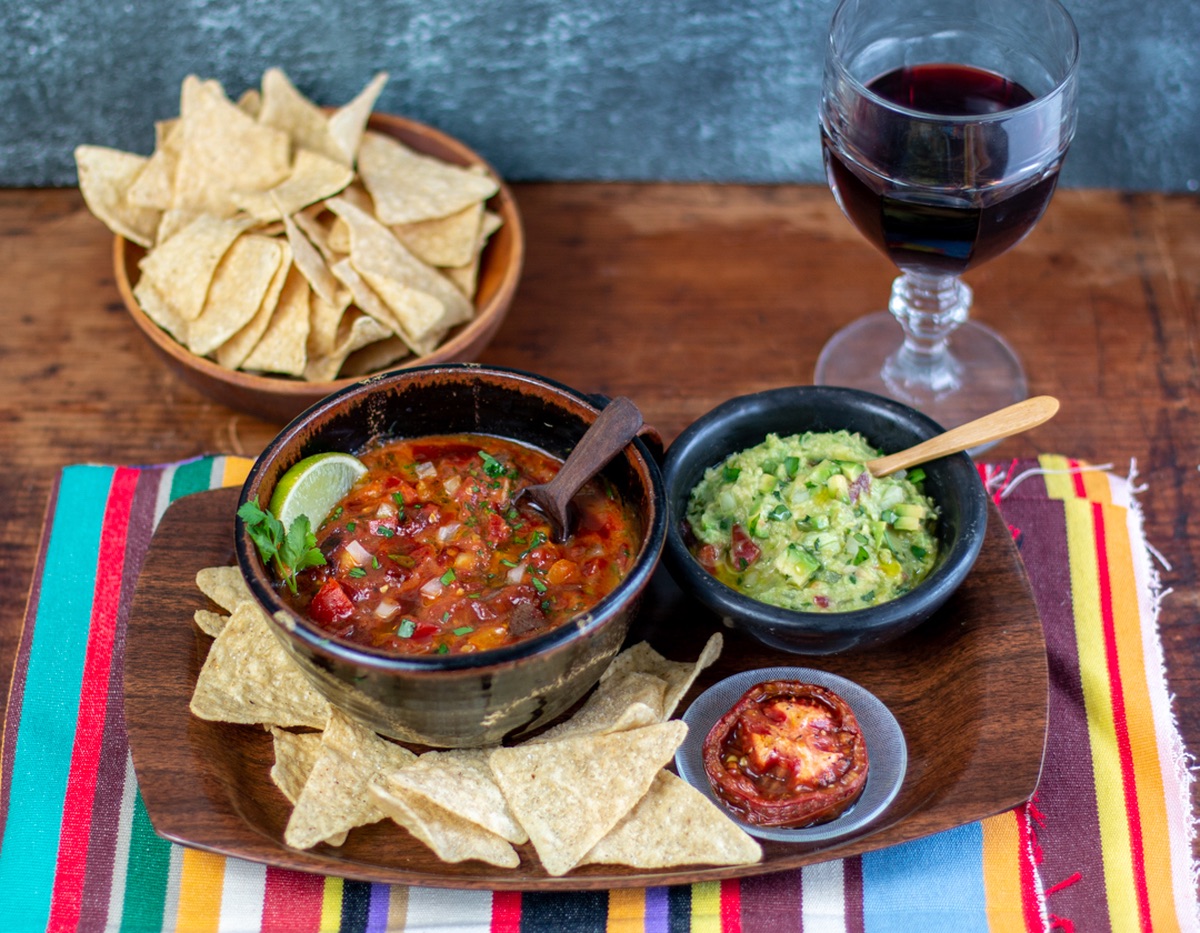 The Best Homemade Salsa features Kumato Tomatoes available year-round and prized for their sweet, juicy flavor and firm texture.
Serve with Organic Chips and Guacamole 
Roast half the Kumato Tomatoes with Garlic Cloves in their skins, 500 degree oven
Whirl the roasted tomatoes and garlic in a small food processor until smooth and creamy
Add chipotle peppers and adobo sauce, vinegar, lime juice and salt – pulse to combine
Place salsa base in a bowl
Fold in remaining ingredients: diced Kumato tomatoes, diced colorful tomatoes, parsley and olive oil
---
Take A Dip
9. Healthy Roasted Garlic & Onion Dip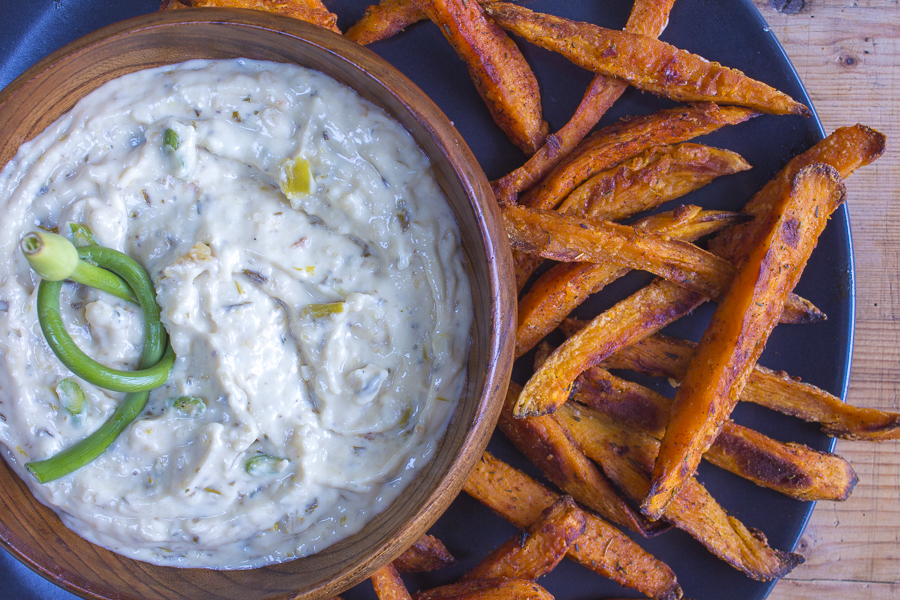 The Best Homemade Salsa features Kumato Tomatoes available year-round and prized for their sweet, juicy flavor and firm texture. Need a dip for the game-day get together that doesn't break the calorie bank?
A real crowd pleaser – there will not be any leftovers! A Redux recipe – a healthier version of the Lipton Soup Mix.
Serve with Roasted Sweet Potatoes – OR Delish with Organic Potato Chips
Roast a head of garlic in the oven, squeeze our the cloves
Roast scallions, toast dehydrated onions
Add dip ingredients in a large bowl, mash all together and blend all
Serve cold
---
You Gotta Serve Chili
10. Amazing Veggie Chili Without Beans
A Healthy and Hearty Chili Chock Full of Veggies. Chickpeas, Lentils, Butternut Squash and Cremini Mushrooms in a Tomato Based Sauce with Homemade Chili Seasoning.
Dig in and be creative with your toppings!
Dice and cook veggies in a heavy pot. Add tomato sauce, vegetable broth and lentils.
Simmer for 30 minutes.
Prepare Garnishes: grated cheddar, chopped red onion, sliced jalapeño, sour cream & herb sprigs
Add warm chili to individual bowls
Top with garnishes or let you guests choose their own
---
Stuff a Mushroom
11. Stuffed Shiitake Mushrooms with Tomatillo Salsa Topping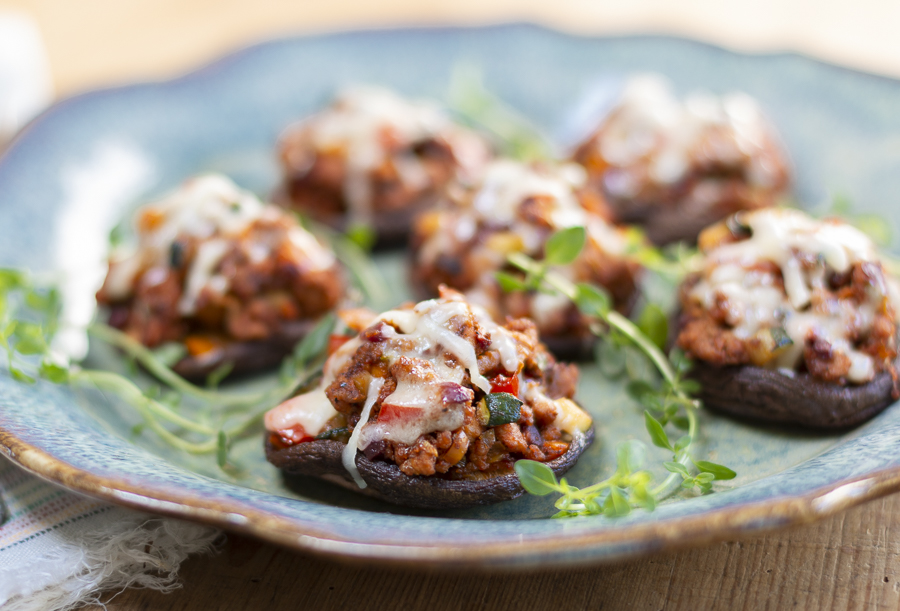 Delectable with Mexican Spices – these caps are stuffed with flavor! Lots of colorful Vegetables and Ground turkey OR Plant Based Tempeh.
A healthy approach to stuffed mushrooms ~ serve with a dollop of sour cream and tomatillo salsa.
Make the Tomatillo Salsa
Clean mushrooms, brush w EVOO and bake 8 minutes
Make turkey & veggie filling – season well with chili powder
Add marinara to filling, top mushrooms
Top with grated cheese, bake until melty and serve
---
Add A HOMEMADE Dessert
12. Karen's Best Blondies – They're Gluten Free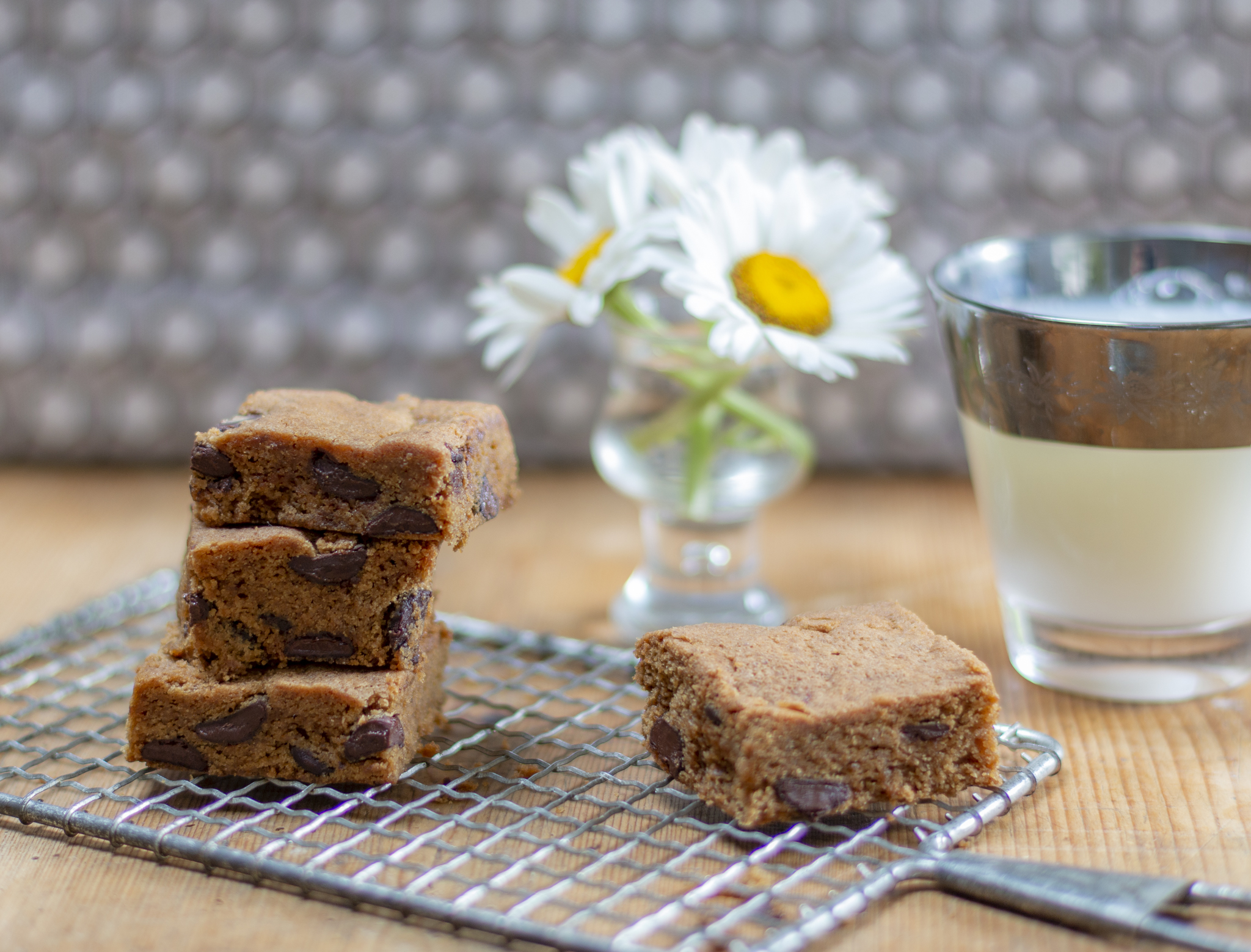 A "Blonde Brownie" with a rich caramel- butterscotch like flavor dotted with chocolate chips.
Baked in a pan – you cut them into squares or rectangles. Simple to make and a family favorite of mine! Can use regular flour too.
Or choose something here: COOKIES & BARS 
Line a 8 x 8 pan with parchment paper
Cream butter & sugars until light
Add egg, then rest of ingredients (use best quality dark chocolate chips)
Spoon batter in pan, bake until done. (Do not overcook) Cool, cut into 16 squares
Double or triple the recipe for a crowd!
Come for the Game; Stay for the FOOD!
Karen
Winter Kumato Tomato-Chipolte Salsa
Blackened Kumato Tomatoes and Garlic whirled in your blender with Chipotle Peppers in Adobe - the best roasted salsa you can make at home!
Servings:
6
servings; make 1 1/2 cups, 4 tablespoons per serving
Print Recipe
Pin Recipe
Rate this Recipe
Ingredients
1

pound

Kumato tomatoes

(about 4 to roast; one to dice)

4

medium

garlic cloves

unpeeled

1/2

teaspoon

extra virgin olive oil

1

tablespoon

chipotle peppers

(canned)

1

teaspoon

adobo sauce

from canned chipotles

1/2

teaspoon

red wine vinegar

1

teaspoon

fresh lime juice

1/4

teaspoon

sea salt

1/3

cup

sweet onions

peeled, 1/4" dice

1/2

cup

fresh cherry tomatoes

multi colored, 1/4" dice

2

tablespoons

chopped fresh parsley

2

teaspoons

extra virgin olive oil
Instructions
Preheat oven to 500 degrees.

Cut 4 Kumato tomatoes in half (I had 5 medium sized ones.) Place a sheet of parchment on a medium sized rimmed baking pan. Add 1/2 teaspoon evoo. Place tomato halves and unpeeled garlic on top. Brush all over with oil on pan.

Sprinkle with a pinch of kosher salt and freshly cracked pepper.

Roast in the hot oven to blacken - REMOVE garlic after 6 minutes; will be blackened around the edges an softened inside.

Roast tomatoes a total of 20 minutes until well roasted and just blackened and caramelized around the edges. Remove from the oven and let cool slightly.

Peel Garlic; In a small 3 -4 cup food processor add garlic, HALF the roasted tomatoes, chipotle peppers, adobe sauce, vinegar, lime juice and sea salt.

Blend until very smooth - add all to a medium sized bowl.

Dice the remaining unroasted Kumato tomato. Coarsely chop remaining roasted kumato tomatoes, add to the bowl. Add the onions, diced cherry tomatoes, parsley and extra virgin olive oil.

Mix all - taste for salt and spiciness. Can now add more chopped chipotle peppers and adobe sauce if you like a spicier salsa.

Refrigerate any unused salsa in a airtight container and enjoy within one week.
Notes
This recipe may not be reproduced without tie consent of its author, Karen Sheer.
Nutrition Facts
Winter Kumato Tomato-Chipolte Salsa
Amount per Serving
% Daily Value*
* Percent Daily Values are based on a 2000 calorie diet.
Karen Sheer