Weeknight Filet of Sole with Mustard Sauce
A quick & tasty meal finished in minutes ~ stir together a Mustard, Herb, Garlic & Mayo Sauce, coat the fish and simply broil… genius!!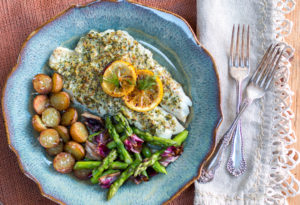 A little taste of France ~ and updated: Filets de flet à la moutarde for today's taste.Use the freshest Filet of Sole! I got mine from a shop on the docks of Mystic, CT.
Ingredients
1 ½ – 2 pounds the freshest Filet of Sole, cleaned, patted dry
1 ½ teaspoons extra virgin olive oil
2 tablespoons mayonnaise*, I use a vegan variety: Just Mayo
1 tablespoon fresh dill sprigs, cleaned, dried and finely chopped
1 tablespoon flat leaf parsley, cleaned, dried and finely chopped
2 ½ teaspoons whole grain mustard**
1 tablespoon garlic confit, mashed with the side of a knife (see recipe and note)
1 tablespoon fresh garlic chives, finely chopped, or fresh chives
Instructions
1
Make the Topping/Sauce:
In a small bowl add the mayonnaise, dill, parsley, mustard, mashed garlic and garlic chives. Mix well.
2
Place the fish fillets in a rimmed baking sheet (skinned side up) brushed with 1 1/2 teaspoons of olive oil.
Spoon over the Topping/Sauce in an even coat. Sprinkle with sea salt (or Himalayan sea salt) and some fresh cracked pepper to your taste.
3
Preheat the broiler – set rack 4″ from the heat source.
When very hot, add the fish, close door and broil until just turning golden, about 4 – 5 minutes.
Remove from oven and test to see if fish is firm and cooked through. This time will vary depending on the thickness of the fish.
4
Serve with lemon wedges. For a pretty garnish: slice lemons and cook in a cast iron skillet with very little oil until very golden underneath.
Top with an herb sprig from the recipe; dill, parsley to garlic chives.
5
To complement the dish ~ I served the dish with petite baby potatoes and a sauté of asparagus and radicchio.
6
Product Alert; know what's in your food and read labels:
7
*Mayonnaise: While many will not make your own (hats off to you if you do!), I use "Just Mayo" a vegan variety.
Commercial Mayonnaise contains "natural flavoring" which is a chemical additive – that I stay away from!
Hellmann's Best Mayonnaise Ingredients: Soybean oil, water, whole eggs and egg yolks, vinegar, salt, sugar, lemon juice concentrate, calcium disodium edta (used to protect quality), natural flavors.
Hellman's Avocado Mayonnaise Ingredients: Canola and avocado oil, water, liquid whole eggs, modified corn starch, sugar, vinegar, liquid egg yolk, salt, concentrated lime juice, sorbic acid, spice, natural flavor, alpha-tocopherol, calcium disodium EDTA.
**Full Grain Mustard: Actually not easy to find a variety that does not contain "natural flavoring" – so please read labels! Look for Organic varieties.
I've used Organicville Stone Ground Mustard, Ingredients: mustard seeds, vinegar, salt and spices. Sounds fancy right…?
Maille Old Fashioned Mustard Ingredients: Water, mustard seeds, distilled vinegar, salt, white wine, sugar, lactic acid, natural flavor.
8
I also stay away from "Citric Acid" lurking in many processed foods (a highly processed nightmare.) You can read about it here: https://ethicalfoods.com/citric-acid/
9
Garlic Confit: see recipe. Or simply sauté on very low heat sliced fresh garlic submerged in extra virgin olive oil, cooked until very soft, but not colored, then mash.
See BLOG for many photos of this recipe, and more information.
This recipe may not be reproduced without the consent of its author, Karen Sheer.
Karen Sheer