Asian Glass Noodle Stir-Fry With Too Many Vegetables
You'll slurp up these Gluten Free Sweet Potato Noodles with Vegetables Galore!
Crispy, Crunchy & Chewy with a Soy-Chili-Citrus Sauce – Delish!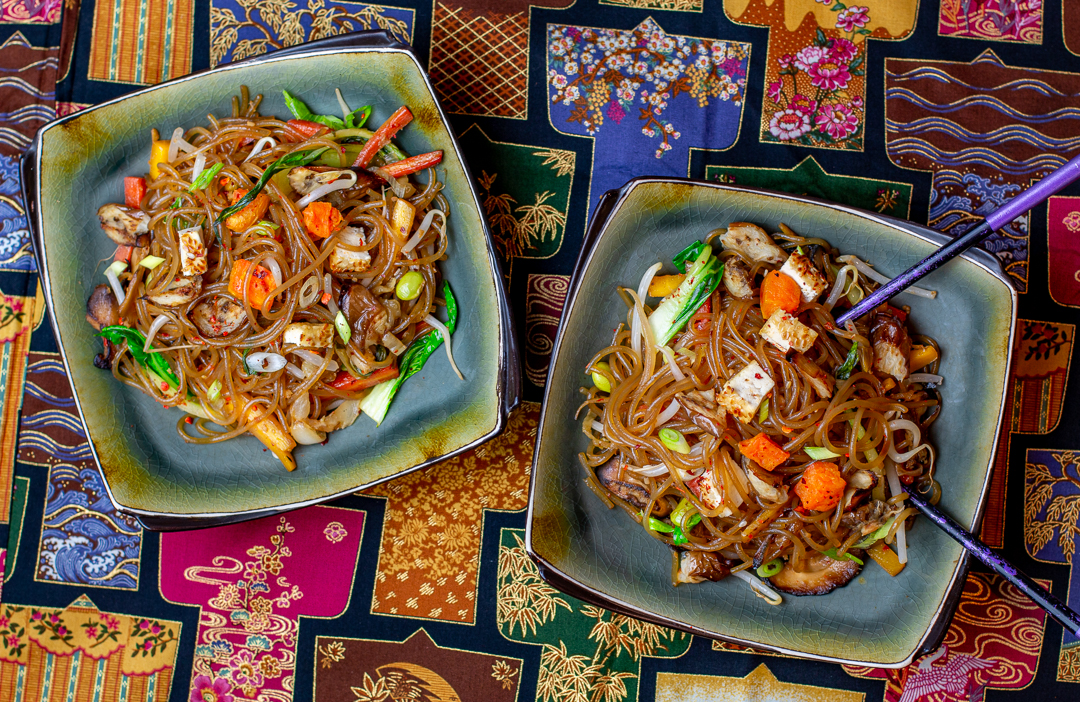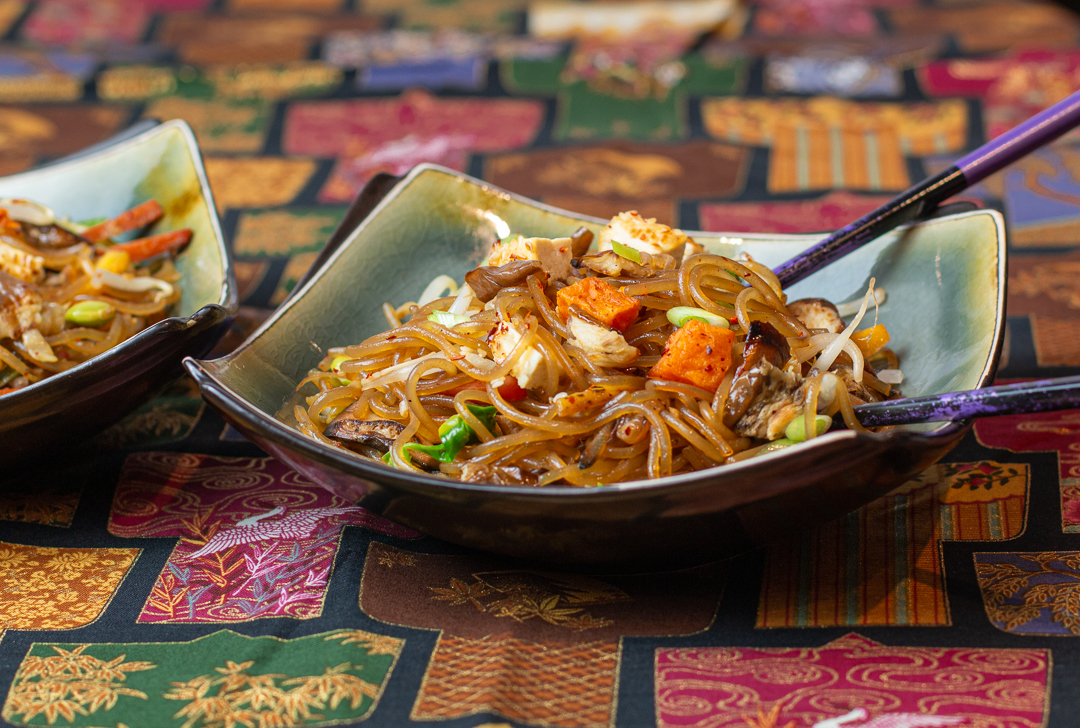 A flavorful soy-chili-citrus sauce is cooked with a bevy of vegetables and silky-chewy Glass Noodles (made with sweet potato starch.) A flavor explosion – gluten free, vegan and dairy free. Topping are an integral part of the dish!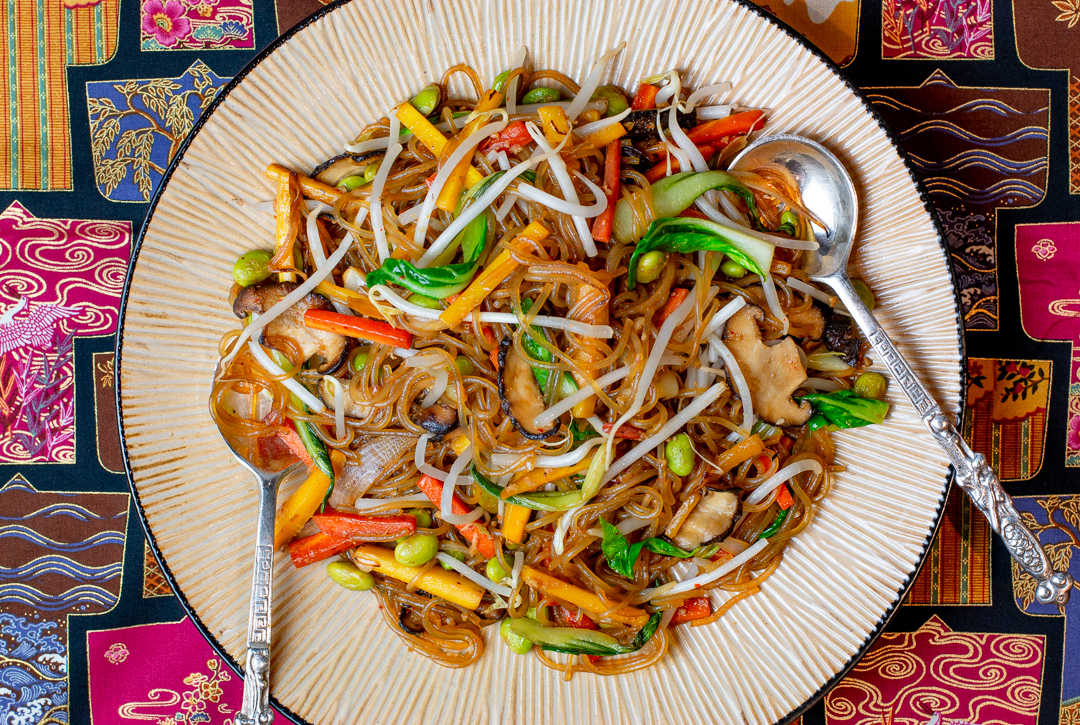 Sweet potato noodles are a type of glass (vermicelli) noodles made from sweet potato starch – just one ingredient! They are gluten-free by nature. Find them at a good Asian grocer or easily online. Once cooked, they have an interesting chewy and silky texture with a very mild taste.
The Method:
Cook the glass noodles – done in just 6 minutes

Add "sauce" ingredients together. This includes Hoisin Sauce ~ try my homemade recipe  

Roast Veggies for Garnish… they are important to the dish! You'll be roasting sweet potatoes and eggplant 

Make the Sesame Tofu for garnish… optional but love! 

Stir Fry the Veggies and Aromatics, add the Stir-Fry Sauce and Noodles
Add fresh Mung Bean Sprouts and Scallions for crunch & flavor
Serve in individual bowls or one large one. Add the Garnishes: Roasted Sweet Potatoes and Eggplant, (Sesame Tofu if using)
Similar to the Korean Japchae noodle dish ~ sweet potato glass noodles are stir fried with vegetables and meat, one of Korea's best-loved dishes.
BUT with some major updates!
I've omitted the beef and added too many vegetables. My noodle dish adds Hoisin Sauce in the stir-fry sauce for a little sweetness and body.
Korean sweet potato noodles (glass noodles) when compared to wheat noodles, they are lower in glycemic index because they contain complex carbohydrates.
A healthier alternative to rice and yellow noodles, sweet potato noodles is a staple in Korean food which is slowly going mainstream thanks to its slippery, slightly chewy texture. Even though glass noodles are high in carbohydrates, they do not cause a spike in blood sugar, are naturally fat free – and I'm loving that they are made from one ingredient.
Many well-stocked grocery stores and Asian specialty stores have started selling these noodles in the Asian section. Also see Amazon for a good selection. You can also find packages that are non GMO.
When it was first invented in the 17th century, Japchae was a noodle-less dish.
Nowadays, the main highlight of the dish is glass noodles, which is made from sweet potatoes, along with colorful vegetables and well seasoned meat. As you see – my recipe is Vegan.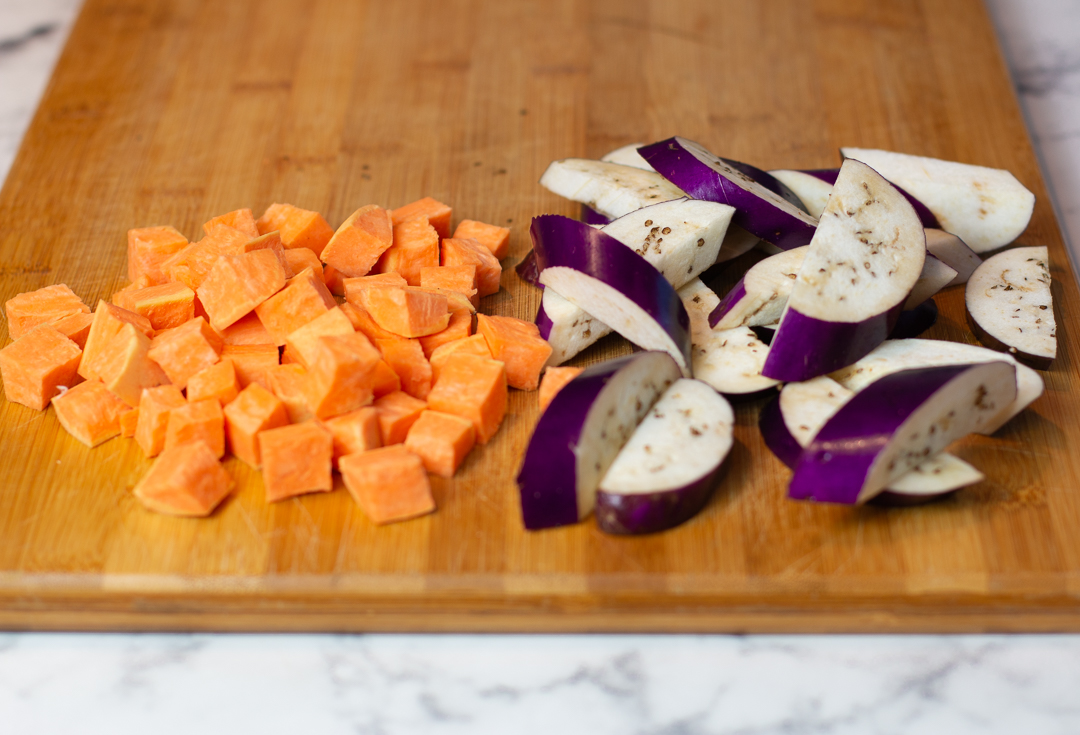 Loaded with Vegan Protein!
Turn to these foods for plant protein, all great sources ~ Edamame, Tofu, Bok Choy, Mung Bean Sprouts. 

Ingredients for Consideration:
Commercial Hoisin Sauce usually contains Caramel Color which is added as a colorant. This is a concentrated dark brown mixture of chemicals that does not occur in nature. I do not not buy ingredients with this additive!
Soy Sauce: Use what you like. I use a gluten free variety. Try lower salt, yet do not use dark soy sauce… it gets it color from caramel color!
Yuzu Juice: OMG one of my favorite ingredients!
Yuzu (Citrus junos) is a hybrid citrus fruit also known as yuja. It originated in China over 1,000 years ago and now grows in Japan, Korea, and other parts of the world.
Loaded with vitamin C and it's taste is pleasantly citrusy – a combination of mandarin orange, lemon and grapefruit. Refreshing with floral notes – give it a try! Find at Asian grocers or online.
It's an important ingredient in this condiment: Karen's Zesty Ponzu Dipping Sauce
I am wary of questionable ingredients that the FDA does not regulate. This are below in red. See article: Massive legal loophole means companies can add new ingredients to foods with no government safety review
Beware of Bottled Hoisin Sauce: Lee Kum Kee Hoisin Sauce (one example) Questionable ingredients in red.
Ingredients: Sugar, Water, Soybeans, Salt, Sweet Potato, Modified Corn Starch, Sesame Seeds, Garlic, Wheat Flour, Chili Pepper, Spices, Caramel Color, Acetic Acid, FD&C Red Color 40, Potassium Sorbate Added as a Preservative.
Better choice: San J Sauce Hoisin
Ingredients: Brown Sugar; Water; Red Miso (Water, Soybeans, Rice, Salt, Alcohol); Molasses; Tamari Soy Sauce (Water, Soybeans, Salt, Alcohol); Apple Cider Vinegar; Garlic Puree (Garlic, Water); Ginger Puree (Ginger, Water, Salt); Plum Juice Concentrate; Spice; Arrowroot; Inactive Yeast
Even better choice – MY Recipe: Homemade Hoisin Sauce – Better Than Store-Bought
Happy New Year! Make it a healthy one!
Karen
Asian Glass Noodle Stir-Fry with Too Many Vegetables
A flavorful soy-chili-citrus sauce is cooked with a bevy of vegetables and silky-chewy Glass Noodles (made with sweet potato starch.) A flavor explosion - gluten free, vegan and dairy free. Topping are an integral part of the dish!
Print Recipe
Pin Recipe
Rate this Recipe
Ingredients
4

ounces

Glass Noodles

made from 100% Sweet Potato Starch
Stir-Fry Sauce
3

tablespoons

Hoisin Sauce*

see my homemade recipe! (see note)

3

tablespoons

Soy Sauce

Gluten Free or low sodium

3

tablespoons

Pure Yuzu Juice**

or fresh lime juice (see note)

1/2

teaspoon

red pepper flakes (or Szechuan chili flakes)
Roast Vegetables for Garnish:
1

small

sweet potato

peeled 1/2" dice

1

cup

Japanese Eggplant

sliced 1/2" half moons

2

teaspoon

neutral oil

such ass expeller pressed safflower
The stir-fry
5

teaspoons

sesame oil

divided, I use a roasted variety

1/2

cup

sliced shallots

1/4" thick

3/4

cup

shiitake mushrooms

1/4" slices (can use cremini)

1 1/2

cups

fresh carrots (Yellow and Orange)

peeled, cut 1/4" matchsticks

6

leaves

bok choy ( whites and greens separated)

1/4" sliced

2

teaspoons

minced garlic

1

teaspoon

grated ginger

(or minced)

1/2

cup

edamame

defrosted

1

cup

fresh mung bean sprouts

to add last

2

tablespoons

sliced scallions
Instructions
Cook Glass Noodles
Cook glass noodles in plenty of water, stirring - for 6 minutes. Noodles will be firm, yet cooked. (They will get stirred into the sauce.) Drain - refresh with cold water. Cut the noodles with kitchen shears to 8 - 10" lengths. Add to a bowl, stir in a few drops of sesame oil so they will not stick together; set aside.

Add all Sauce Igredients in a bowl to fit; set aside.
Roast Veggies for Garnish
Preheat oven to 375. On a rimmed cookie sheet add sweet potatoes on one side - eggplant on the other. Add 1 teaspoon sesame oil to each; mix in. Roast until tender and just golden, about 25 minutes. Set aside.
Stir-Fry
Add 2 teaspoons sesame oil to a wok or a large seasoned cast iron skillet. Set heat to medium-high, add shallots and mushrooms and stir fry until crisp tender - 3 minutes. Add carrots and bok choy whites, stir and cook one minute.

Add garlic and ginger with last 1 teaspoon of sesame oil. Give a big stir for 1 minute to mingle flavors, then add the edamame and all ingedients of Stir-Fry Sauce.

Bring to a simmer and immediately add the cooked noodles. Give a big stir to coat all. Add the bean sprouts and scallions, stir in - remove from heat.
To Serve:
Add the noodles and vegetables into individual bowls, or one large one. Top with a portion of roasted sweet potatoes and eggplant. Add tofu if using. Enjoy!
Notes
Sesame Tofu: Cut 1/2 block firm organic tofu into 1/2 cubes. Place in a bowl to fit. Drizzle in 1/2 teaspoon sesame oil and 2 teaspoons sesame seeds to coat. Cook in oven at 375 degrees until golden, about 8 minutes - or add to a stick proof skillet and cook until lightly golden. 
Hoisin Sauce*: Please read ingredients! Do not buy with caramel colors or other coloring agents. Acetic and citric acids are also undesirable.
Try My: Homemade Hoisin Sauce Better Than Store-Bought (It takes just minutes to prepare.)

Yuzu Juice**: Buy at Asian grocers in the refrigerated case. An awesome sweet-tart flavor like a lemon mixed with a mandarin orange.
This recipe can not be reproduced without the consent of its author, Karen Sheer.
Nutrition Facts
Asian Glass Noodle Stir-Fry with Too Many Vegetables
Amount per Serving
% Daily Value*
* Percent Daily Values are based on a 2000 calorie diet.
Karen Sheer