No one will be able to resist these savory lollipops. Thin sliced, luminous smoked salmon around zesty cream cheese – the perfect pick-up appetizer for New Year's Eve or New Year's Day.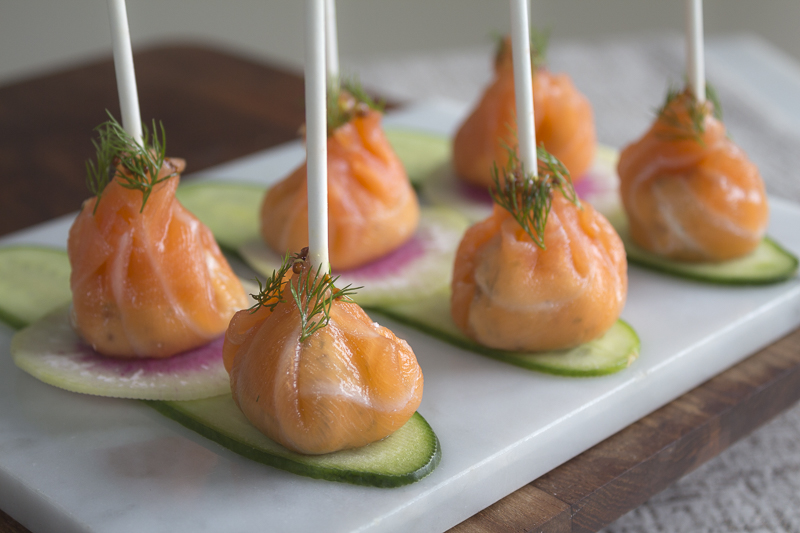 I'm loving this Holiday Appetizer, full of simple, smoked and zesty flavors, and not too filling. Your company will find these irresistible and creative, and quite low in calories. Hand-sliced smoked salmon will work best as you can ask for it to be cut thinly – almost sheer (this will fold up easily.)
Make a flavored cream cheese by adding fresh dill, lemon rind, capers, red onion and capers. Cut the salmon into 3″ squares and enclose the cream cheese dollop. I find this easiest first to drop the cream cheese balls on a waxed paper sheet, and freeze them with a lollipop stick in each. After 15 minutes it will firm up, and folding the salmon around it is then a breeze.
Garnishing the finished lollipops is up to you. I like to add some small dill sprigs on the top with a few mustard seeds.
Caviar, if you choose can be an indulgent and delicious garnish as well!
Can make these the day of serving, top with damp paper towels, or pop into a tall, wax paper lined container and seal tight.
I've included my recipe for a Vegan Cream Cheese – this recipe I have used for the lollipops with delicious results!
Here's to a wonderful and healthy New Year!
Karen