Crispy on the exterior, tender inside – this skillet cornbread is big on flavor! Additions include Jalapeños, Poblano Chiles, Chives and Fresh Corn. Gluten Free.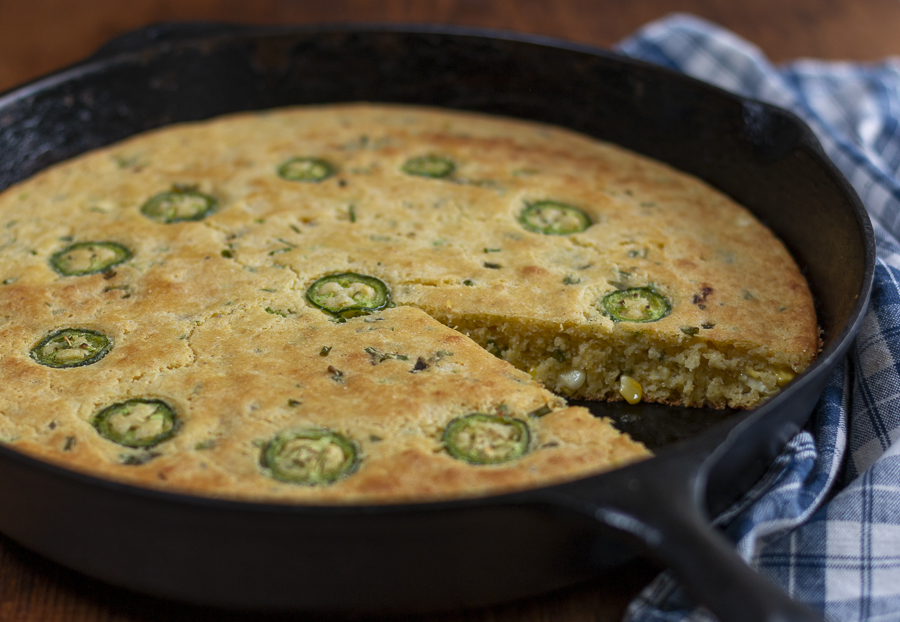 The perfect side dish to complement everything you're cooking this summer.
Crispy yet moist, tender and crumbly – you will make this recipe over and over!

When you pour the batter into the sizzling skillet, it almost fries the edge of the bread, creating that classic crust we all crave in a wedge of cornbread.
Cornbreads are really quite simple to prepare.
You know the drill: mix wet ingredients – fold in the dry and any delicious "add-ins."
The batter gets poured into a seasoned cast iron skillet which has heated for ten minutes in the oven – the insures a crispy exterior.

What makes this cornbread so fabulous are the mix-ins! Minced jalapeño, poblano chiles, fresh-cut chives and corn kernels cut off the cob are folded into the batter; sliced jalapeños are added to the top.

Surprisingly not very spicy – this cornbread has just the right amount of zippy-heat.
Gluten free? No problem! Use an all purpose gluten free flour blend along with a good quality organic yellow cornmeal (YES – you can substitute regular flour.)

Enjoy this fabulous cornbread,
Karen