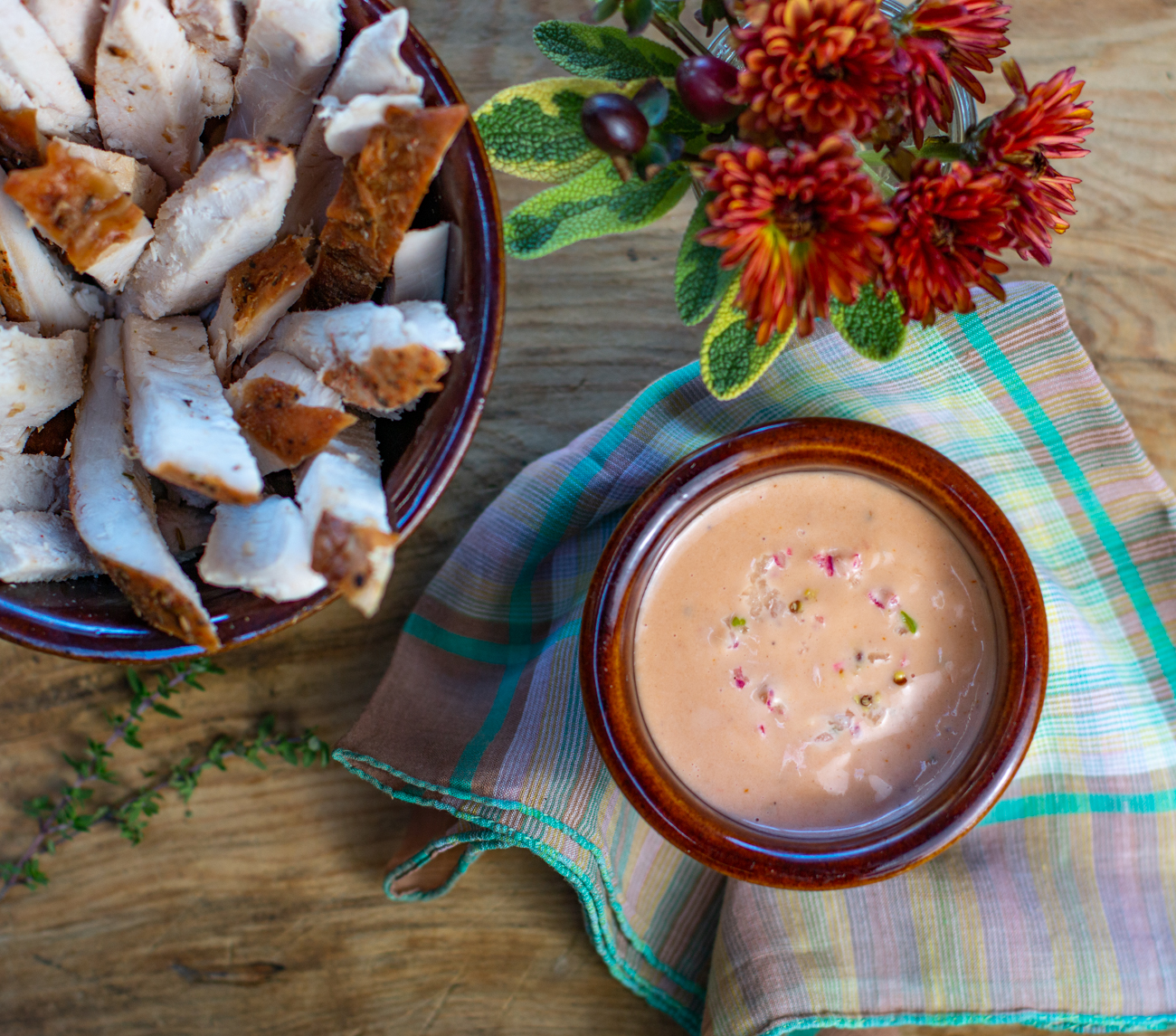 The BEST Easy Russian Dressing for Roast Turkey & Beyond
This easy and ZESTY Russian dressing features just 3 Ingredients! Perfect for dipping turkey, slathering on a sandwich or tossing in a salad. Includes Mayonnaise, Ketchup and Karen's "Shaken" Italian Dressing.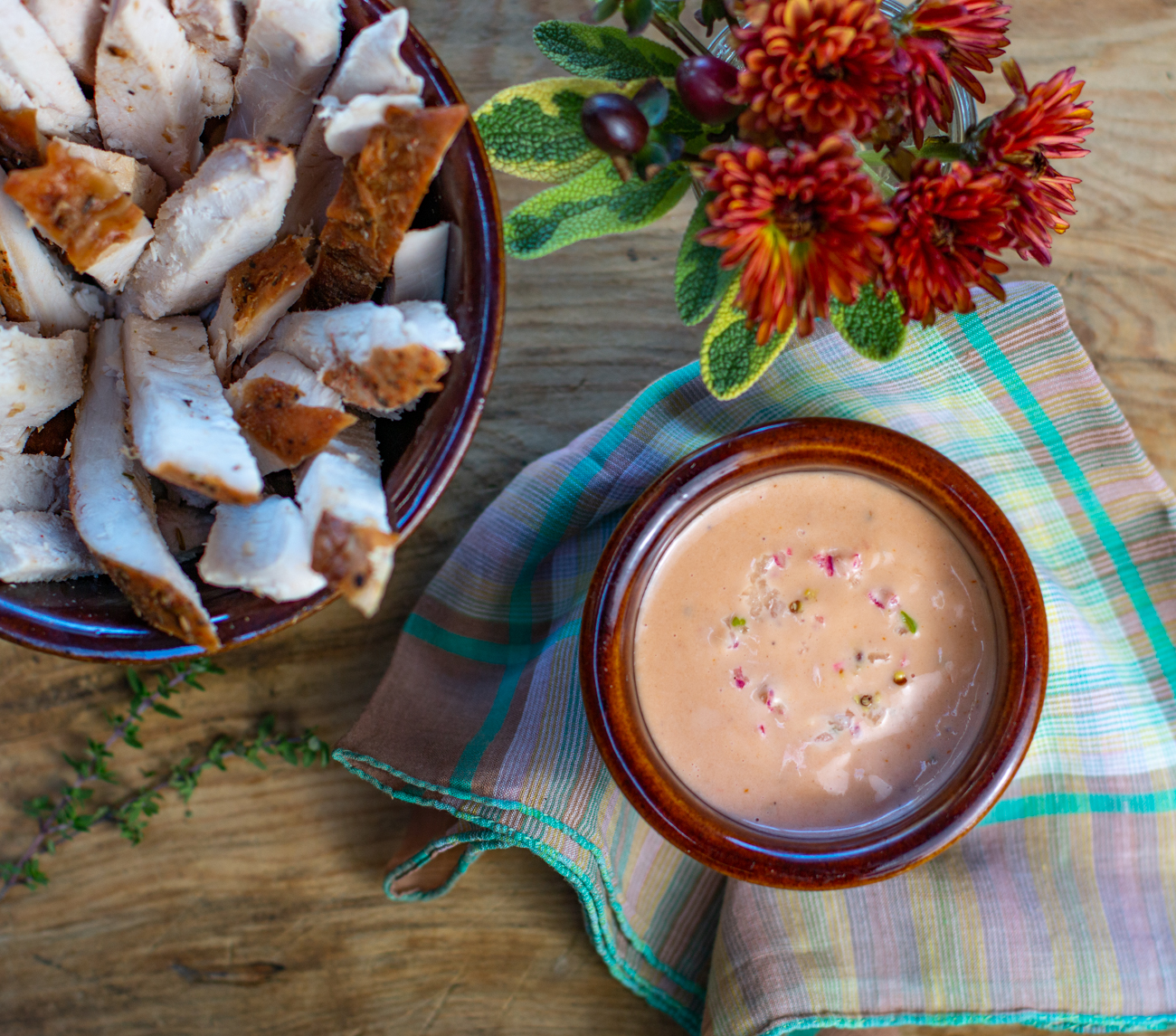 Here's How I like my Russian Dressing:
One part Mayonnaise – I use Organic without Natural Flavorings
One part Ketchup – I use Organic without High Fructose Corn Syrup & natural flavorings
One part Karen's Shaken Italian Dressing -It's ZESTY with bits of red onion, garlic, mustard, Oil & Vinegar and spices.
Whisk together – that's all!!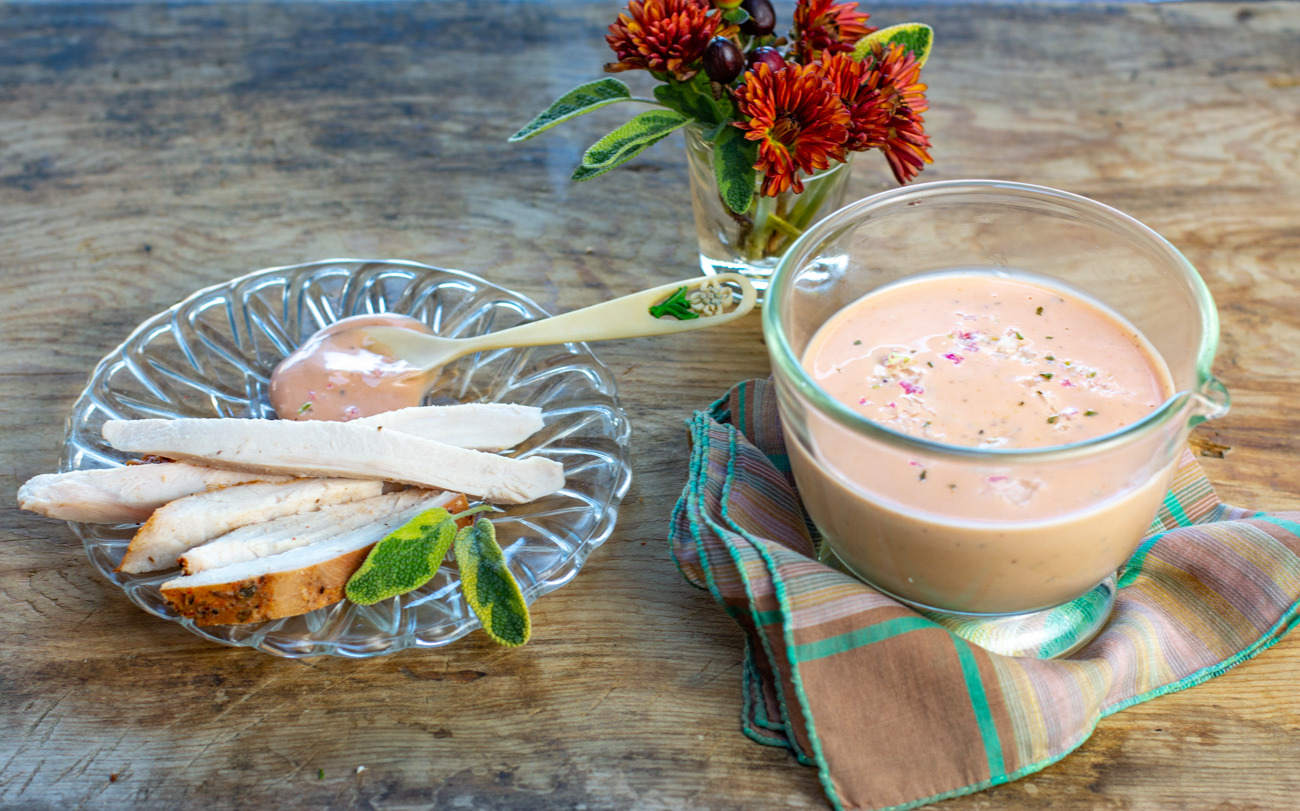 The mayo and ketchup concoction – often dressed up with horseradish and spices – was created in Nashua, New Hampshire. It was grocer James E. Colburn who invented the spread in 1924, according to "New Hampshire Resources, Attractions and Its People, a History," by Hobart Pillsbury. Colburn had been selling "Colburn's Mayonnaise salad dressing" at his store since at least 1910, which he named "Russian salad dressing."
Some say it got the "Russian" in its name because it once contained caviar.
Nutritional Facts You Must Know: I'm very picky with these three ingredients – I do not use Mayonnaise with "natural flavorings." Look for Organic and read labels! Same with Ketchup – I do not buy ketchup with" high fructose corn syrup" and "natural flavorings."
"Natural Flavorings" are anything but natural! Made in a laboratory to mimic the real thing… they are unwanted chemicals.
High Fructose Corn Syrup, found in many processed foods, is an artificial sugar made from corn syrup. Its is a sweetener made from cornstarch, some of whose glucose has been converted to fructose, that is used in commercially produced foods and soft drinks as a cheaper alternative to sucrose.
Fructose goes straight to your liver and starts a fat production factory, and is known to increase your appetite!
HFCS is a ubiquitous sweetener in America because it's so cheap here compared to sugar. Do not use products with this sweetener!
HFCS cannot be considered natural because its chemical bonds are broken and rearranged in the manufacturing process.
One of the best selling Russian Dressings is Ken's Steak House Russian. Here are the ingredients… a processed mess! Make yourself please!
Ken's Russian: Soybean Oil, Tomato Puree (Water, Tomato Paste), Sugar, Distilled Vinegar, Sweet Pickle Relish (Cucumber, Spices [Including Celery Seed], Red Bell Pepper, Turmeric), Water, Egg Yolk, Contains Less Than 2% Of Salt, Mustard Flour, Onion,* Sodium Benzoate And Potassium Sorbate (Preservatives), Propylene Glycol Alginate, Xanthan Gum, Oleoresin Paprika (Color), Natural Flavor, Garlic,* Calcium Disodium EDTA (To Protect Flavor). *Dried.
Russian dressing has largely been supplanted by Thousand Island Dressing which is sweeter and less spicy than Russian.
A variant known as red Russian dressing is very much like Catalina or French dressing.
Funny Fact: In Germany, a similar salad dressing is called "American dressing."Enjoy this Better for you & delicious Russian Dressing!
Karen
The BEST Easy Russian Dressing for Roast Turkey & Beyond
Creamy with lots of flavor! Combine equal amounts of Mayonnaise, Ketchup and My Zesty Shaken Italian Dressing.
Servings:
16
1 Tablespoon servings
Print Recipe
Pin Recipe
Rate this Recipe
Ingredients
1/3

cup

mayonnaise

without "natural flavorings"

1/3

cup

ketchup

without high fructose corn syrup or "natural flavorings"

1/3

cup

Karen's Shaken Italian Dressing

see recipe
Instructions
Combine all in a medium sized bowl and whisk until very well incorporated.

Refrigerate in glass container with a good seal.
Notes
See:

Karen's "Shaken" Italian Dressing Recipe
This recipe may not be reproduced without the consent of its author, Karen Sheer.
Nutrition Facts
The BEST Easy Russian Dressing for Roast Turkey & Beyond
Serving Size
16 1 T. servings
Amount per Serving
% Daily Value*
* Percent Daily Values are based on a 2000 calorie diet.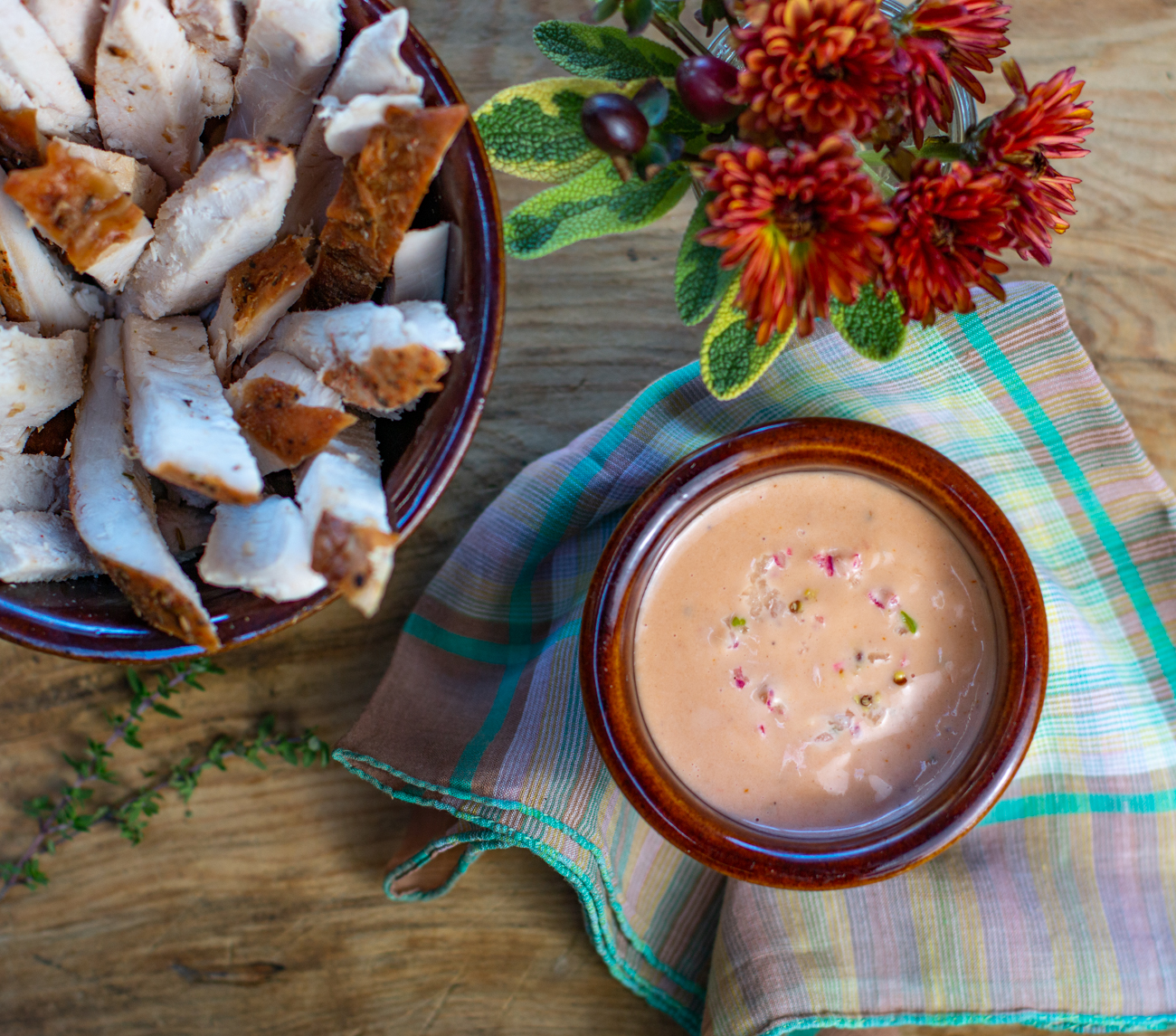 Karen Sheer