Spring Salmon Brochette Salad with Minted Lime Dressing, Toasted Quinoa and Pistachios
This Mother's Day create the perfect main-course salad to brighten her day.
Treat her to a little home-cooking of your own (and your whole family will love it too!)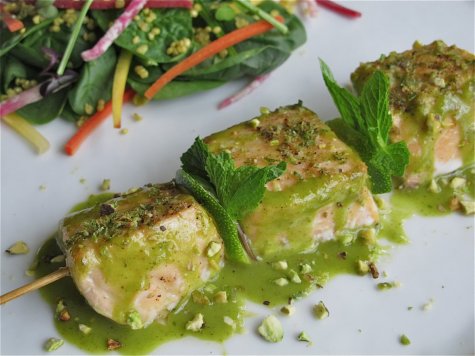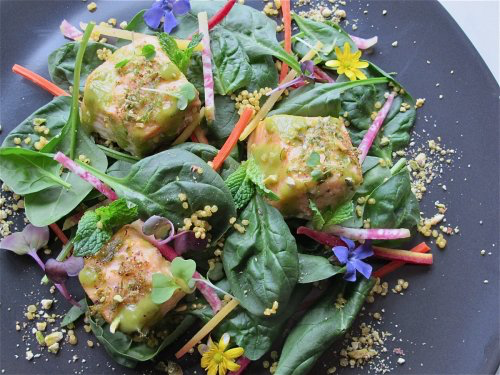 This recipe includes SUPER FOODS : salmon, green leafy vegetables, fresh mint leaves, crunchy raw multi-colored carrots, watermelon radish, micro greens, quinoa and pistachios. A bonanza of health!
Ingredients
1 ⅓ pounds salmon fillet, skin removed, cleaned and dried
1 tablespoon minty lime dressing, see recipe
2 teaspoons fresh lime zest
¼ teaspoon sea salt, crushed Maldon Salt or your favorite
¼ teaspoon fresh cracked black pepper, four peppercorn blend
4 cups fresh baby spinach, cleaned and dried
1 small watermelon radish, peeled, julienned
½ cup fresh rainbow carrots, peeled and julienned
½ cup micro greens, or your favorite sprouts
4 tablespoons pistachio nuts, chopped
 colorful edible flowers
½ cup quinoa
2 teaspoons neutral oil**
1 recipe minty lime dressing, see recipe
Instructions
1
Make the Minty Lime Dressing, (can do a few days ahead).
Prepare all salad ingredients.
2
Cook quinoa: Place quinoa in a bowl and cover with cool water. Swoosh around the water to clean the quinoa. Drain in a mesh colander, then dry well. Add 2 t. oil to a small pot. Add quinoa and toast over low heat one minute. Add 1 cup of water and a dash of tumeric. Bring to a boil, cover and simmer until fluffy, about 12-15 minutes. Lightly salt, set aside to cool.
3
Preheat the oven to 400 degrees. Cut salmon into equal sized large cubes, about 1 1/2″. Thread onto 4 bamboo skewers. Place on a rimmed baking pan.
Rub in 1 T. of the minty lime dressing. Mix together the lime rind, salt and pepper. Scatter over the salmon. Roast for 10 minutes, until the edges are golden, and the fish feels firm to the touch. Do not over cook. The salmon is nice served at room temperature.
If you roast it a day in advance, bring to room temperature.
4
To serve: Place 4 plates on the counter. Mound spinach, micro greens, and carrots. Scatter some quinoa on each, then drizzle some dressing all over.
Sprinkle the pistachio nuts over the salmon, and decorate with edible flowers. Toss in a few mint leaves if desired.
5
Try using a squirt bottle, or a measuring cup for drizzling the dressing. Save extra dressing in the refrigerator, in a clean glass container for another use.
6
Be creative: add other vegetables you adore: fresh english peas, roasted asparagus spears, julienned persian cucumbers….
**with concerns about gmo's and processing of oils, use a vegetable oil which has not been chemically treated, this is called "expeller pressed".
This recipe can not be reproduced without the consent of it's author, Karen Sheer
Karen Sheer