Raspberry Marshmallow Pie with Granola Crust
Description
An Unbelievable, Simple Pie with only 4 ingredients and a press-in Granola Crust. Dream-like light filling with plenty of fresh raspberry flavor.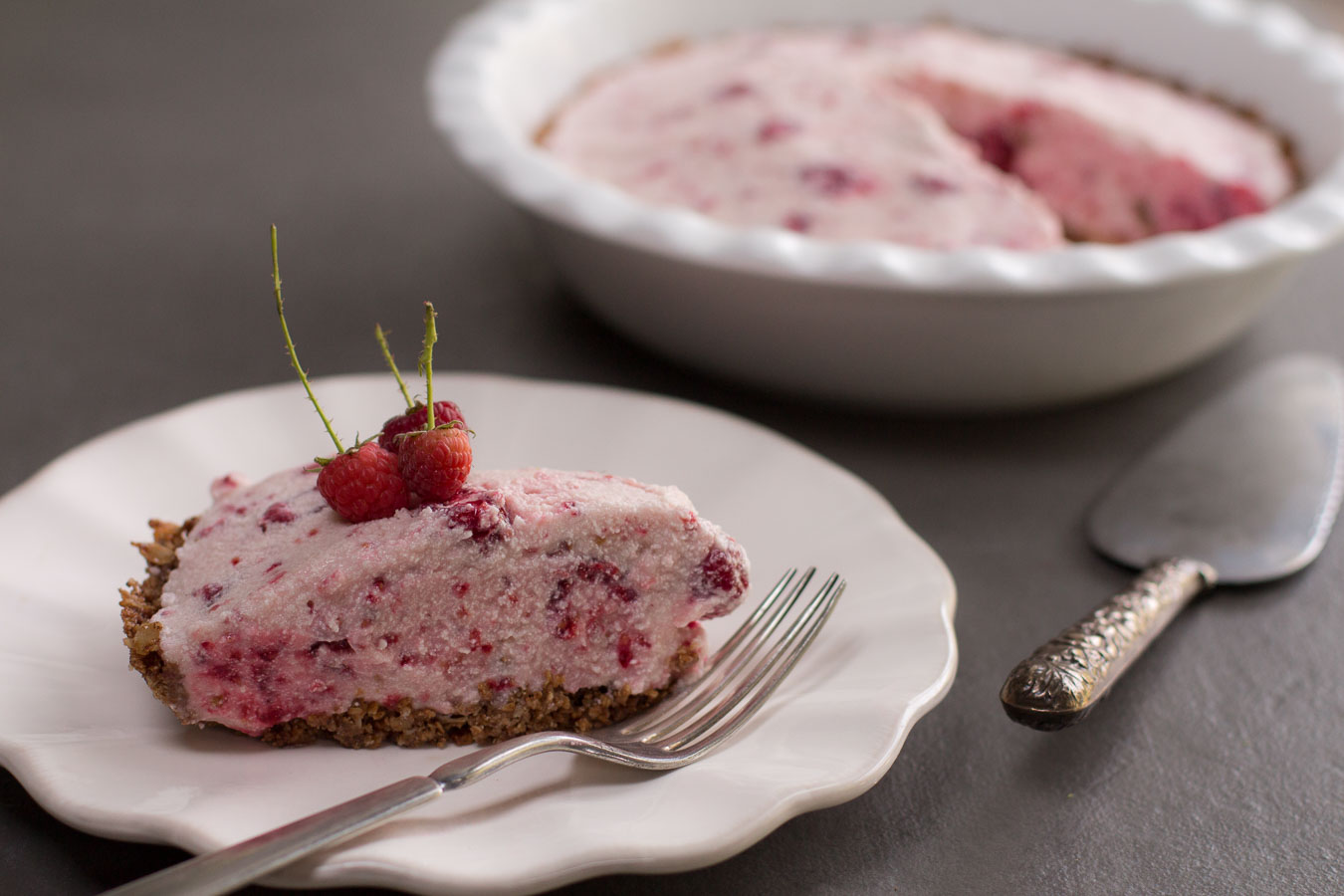 I went Raspberry Picking in August – see these gorgeous raspberries, some with the stems still attached!

Ingredients
1 ¾

 

cups

 

fresh raspberries*, divided 

½

 

cup

 

whole milk

10

 

ounces 

marshmallows, I have used Vegan "Dandies"**

1 ¾

 

cups

 

heavy cream, (not Cool-Whip!)

1

 

recipe

 

Granola Crust, see recipe
Method
Make the Granola and Granola Crust. (You will add to a pie plate, press in and freeze until firm – see recipe.
Whip cream until soft peaks form. Add 3/4 cup of raspberries and continue to whip until berries are crushed and the cream is very firm. Will be a beautiful pink color. Refrigerate a few minutes while you melt the marshmallows.
Warm the milk in a 2 quart heavy pot. When just simmering, add all the marshmallows and stir with a rubber spatula until just melted over very low heat. Remove from heat and stir until completely smooth. Add to a clean bowl to cool down a bit.
When the marshmallow mixture is no longer hot, yet not totally cool – add the Raspberry – Whipped Cream mixture to the bowl in three additions, mixing in well, but gently with a rubber spatula. Add the remaining 1 cup of raspberries.
Spoon the filling into the Granola Crust. Smooth, rounding the top.
Place in the refrigerator to firm up for about 4 hours.
Alternately, freeze the pie. When serving, soften for 30 minutes at room temperature.
Serve with a Raspberry Coulis if desired, and extra raspberries.
* Use fresh raspberries, or if using frozen, thaw at room temperature for 15 minutes.
**'Dandies All-Natural Marshmallow' from health food stores.
Vegan and Non-GMO, Ingredients: Tapioca Syrup, Cane Sugar, Filtered Water, Tapioca Starch, Carrageenan, Soy Protein, Natural Vanilla Flavor. Gelatin (an animal-based ingredient) is one of the main components in traditional marshmallows.
See BLOG for more information and photos!
This recipe may not be reproduced without the consent of its author, Karen Sheer.