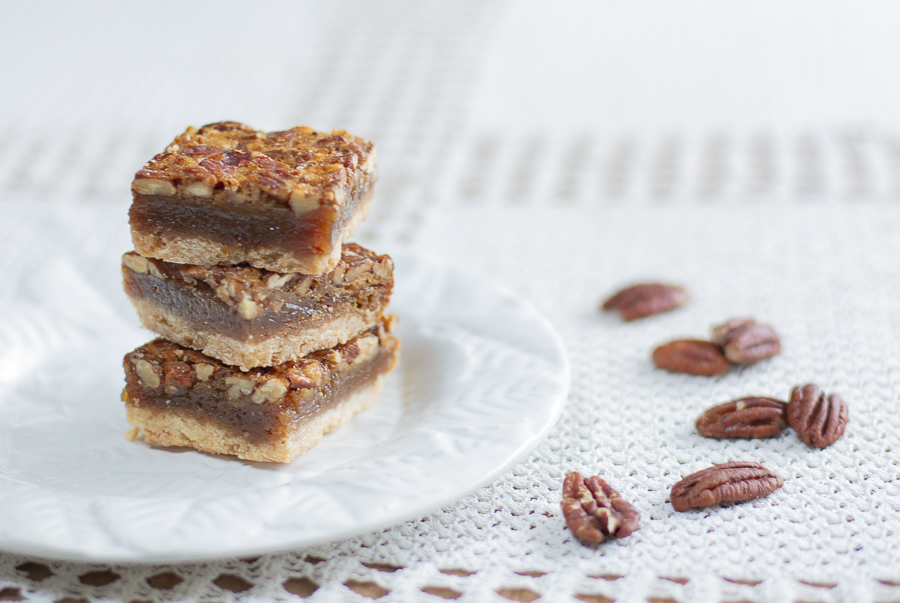 Pecan Pie Bars (with a Secret Ingredient)
The Ultimate Pick-Up Bar ~ Perfect for the Holidays! 
A press-in shortbread crust with a pour-on-top filling enriched with a crunchy pecan topping. Delish!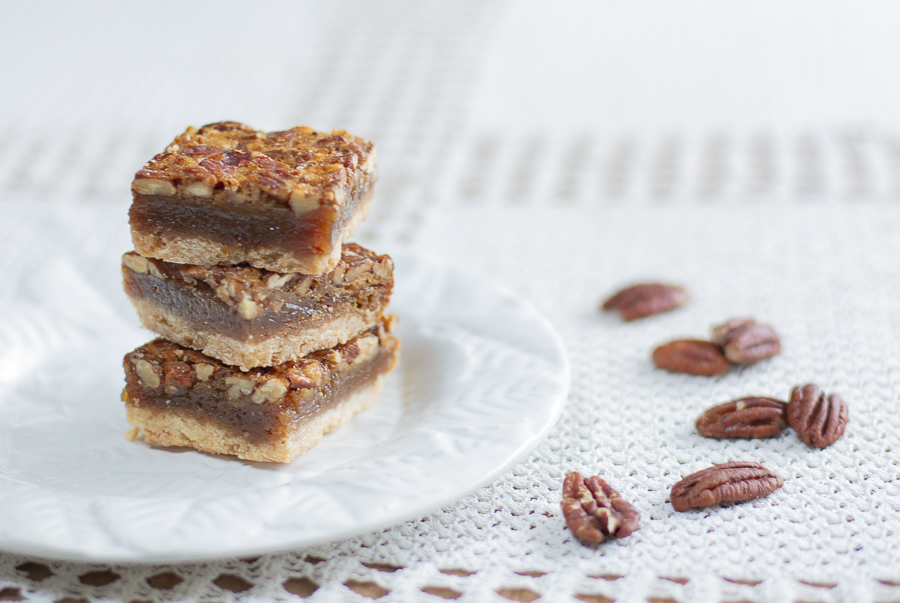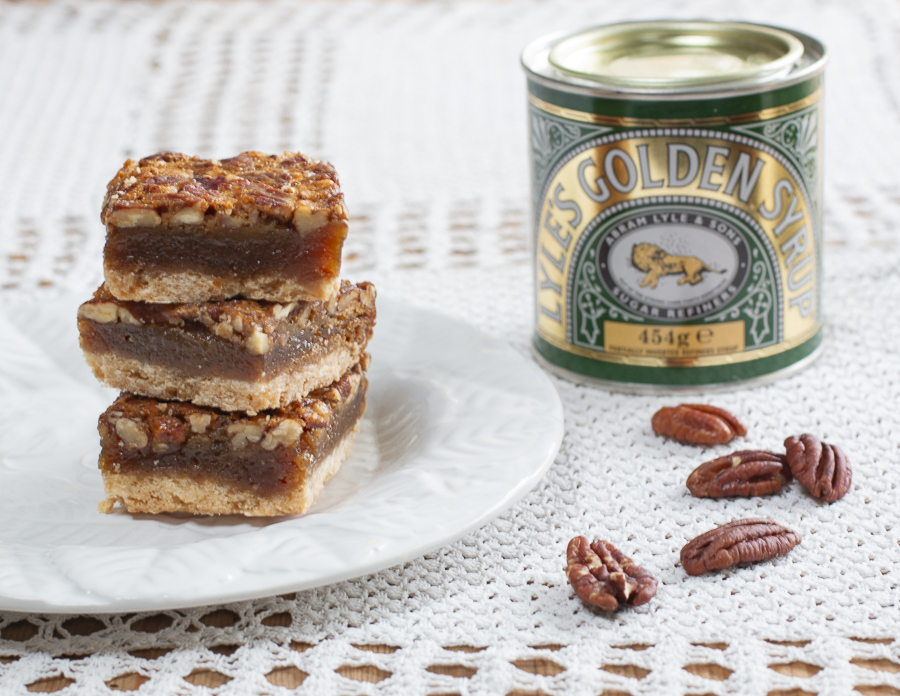 It seems like all pecan pie/bar recipes call for corn syrup. So try Lyle's instead – a pure, clean taste with all natural ingredients (no GMOs!)
I also add a little pure maple syrup in the recipe – I love the flavor it lends to the bar's filling.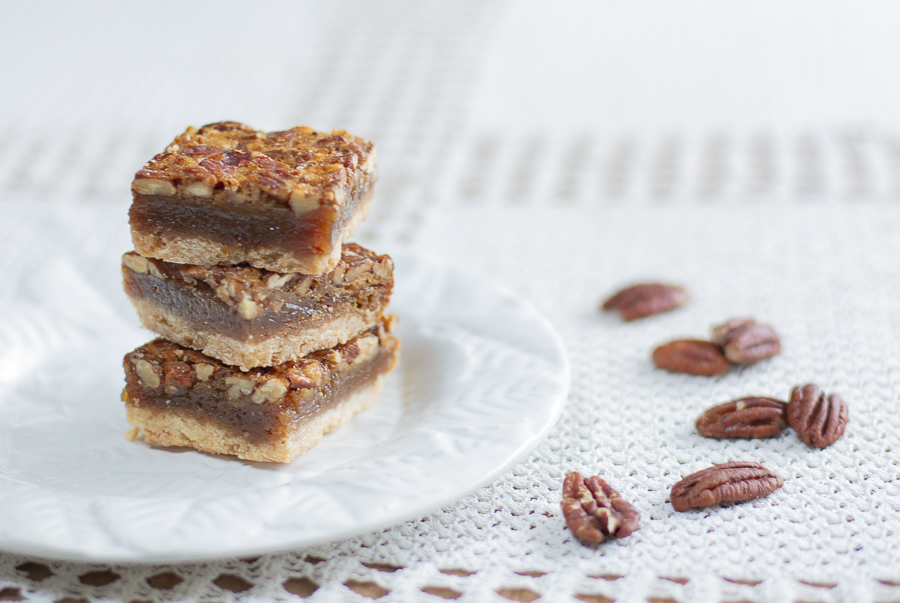 Ingredients
Shortbread Crust
1  ¾  cups flour
1  ½ sticks unsalted butter, cold (12 tablespoons, preferably organic)
1 /3 cup pure cane sugar, organic
¼ teaspoon sea salt
 
Pecan Filling:
1  cup Lyle's Golden Syrup* (not the same but can use organic dark corn syrup)
1 cup coconut palm sugar, organic (can use light brown sugar)
2 tablespoon unsalted butter (preferably organic)
2 tablespoon real maple syrup
½ teaspoon sea salt   
1 teaspoon vanilla extract 
5 tablespoons flour 
4 large eggs, room temperature (try pasture raised)
2 cups chopped pecans
Instructions
1
Make Shortbread Crust:
Preheat oven to 350 degrees.
Cut a piece of parchment to fit the bottom of a 9″ x 13″ baking pan, and extend 2 inches on each short side. (This insures super- easy removal for even cutting.) In a large bowl, add the flour, cold butter – cut into tablespoons, sugar and salt.
Use a pastry cutter (or two knives) and cut the butter into the flour until it is the size of large peas. Use a wooden spoon or your fingertips to bring the dough together.
Press crust mixture evenly onto bottom of the ungreased pan. Bake about 20 minutes until light golden brown. Remove from oven.
2
Make Pecan Filling:
In a medium sized pot, add Lyle's Golden Syrup, coconut palm sugar, butter and maple syrup. Bring to a boil, stirring to dissolve the sugar, reduce the heat to a bare simmer. Stir for one minute, take off the heat, add sea salt, vanilla and flour. Whisk in. When no longer hot, add the eggs, one at a time – whisking until smooth.
Add the pecans, mix in.
Pour evenly over the partially baked crust. Smooth the top.
Bake for 24 – 28 minutes until the center feels firm. Do not overcook.
The bars will continue to cook a bit when removed from the oven (the filling contains the perfect amount of flour to thicken the filling.)
3
Cool the bars. Remove with the help of the parchment paper to a cutting board. Cut into even squares.
4
These bars freeze very well!! Wrap well, then add to a container with a tight seal.
* Lyle's Golden syrup is a thick amber-colored sugar syrup – not to be confused with corn syrup. (See BLOG for more more information.)
This recipe may not be reproduced without the consent of its author, Karen Sheer.
Karen Sheer