Karen's Raspberry Sherbet with Shaved White Chocolate
A flavor explosion with beautiful color and texture. This simple Sherbet has just the right sweetness and is so refreshing!
The perfect treat to cool off on a hot summer's day. Totally loving the white chocolate shavings mixed-into the sherbet. 
What is Sherbert (you might be thinking…) ?
Sherbet is not quite ice cream and not quite sorbet. It is made with fruit, water & sugar, but also has the addition of dairy—usually milk, and sometimes egg whites. This gives it a slightly creamier texture than sorbet, as well as a slightly lighter color.
I'm loving the texture and color of this Sherbet! A deep-raspberry color with the addition of a small amount of blackberries. (Yes you can use all raspberries!) 
Creamy deliciousness with just the right amount of sweetness with texture from the White Chocolate Shavings.
Substitute Vegan milk if you like, I have used whole milk.
Nothing satisfies a sweet tooth quite like the refreshing taste of homemade sherbets.
When spinning the fruit puree in your ice cream machine, it is incorporating a good amount of air. This air adds volume to the sherbet while decreasing the size of the ice crystals that form as the water in the puree freezes.
The Method:
Add water, pure cane sugar and honey to a non-reactive pot. Reduce slightly. Add your berries (for frozen let stand to soften.) Add all to the carafe of a blender with milk (can use Vegan milk here.) Puree one minute and strain using a fine strainer over a large bowl; pressing on the solids with a rubber spatula. Refrigerate until cold. Make the easy white chocolate shavings. Process the Sherbet in an ice cream maker and add the white chocolate when firm.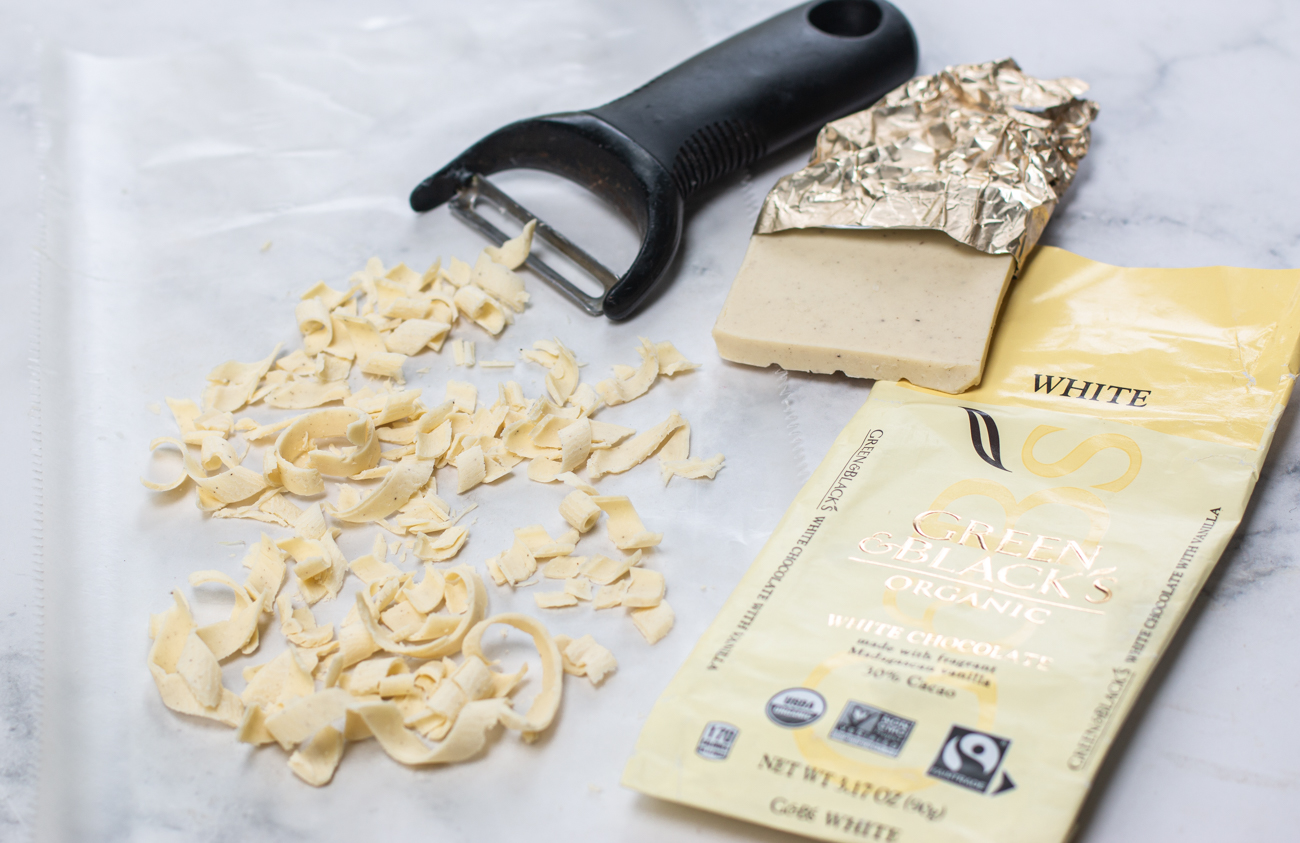 I always pronounced this treat as "Sherbert" (pronounced "shur-bert") until I learned the correct way: "Sherbet" – shur-bet!!  A common mispronunciation and misspelling of the word.
So simple! Hard shell coating is made with 2 ingredients: a good quality bittersweet chocolate & small amount of coconut oil. Melted together it is simple drizzled over the cold sherbet and immediately created a hard shell.

If your mouth is now watering for this tasty homespun Sherbet –  but you've yet to invest in an ice cream maker:
An affordable Ice Cream Machine is this one: Cuisinart Ice Cream Machine 
As an Amazon Associate and member of other affiliate programs, I earn from qualifying purchases.
Enjoy this yummy frozen delight!
Karen
Karen's Raspberry Sherbet with Shaved White Chocolate
A flavor explosion with beautiful color and texture. This simple Sherbet has just sweetness and is so refreshing!
Servings:
10
servings; 2 pints
Print Recipe
Pin Recipe
Rate this Recipe
Ingredients
3 1/2

cups

raspberries

fresh or frozen

1/2

cup

blackberries

(can use all raspberries too)

1

cup

filtered water

1

cup

pure cane sugar

I use organic

1/4

cup

raw honey

1/2

cup

milk

full fat

1/2

cup

white chocolate shavings*
Instructions
Raspberry Sherbet:
Make the sugar syrup: add water, sugar and honey to a 3 quart non-reactive pot. Bring to a boil, stir well, reduce to a low simmer and simmer for 5 minutes (to reduce slightly.)

Add the raspberries and blackberries - give a big stir to coat. If using frozen berries, let sit until softened.)

Carefully add all from the pot to the carafe of a blender. Add the milk and blend for 1 minute from low to high speed until smooth.

Place a FINE mesh strainer over a large bowl. Add the puree in batches, using a rubber spatula, press on the puree leaving the seeds behind until all the puree is in the bowl underneath.

Refrigerate the sherbet mixture, covered, until cold - 4 hours or overnight.

Process the sherbet in an ice cream maker until firm.)

In the meantime: make the White Chocolate Shavings. On a warm day, shave the white chocolate (holding the chocolate with a piece of waxed paper until shaved. On a cooler day - warm the chocolate bar for a few seconds in a microwave (carefully watch!)

Hint: White Chocolate* will shave nicely if slightly warm.

When the ice cream is firm, add the chocolate shavings to the ice cream maker until all combined.

Add the sherbet to 2 pints, cover and freeze.
Notes
*White Chocolate Shavings: Use the best quality white chocolate! I used Green & Blacks Organic White Chocolate - has specks of vanilla bean! 
Optional Chocolate Hardshell Topping: for 1 pint of Sherbet:
 Add 1  1/4 teaspoons of coconut oil in a microwave in a medium sized bowl until warm/hot. Add 1/2 cup of finely chopped bittersweet chocolate and stir until melted.
To serve: scoop the cold sherbet, add to a plate or bowl and drizzle the topping over (see photo.) Will immediately harden. Eat immediately or freeze for another time. 
This recipe can not be reproduced without the consent of its author, Karen Sheer.
Nutrition Facts
Karen's Raspberry Sherbet with Shaved White Chocolate
Amount per Serving
% Daily Value*
* Percent Daily Values are based on a 2000 calorie diet.
Karen Sheer