Karen's German Apple Cake with Pink Pearl Apples
Welcome Fall! Time to bake with freshly picked sweet & tart apples.

An easy and delicious butter-moist cake is "sunken" as the apples are fanned and placed over the batter, which then rises up around them as the cake bakes. Top with my Maple Caramel Sauce for a little decadence!
These Pink Pearl Apples are a rare, gorgeous variety – use you favorite apple too.
I LOVE Fall Baking! The temperatures outdoors have cooled a bit, so my oven is turned on – I'm testing recipes chock-full with Fall-Flavors.
Classic German"Apfelkuchen" – is literally translated as apple cake, prepared with raw harvest time apples.
To prepare the German Apple Cake, a batter is mixed together and the apples are fan-cut and placed on top of the cake before being baked. The apples will moisten the cake and beautifully unfold.
At Hidden Gem Orchards, a "boutique" orchard  – 31 heirloom apple varieties are grown with more being added each year.
I'm loving the uncommon or antique apples that are scarcely available. Examples include varieties such as Esopus Spitzenburg, which was Thomas Jefferson's favorite apple grown at Monticello. Pink Pearl, in this recipe – a pinkish-red speckled fleshed apple.
Owned by James Wargo, he has obtained a B.S. degree in Horticulture from The University of Connecticut. He went on to achieve a Master of Science in Pomology (fruit science) from Cornell University.
The Pink Pearl Heirloom Apples are a unique apple with distinctive pink flesh beneath translucent, pearly yellow skin, which sometimes also bears a light pink blush.
Pink Pearl apples are wonderful for baking, especially in open-topped tarts or in sauces where their pink color can really shine.
For this apple cake you need to cut the apples like a fan not only for looks — this little trick makes the cake especially moist. I like to use tart to sweet apples (other suggestions below.)
Not too sweet or heavy – the cake has a nice lightness with a dose of cornmeal for interest and texture. Maple Caramel Sauce for drizzling?
The scored apples "unfold" on top of a delicious butter cake. Pretty.. I know!
No worries if you can not find these Pink Pearl Apples – use an apple you like – choose Firm-Sweet Variety: Golden Delicious, Ginger Gold, Honeycrisp or Pink Lady.
Just the right combination of tart, sweet and crunch – not as tart as a Granny Smith, but not as sweet as a Gala apple.
Maple Caramel Sauce is a snap to make!
Heat Real Maple Syrup with butter, add Coconut Cream and simmer until thickened… just a few minutes. Sprinkle in some Himalayan Sea Salt and done! Can be refrigerated and heated up when needed.
Wonderful to drizzle over this apple cake!
Use a good quality Maple Syrup – I do love this one from Trader Joes – it's bourbon barrel aged with a lingering robust finish.
See the Recipe: Karen's Quick & Easy Maple Caramel Sauce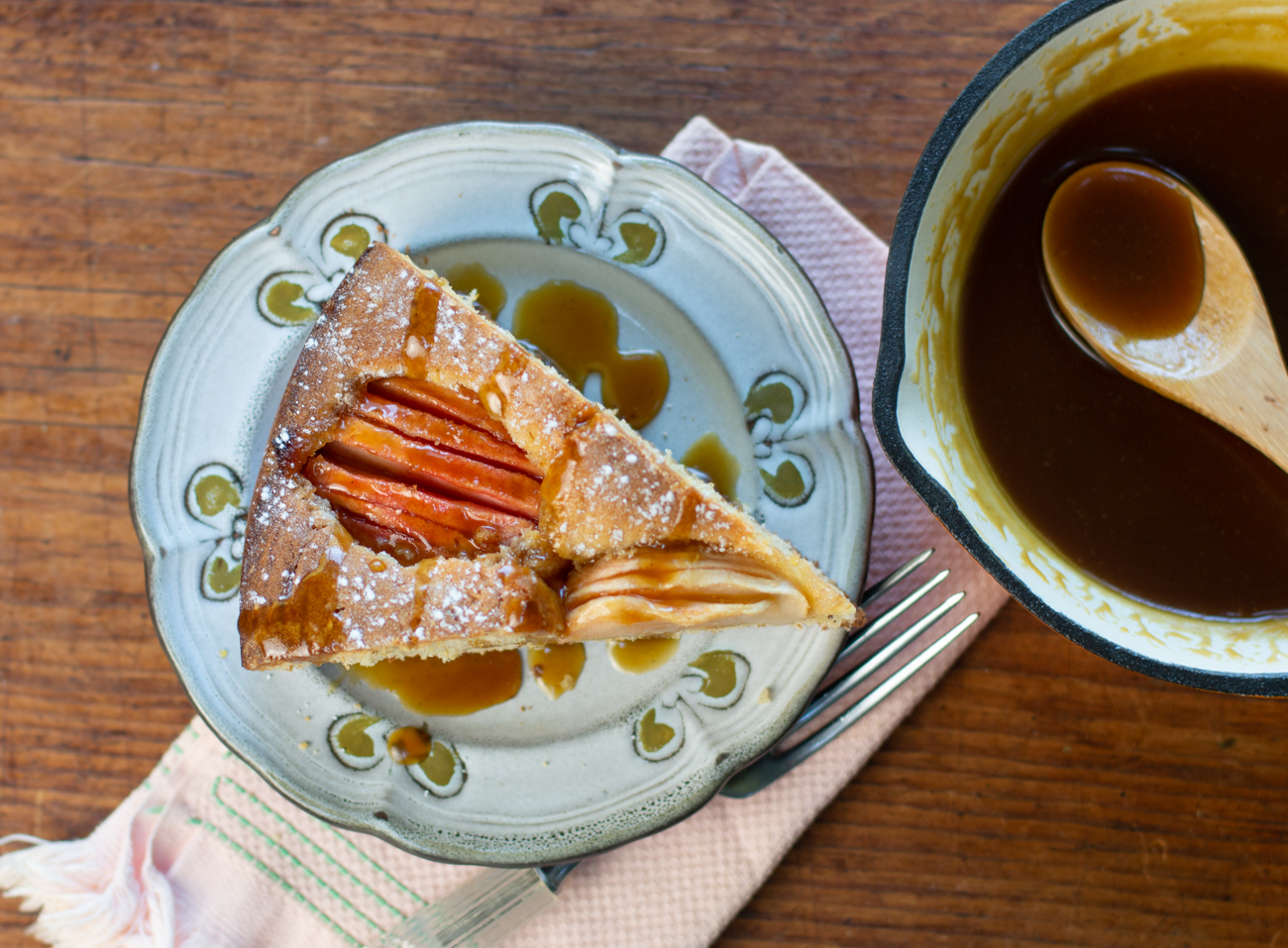 To make the cake:
Start with the easy batter – place in a 10 inch springform pan, cut apples ~ the apples are not chopped or sliced but cut in quarters depending on the size of the apples, then cut deeply but not all the way through. The apples are placed with the round, cut sides facing up. Sprinkle with turbinado sugar. Bake until firm and lightly golden brown. The cooled cake is dusted with confectioners' sugar. See this sturdy stainless steel sugar shaker if you need one!
Add my Maple Caramel Sauce for an indulgent finish… deep with an added maple flavor I love.
(As an Amazon Associate and member of other affiliate programs, I earn from qualifying purchases.)
Baking HINT:
Baking powder with aluminum in it reacts to acidic ingredients, causing this discoloration and what many people find to be a "tinny" or metallic taste. Fortunately, this is as easy to rectify as ditching your baking powder for an aluminum-free brand, such as
Rumford Brand (I use.)
Karen's German Apple Cake with Pink Pearl Apples
An easy and delicious butter-moist cake is "sunken" as the apples are fanned and placed over the batter, which then rises up around them as the cake bakes. Top with my Maple Caramel Sauce for a little decadence!
Print Recipe
Pin Recipe
Rate this Recipe
Ingredients
1 1/2

cup

flour

1/4

cup

cornmeal

1 1/2

teaspoon

baking powder

aluminum-free!

1/2

teaspoon

sea salt

1/2

teaspoon

cinnamon

1/2

cup

unsalted butter

room temperature

3/4

cup

pure cane sugar

2

large

eggs

I use pasture raised

1

teaspoon

pure vanilla extract

1/4

teaspoon

pure almond extract

1/2

cup

milk

full fat

3

medium

apples

I used "Pink Pearl"

2

teaspoons

light brown sugar

course type, such as Turbinado sugar
Instructions
Preheat the oven to 350 degrees. Place a parchment circle on the bottom of a 10 inch springform pan, grease lightly with butter.
Cake batter:
In a large bowl, stir together flour, cornmeal, baking powder, sea salt and cinnamon.

In a stand mixer, cream the butter and sugar until light and fluffy, 2 minutes at medium speed. Add eggs, one at a time and incorporate at low speed. Add vanilla & almond extracts, beat in.

Add 1/3 of the flour mixture, beat on low to incorporate. Alternate adding the milk and flour, ending with the flour for a light batter. Using a rubber spatula, add batter to the pan. Set aside briefly.
Peel & Cut Apples:
Peel three apples, quarter them remove the core with a small sharp knife. "Fan" the apples by making cuts almost all the way through each quarter (to the rounded side of apple quarters.) Will make about 6 cuts per apple quarter. (You can use 4 apples if you like.)
Finish the Cake & Bake
Place the apples, cut side up around the cake, spacing evenly (see photos.) Top with a sprinkle of the turbinado sugar all around.

Bake the cake until lightly browned, and the apples have faned out nicely, around 45 minutes. Set on a rack to cool. Remove outer ring when cool enough to do so. Sprinkle with confectioner's sugar when slightly cool.

Serve and enjoy - Add a good drizzle of my Maple Caramel Sauce on top (see recipe.)
Notes
*Cake Flour: makes a tender crumb. To make your own cake flour;
1 cup cake flour: take out 2T. flour, add 2T. cornstarch. For the 1/2 cup cake flour: take out 1T. flour, add 1 T. cornstarch.
Maple Caramel Sauce:
Add 1/4 cup REAL maple syrup and 1 tablespoon unsalted butter to a small skillet. Set heat to low, stir melting butter. Add 3 tablespoons of coconut cream (the thick part in the can) and cook over medium heat until thickened, about 5 minutes. Add a few pinches of Himalayan pink salt. Sauce will thicken as it stands. Pour warm sauce over the apple cake. Can be made ahead of time, refrigerated, then reheated, 
This recipe can not be reproduced without the consent of its author, Karen Sheer.
Nutrition Facts
Karen's German Apple Cake with Pink Pearl Apples
Amount per Serving
% Daily Value*
* Percent Daily Values are based on a 2000 calorie diet.
Karen Sheer