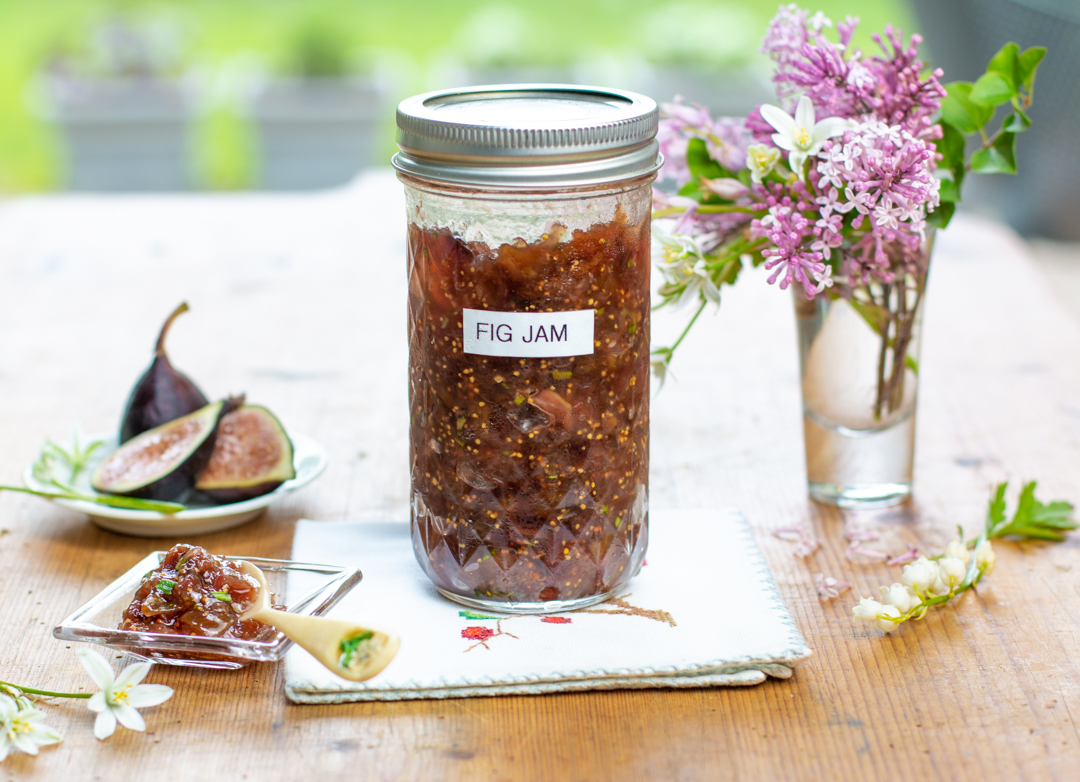 Karen's Fresh Fig Jam with Rosemary
A Delicious Jam from Ripe Seasonal Figs – with a hint of Balsamic Vinegar and Fresh Rosemary.
So many uses! Spoon on toast – Create My Fresh Fig & Herb Balsamic Dressing – Use a Glaze for the Grill.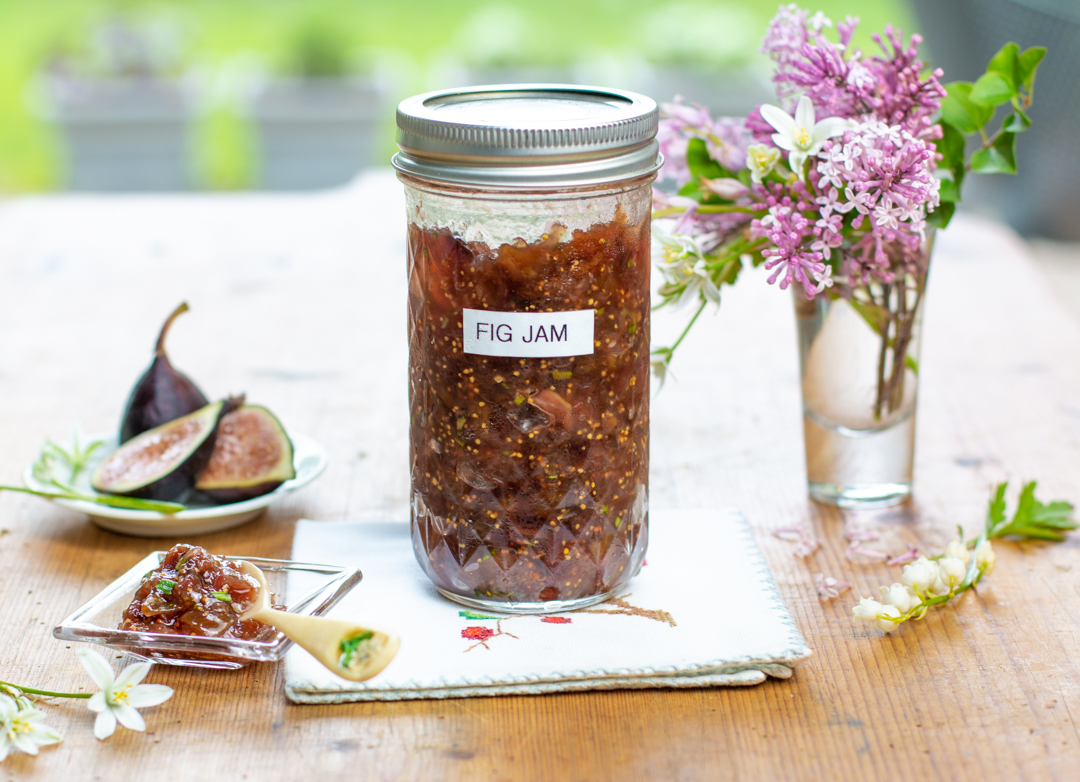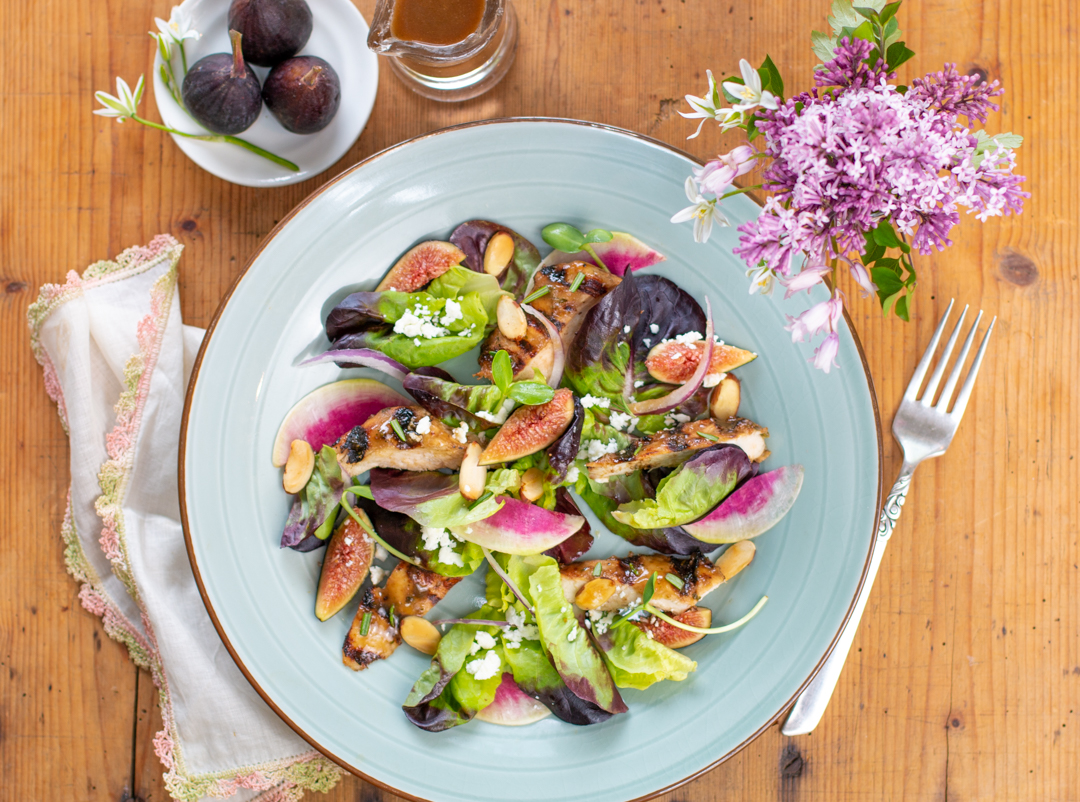 I am a FIG Lover!
Known for their aromatic and sweet flavor, I first fell in love with figs picking them off my Grandparent's tree in Long Island NY. (The same garden where I fell in love with rhubarb!)
When ripe, they have a honeyed taste… almost syrupy, with tiny crunchy seeds – pinch off the stem and bite into them for a flavor like no other fruit. Next recipe that I will test with fresh figs will be on summer pizza… can't wait!
Serve the jam in a savory way ~ Toast sourdough bread slices with extra virgin olive oil and toast gently. Rub the surface of the bread with a garlic clove for flavor. Top with a serving of goat cheese and a dollop of the Fig-Rosemary Jam. Warm in an oven until the cheese just starts to melt and serve!
Serve with a side salad with my Fig-Balsamic Dressing… of course!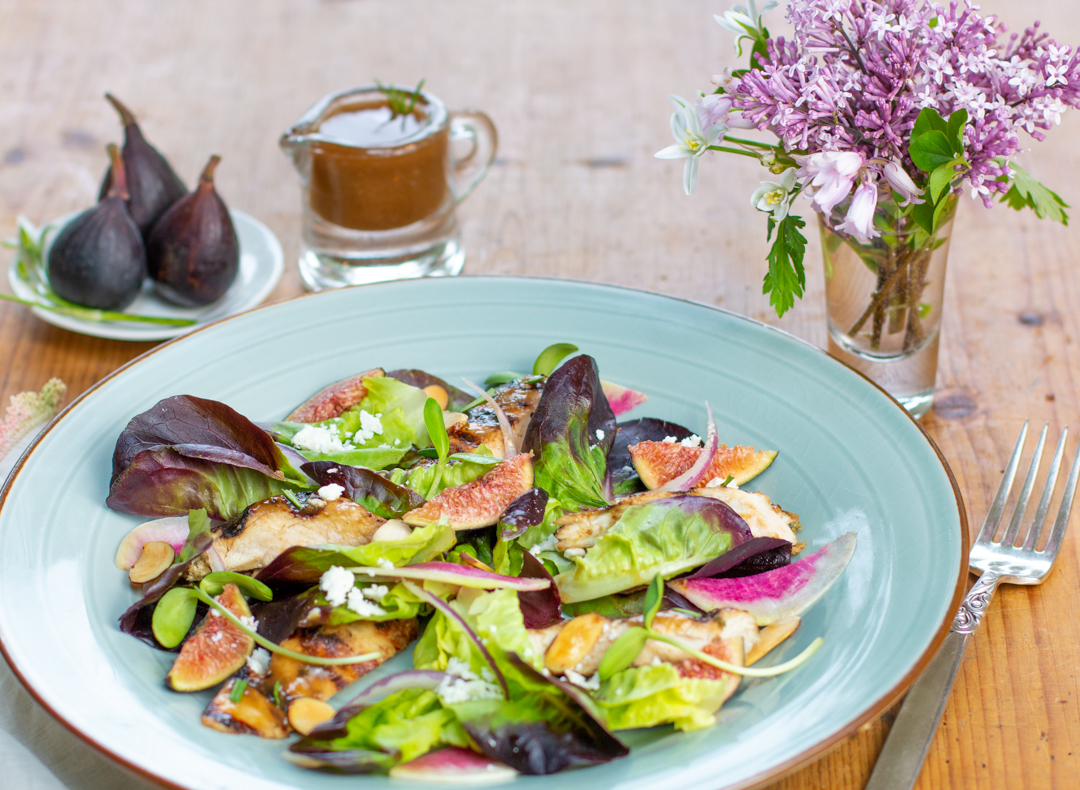 First ~ You gotta make the Fig-Rosemary Jam!
No complicated cooking appliances needed –  just cook in a pot, cool and refrigerate.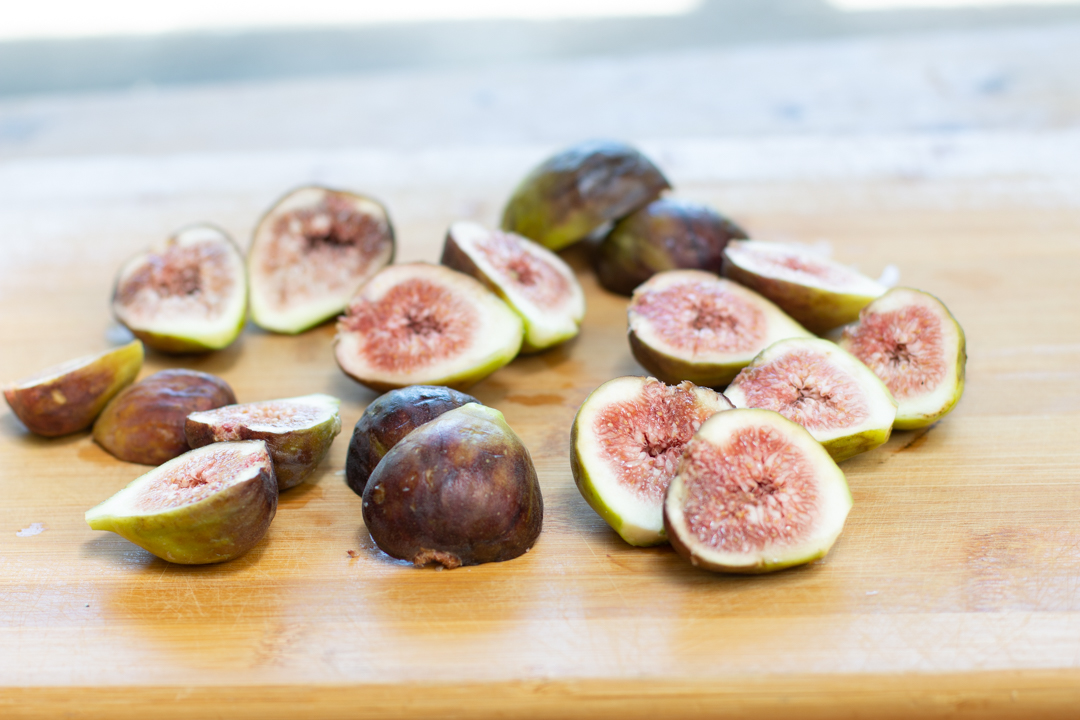 Now, you'll see that it's done – a perfect stovetop Jam!
See how on the bottom of the pan it is no longer runny… holds its shape but still juicy.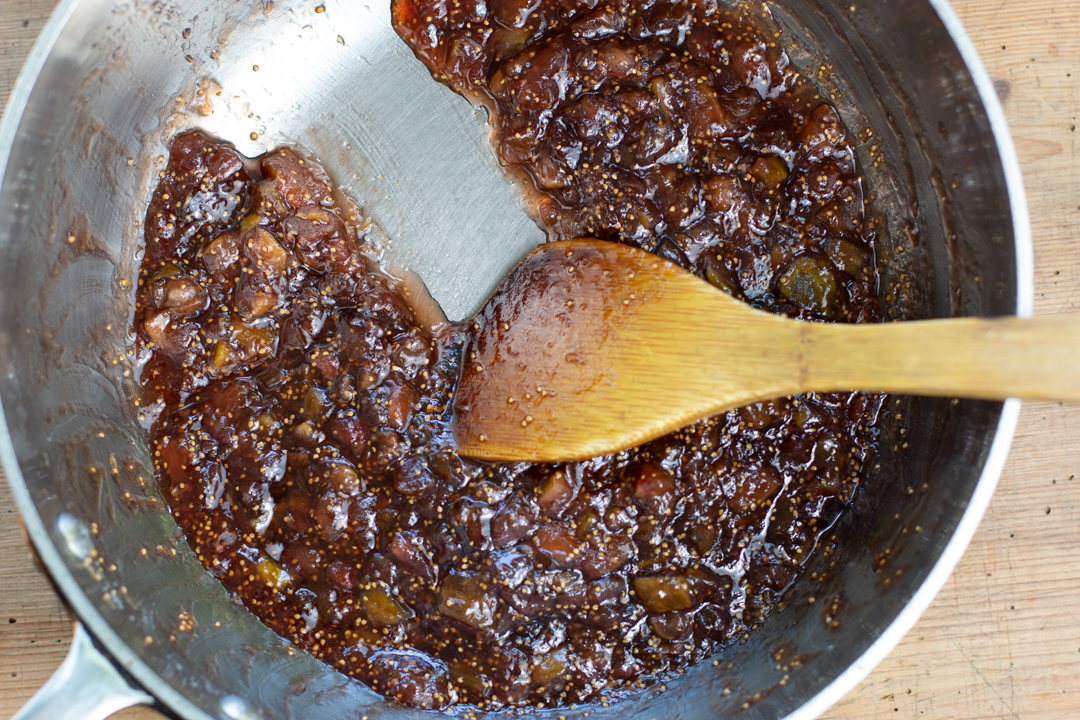 Rosemary adds a woody and piney scent to the jam which adds an interesting flavor note.
How to use Fresh Figs:
Make jam (you knew that!) Use it to make the best Fig-Balsamic Dressing too

Slice them and add to Spring & Summer Salads

Make a tart with them – try with a custard base

Stew the fresh figs! Think port wine & honey

Make a chutney with them… with fresh ginger


Make a fig ice cream!

Top a Vegetarian Pizza with them – adds a nice sweet note and color 

Add to your morning yogurt parfait

A nice topping for your overnight oats 

Top pancakes and waffles with thick sliced of figs 

Add to a crumb cake with streusel topping 

Stuff fig halves for an interesting appetizer – think blue cheese or goat cheese with fresh chives 
Did you Know?
A medium fig contains about 37 calories.
Figs are rich in natural health benefiting phytonutrients, antioxidants, vitamins and fiber
US varieties are Brown Turkey, Conadria, Kadota, and Black Mission.
Fresh figs can be available all-around the season; however, they are at their best from May through November
Store at room temperature – refrigerate if very ripe and you want to hold them an extra few days
Seriously – figs have been grown for over 10,000 years! (Farmed figs may be the first kind of food that anybody farmed)
Love Jam? See my other jam recipes!
Rhubarb Vanilla Bean Jam and What to Do With It

30 Minute Strawberry Jam (no pectin)
See Coordinating Recipe: Spring Salad with Grilled Chicken and Homemade Fig-Balsamic Dressing (made with the jam)
Enjoy these Fresh Fig Recipes!
Karen
Karen's Fresh Fig Jam with Rosemary
A Delicious Jam from Ripe Seasonal Figs - with a hint of Balsamic Vinegar and Fresh Rosemary.So many uses! Spoon on toast - Create My Fig-Balsamic Dressing - Use a Glaze for the Grill.
Servings:
24
1 tablespoon portions
Print Recipe
Pin Recipe
Rate this Recipe
Ingredients
1

pound

fresh figs

3/4

cup

pure cane sugar

1 1/2

tablespoons

balsamic vinegar*

(no caramel coloring)

3

tablespoons

filtered water

2

teaspoons

fresh rosemary

coarsely chopped or minced
Instructions
Use ripe flavorful figs for the best jam!

Wash and dry the figs. Cut away the stems. Dice the figs into 1/4" pieces.

Add the figs to a non-reactive 2 quart pot, add sugar and stir well. Let stand for one hour - will become beautifully syrupy.

Bring the figs to a boil, then lower to a simmer, stirring. Add balsamic vinegar and water, stir then leave to cook at a simmer for 10 minutes. Now that the jam is thicker, stir from time to time for the next 10 minutes until thickened and jam-like.

See photo - jam is perfectly set when a wooden spoon is dragged in the bottom of the pot and it is only runny a bit... has thickened nicely.

Let cool 5 minutes, then add the chopped rosemary and stir in.

When cool enough to taste you can add 1/2 teaspoon of pure vanilla if you like.
Storing the jam:
Add jam to a clean sterile jar when warm, screw the lid on a bit and tighten when fully cooled. Store in the refrigerator.
Notes
Makes: 1 1/2 cups.
*Caramel coloring is an artificial coloring - used  to darken the vinegar to make it have a look more consistent with what we think of as balsamic vinegar. Known to contain a potentially carcinogenic chemical. 
This recipe may not be reproduced without the consent of its author, Karen Sheer.
Nutrition Facts
Karen's Fresh Fig Jam with Rosemary
Amount per Serving
% Daily Value*
* Percent Daily Values are based on a 2000 calorie diet.
Karen Sheer