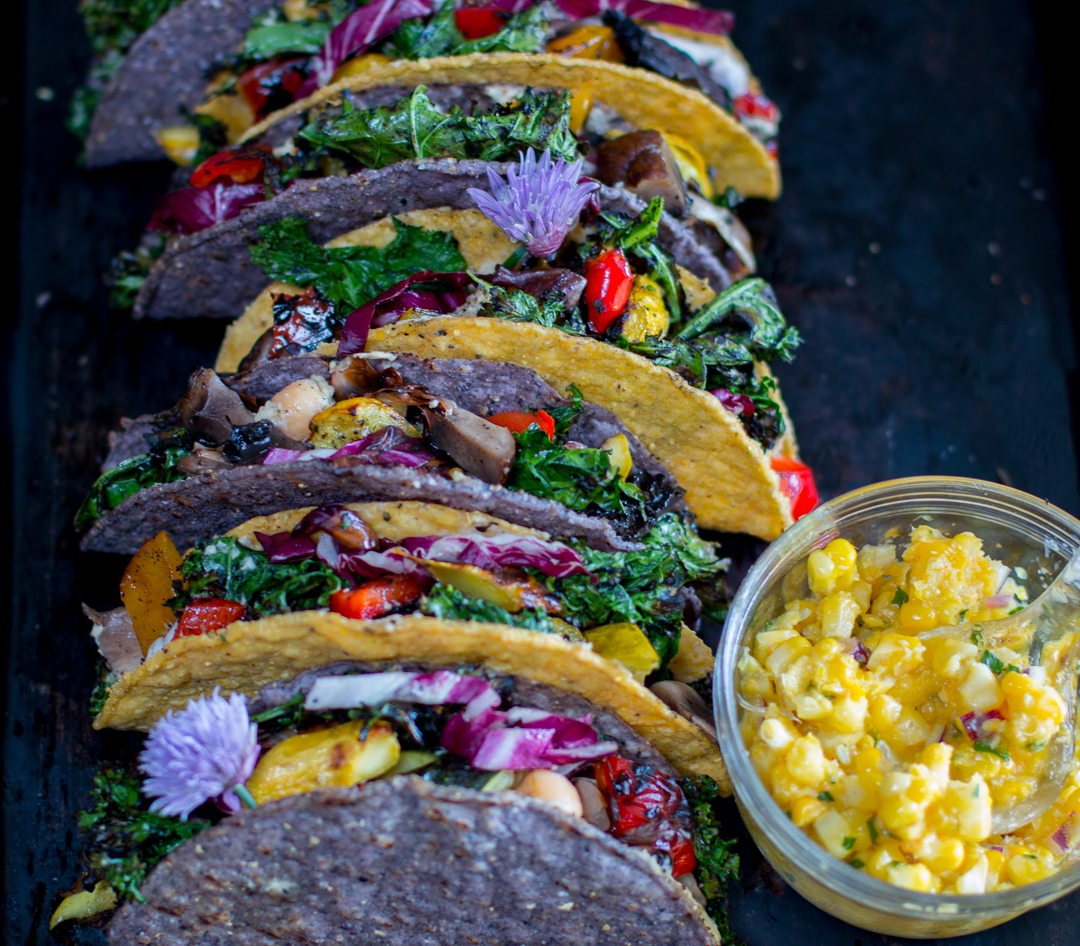 Hummus and Grilled Veggie Tacos with Corn Salsa
My favorite hard shell Tacos filled with Za'atar seasoned Hummus and brimming with colorful Vegetables just off the grill. Corn Salsa adds a layer of natural sweetness, heat and crunch.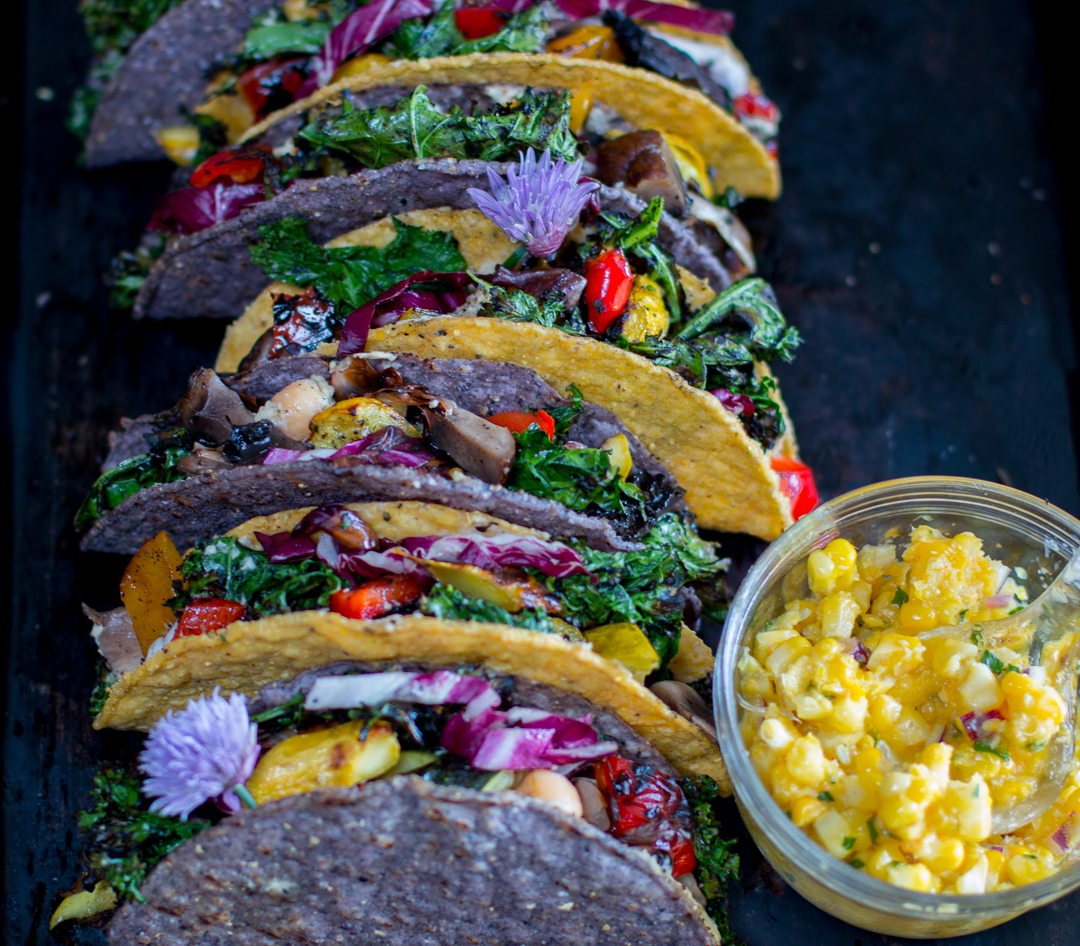 A wonderful meal for a weeknight or special enough for company – these Vegan and Gluten-Free Tacos are healthy, delicious and have great visual appeal!
Learn how to cook soaked Garbanzo Beans in an Instant Pot (have you gotten one yet?) for an extra creamy Hummus.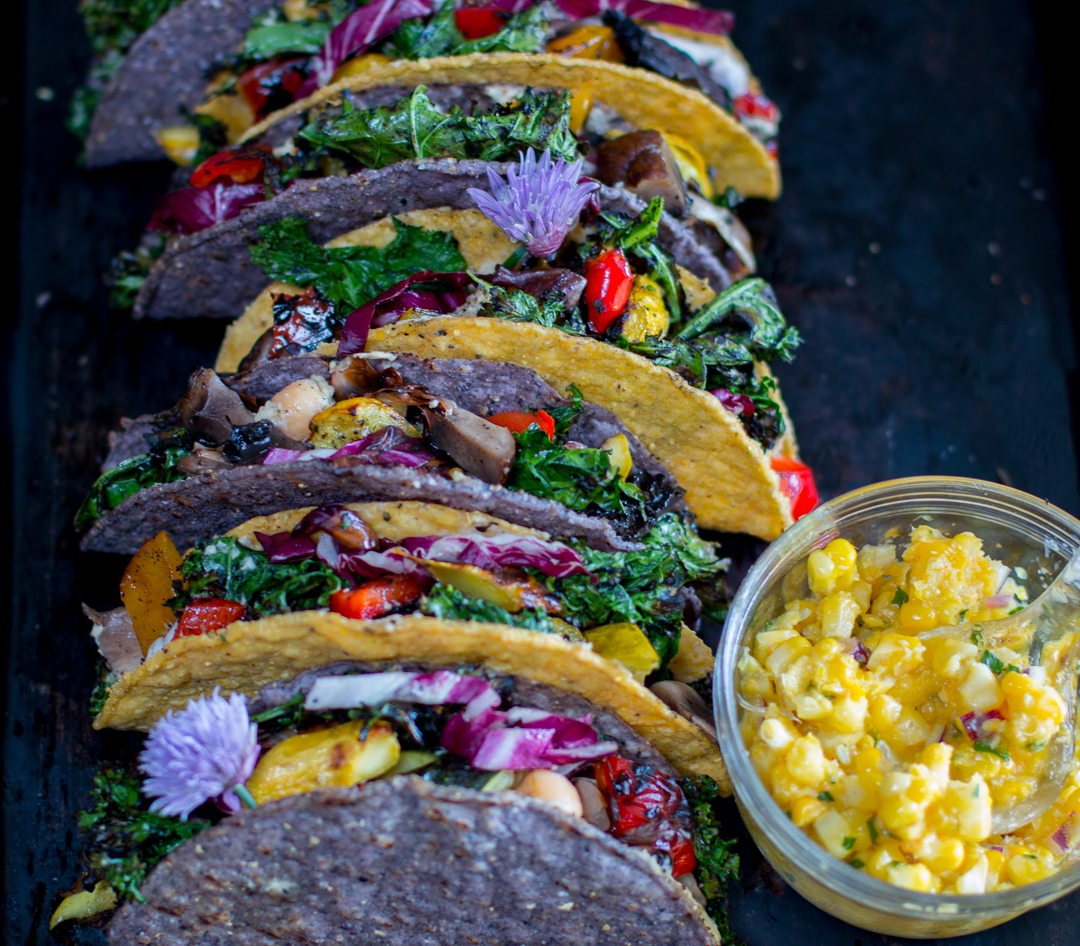 Ingredients
1 recipe Za'atar Hummus
1 recipe Karen's Corn Relish
12 organic hard taco shells, blue or yellow corn, or a combination
2 medium portobello mushroom caps, whiped clean
2 medium zucchini, one green, one yellow, cit in quarters lengthwise
1 medium red bell pepper, or colorful ones, cut into 1″ strips
1 small head of radicchio, cut in quarters
4 large stems curly kale, stems trimmed
2 tablespoons extra virgin olive oil
salt & pepper
Instructions
1
This recipe will make 12 filled tacos.
Or, you can make 6, and save the ingredients for other culinary creations.
2
Recipes for the Tacos:
Za'atar Hummus
Grilled Vegetables (below)
Karen's Corn Relish
3
Make the Za'atar Hummus and Corn Relish.
4
Heat the outdoor grill to High – oil the grates lightly.
Clean all veggies. Add to a rimmed sheet pan, massage in the oil (especially the kale) and dot with a few good pinches of salt and freshly cracked pepper.
5
Add to grill with tongs, Keep grill hood open, pay first attention to the kale which will cook first.
Turn kale over when nicely charred, buy not burned. Remove to the pan.
Close grill and cook until veggies have nice grill marks, turn over to second side, about 5 minutes total for tender-crisp.
6
Remove all to the pan. When cooled a little, cut into 1/2 pieces.
7
To serve:
Preheat oven to 375 degrees.
8
Fill each taco with 2 tablespoons of hummus. Top with grilled vegetables.
Place them on a rimmed baking tray to fit. I angle each one so they the filling stays intact.
9
Bake until the shells are very crisp, about 12 – 15 minutes.
Remove from the oven.
10
Top the tacos with some corn salsa on each, serve some extra in a bowl on the side.
11
Garnish with edible chive flowers if available and your favorite chopped herb; cilantro or parsley.
This recipe may not be reproduced without the consent of its author, Karen Sheer.
Karen Sheer