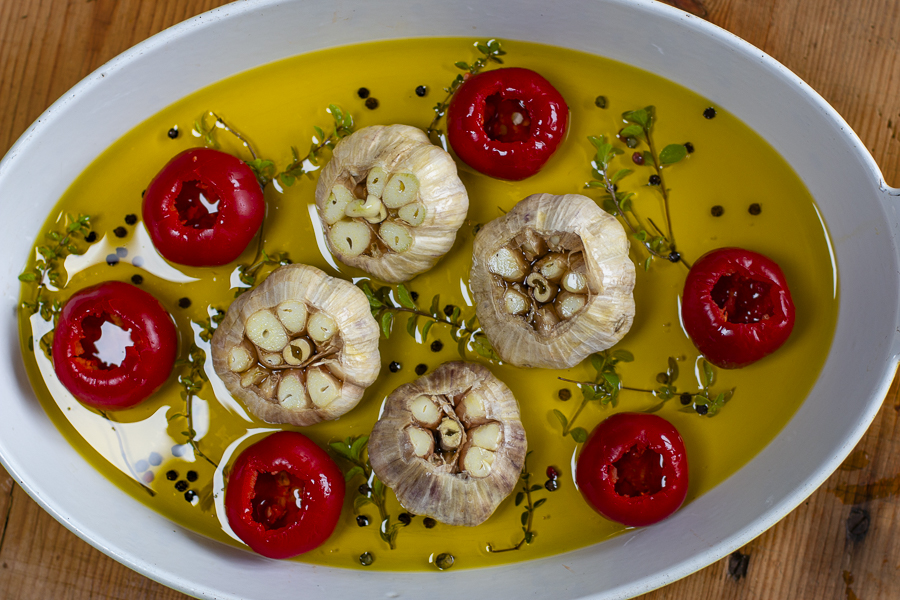 How to Roast Whole Garlic Heads in Olive Oil and How to Use It
Mellow yet with deep concentration – oven roasted garlic cloves enhances the flavor of everything!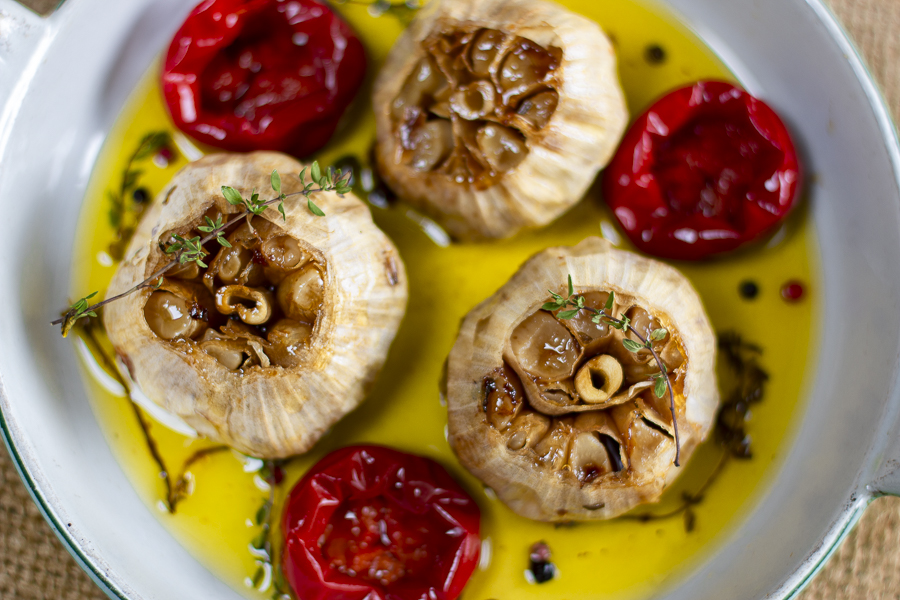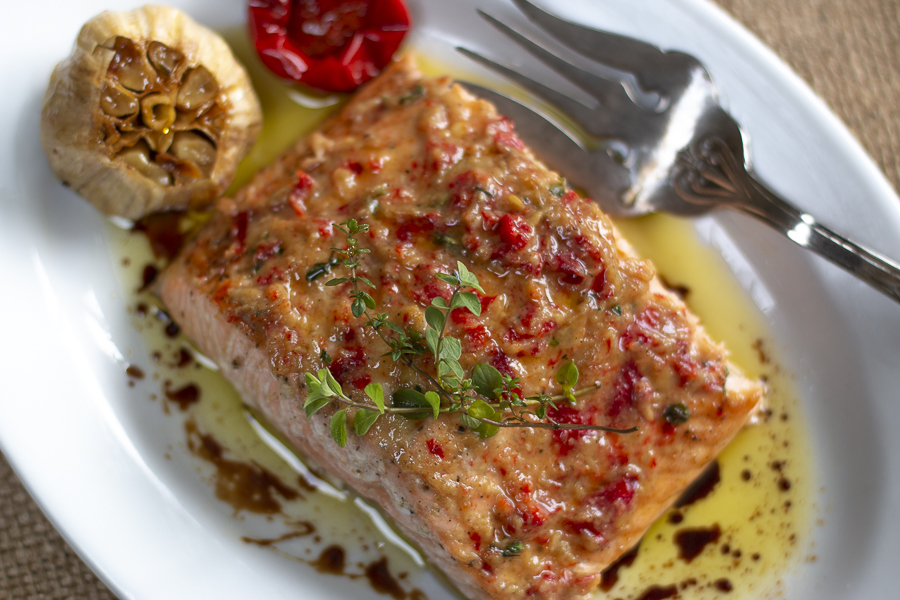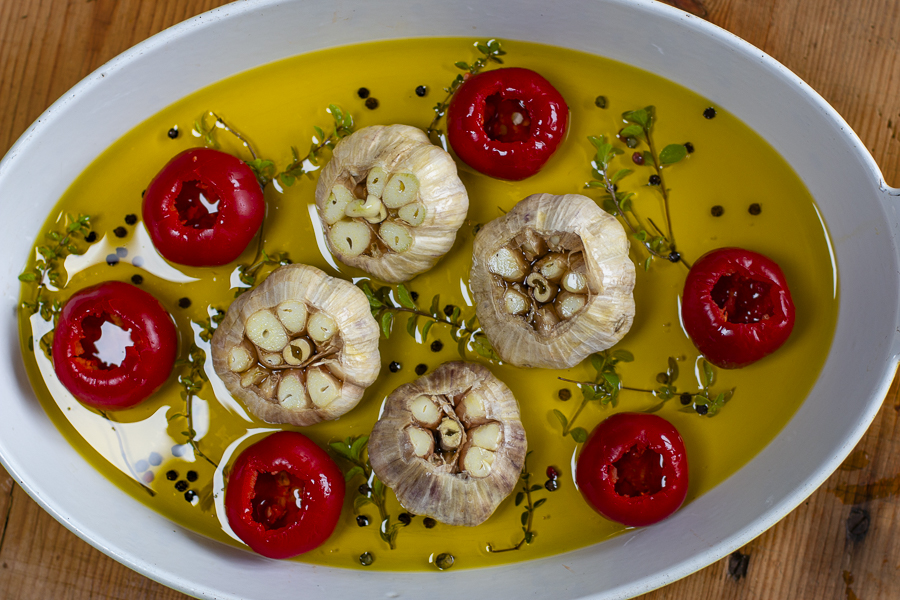 Ingredients
4 large heads of fresh garlic (I used Spanish Roja variety)
6 Cherry Bomb Peppers* (can also use other peppers or chiles) cored and seeded.
1 teaspoon mixed peppercorns  
2 fresh sprigs each: thyme and oregano
1  ½ cups extra virgin olive oil (you can use a mere 2 T. as well, I like to add a good amount and use the flavorful olive oil.)
Instructions
1
Preheat oven to 375 degrees.
How to Roast Garlic in Olive Oil with Aromatics:
Cut about 1/3 inch off the top of each garlic head with a serrated knife – exposing the garlic cloves.
Add garlic to a pan to fit with cherry bomb peppers around. Scatter pan with peppercorns, and herb branches, Pour 1 cup of olive oil on the bottom of the pan. Drizzle the last 1/2 cup over garlic heads and peppers.
2
Cover with heavy foil and roast for 45 minutes. Check that the cloves have softened and they have caramelized a bit. The dish can be left uncovered now and left in the oven to darken a bit – but do not leave in for long… will dry out the garlic.
3
Recipe for Roasted Mashed Garlic with Cherry Bomb Peppers and Herbs:
Cool slightly. Remove garlic, peppers and herb branches to a plate and strain the flavorful olive oil into a clean glass container.
4
Save this oil! Add to softened garlic cloves… and keep remaining in a tightly sealed glass container in the fridge to use for many other recipes!
5
Squeeze one head of garlic into a small bowl, check to see all the garlic is released from their papery skins. Mash with a fork. Chop one the cherry bomb peppers, discarding their roasted skin – add to the mashed garlic. Add 1 tablespoon of the reserved olive oil, herbs taken off their branches – and a pinch of salt and four grates of pepper. Add a pinch of cayenne pepper if desired.
Repeat with remaining ingredients for a larger quantity, or save 3 remaining garlic heads and ingredients for another recipe.
6
For Salmon:
Smear above topping over warm, cooked salmon, as I did – right out of the oven. The topping will melt right into the fish, enough for 4 servings.
7
Plate the fish. Drizzle some reserved olive oil around the plate – dot with the Balsamic Reduction and swirl in. Serve with fresh thyme and oregano.
8
Balsamic Reduction to add to oil as a Savory Sauce:
In a small 6 inch skillet, add 2 tablespoons of balsamic vinegar and 1 teaspoon of honey. Heat over low heat stirring until blended and reduced by half to a syrup, about 3 minutes.
Add fragrant Olive Oil on plate, dot with Balsamic Reduction and swirl.
9
*Cherry Bomb Peppers: they sound spicy, yet they are mild, similar in heat to jalapeño peppers.
So Many Uses for Roasted Garlic!
Add softened cloves TO:
Any sauce to thicken and flavor
Mayonnaise for a sandwich topper
Roasted Warm Vegetables
Chicken Soup (it's awesome!)
A dip for bread; add olive oil and aromatics like fresh cracked pepper, hot chile flakes and herbs.
A baked potato
Mashed Potatoes – perfect for Thanksgiving!
Topping for homemade pizza
Gravy – lends great flavor and no fat
Hummus and other healthy dips
See BLOG for many more photos and information. Also see Uses for Roasted Garlic.
This recipe may not be reproduced without the consent of its author, Karen Sheer.
Karen Sheer