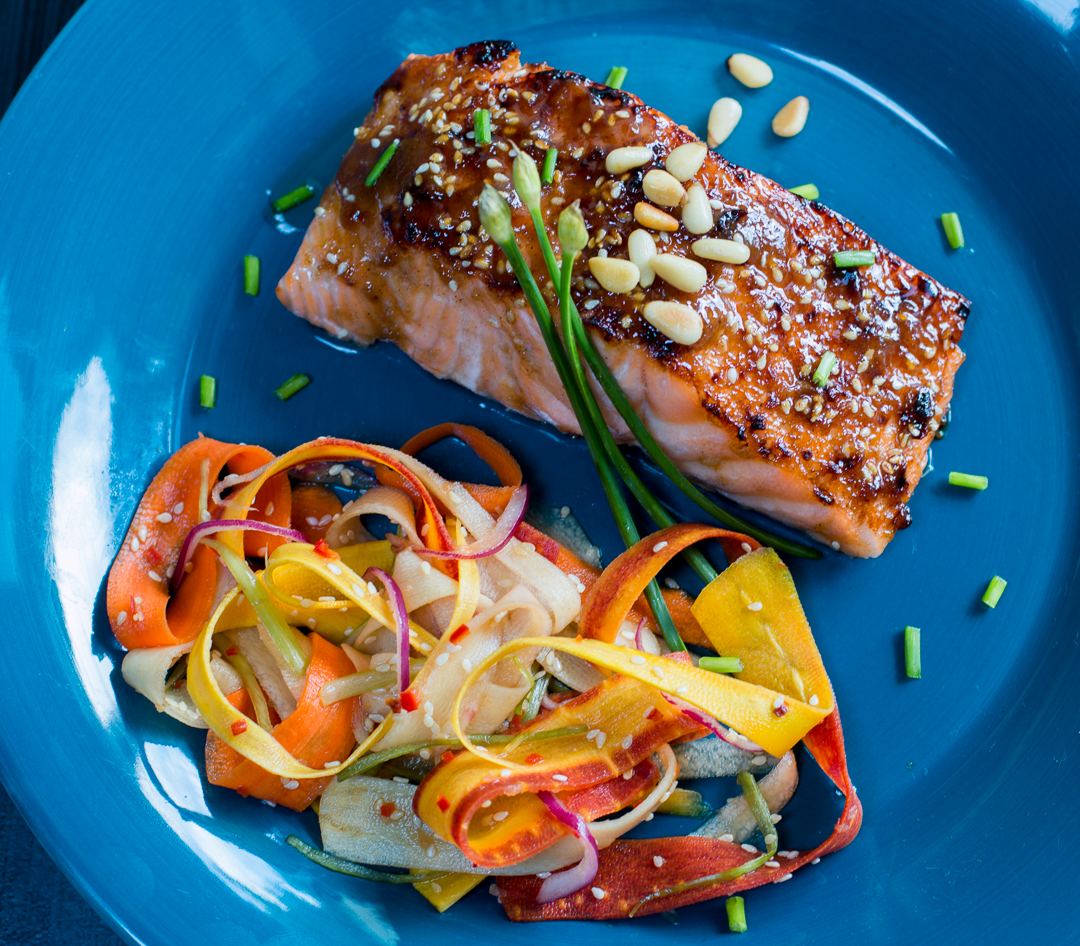 Glazed Hoisin Salmon with Pine Nuts
A quick and easy meal with amazing flavor! Make my homemade Hoisin Sauce… a game changer for any cook! Shaved Carrot Slaw is colorful, crunchy and delicious.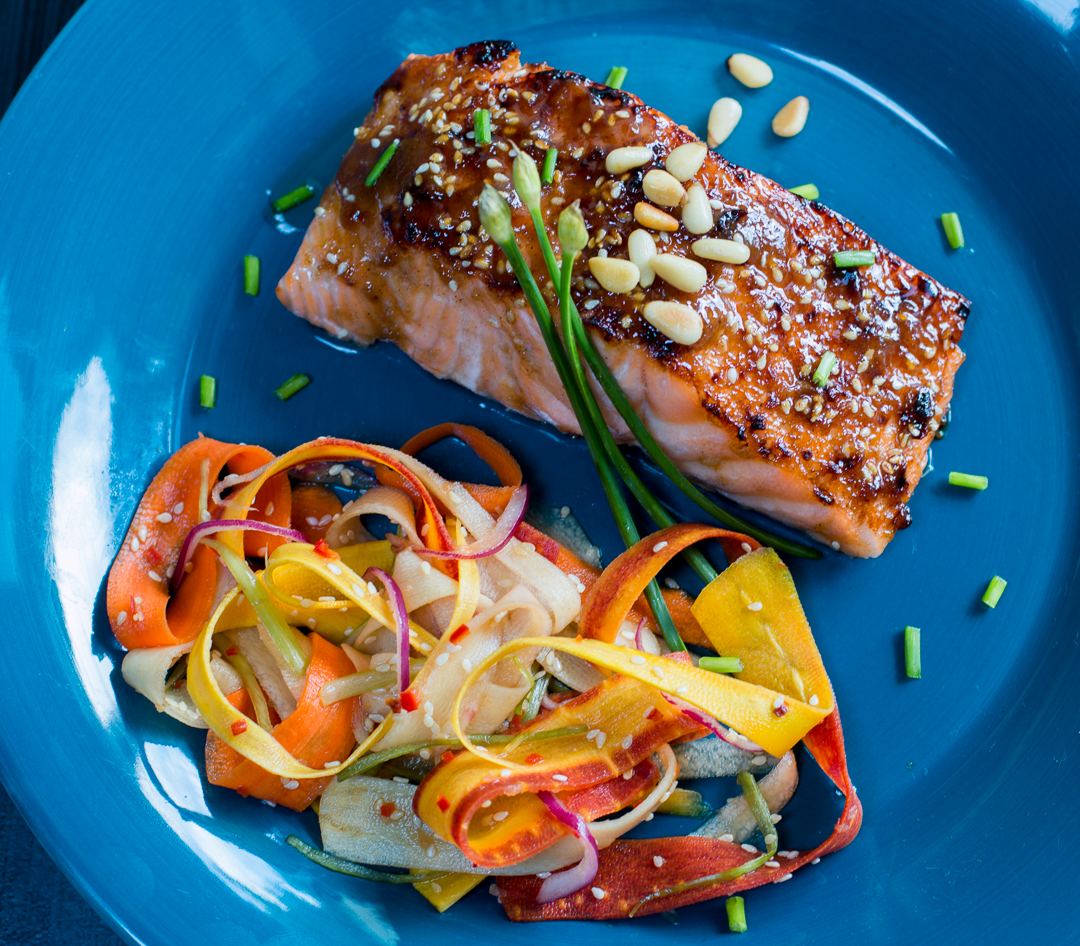 A wonderful weeknight meal, and special enough for company.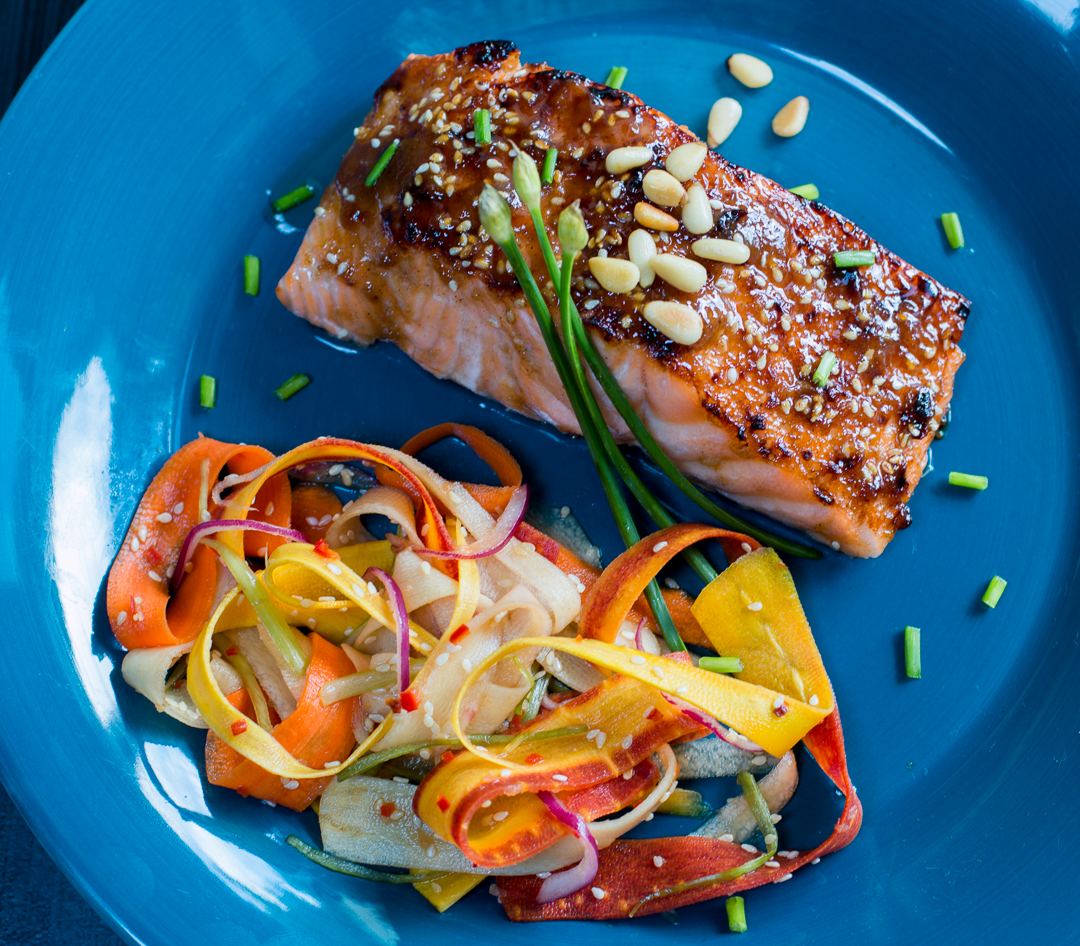 Ingredients
1 pound salmon fillet, cleaned, dried, cut in half
2 tablespoons Homemade Hoisin Sauce – Better Than Store-Bought, plus 2 teaspoons
1 tablespoon raw sesame seeds
2 tablespoons toasted pine nuts
1 tablespoon asian chives, thinly sliced (or scallions)
½ medium fresh lime, cut in half
(Serve with Shaved Carrot Slaw, see recipe)
Instructions
1
Make: "Homemade Hoisin Sauce – Better Than Store-Bought."
2
Preheat broiler.
Rub a heavy pan suitable for the broiler generously with a neutral oil. (Or, add a sheet of foil in the bottom for easy clean up.)
3
Top with the salmon, skin side down.
Spread 1T. of hoisin sauce over each piece, smooth the top. (No salt necessary.)
4
Broil, 4″ from heat source until bubbly and has darkened and caramelized nicely.
Add 1 teaspoon more of hoisin sauce on top of each fillet, smooth – –
Sprinkle sesame seeds on top of each fillet. Return to broiler and broil until the seeds have toasted, and are golden.
5
Set the oven to 350 degrees.
Remove the salmon, tent with foil, return to the oven to finish cooking the interior.
Time will depend on the thickness of the salmon – and your desired doneness.
5 minutes is the average time.
6
To serve:
Place on individual plates, sprinkle with pine nuts and chives. Squeeze some lime juice all over.
Add a serving of Shaved Carrot Slaw.
Enjoy!
7
Easy to double recipe! Or – scale up for a party.
Hint: Double the Hoisin Sauce recipe so it is handy for many recipes.
See BLOG for many photos of this recipe, and more information.
This recipe may not be reproduced without the consent of its author, Karen Sheer.
Karen Sheer