Sofrito is the mother starter sauce of Latin Cuisine.
A mixture of aromatic ingredients, either chopped or pureed, used to add layers of flavor to different foods. Serve raw, or add a few tablespoons to your cooking to jazz it up!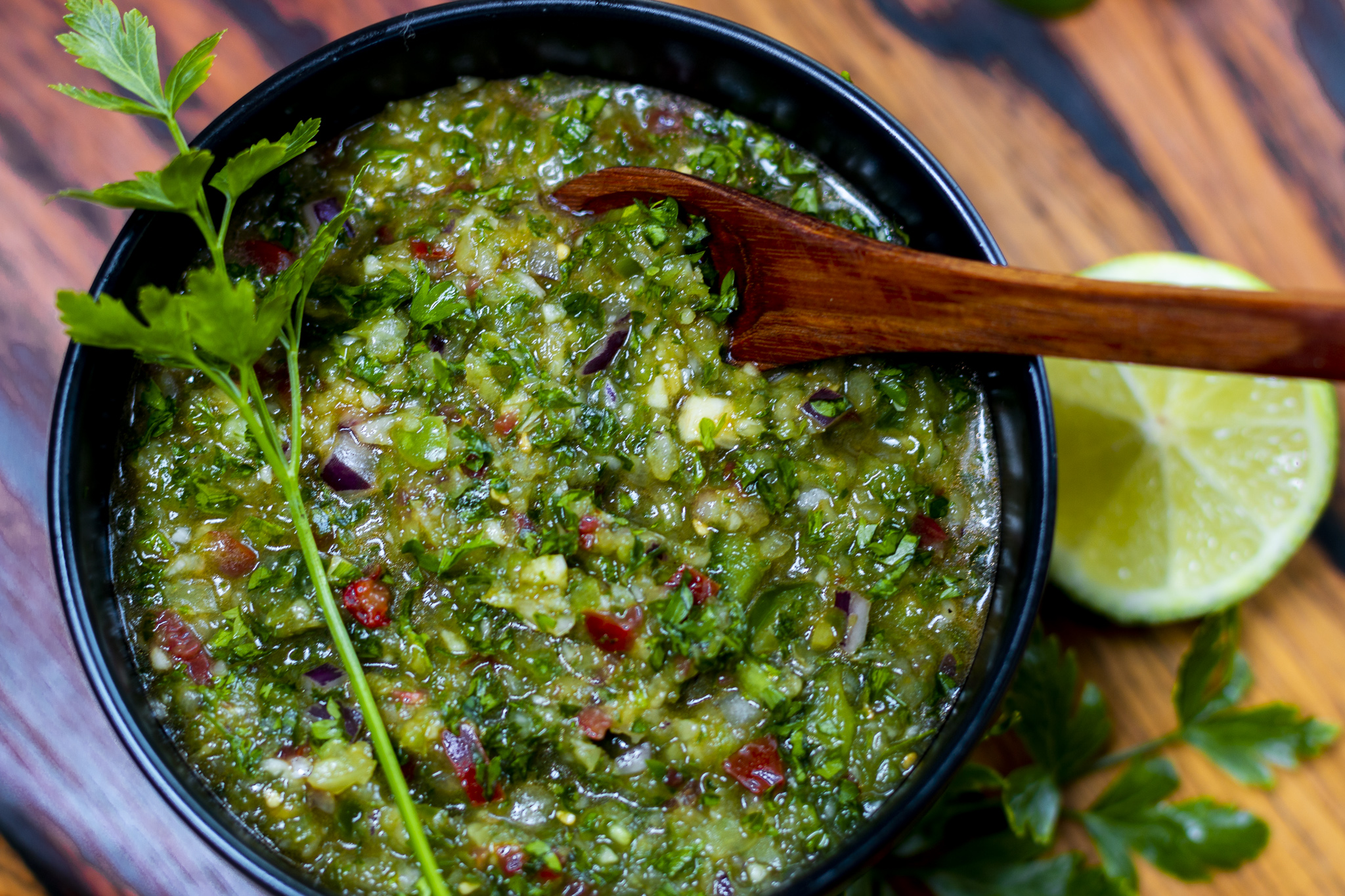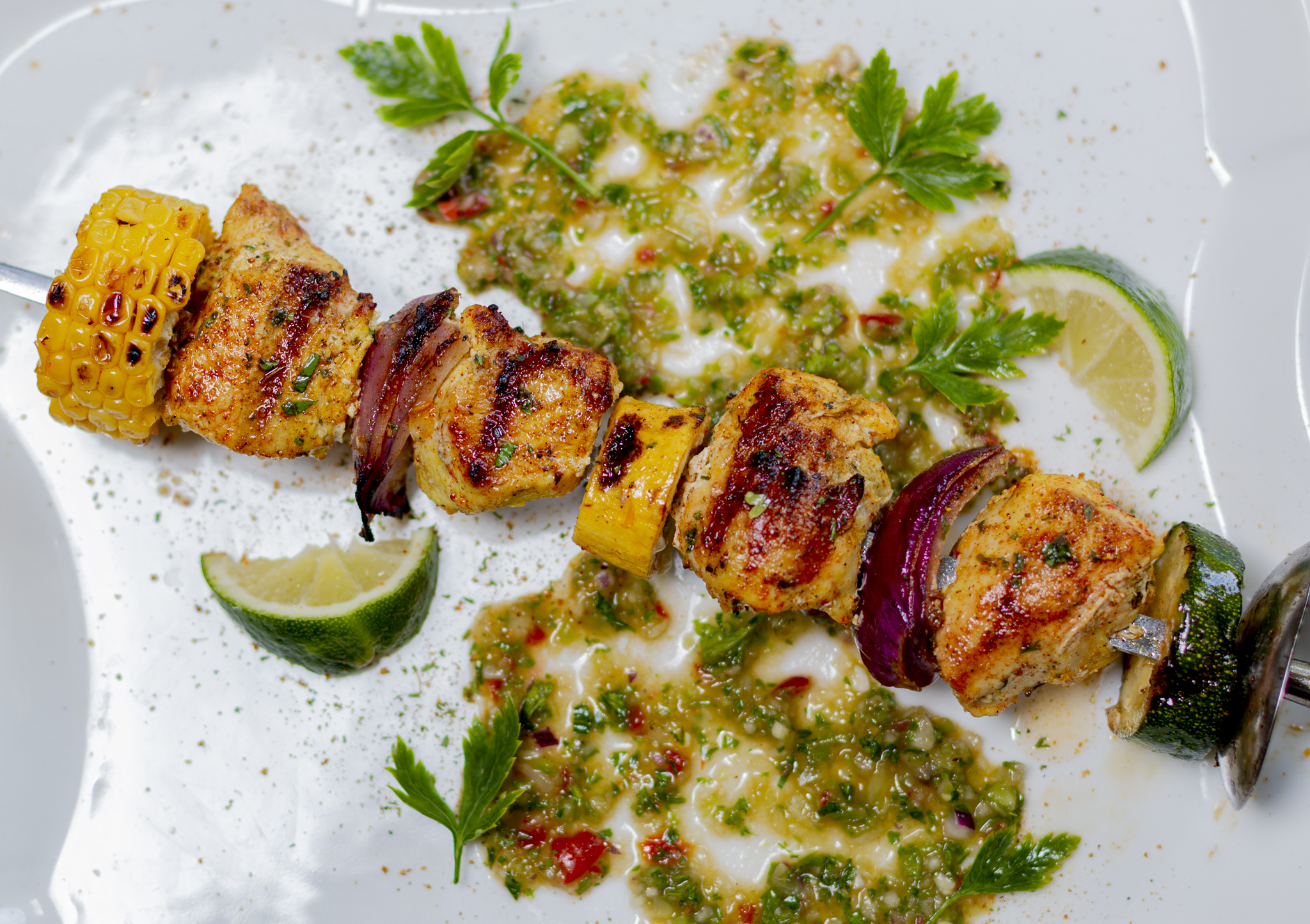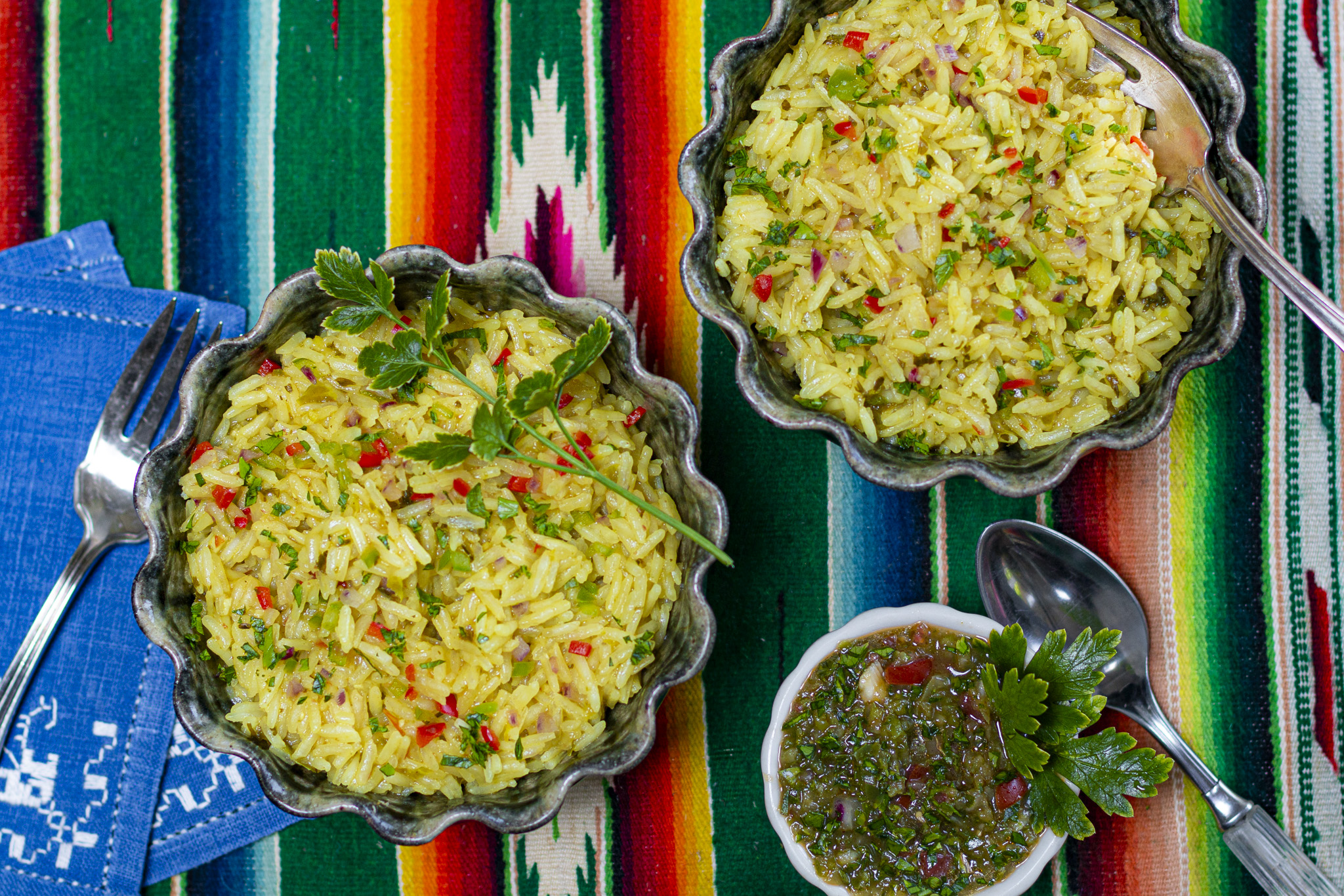 The local cuisine of Puerto Rico comes alive with vibrant colors and a melange of flavors.
I started making a batch of Sofrito which lead to a pot of Sofrito Rice… and then I wanted to season Chicken & Vegetable Kebabs with a zesty seasoning ~ so here is my wonderful tested recipe for Salt-Free Sazón Seasoning.
During this Covid-19 pandemic, we may not be able to travel to experience local cuisine from afar … but we can experience the flavors at home which starts in the kitchen!
Puerto Rican Sofrito's key ingredients are a puree of of onions, garlic, aji peppers, green bell pepper, cubanelle peppers, tomatoes and cilantro.
You can adjust it to your desire with other peppers, herbs and seasonings.
Sofrito can be used as a flavorful base for many dishes such as stews, soups, and beans & rice. It can be cooked with many proteins as well.
I love it raw – as you see with the chicken and vegetable kebobs.
Use it as base to cook/season ANYTHING!!!
I love it raw too!
Sofrito is mostly spooned into a pot with olive oil and cooked as the first step.
It is at the heart of many Caribbean, Latin American, and Spanish dishes, from beans and rice to meat and fish.

Like salsa – it's low in calories and high in healthy antioxidants.
I have mastered a Salt-Free Sazón Seasoning!
You will want to blend this yourself – use to season all you cook with a Latin flavor.
Sazón Ingredients: Includes some of the unhealthiest & worst ingredients!
Monosodium glutamate, salt, dehydrated garlic, cumin, yellow 5, tricalcium phosphate (an anti-caking agent), coriander, annatto (color), red 40

Commercial Sazón which is available broadly in supermarkets, Latin & Mexican markets is a seasoning salt and to me very unappetizing which you should avoid.

Blend your own healthy seasoning! Add a dash of salt as you use it.
I'm loving Puerto Rican Sofrito Rice!
Use a long grain rice ( I love Jasmine Rice) – and start by cooking a few tablespoons of Sofrito in olive oil. Add the rice and a pinch of turmeric and stir. Add broth (I used vegetable broth; or use water) and simmer until cooked and fluffy. Add some more chopped cilantro or parsley and devour!
A great recipe to double when company calls ~ and can be reheated for days!
Uses for Sofrito:
A raw a salsa-like dip/sauce, with the addition of some lime juice.
Freeze it in ice cube trays ~ have ready any time! 
Try it on breakfast dishes like fried or poached eggs, frittatas and huevos rancheros.
Add it to Spanish-influenced Chicken Sofrito in the pan with rice and chicken stock.
The perfect base for soup – such as black bean soup.
A filling ingredient to jazz up enchiladas.
A key ingredient for hearty stews.
Karen's Puerto Rican Sofrito Rice Recipe (similar to Spanish Rice but with a Sofrito starter)
A starter for any sauté like chicken or shrimp
Try it on breakfast dishes like fried or poached eggs, frittatas and huevos rancheros.
Enjoy the flavors of Puerto Rico!
Karen