Za'atar Seasoning Mix with Fresh Thyme and Oregano & Grilled Skewers of Halloumi Cheese, Fresh Spring Asparagus and Scallions
Description
A wonderful Zesty-Herby-Nutty Flavor! Use fresh herbs for color and balance.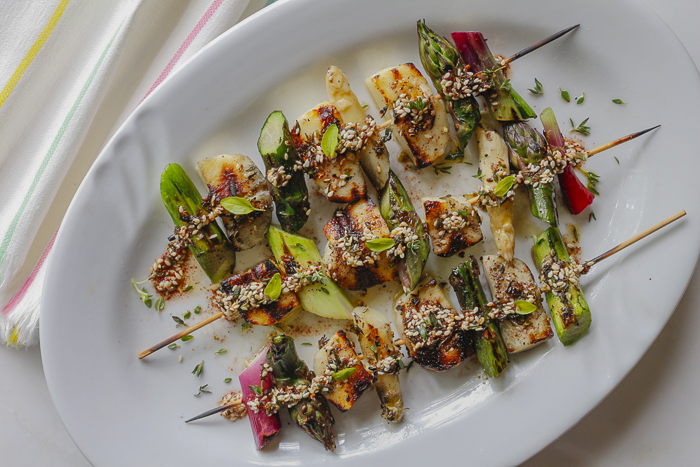 Ingredients
3

 

teaspoons 

sesame seeds

2

 

teaspoons 

ground zumac

1

 

teaspoon dehydrated garlic, course grind

3

 

teaspoons 

fresh thyme leaves, coarsely chopped

3

 

teaspoons 

fresh oregano leaves, coarsely chopped

¼

 

teaspoon 

sea salt flakes, such as Maldon

4

 

tablespoons 

extra virgin olive oil, fruity variety
Method
Toast the sesame seeds in a dry skillet over medium heat, shaking until they are fragrant and just a touch golden, about 2 minutes.
Add all the herbs and spices in a small bowl, stir in the olive oil.
Use within a day so the herbs stay fresh and vibrant.
Alternatively, blend all together except the fresh thyme and oregano – chop and add when ready to use.
Use as a quick marinade and baste on as a finishing sauce.
Squeeze a tablespoon or two of lemon juice in the mix for an extra zesty flavor.
Za'atar is wonderful on vegetables, meat, poultry and bread.
Servings: 1/2 cup
Double the recipe if desired.
This recipe may not be reproduced without the consent of it's author, Karen Sheer
Grilled Skewers of Halloumi Cheese, Fresh Spring Asparagus and Scallions RECIPE:
4 Skewers:
Soak four bamboo skewers in water for at least 2 hours.
To each skewer thread 3, 1/2 " thick slices of Halloumi Cheese (Paneer can be used as well.)
4  2″ pieces of fat asparagus, and 2, 2″ pieces of scallions (I used purple scallions).
Repeat to make 4 skewers.
Baste with 1  1/2 T. of Za'atar mixture. Grill over very high heat until strong grill marks form,
Turn over and cook for another minute or two. Remove to a serving plate and drizzle 1  1/2 T. of Za'atar mixture on top.  Squeeze lemon juice over all, taste for salt.
Garnish with extra fresh thyme and oregano leaves and enjoy.
Notes